The Best Meatloaf Sandwich is equal parts hearty and handheld. It's saucy, there's cheese, and it really is the best. I promise.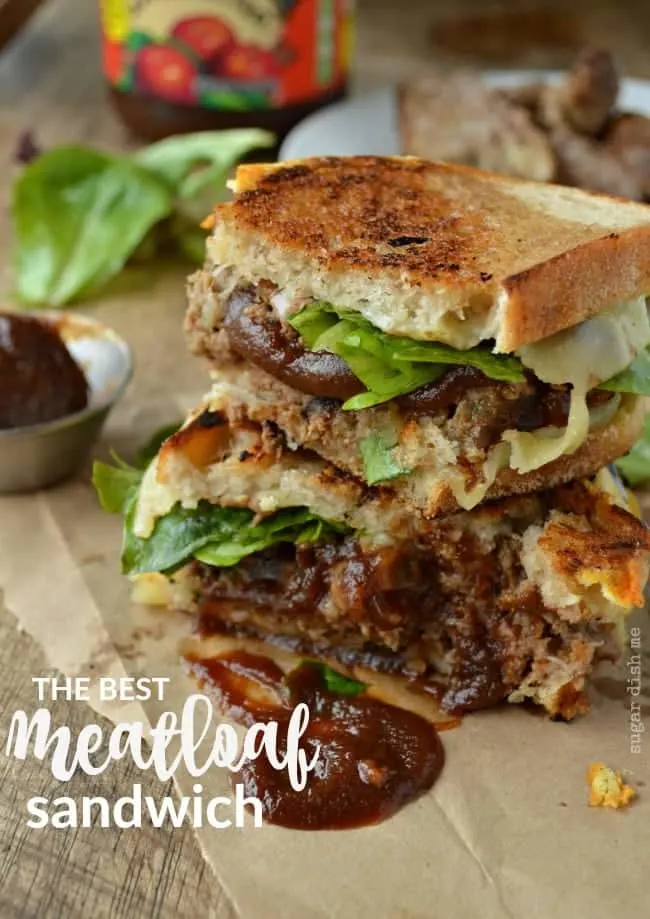 This post is sponsored by our friends at Musselman's Apple Butter! All opinions, the original photos, and the original recipes shared here are my own.
My mom is from the midwest. Meat and potatoes alllllll the way. She doesn't love to cook all the things like I do, but there are a few things that I have just really never been able to compete with. Meatloaf is one of those things. The other is pot roast. One day I'll figure out that magic. For my next trick though, I made meatloaf that can rival my mom's.
It's good y'all. And… it would have to be good to yield the best meatloaf sandwich I've ever had.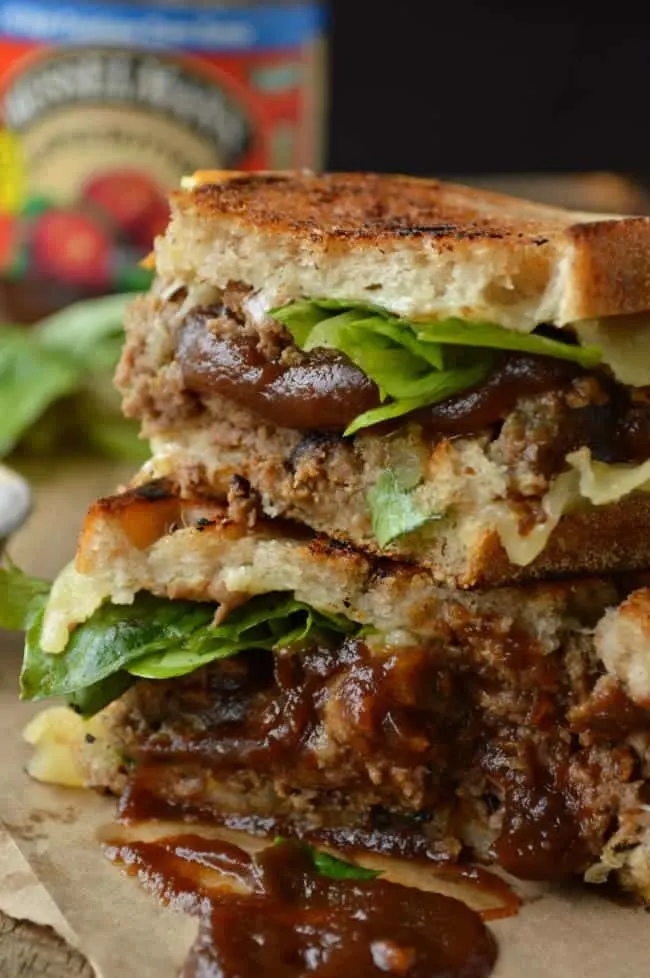 No matter the season, there are days that just REQUIRE some good comfort food. Dreary rainy days, and bad work days, and why-did-all-these-bills-just-come-in-the-mail days. Those days require things like gravy. Or meatloaf. Or amazing meatloaf sandwiches.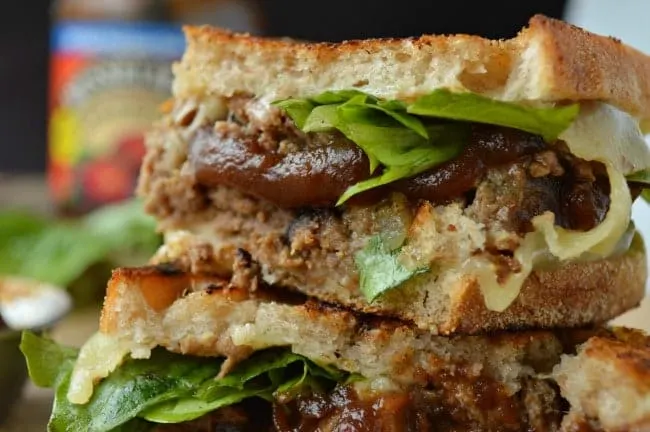 Technically, you'd make a meatloaf sandwich with leftover meatloaf. If that's your goal though, you'd better double the meatloaf part of this recipe. Especially if you live with two teenage boys that eat like grown dudes. You'd think my kids had been working construction all day if you saw the ferocity with which they attack dinner foods.
The sandwich part here is basically a grilled cheese, piled high with thick slices of the best meatloaf ever. You really can't go wrong with grilled bread and cheese (side note: please also try this Philly Steak and Grilled Cheese Sandwich – it's one of my all-time favorites).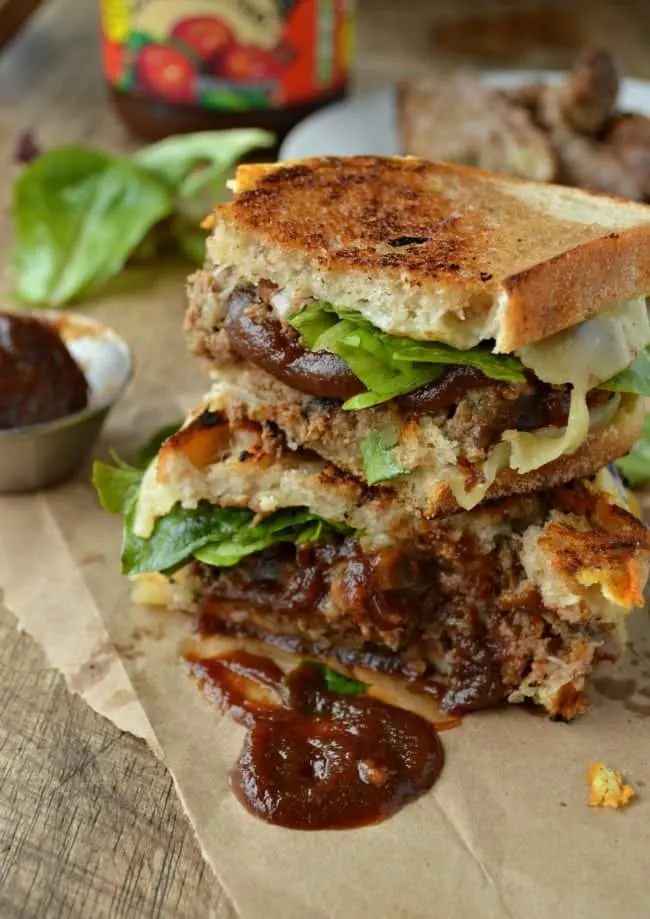 The important part that makes this the best meatloaf sandwich I've ever had though? Is the APPLE BUTTER. Musselman's Apple Butter adds the slightly sweet sauciness that sets this meatloaf apart from all the boring ketchup-based others. There's a dash of hot sauce and a bit of apple cider vinegar for balance.
Also worth noting that the sauce here pairs really well with both beef AND turkey if you want to make a slightly lighter version. I tested it both ways !!!!
And friends. If you want to try all the meatloaf recipes you can find, I found another good one over on Adventures of Mel. It's Not Your Mama's Easy Meatloaf Recipe and the tweaks are delicious.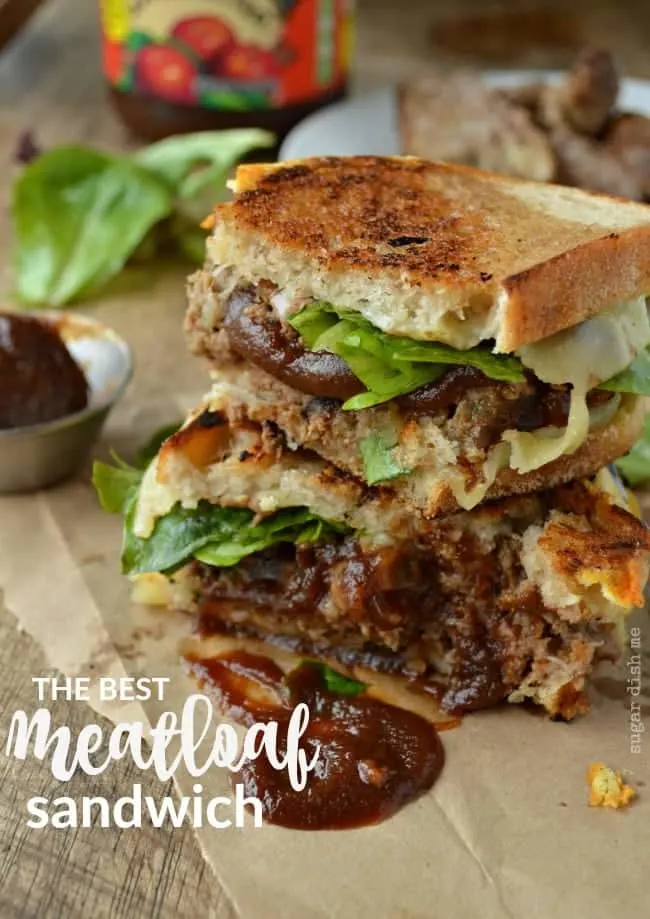 Yield:

serves 4-6
The Best Meatloaf Sandwich I've Ever Had
Cook Time:
1 hour
5 minutes
Total Time:
1 hour
15 minutes
The Best Meatloaf Sandwich starts with the best meatloaf! It's saucy, there's cheese, and it tops the list of BEST comfort foods, hands down.
Ingredients
For the Meatloaf:
1/2 cup finely minced onion
1 tablespoon butter
1 teaspoon kosher salt
½ cup Musselman's Apple Butter (plus 1-2 tablespoons more for topping)
2 tablespoons apple cider vinegar
a dash of hot sauce (to taste)
2 pounds lean ground beef
1 egg, lightly beaten
20 Ritz-style crackers, crushed into crumbs
For the Sandwich:
8 slices sourdough bread
softened butter for the bread
8 thin slices mild cheese (I opted for Gouda)
¼ cup Musselman's Apple butter
1 tablespoon apple cider vinegar
a dash of hot sauce (to taste)
4 thick slices of the apple butter meatloaf recipe
4 leaves butter lettuce
Instructions
Preheat the oven to 350° and lightly spray a 4 1/2 X 8 1/2" loaf pan (or 9 X 5 if you can find it!) with cooking spray.
In a small skillet, add the butter and onions. Sprinkle with the salt and cook over medium heat until they are soft and translucent - around 10 minutes.
In a small bowl, whisk together the apple butter, apple cider vinegar, and hot sauce.
To a large bowl, add the cooked onions, lean ground beef, egg, crushed crackers, and apple butter mixture.
Mix by hand (or with a sturdy wooden spoon) to combine all the ingredients, and press them into the prepared loaf pan.
Brush the top with the additional 1-2 tablespoons apple butter, and bake for 1 hour or until done.
To make the meatloaf sandwiches, spread one side of each slice of bread with butter and heat a large skillet over medium high heat. Place 4 slices of bread butter-side down in the skillet. Add a slice of cheese to each piece of bread.
Quickly whisk together the ¼ cup apple butter, 1 tablespoons apple cider vinegar, and dash of hot sauce.
Add a slice of meatloaf to each slice of bread. Spoon the sauce over, add lettuce, one more slice of cheese, and the top piece of buttered bread. Press the sandwiches and flip to grill the other side.
Nutrition Information:
Yield:
6
Serving Size:
1
Amount Per Serving:
Calories:

982
Total Fat:

43g
Saturated Fat:

19g
Trans Fat:

1g
Unsaturated Fat:

19g
Cholesterol:

233mg
Sodium:

1569mg
Carbohydrates:

77g
Fiber:

3g
Sugar:

21g
Protein:

68g
Musselman's
is the brand I have worked with consistently since launching Sugar Dish Me in 2011. So I have LOTS of great apple butter recipes. You can also find more by visiting their
Apple Butter
Recipes Page. And follow along in social media for all the newest ideas!
Facebook,
Twitter
, and
Pinterest
!
Want more recipes with Apple Butter?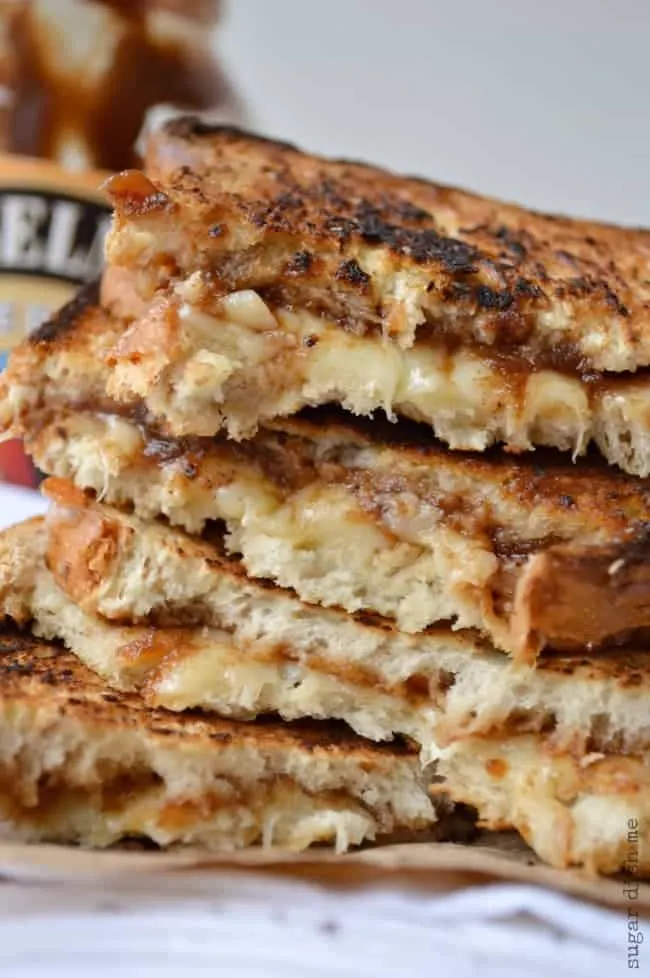 Apple Butter Pulled Pork Sandwiches