A super simple appetizer recipe! The Best No Bake Spinach Dip has just a few delicious and light ingredients, making for a fast dip everyone will love without the guilt. Perfect for bread, crackers, and veggies.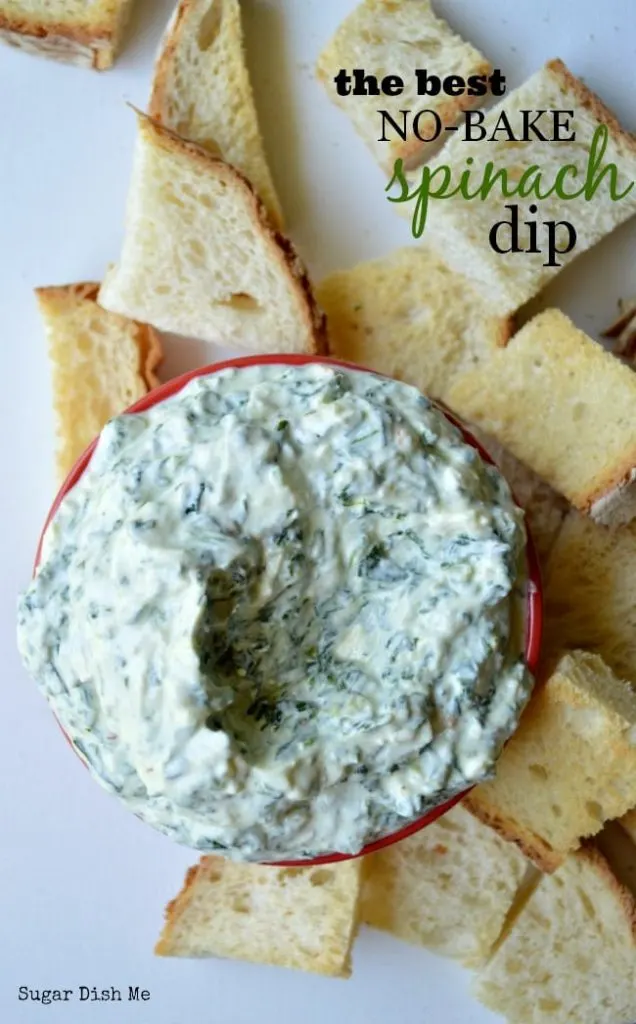 I mentioned last week that we had an 80's party over here. Oh yes we did. And we left photo evidence.
So duhhhh.
80's parties need 80's food.
Believe me when I tell you I Googled that mess.
And all kinda crazy things pop up when you ask Google about 80's food. Like I think I should write a directive, just to help a search engine out.
Anyways, people suggested all kinds of dumb/gross things with regard to what-we-ate-in-the-80's.
I don't know about the rest of you, but I ate lots of Kraft mac n' cheese in the 80's. And I liked it.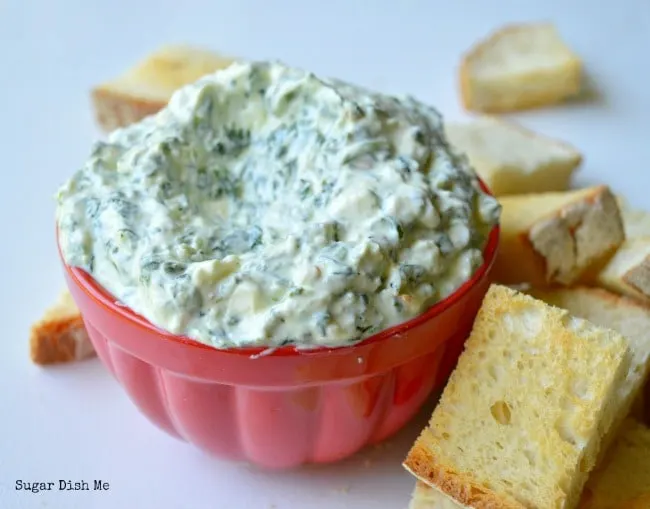 After some very serious research, I learned that spinach dip is so very 80's. Spinach Dip!!! But probably that ooey gooey cheese-laden full-of-mayo spinach dip of yesteryear that was baked in a small ceramic crock and brought to the table with a pile of tortilla chips.
You know what I'm talking about.
I gave that spinach dip a makeover. Toned down the blue eye shadow. Laid off the neon shimmer lips. Put down the hairspray.
Made over spinach dip is so stupid good and ridiculously easy. It'll be ready before you can yell, "Shoulder Pads!!!"
kidding. Kind of.
Really though this spinach dip is fresh and fast and protein-rich. I sauteed the spinach really fast on the stove with garlic, but it is totally no-bake and ready to serve in less than 10 minutes. It really is The Best No Bake Spinach Dip.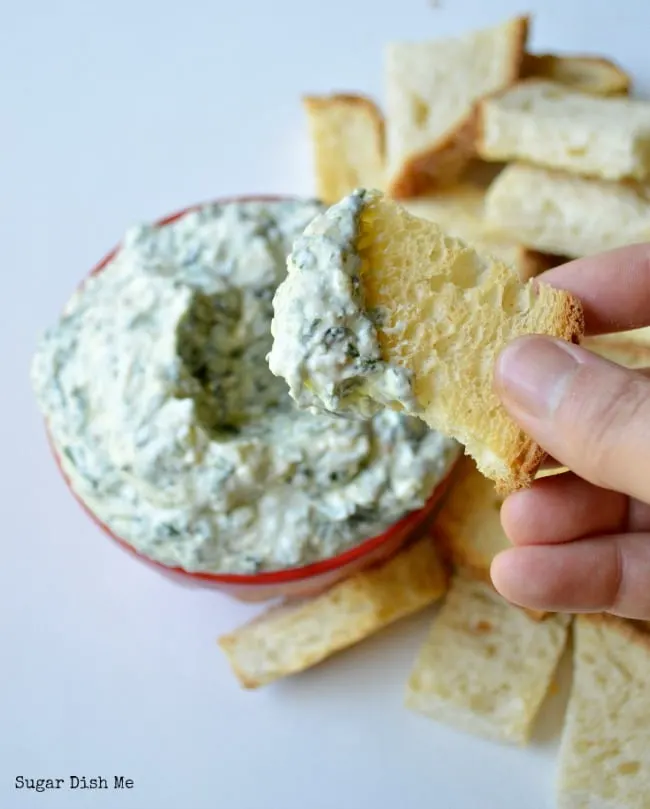 I think it's football season, right? Let the appetizers begin.
Bonus! Remember when I stuffed a roasted chicken with spinach dip? Let's do that again.
The Best No Bake Spinach Dip
Ingredients
1 tablespoon olive oil
4.5 ounces fresh spinach, very finely chopped
2 cloves garlic
pinch of salt
1 cup plain Greek yogurt
¼ cup low fat sour cream
1 tablespoon red wine vinegar
¼ - 1.3 cup crumbled feta cheese
crushed red pepper to taste
Instructions
Heat the olive oil in a medium skillet. Add the spinach and cook, stirring occasionally, for about 3 minutes.
When the spinach has cooked down, add the garlic. Stir and cook until translucent and fragrant (careful not to burn! Over-cooked garlic tastes bitter).
Remove the skillet from the heat and stir with the remaining ingredients until smooth.