Toasted oats and flax seeds are tossed with peanut butter and honey in these delicious little pick-me-up snacks. Peanut Butter Honey Granola Bites are perfect for mid-afternoon slumps, after work-out pumps, and make a great breakfast on-the-go!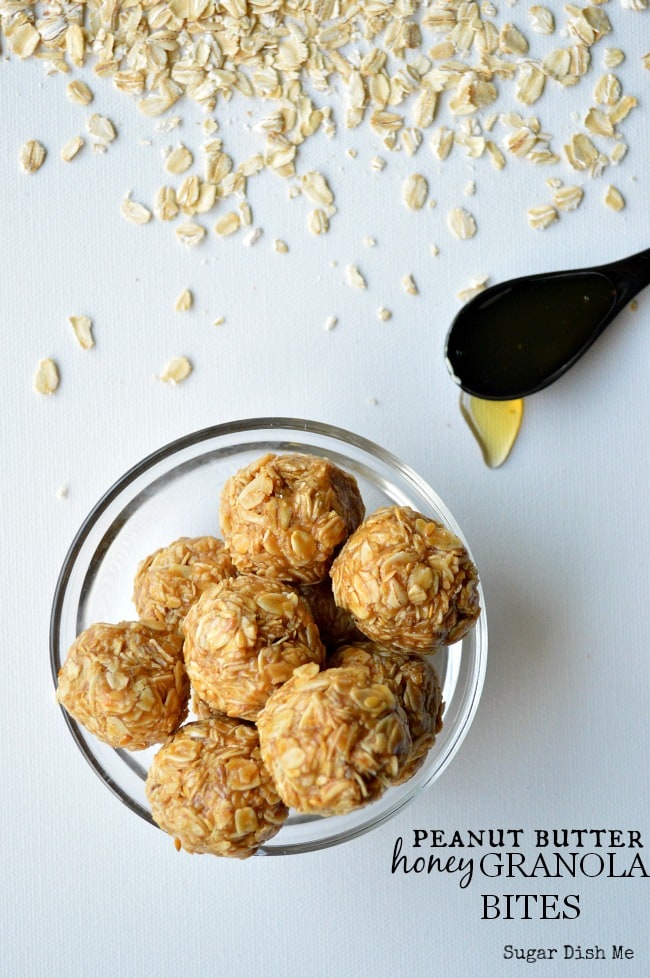 This content is sponsored by International Delight Iced Coffee and TapInfluence. All opinions and recipes are my own.
Snack time!!!
Newsflash: I am an afternoon snacker/coffee addict. That's not really news though.
I think it's because I'm up so early? And then I'm ready for lunch by 10:30 a.m. By 2:30 p.m. I am totally ravenous. And lots of days I would probably be totally down with an early bird dinner special at 4:30 in the afternoon. Can I have a senior discount if I eat before 5?
Except it's SUMMER and the sun is out until forever, so dinner before 5 would probably mean hangry at 9 p.m. And THAT, my friends, seems like a recipe for blue jean disaster.
Snacks are very important.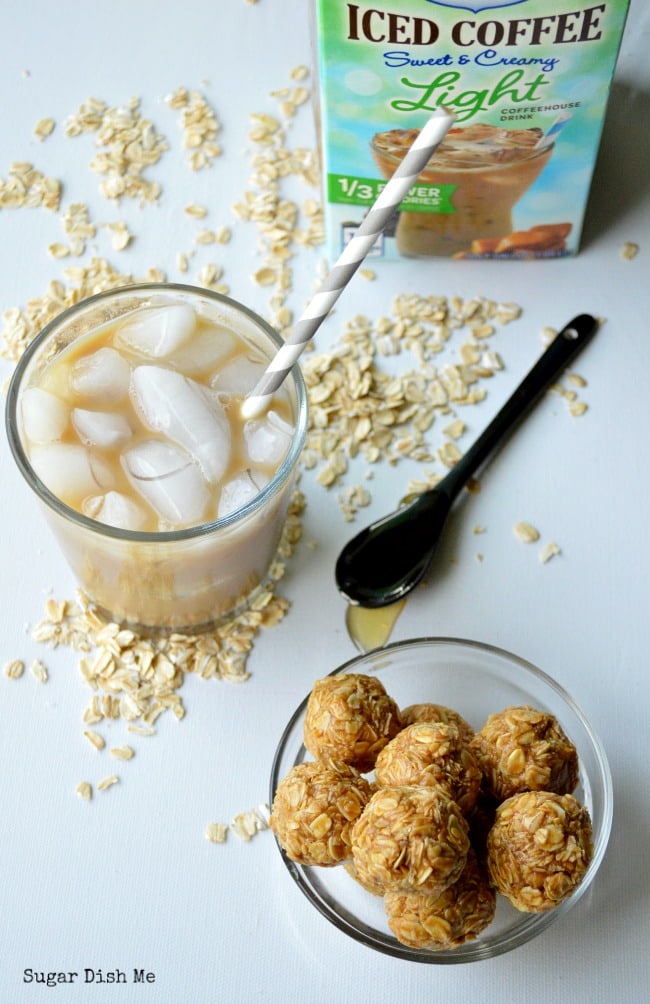 Also important?
Coffee.
In the summer it's entirely too hot over here in NC to enjoy hot coffee after 7 or 8 in the morning. Noooooooo.
And have I mentioned how scarce coffee shops are over here in Nowheresville? Not a decent cup of coffee to be found anywhere. It was kind of like torture for a flavored non-fat latte lover like me.
Until I wandered past International Delight Iced Coffee at the grocery store one day. I grabbed it in a frantic afternoon moment, and honestly? I kind of expected it to be not great. My coffee expectations are HIIIIGH, people.
But I would like to eat my ugly negative thoughts right now (plus a snack) because this iced coffee is delicious! No joke.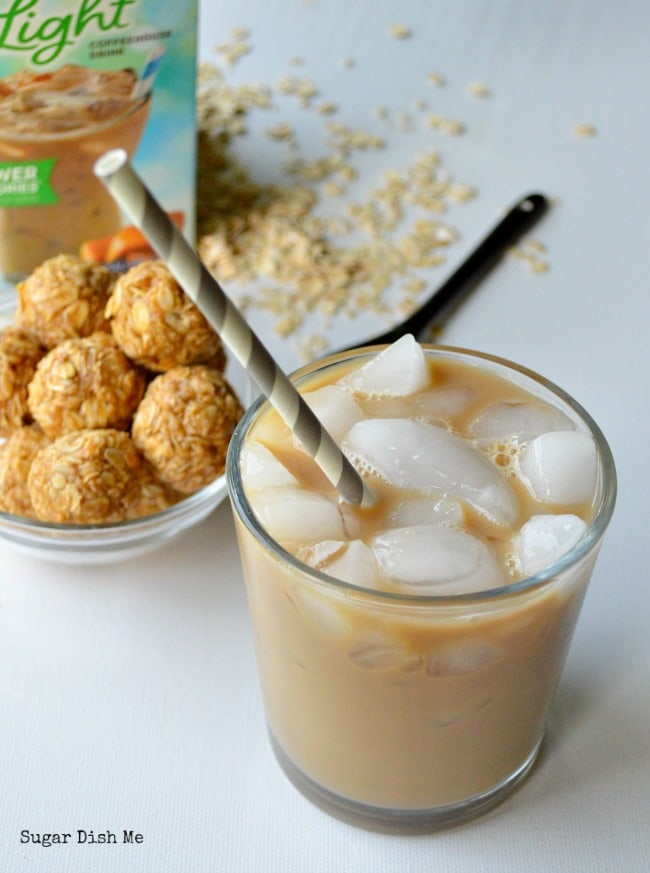 I tried the Light Caramel Macchiato variety and found a new happy afternoon snack staple for my fridge. It's creamy and perfectly sweet — not too sweet which is a crucial piece of info for me!!! I like my coffee to taste like COFFEE, and this iced blend is right on.
It'll be all toasty warm here in the south for another month or few, so I think my coffee will be on the rocks for awhile. The combination of a little light iced coffee and the fastest snack everrrrr makes for very happy afternoons over here. Join me for International Delight Iced Coffee and snacks!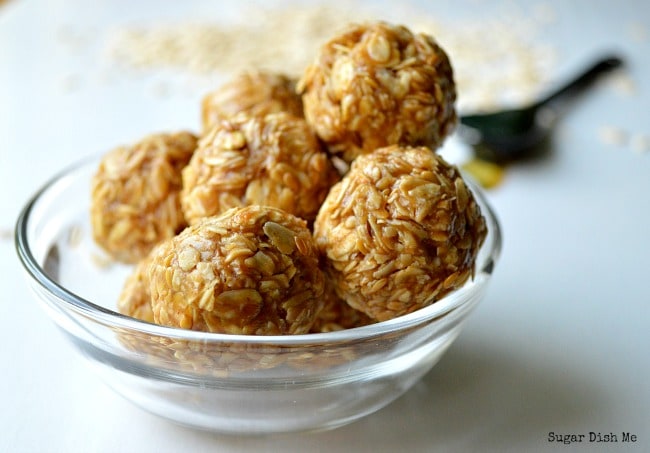 These Peanut Butter Honey Granola Bites are THE PERFECT snack for afternoons or after workouts! No-bake, totally simple, and like 7 minutes to total satisfaction. PLUS a crazy short ingredient list!!
Peanut Butter Honey Granola Bites
Little no-bake bites of oats, flax seeds, peanut butter and honey. Perfect afternoon or after work-out snacks!
Ingredients
1 cup toasted old fashioned oats (see note)
2 tablespoons peanut butter
2 tablespoons honey
1 tablespoon olive oil
¼ teaspoon ground cinnamon
1 tablespoon flax seeds
Instructions
In a small saucepan combine the peanut butter, honey, olive oil, and cinnamon. Over low to medium heat, stir until the peanut butter has melted and the sauce is smooth.
Add ½ cup of the oats to the pan. Stir to coat. Add the flax seeds and the remaining oats. Stir to coat the oats evenly.
By now the mixture should be cool enough to work with. About a half tablespoon at a time, pinch a little bit out of the pan and roll into 1" balls. They will set as they continue to cool.
Store in the fridge and grab one when you have a snack attack!
Notes
If you need to toast your oats, scatter them across an ungreased baking sheet and place them in an oven preheated to 350°F. Let them toast for 10-15 mins, stirring them around halfway through. They will smell nice and toasty when they are ready but careful! Oats are easy to burn so watch them closely.
This is a sponsored conversation written by me on behalf of International Delight. The opinions and text are all mine.