Lemon Pie Ice Cream tastes JUST LIKE lemon pie in my favorite frozen treat! Lemon-lovers will adore this recipe! Creamy sweet and tart homemade lemon ice cream with little bits of pie crust in every bite.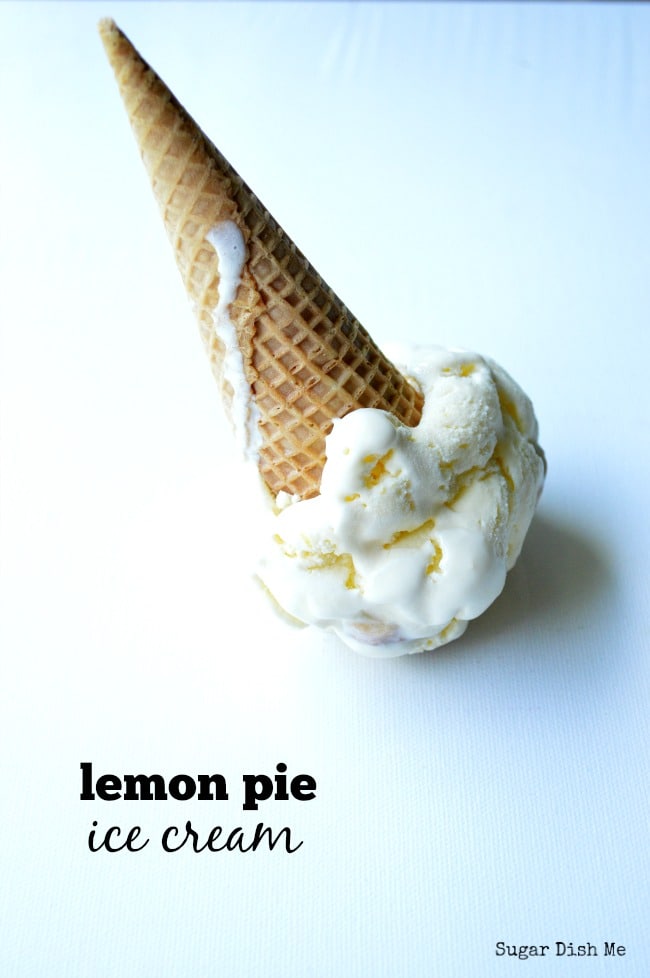 This post was sponsored by Coffee-mate via Clever Girls Collective. Original recipe and opinions are my own. Creamer makes really good ice cream.
I have this problem with pie recipes where I tend to turn pie-flavored things into other desserts. Like Blueberry Pie Bites. Or Strawberry Rhubarb Hand Pies. Or Peach Crumble Pie Bars.
I promise I can make a real pie. It's just… there are so many pie flavors!!! And I sort of stress over things like perfect slices. So I guess it's just easier this way.
I also have this problem where I totally judge books by their cover. In the literal sense of the phrase. Like I grab a cup of coffee and am totally drunk on caffeine and new book smell, and I wander through the fiction aisles of the bookstore looking for things with pretty art or fonts. Only then do I bother reading the back to find out if that book is my cup of tea.
Can I tell you a secret? This is also how I pick out wine. Pretty labels and clever names will get me every. single. time.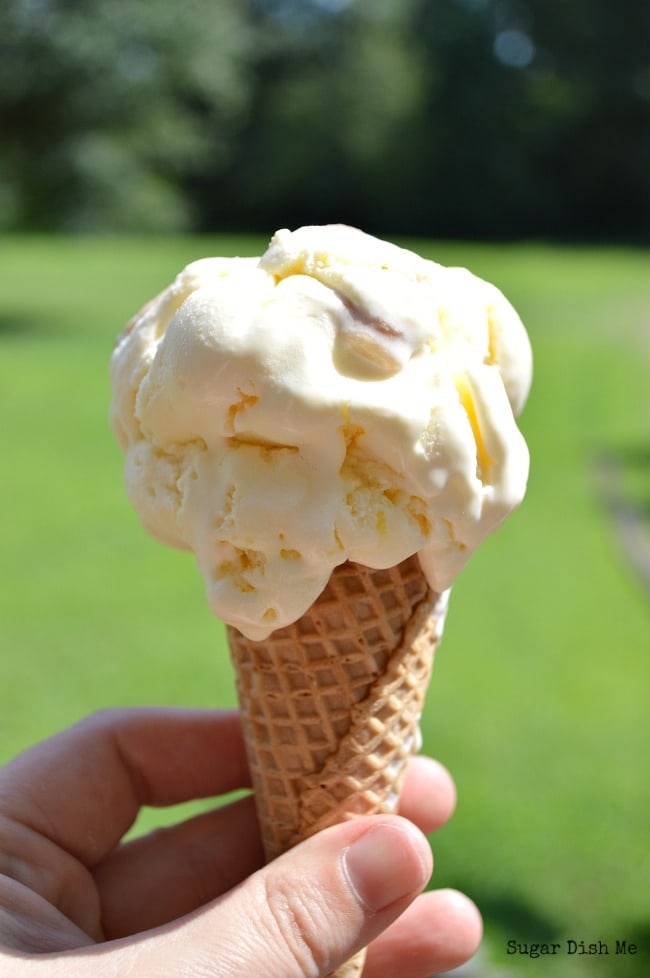 And starting now this is how I pick out coffee creamers. Yes I just said that. Because these bottles are pretty! Please tell me I'm not the only one making decisions based on packaging. I'm not, right? These new Coffee-mate bottles were designed by David Bromstad – the first winner of the HGTV Design Star – and he partnered with Coffee-mate and Target (the magical store where you go in for laundry detergent and leave with sandals, a sundress, and a seasonal wreath for the front door) to make these limited edition bottles inspired by coffee and Coffee-mate.
I totally soak up the HGTV while dying on the elliptical at the gym.
Anyways, designer packaging aside, I pretty much love using coffee creamers in my recipes. Remember the Peppermint Fudge Cake? And the Sweet Creme Lemon Cake? OMG to-die-for. Of course, I also put Coffee-mate in my actual coffee, but then I went a step further and put it in things like Lemon Pie Ice Cream.
Does it even get better than Lemon Pie Ice Cream?!
I'll tell you that it does. Because I put little bits of pie crust in the ice cream. So there's pie crust in every bite. All-butter pie crust. Oh yes.
This is an ice-cream-maker recipe. Because sometimes when I Google recipes to make with my ice cream maker there aren't any because they are all no-churn nowadays. And ya know? Sometimes I want to churn things. So I did.
Lemon Pie Ice Cream
Creamy custard-style churned ice cream with the sweet tartness of a lemon pie, complete with little bits of pie crust in every bite. Note that prep time includes time for the mixture to chill before churning and "cook" time is actually the time you'll need to churn.
Ingredients
1½ cups heavy cream
¾ cup French Vanilla Coffee-mate creamer
¾ cup milk (whole or 2%)
¾ cup granulated sugar, divided
1 teaspoon lemon zest (about 1 lemon, zested)
4 large egg yolks
1 teaspoon lemon extract
For the Pie Crust Bites:
1 cup all purpose flour
2 tablespoons granulated sugar
pinch of salt
¼ cup COLD butter
2-3 tablespoons ice cold water
Instructions
In a medium saucepan combine the heavy cream, French Vanilla Coffee-mate creamer, milk, and ½ cup of the sugar. Warm it enough to dissolve the sugar (I test with my finger -- you don't want it to be hot, just warm). Add the lemon zest, remove from the heat and set aside.
In a large bowl whisk the eggs with the remaining ¼ cup sugar. Starting with just a tablespoon or two at a time, slowly drizzle some of the hot milk liquid into the egg mixture, stirring constantly. This will temper the eggs so they can come up in temperature without scrambling. You can slowly add more and more of the hot liquid until what's in the bowl is the same temp as what's left in the pan.
Stir in any remaining liquid, stir in the lemon extract, and then place the mixture in the freezer for at least 2 hours (or overnight).
While the ice cream mixture chills, make the pie bites. Combine the flour, sugar, and salt. Cut in the cold butter (using a box grater or pastry cutter). Once your mixture resembles coarse crumbles, add the water a little bit at a time until the dough just comes together (you don't want it to be wet).
Wrap the dough tightly in plastic wrap and chill for 30 minutes. Preheat the oven to 350°F.
After the dough has chilled, press or roll it out onto a floured surface, to about ⅛" thick. . Use a tiny biscuit cutter, small round cookie cutter, or floured small shot glass to cut circles out of the dough.
Place the pie bites onto an ungreased cookie sheet (you can place them together closely) and bake for 10-12 minutes. They will puff up a bit and the bottoms will be golden brown.
After the ice cream has chilled, scrape the mixture into your churn and follow the manufacturer's instructions for churning, adding in the baked pie bites in the last 3-5 minutes.
For soft-serve you can serve immediately. If you are looking for more of a hard-dipped ice cream, scrape the churned ice cream into a freezer-safe container and chill for at least 2 hours.
Notes
You can use prepared refrigerated pie crust to save time.
Love pie inspired desserts? You should try…