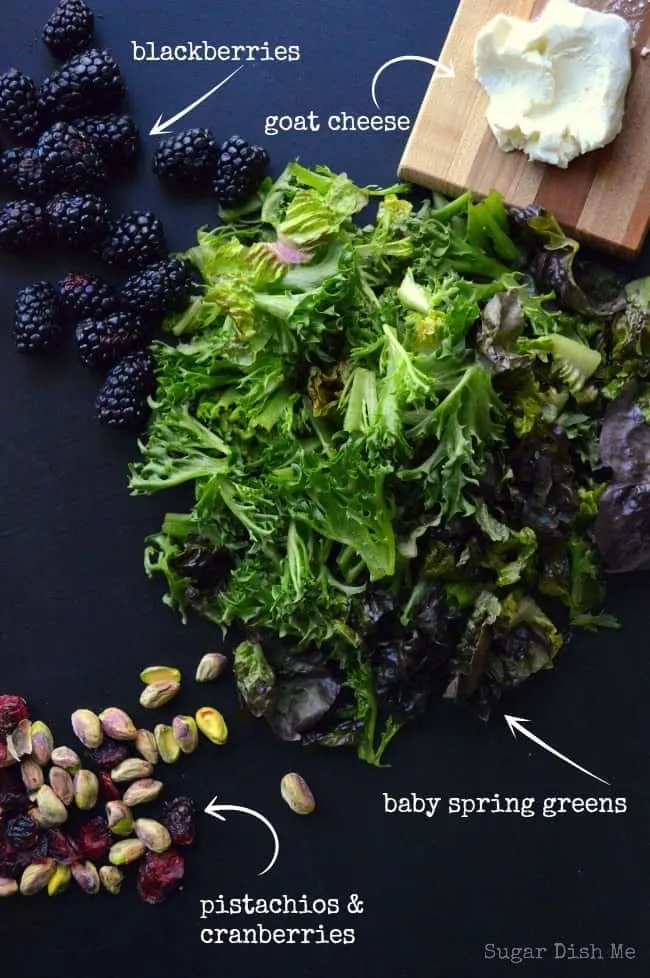 Welcome to my lunch every day for the last week.
Really — I'm not even exaggerating. I am totally addicted to this salad/dressing/hopeful spring-summer combo.
I'm on a blackberry trip lately, and if you are too then you will also want to try the Easiest Blackberry Cobbler. It's almost as fast as making a salad!
This salad has pistachios!
Pistachios are dangerous around here — like if I buy a bag and don't hide them they disappear faster than any cookie ever would. So since everyone loves them so much X 1000, I have been adding them to other things (besides my list of mindless snack foods, I mean).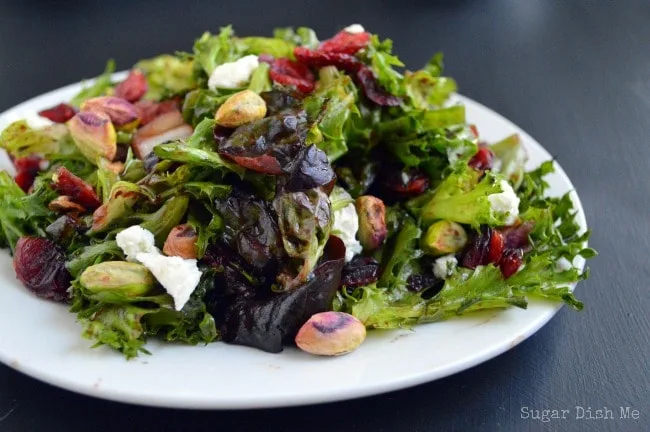 Sometimes I have a hard time getting my kids on my homemade salad dressing train. Evan is a hardcore Light Raspberry Walnut Vinaigrette fan. It's all he wants since he was about 2.
And Andrew is all about the ranch.
He's good with homemade, but since fresh herbs are scarce and expensive in the winter, I don't really make it much. So when I hand them a plate of pre-dressed salad, they kind of raise eyebrows and push the greens around the plate.
Pretty much not interested.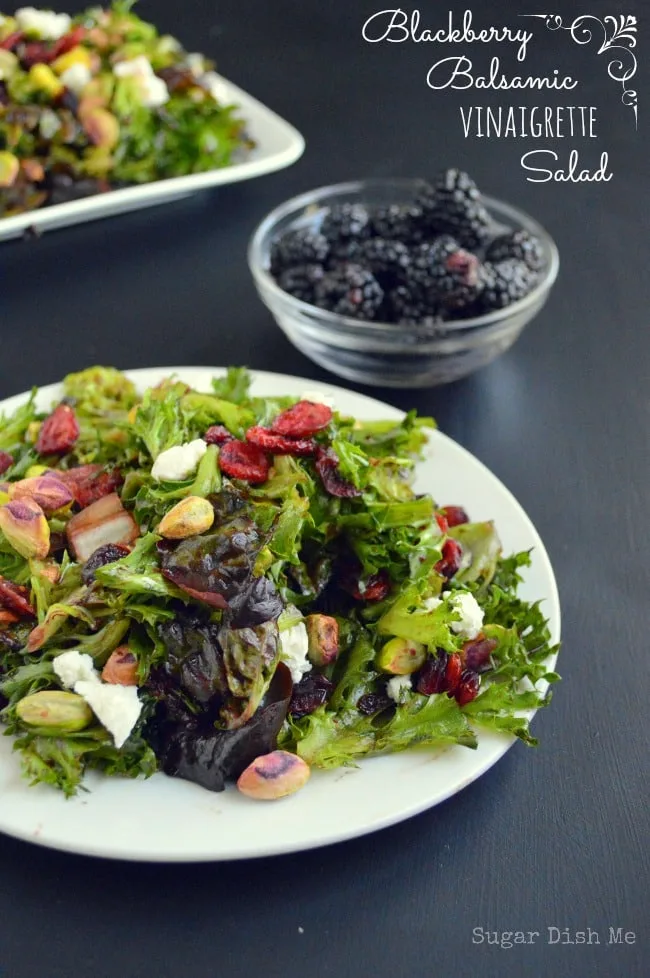 The pistachios got us over the dressing-scrutiny hump, though. AND THEN they loved it.
I tossed up another salad the next day and Andrew immediately asked, "Is this the same dressing from yesterday?" I told him yes, halfway wondering if he was going to pretend to not be hungry (a sure sign that he is not interested in the meal I'm peddling), but he snatched the plate out of my hand and said, "Oh! Good!"
You guys. We have a winner.
Also winning here: goat cheese and dried cranberries. Sometimes I add very thinly sliced red onions and more blackberries. And as soon as I can cook outside? Grilled chicken on here is happening.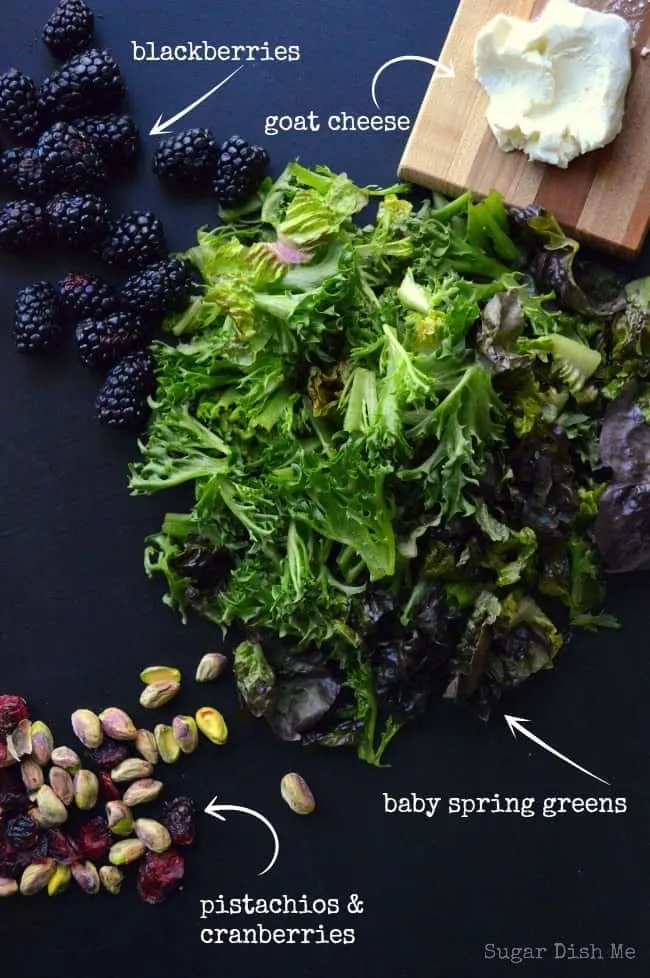 Yield:

8 servings of dressing
Blackberry Balsamic Vinaigrette
Sweet and tangy salad dressing made with fresh blackberries and balsamic vinegar. Great on this salad of fresh spring greens, dried cranberries, pistachios, and goat cheese!
Ingredients
For the Dressing:
1/4 cup balsamic vinegar
1 tablespoon honey
1 teaspoon spicy mustard
1 teaspoon light brown sugar
1/4 teaspoon onion powder
1/4 teaspoon kosher salt
1/4 cup fresh black berries
1/4 cup extra virgin olive oil
For the Salad:
6 cups fresh spring greens
2 ounces goat cheese, broken into pea-sized bits
1/4 cup shelled pistachios
1/4 cup dried cranberries
Instructions
In a liquid measuring cup, whisk together the balsamic vinegar, honey, spicy mustard, light brown sugar, onion powder, and kosher salt.
Place the blackberries in a small saucepan and pour the liquid over them, scraping all the bits out with a rubber spatula.
Cook over medium heat, smashing the blackberries with a fork for about 5 minutes. You can strain the seeds out if you prefer.
Whisk the cooked liquid with the extra virgin olive oil. Let it cool a little before tossing it with the lettuce. You may need to briskly whisk the dressing again before pouring. *see note*
To make the salad, toss half of the prepared dressing with the lettuce and salad greens. Sprinkle the pistachios and dried cranberries over the top. Add the goat cheese. Serve immediately.
Notes
This is enough dressing for two 3-4 person salad servings. You'll only toss half of the dressing with the salad in this recipe. Store the rest in the refrigerator and briskly whisk or shake before serving again. It will keep, refrigerated, for about a week.
Also delicious on this salad: very thinly sliced red onions, more fresh blackberries, and grilled chicken!
Nutrition Information:
Amount Per Serving:
Calories:

0
Cholesterol:

0mg
Sodium:

0mg
Carbohydrates:

0g
Fiber:

0g
Sugar:

0g
Protein:

0g
It's Monday. Let's pretend we are
always
going to eat healthy for a few days!