A cookies and cream cake covered in chocolate buttercream, rainbow sprinkles, and Birthday Cake Oreos. A perfect way to celebrate!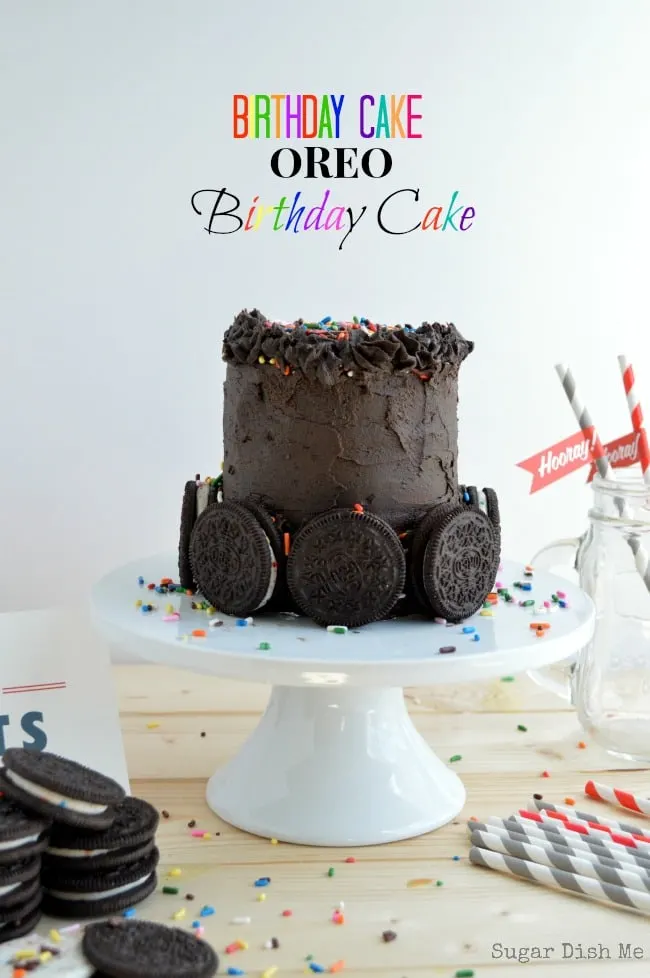 I have a pretty big immediate family. I mean, I only have the two kiddos, but I also have two sisters and two brothers, plus everyone's significant other. That makes for a LOT of birthdays every year. We have a span of months, February to August, that is loaded with all the birthday celebrating. We call it Birthday Season. Birthday Season!
During Birthday Season we have A TON of cake. Obviously.
And I almost always make the cake. So I thought it was pretty strange when I was surfing through my Recipe Index and realized that I really have zero recipes posted for layer cakes.
When my guys were smaller they used to try to stump me on birthday cakes with things like, 'I want it to look like the Titanic!,' or, 'Can you make a train that drives up the cake?' I pulled those off (barely) , but they were nothing to write home about. Or photograph.
In more recent years though, they have been satisfied with offering flavor suggestions and then letting me take the reins. No more construction projects with cake (thank goodness.)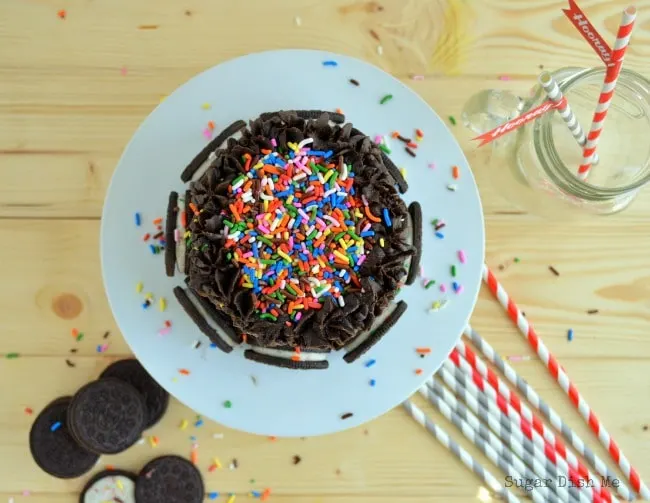 That's how this pretty little cake was born.
My youngest insisted on a cookies and cream cake. With chocolate frosting. He left it at that.
Cookies and Cream to me always equals Oreo cookies. I very happily bought all the Oreos at the store. Also – Birthday Cake Oreos. Let's talk about it.
THEY TASTE JUST LIKE A FREAKING BIRTHDAY CAKE! It's like cookie magic, I swear.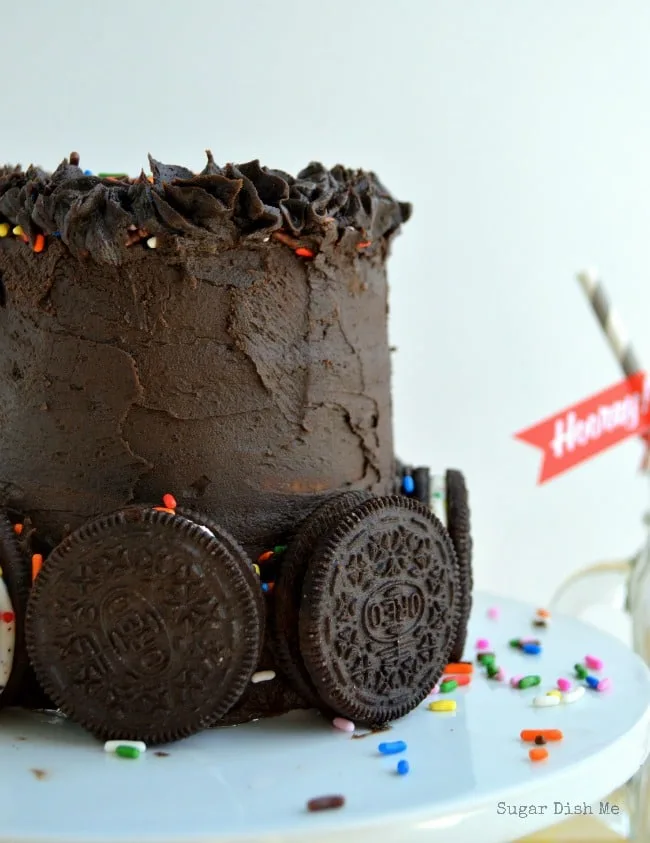 So I smashed up the regular classic Oreos and put them in some very perfect vanilla cake batter. I adapted these Perfect Vanilla Cupcakes from Crazy for Crust to yield 6 mini cakes (you can also two thin 9″ rounds, bake time adjusted, of course), and I am not joking when I say perfect. If you need vanilla cupcakes those are IT. Three mini cakes stacked and smothered in dark chocolate buttercream and then covered in sprinkles make for a pretty happy Birthday Season celebration. But then I added those Birthday Cake Oreos around the base of the cake(s) and it really felt like a party.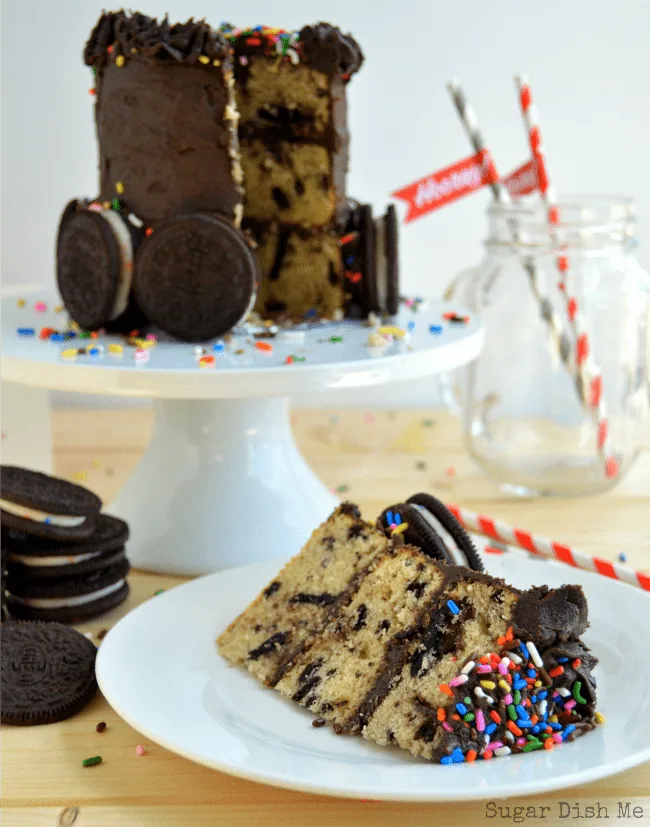 Helping us celebrate with this cake were the folks at minted.com.
Ever wonder where all the cutesy party favors and things in all the food photos come from? Minted is one of my favorite sources for pretty cake stands, signs, and paper straws. They also offer invitations, beautiful birth announcements, unique art prints — they even help you coordinate all of those things. For someone who is not really #1 at matchy things, I found their packages really simple and helpful. I was able to order all the fun props and even the cake stand in these photos, make all the colors, fonts, and themes match my recipe, and get everything here in a week! Par-teee.
Full disclosure: I was provided with a sampling of minted.com products to review, but all opinions are my own.
So with Birthday Season in full swing, I give you the ultimate birthday cake. Lovvveeeee.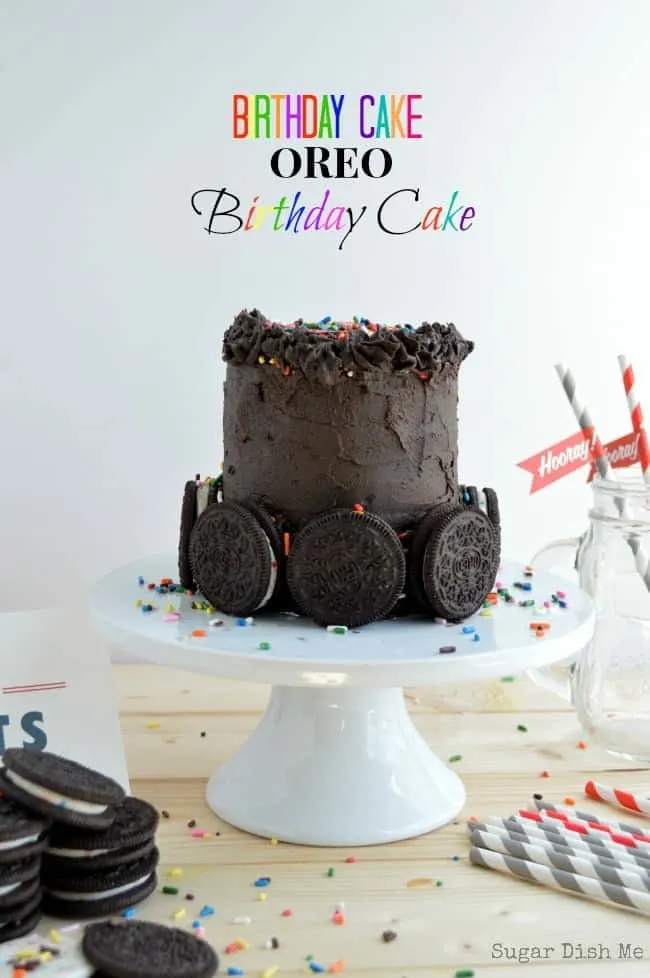 Yield:

2 small 3-layer cakes
Birthday Cake Oreo Birthday Cake
Total Time:
1 hour
30 minutes
Birthday Cake Oreo Birthday Cake is moist vanilla cake loaded with crushed Oreos and covered in chocolate buttercream. Topped with rainbow sprinkles and Birthday Cake Oreo cookies, this cake is perfect for celebrating all the birthdays.
Ingredients
For the Cake:
1/2 cup unsalted butter, melted and cooled
1 cup granulated sugar
3 large eggs
1 tablespoon vanilla
1 1/2 all purpose flour
1 teaspoon baking powder
1/2 teaspoon salt
3/4 cup buttermilk
10 Oreo cookies, crushed and broken
For the Chocolate Buttercream:
12 tablespoons unsalted butter, softened
4 cups powdered sugar
1/2 cup dark, unsweetened cocoa
1 teaspoon vanilla
2-4 tablespoons heavy cream (milk will work as well)
1/2 teaspoon salt
For Decorating:
about 1/4 cup rainbow sprinkles
16 Birthday Cake Oreos
Instructions
Preheat the oven to 350. Butter and flour 3 (or 6 if you have them) mini springform cake pans. For easy cleaning, you can pop the bottom out of the pans, line it with parchment or foil, and then pop it back in (and close the springform ring) before buttering and flouring.
In a large bowl beat the melted butter and granulated sugar. Add the eggs one at a time, beating well between each addition. The batter will look fluffy.
Beat in the vanilla until just combined.
In a medium bowl whisk together the flour, baking powder, and salt. Add 1/3 of the flour blend to the batter and mix until just combined.
Pour in half the buttermilk and mix until just combined. Scrape down the sides of the bowl and repeat the process with 1/3 more of the flour, then the rest of the buttermilk, and finally the remaining 1/3 of the flour.
Fold in the crushed Oreo bits.
Fill the prepared cake pans about halfway (this will yield a total of 6 3-inch rounds) and bake for 30 minutes, or until a pick inserted into the center comes out clean.
Let the cakes cool for at least 10 minutes before carefully turning them out of the pans to cool completely on a wire rack.
If you only have 3 pans, butter and flour the pans again and bake the remaining 3 cakes.
To make the frosting, beat the butter using the whisk attachment until it's fluffy. Add 1 cup of the powdered sugar and beat until coarse crumbles form. Add the cocoa, vanilla, and one tablespoon of the cream. Mix until combined. Add the remaining powdered sugar 1 cup at a time, mixing well between each addition. Beat in the salt for about a minute to make sure it's mixed well.
Carefully level the cake layers. Frost the top of each layer. Stack them in 3's to give you two tall little cakes. Frost the sides and smooth with a spatula.
Frost one side of each Birthday Cake Oreo cookie and affix the frosted side around the base of the cakes (the frosting will glue the cookies to the cake) - 8 cookies should fit perfectly around each cake.
I piped little shapes using a Wilton 1M tip around the top edge to hold in the sprinkles. Cover the top of each cake with sprinkles.
Recommended Products
As an Amazon Associate and member of other affiliate programs, I earn from qualifying purchases.
Nutrition Information:
Yield:
16
Serving Size:
1
Amount Per Serving:
Calories:

487
Total Fat:

22g
Saturated Fat:

12g
Trans Fat:

0g
Unsaturated Fat:

6g
Cholesterol:

78mg
Sodium:

275mg
Carbohydrates:

69g
Fiber:

1g
Sugar:

51g
Protein:

4g
I would also like to apologize for my excessive use of italics and
ALL CAPS
in this post. I was just really excited about cake.
For the pretty little white cake stand click HERE. For the paper straws click HERE. For flag stickers and other party favors and decor click HERE.
(P.S. These are not affiliate links. I was just really pleased with all my fun party stuff.)
For the Wilton Mini Springform Pans I used click HERE (this is an affiliate link).