My favorite way to make cobbler! Fresh blackberries are baked into a buttery biscuit-like crust that comes together quickly. The Easiest Blackberry Cobbler is at the top of my summer dessert list.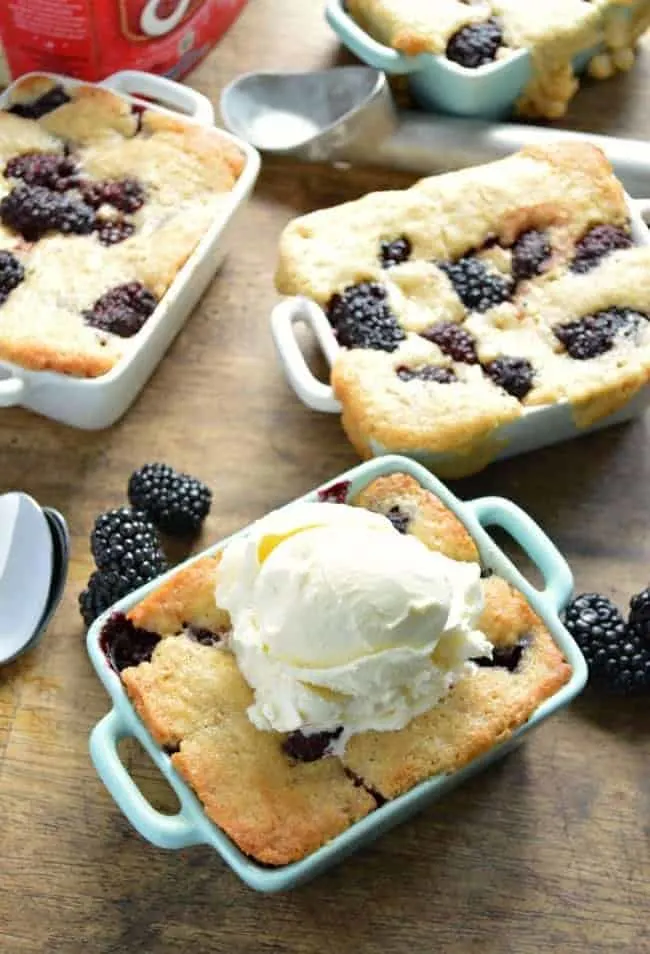 The blackberries are out of control right now. So. Dang. Good.
We have a blackberry bush off to the left of our driveway. It borders a field, and when we drove in yesterday there was a pretty mama deer standing at the edge of the tall grass just helping herself.
I don't mind at all. Because I have more than my fair share hanging around in the fridge waiting to be baked into the Easiest Blackberry Cobbler.
You can really add whatever fruits strike your fancy with this recipe, but the summer berries are completely calling to me and so that's what ended up in my cobbler.
If you ever wondered about the differences between a cobbler and a crumble, a cobbler has a topping that is sort of biscuit-like.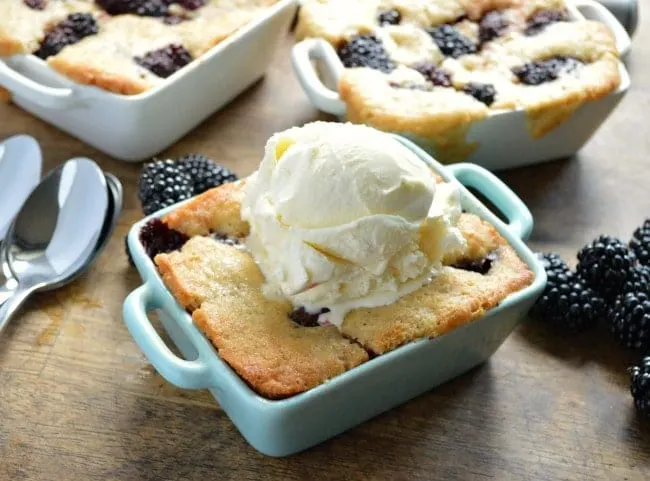 IN FACT! I've seen plenty of recipes calling for things like Bisquick, or even canned biscuits. We'll maybe do that one day. A crumble has a topping that is just that — crumbled. Think brown sugar and oats like in my favorite Raspberry Apple Pie. OMG yes.
One of my favorite cobblers to make with summer berries is this Mixed Berry Cobbler; it has oats and is earthy with whole wheat flour plus raw cane sugar. And while that recipe is still really simple, it can't touch the ease of this Easiest Cobbler Recipe.
This recipe is really all about how it comes together. You pour butter on the bottom of your baking dish. Then you pour in your batter. The fruit gets piled on top, and when you bake, MAGIC HAPPENS.
That sweet fluffy buttery biscuit-like crust swallows up the fruit, leaving just little patches of that gorgeous deep bluish purple hue peeking through.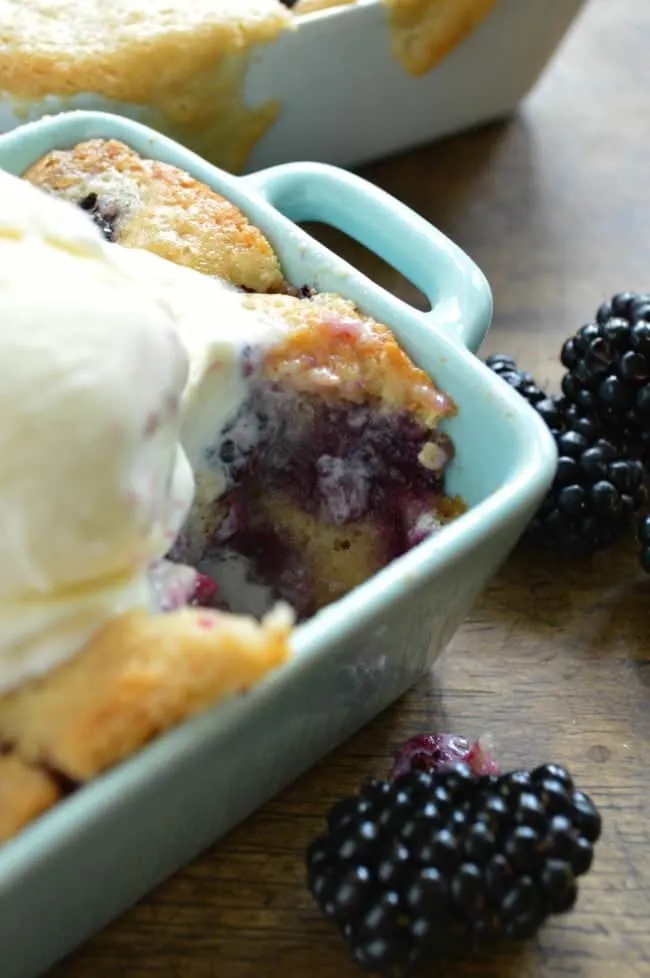 The outside crust has a tiny bit of crunch, but what's inside is soft and almost custard-like. Sort of like the texture of Blueberry Bread pudding with Whiskey Sauce. I'm telling you: MAGIC.
I made mine in these mini casserole dishes, but you could go with ramekins, a pie plate, or a regular old 8 X 8 or 9 X 9 baking dish. The bake time will be less with the smaller dishes, but I swear this is so easy you just can't go wrong.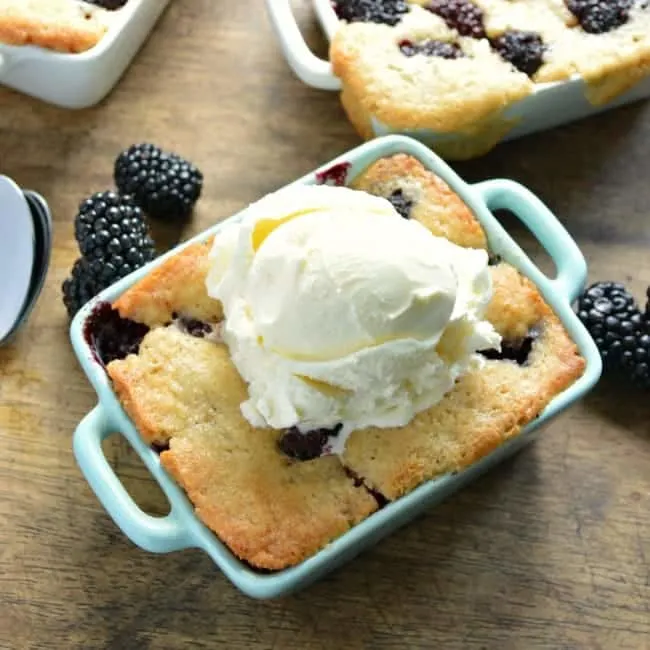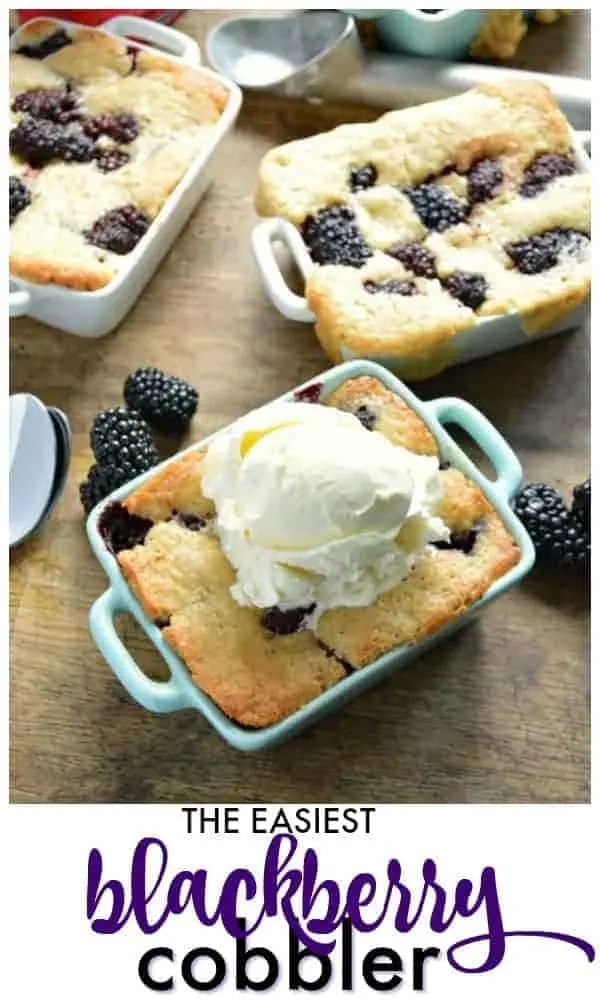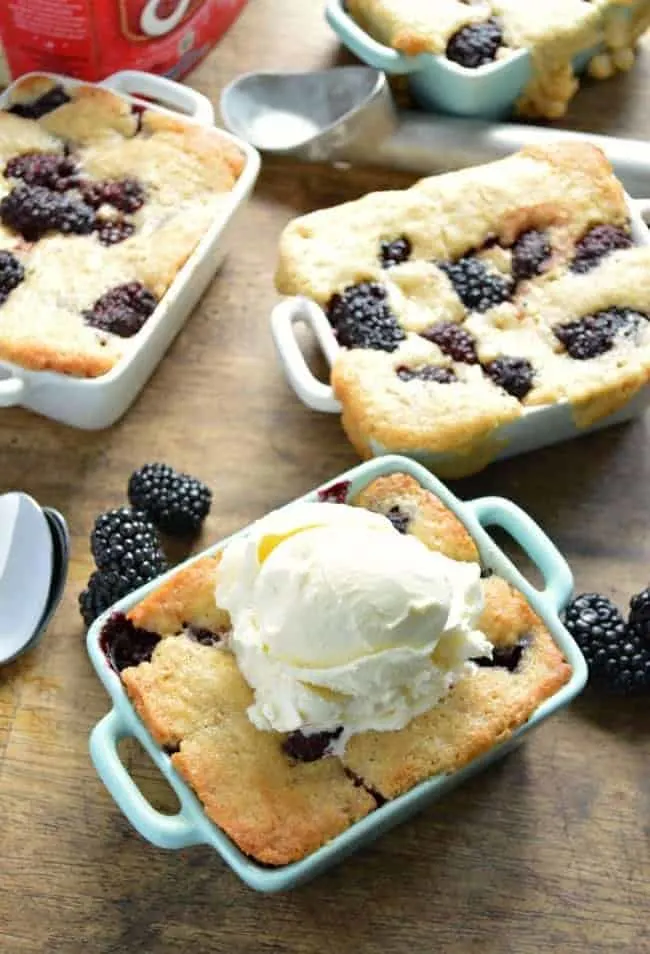 Yield:

serves 6 - 8
The Easiest Blackberry Cobbler
My favorite summer cobbler recipe! Fresh blackberries are piled right on top of an easy batter that will rise up right over them as it bakes. A classic recipe to keep on hand!
Ingredients
1/4 cup butter, melted
1 cup all purpose flour
2 teaspoons baking powder
3/4 cup granulated sugar
3/4 cup milk
1/8 teaspoon nutmeg
2 cups fresh blackberries
Instructions
Preheat the oven to 325F. Divide the melted butter evenly between your baking dishes (or pour it all in if you are using just one). **See Note**
Whisk together the flour, baking powder, and sugar. Stir in the milk. The batter will be thick. Divide the batter between your baking dishes, spooning it right over the melted butter. Sprinkle nutmeg over the top.
Divide the berries evenly between your baking dishes, placing them right on top of the batter.
Bake smaller dishes for 25 - 30 minutes and a single baking dish for 35 - 45 minutes. The top will be golden and the fruit will be bubbly.
Let the cobbler cool slightly before serving.
Notes
1. Make sure if you are using smaller baking dishes that they total at least 1 quart. That's how much space you'll need for everything to bake up. In the photos I have used four 6 ounce mini casseroles, making them extra full with a little spillage.
Nutrition Information:
Amount Per Serving:
Calories:

0
Cholesterol:

0mg
Sodium:

0mg
Carbohydrates:

0g
Fiber:

0g
Sugar:

0g
Protein:

0g