Red skinned potatoes tossed with olive oil and fresh herbs. These warm herbed potatoes are a great side with any meal and would be great at your Easter table! Also a happy addition to brunch.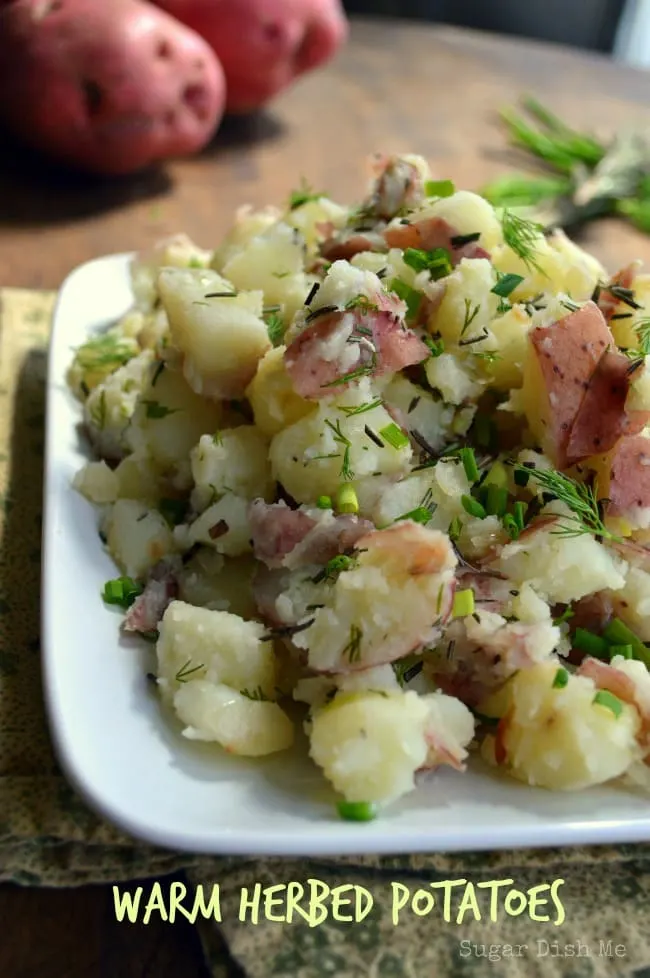 I have decided that I need a phone with buttons. I mean, I love my smart phone – don't get me wrong. It is attached to my person at all times. I never thought I would use it for so many things, but the phone is how I managed to answer an emergency email from a reader about how many times she could reheat her Homemade Fresh Vegetable Soup before she should stop reheating it and, 'please hurry! I'm Hungry!'
You guys make me laugh.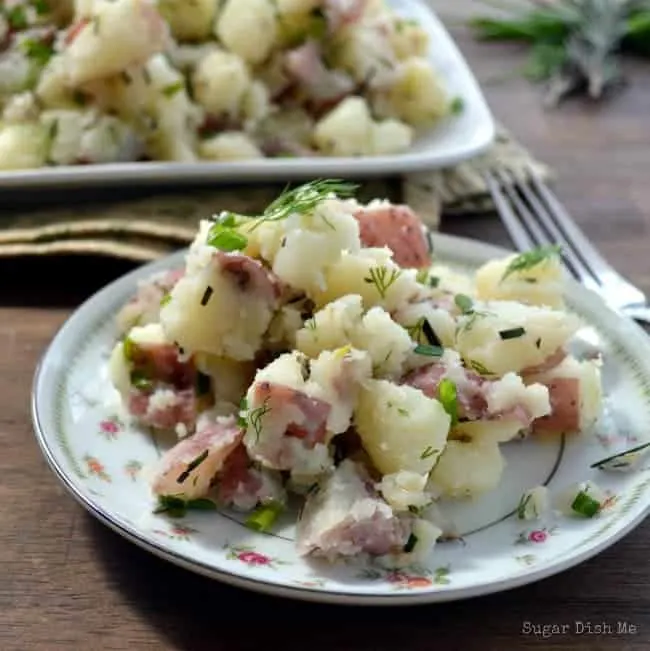 Sometimes Chad will text me in the middle of the day to ask what's happening in the kitchen. I think he likes something to look forward to. Like Oreo Cake Day? That made him really happy. The day I made these potatoes I had like 6 things going in the kitchen. It was one of those binge-cook days to try to get a little ahead with work (ha!). So I messaged him back really fast all the things I had working.
I typed 'Warm Herbed Potatoes'.
The PHONE typed 'warm her bed potatoes'.
I don't even know what that means.
But I am really tired of pushing imaginary buttons with my face when I hold the phone with my shoulder. And I am pretty sick of actual words being "corrected" to words and phrases that make no sense.
I need buttons, you guys. I really miss buttons.
So anyway.
These warm her bed potatoes are super simple and are totally excellent in lots of ways. They make a great alternative to regular mayonnaise-ey potato salad on your Easter table (do you have potato salad on Easter? It is an Easter staple over here). They are a quick, easy side to serve up with sandwiches when you're in a rush. They are AMAZING under runny eggs at brunch (and I have a brunch recipe using them coming soon!). PLUS fresh herbs are soooooooooooo spring-ey. And since it keeps freaking snowing and being 28° everywhere, I will take all the fake spring I can get.
Warm Herbed Potatoes
Warm red skinned potatoes tossed with extra virgin olive oil and fresh herbs. A great alternative to potato salad and perfect for brunch.
Ingredients
6 cups red skinned potatoes, scrubbed and cut into 1" pieces
3 tablespoons extra virgin olive oil, divided
1 medium shallot, diced
1 small bunch fresh chives, chopped (you'll need ¼ - ⅓ cup)
2 tablespoons fresh dill, chopped
1 tablespoon fresh rosemary, chopped
pink Himalayan sea salt to taste
Instructions
Place the potatoes in at least a 5 quart pot. Cover with cold water plus a couple of inches. You can salt the water if you prefer.
Bring to a boil and cook until the potatoes are fork tender. Check them after they've been boiling for about 7 minutes and adjust your cook time from there.
Drain the cooked potatoes and let them rest in the colander for a minute.
Add one tablespoon of the olive oil to the pot and heat it over medium high heat. Add the shallots and cook until translucent, about a minute. add the potatoes back to the pot.
Toss everything with the remaining olive oil and the fresh herbs.
Serve warm.
Notes
You can use any herbs you'd like! Chopped fresh sage is delicious. Tarragon is wonderful. Play around with the flavors and combinations.