These Bloody Good Pancakes are to die for! Learn how to make the spooky strawberry maple syrup that sets these pancakes apart!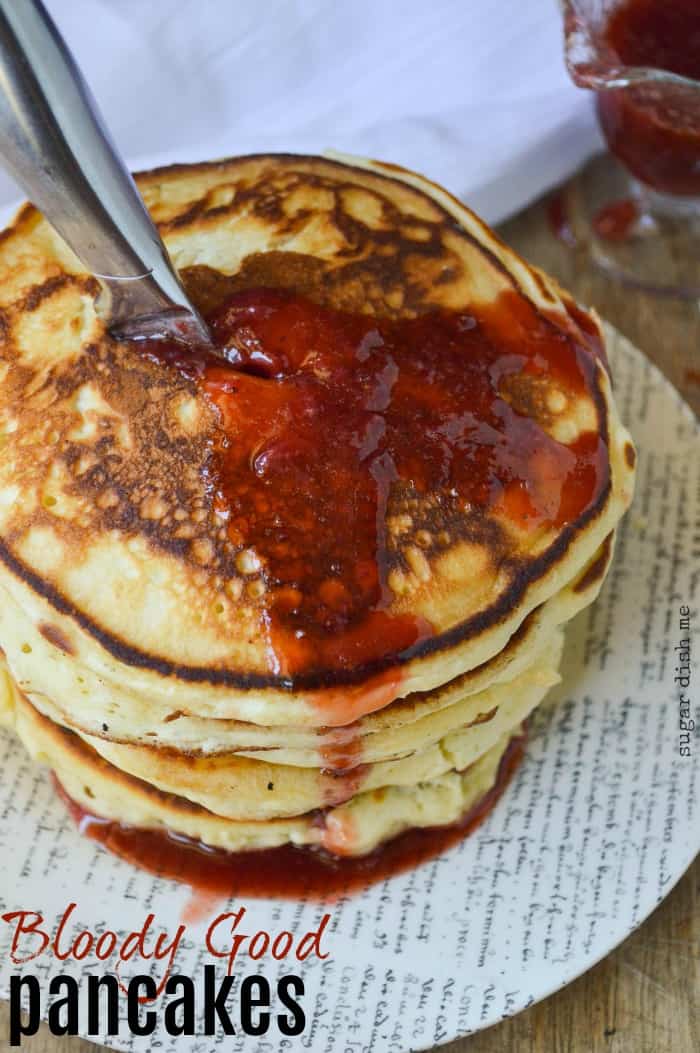 Halloweeeeeeeeennnnnnnnn! It's so close, y'all. And I'm excited.
October is always a time crunch for me — it seems like no matter my grand plans it's always just crazy busy and I can't get all the things done that I want.
That includes all the good Halloween recipes! So many of them are extra adorable but require lots of time for fancy decorating. Put food decorating on the list of things I never have time for.
So I took a shortcut. Inspired by my Bloody Good Cheesecake Recipe that you guys really seem to dig, I made these Bloody Good Pancakes. Pancakes are already quick to put together, but you can take that a step further if you start with a batch of my Homemade Fluffy Pancake Mix.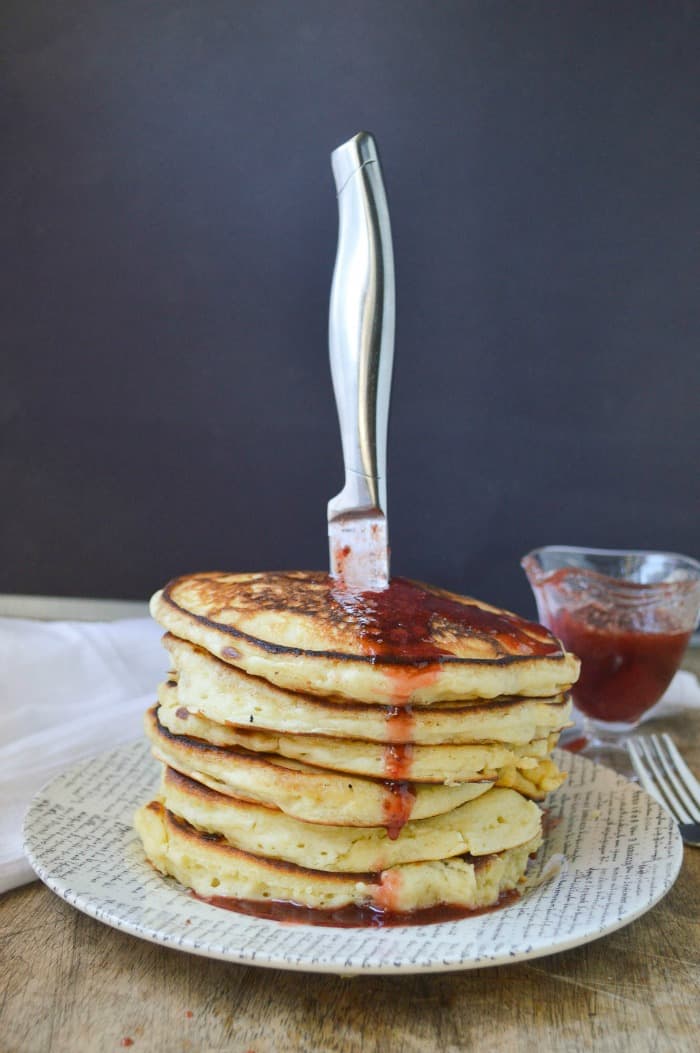 It's my favorite way to make pancakes; just add an egg and milk for the fastest and fluffiest homemade pancakes!
Moving onto the syrup which is the real star of the show here. That's what we are going to learn how to make.
It looks spooky gross, I know.
But it's just fresh berries cooked down and then whisked together with maple syrup. This is a recipe that's handy ALL the time, not just at Halloween. Strawberry syrup is always a good idea.
You can use strawberries OR raspberries here. Fresh or frozen – either totally works. Raspberries will give you a deeper red color and you might want to use a little more maple syrup to temper the color.
Simple, spooky, Halloween bloody good pancake perfect.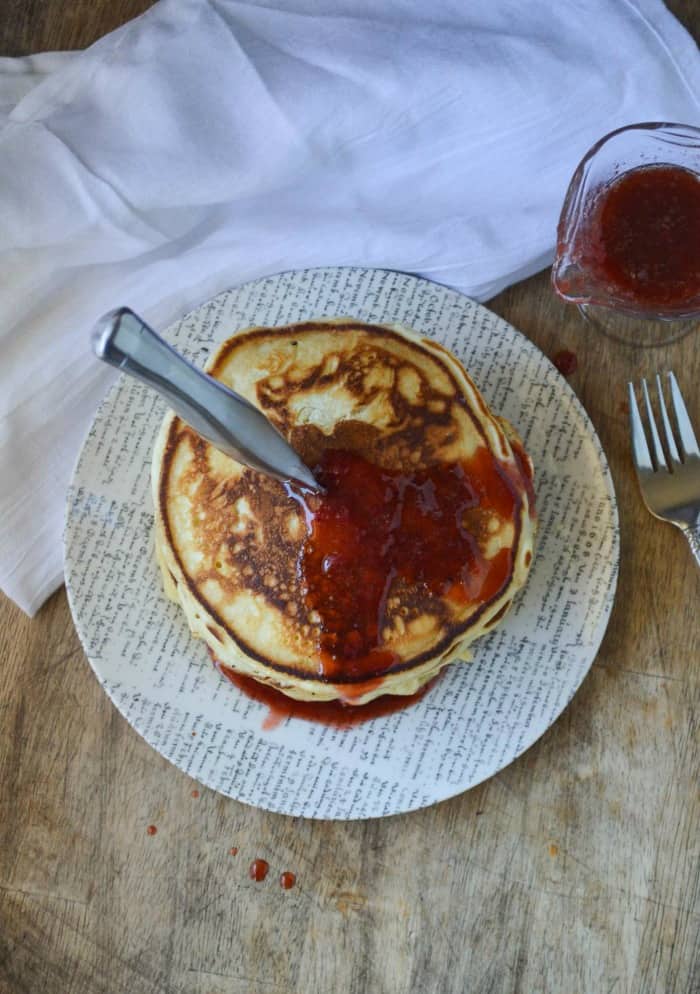 Oh!!! And guess what else?!
#TheHalloweenProject is happening again and that means that there are a bunch of other food blog writing friends that put together their Halloween best! You will ABSOLUTELY want to check out…
Search #TheHalloweenProject in social media to find all the treats from the past few years!

Handy Tools for this recipe include:
Bloody Good Pancakes
Bloody Good Pancakes start with the best homemade fluffy pancakes and are topped with a sticky strawberry maple syrup that makes the spookiest fake blood!
Ingredients
1 recipe Homemade Fluffy Pancake Mix
3 cups diced strawberries (see note)
½ cup granulated sugar
3 tablespoons orange juice
2 tablespoons water
1 teaspoon vanilla
½ cup maple syrup
Instructions
Make your pancakes according to instructions and then place them in the oven on warm while you make the strawberry maple syrup.
Add the strawberries, sugar, orange juice, and water to a saucepan. Cook over medium heat, stirring occasionally, until the berries break down (about 10 minutes).
Place a fine mesh strainer over a bowl and press the strawberry mixture through.
Whisk in the vanilla and maple syrup.
Pour the syrup over the pancakes. Stab a knife through the top of the pancake stacks for effect.
Notes
You can also use raspberries!
Fresh or frozen for strawberries or raspberries both work well.
Want more spooky recipes? You should try…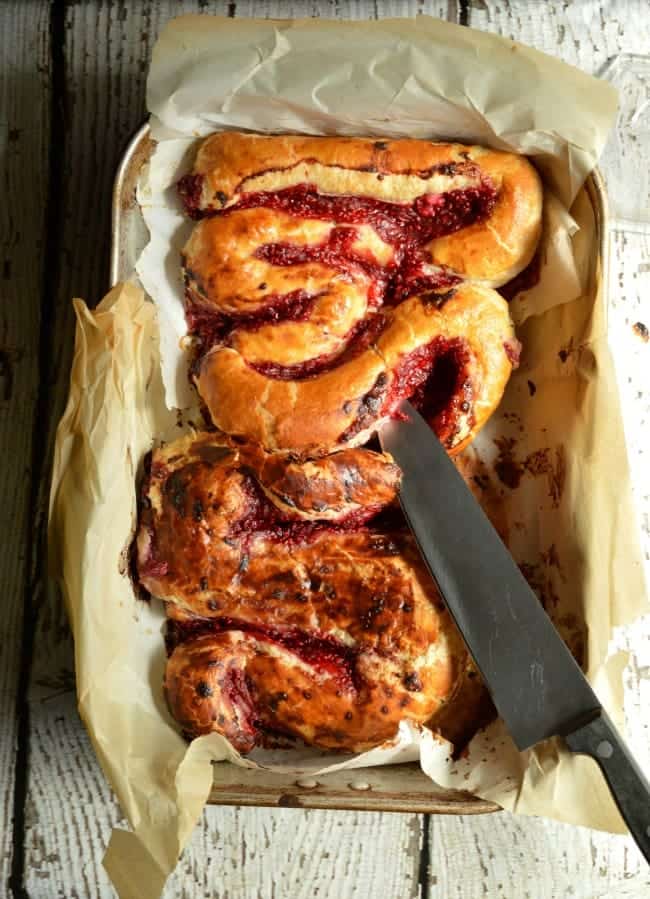 Icky Intestines Bread (it's a raspberry pastry don't worry!)