Little Chocolate Skeleton Men Cookies are a simple chocolate cut-out cookie recipe calling for your gingerbread man cookie cutters in October!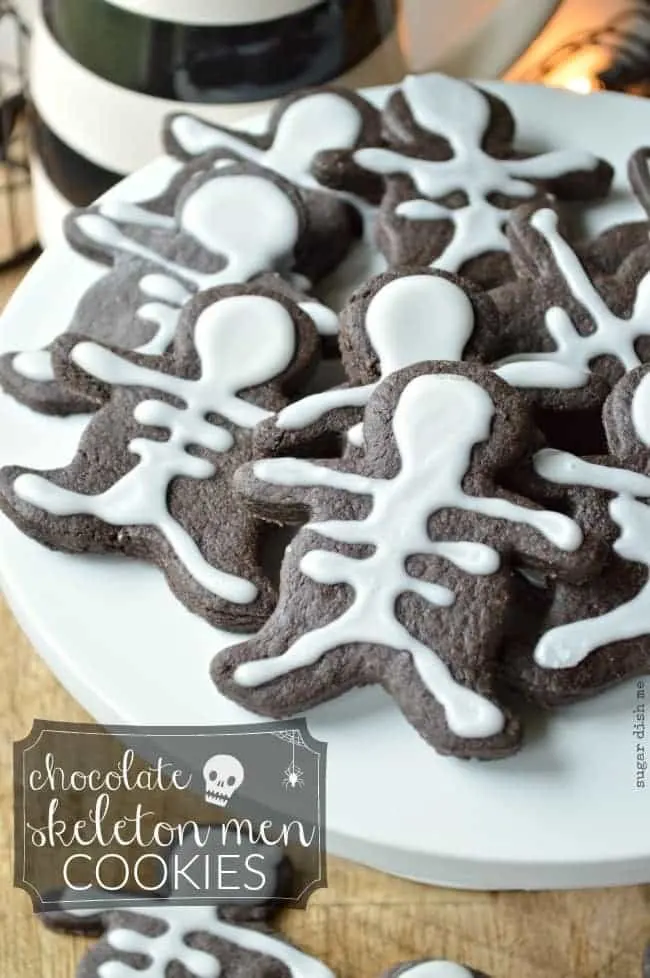 Note: This recipe goes all the way back to 2012! But I still make these cookies for my kids every year. I've changed it a little over time, adding more salt to the dough (because salty chocolate is GOOD), and giving the option of adding espresso powder!
It's Friday!!! I am sooo ready to have another weekend filled with fall Halloween fun.
Am I on your nerves yet with my Halloween excitement and fall things? Cause you are basically gonna need to get over that and have some Halloween cookies.
No, really.
Make these cookies.
Evan is begging me to send some to his school next week for the class Halloween party. Except the teacher hasn't actually sent home any literature announcing a Halloween party. So I'm pretty sure Evan just wants me to keep the 4th grade in a steady supply of skeleton cookies. I'm cool with it.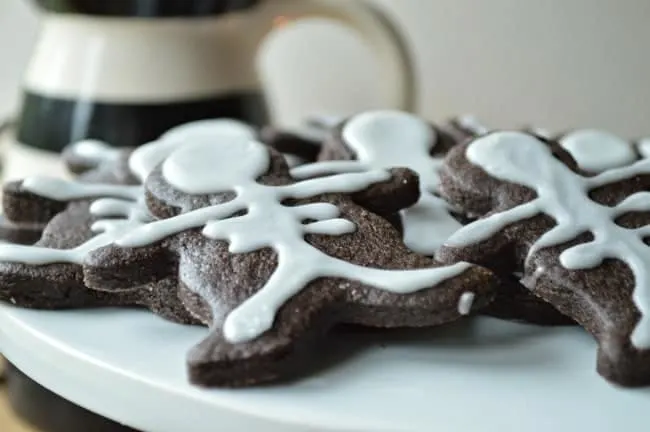 Because Halloween out here in Nowheresville is actually kind of strange.
I was fortunate enough to grow up in the suburbs with like a zillion other children and our Halloweens were AWESOME.
We always made our costumes out of stuff from around the house, and we always racked up with GOBS of candy. The protocol was to leave just before dark (because trick-or-treating in the daylight was for babies) and tear down the street full speed ahead. Getting allllllll the way down our street and back up the other side was a lot of walking and a lot of knocking and a LOT of candy. Everyone participated. Like if you didn't put your light on and hand out candy you were the Scrooge of Halloween. Parents milled around in the street while kids stumbled through leaves and grass ignoring all the rules of polite society, EXCEPT saying 'thank you'. Thank you's were a must.
My dad always stayed at the house to hand out the candy; he was really super tall and he had this Frankenstein mask… he was kind of the real deal. We always had THE BEST candy. My mom doesn't play when it comes to chocolate.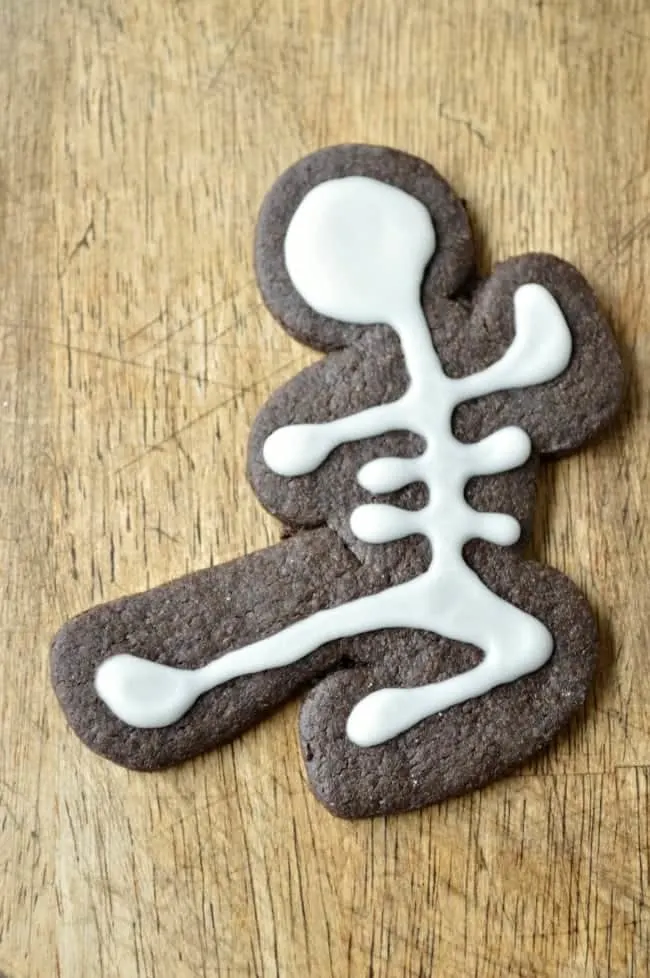 As the years have passed, this holiday has gotten seriously diluted and I think it's pretty crummy. NO ONE turns their lights on.
There aren't many walkable neighborhoods out here. We located ONE, but it's basically one gigantic safety violation with small children in costume running through the streets. No street lights, lots of traffic, the houses are kinda far apart, and again, not everyone participates.
Boo.
They also do this thing out here called Trunk-or-Treat. Do you guys have this where you live? I had never heard of it. The premise is for cars to line up in a parking lot and then decorate their trunks for Halloween. Then they hand out candy from there. You see it mostly at churches, and it's actually really cute for little bitty kids (a clever solution to the no-neighborhood thing), but there's no door knocking. No saying, "Trick-Or-Treat!!!!!!!," at the top of your lungs. And no running through the dark with the crispy fall air flushing your cheeks.
I need a Halloween revolution. Back to trick-or-treat basics.
It starts with these cookies.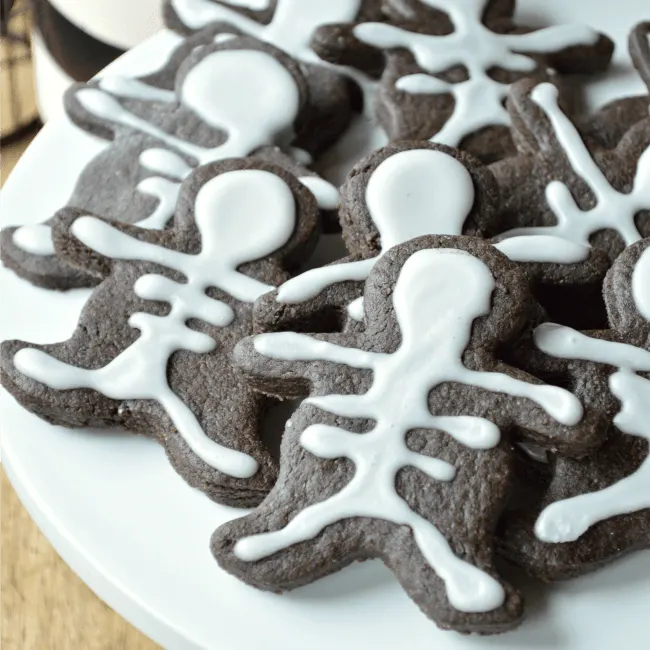 Yield:

about 36 cookies
Little Chocolate Skeleton Men
Total Time:
2 hours
8 minutes
Little Chocolate Skeleton Men Cookies are so easy and so cute for Halloween! Simple chocolate cut out cookies frosted with skeleton man shapes. Perfect for parties!
Ingredients
1 cup (2 sticks) unsalted butter
1 cup granulated sugar
1/2 cup packed brown sugar
1 egg
1 teaspoon vanilla
1 teaspoon instant espresso powder (optional)
2 3/4 cups flour
1/2 cup dark unsweetened cocoa powder
1 teaspoon baking powder
For the Frosting
1 teaspoon salt
1 cup powdered sugar
2 tablespoons milk
Instructions
Cream the butter and sugars in a large bowl. Beat in the egg, vanilla, and instant espresso powder.
In another large bowl, whisk together the flour, cocoa, baking powder, and salt.
Add the dry ingredients to the wet and beat until dough forms; it will take a few minutes. Form the dough into two balls or logs, wrap tightly with plastic wrap, and refrigerate for 1-2 hours.
Pre-heat the oven to 375°F. Grease a baking sheet or line with parchment paper.
Roll the dough out to 1/8″ and cut out using a "boy" gingerbread cookie cutter. Line them up on the prepared baking sheet and bake for 7-8 minutes (7 for a softer cookie, 8 for one that's more crisp). Let them cool for a minute or two on the cookie sheet before moving to a wire rack to cool completely.
When the cookies have cooled, whisk together the powdered sugar and milk. Scrape the frosting into a quart-sized Ziploc bag, seal it, and cut a tiny corner off. Use this to pipe the skeleton pattern onto your cookies. I always start with the head. Let the frosting set completely before storing.
Notes
Prep time includes the 1-2 hours that the dough needs to chill
Recommended Products
As an Amazon Associate and member of other affiliate programs, I earn from qualifying purchases.
Nutrition Information:
Yield:
36
Serving Size:
1
Amount Per Serving:
Calories:

130
Total Fat:

5g
Saturated Fat:

3g
Trans Fat:

0g
Unsaturated Fat:

2g
Cholesterol:

19mg
Sodium:

76mg
Carbohydrates:

19g
Fiber:

0g
Sugar:

11g
Protein:

1g
(from
THIS
recipe at A Taste of Home)
If you dig Halloween treats, you should also check out…