This Bloody Good Cheesecake Recipe is the spookiest Halloween treat that is sure to be the scary centerpiece of your party! Red velvet cheesecake is baked on a chocolate crust and covered in a blood red homemade gel frosting.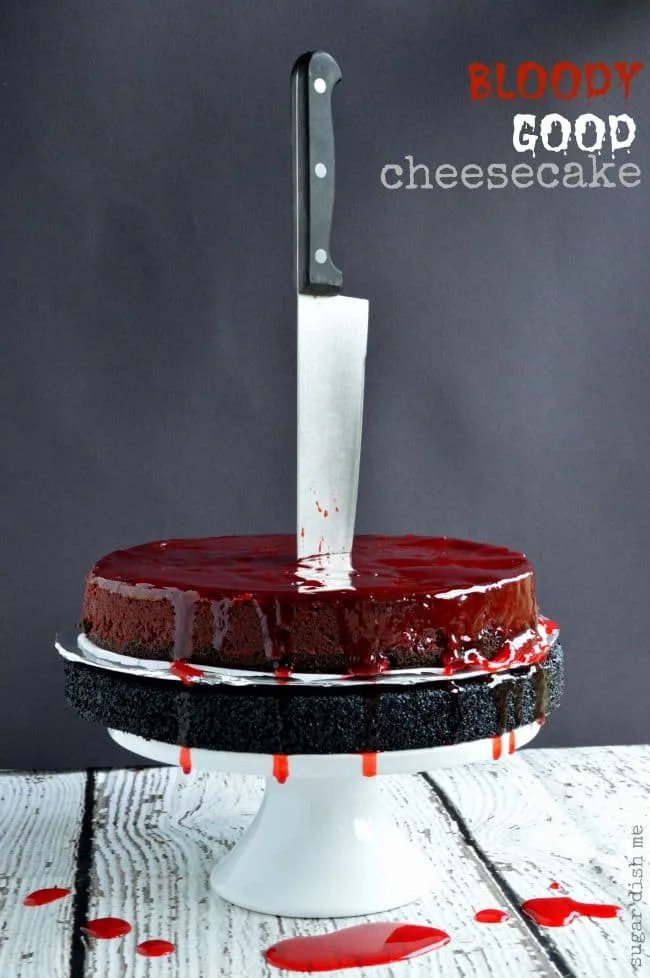 It's that time!!! Halloween is near! So here's what's up — if you are new here, or you just forgot since last year, or if you maybe don't follow me on Instagram, then I should explain that I am just a tiny bit into Halloween. And by "tiny bit" I mean WE GO ALL OUT. So this year I decided to go a step beyond the usual handful of Halloween recipes that I share at kind of the last minute.
This year I have partnered with 7 other bloggers to bring you all kinds of Halloween fun – recipes, ideas, how I decorate my house, and… this Bloody Good Cheesecake.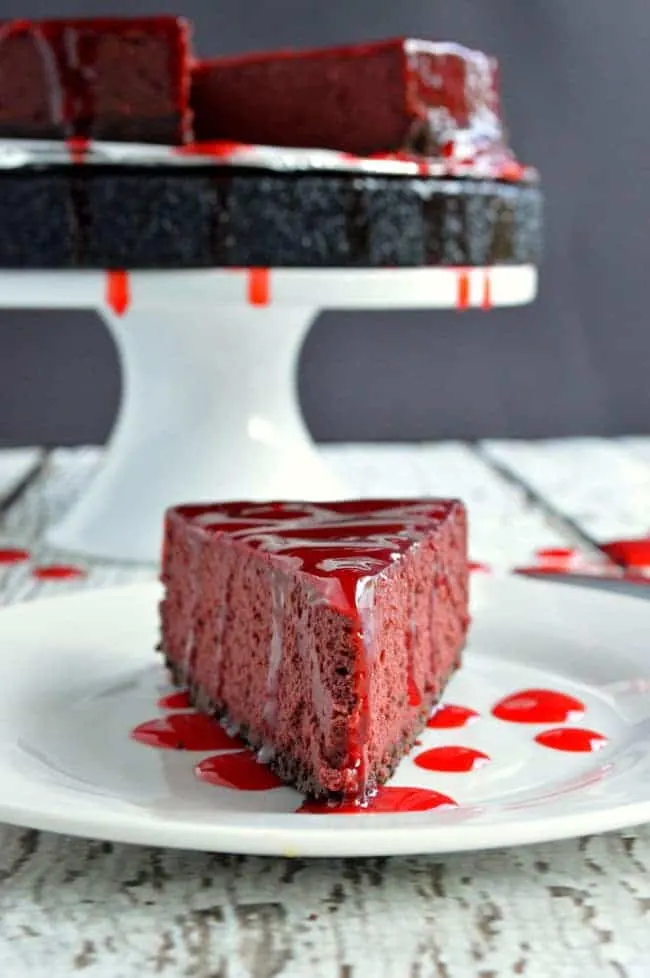 Is this spooky and fun or what?
This bloody cheesecake recipes is actually just the creamiest red velvet. Plenty of chocolate, not too sweet, and with a chocolate graham crust. By itself the recipe is a little bit elegant. But the most compelling part of any Halloween dessert is really the presentation.
So to make this cake extra spooky I made homemade red gel frosting. It is SO easy. You'll never pay too much to fuss with a mediocre tube of gel frosting again.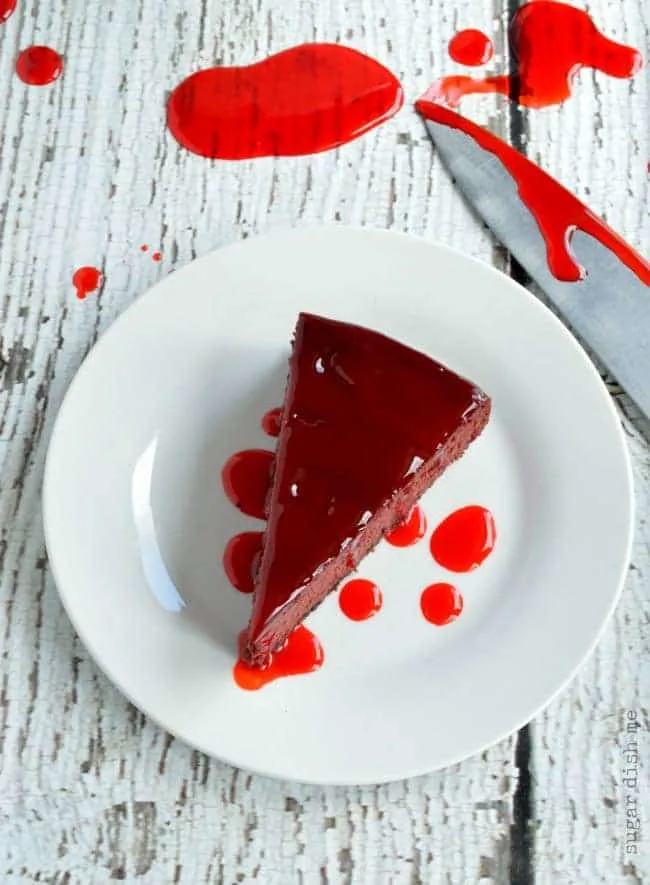 There are a few elements going on here to make this cake all bloody and Halloween-ey. FIRST is the red gel frosting that I made with the help of this Wilton icing color. The second is the base I put the cake on. I used a cardboard cake round like this, but if you don't have any, I'll tell you that cutting a 10″ circle from a pizza box and wrapping it in foil totally works.
Beneath the cardboard is a foam disc that I bought in the craft section at Walmart. I painted it black using some leftover chalkboard paint, but spray paint will also work. The foam is important because when you serve, you need to be able to get the knife to stand up in the cake without tipping over, plus you want it to be deep enough that it looks like you actually stabbed the cake.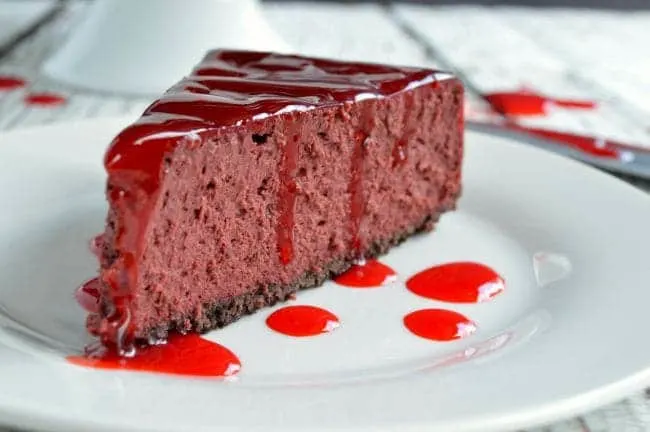 I am SO excited to share with you guys over the next few weeks. Halloween is my favorite!
But if it's not your thing, this red velvet cheesecake will totally stand alone without the fake blood frosting.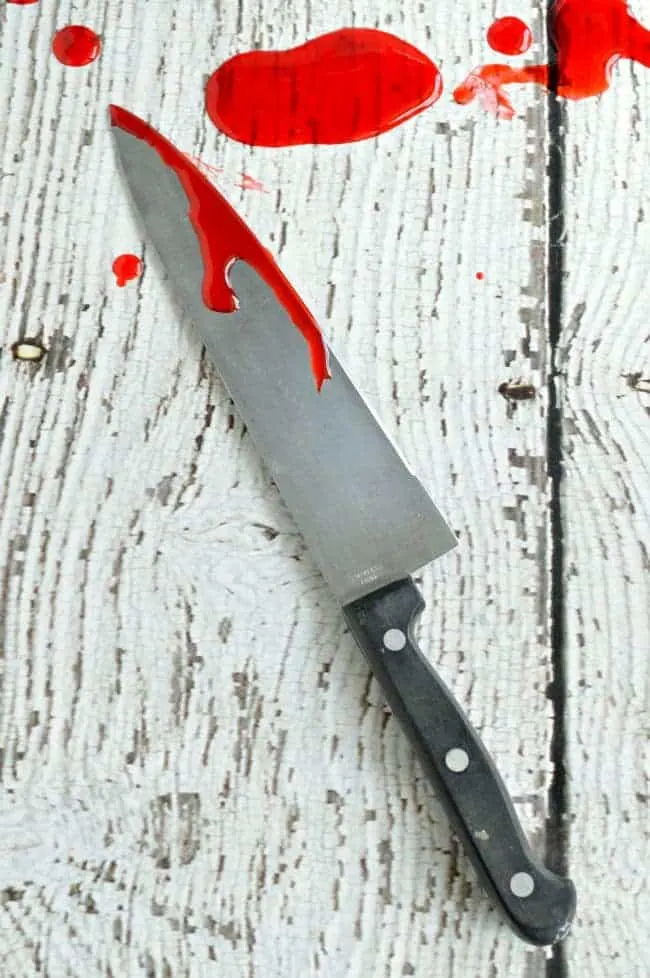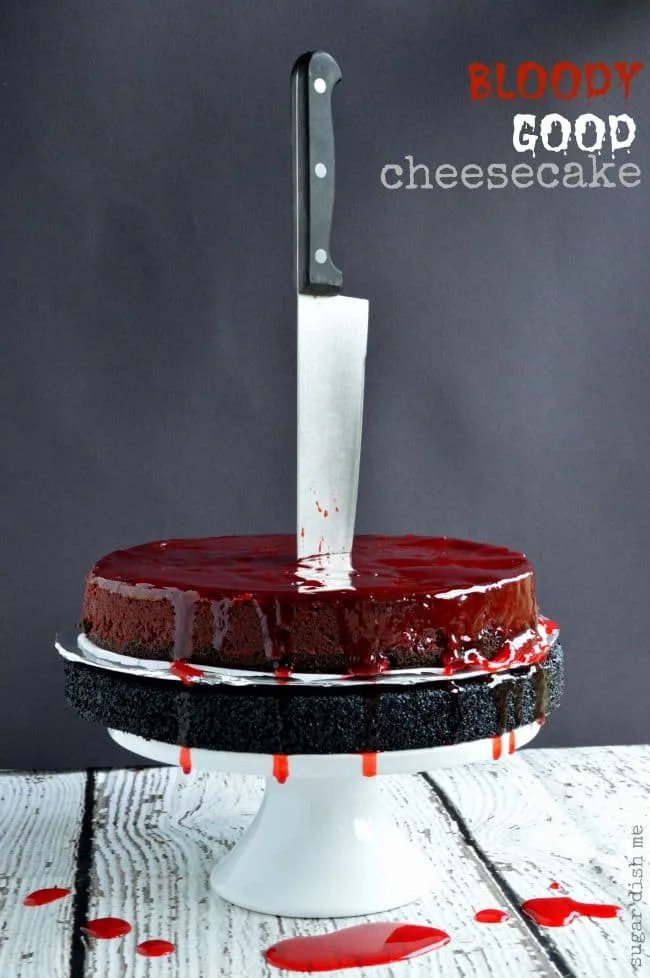 Yield:

serves 16
Bloody Good Cheesecake
Prep Time:
4 hours
15 minutes
Total Time:
5 hours
15 minutes
Be sure to make this cake a day ahead so it has the proper time to cool in the oven and then chill in the fridge before serving. Prep time listed includes chilling.
Ingredients
For the Crust:
8 whole chocolate graham crackers, crushed into fine crumbs
5 tablespoons melted butter
For the Cake:
3 (8 ounce) blocks of cream cheese, at room temperature
3/4 cup granulated sugar
1/4 cup dark unsweetened cocoa powder
4 large eggs, at rook temperature
1 teaspoon vanilla
1/4 teaspoon salt
1/3 cup heavy cream
For the Gel Frosting:
1/4 cup COLD water
3 teaspoons cornstarch (see note)
1/4 cup light corn syrup
1 teaspoon vanilla
red icing color
Instructions
Preheat the oven to 325F. Line a 9" springform pan with parchment paper or foil, letting the paper cover the edges of the bottom of the pan and closing the springform edge around it (this makes for easy removal later on).
Combine the crushed chocolate grahams and melted butter until the crumbs are evenly coated. Press into the prepared pan.
Beat the softened cream cheese and sugar until fluffy. Add the unsweetened cocoa and mix until combined, making sure to scrape down the sides and the bottom at least once.
Add the eggs one at a time, mixing well between each addition. The mix in the vanilla, salt and heavy cream.
Add the red icing color until the batter is a deep red color. I started with 1/4 teaspoon and ended up using maybe 1/2 - 3/4 teaspoon total.
Scrape the batter into the prepared pan and spread it over the crust.
Bake for 20 minutes ate 325F. Then reduce the oven temperature to 225F and bake for 30 more minutes. Turn the oven off and DO NOT open the oven door. Just let the cheesecake stay in there until the oven cools to room temperature. This prevents cracking.
Use a knife to gently loosen the sides of the cake from the pan before popping the springform sides open.
To make the gel frosting, stir together the cold water and cornstarch until smooth. Pour it into a small saucepan and bring to a simmer over medium heat. Pour in the corn syrup and stir until the mixture is heated through and smooth. You will need to stir frequently; you can watch it thicken as it cooks.
Remove the mixture from the burner after 1-2 minutes. Stir in the vanilla and red icing color. I used about 1/2 teaspoon of color to achieve the look here. Let the gel cool before spooning it over the cake.
Refrigerate for 4 hours before serving.
Notes
For the cake pictured, I actually made 2 batches of the gel frosting. For the first batch I used 4 teaspoons of cornstarch. It makes a thicker gel. I spread it over the top of the cake and let it drip down the sides. Then I refrigerated the cake. That kept the drips in place. The second batch I made with 3 teaspoons of cornstarch and spooned it over the cake when serving. It looks like fake blood and is pretty great.
Nutrition Information:
Yield:
16
Serving Size:
1
Amount Per Serving:
Calories:

181
Total Fat:

9g
Saturated Fat:

5g
Trans Fat:

0g
Unsaturated Fat:

4g
Cholesterol:

64mg
Sodium:

142mg
Carbohydrates:

23g
Fiber:

1g
Sugar:

19g
Protein:

3g
Love Spooky Halloween Recipes? You should also try…
These Black Velvet Cupcakes with Raspberry Jam from Amanda at A Cookie Named Desire. DEEEPLY chocolate cupcakes with cream cheese frosting and raspberry jam. YESSS.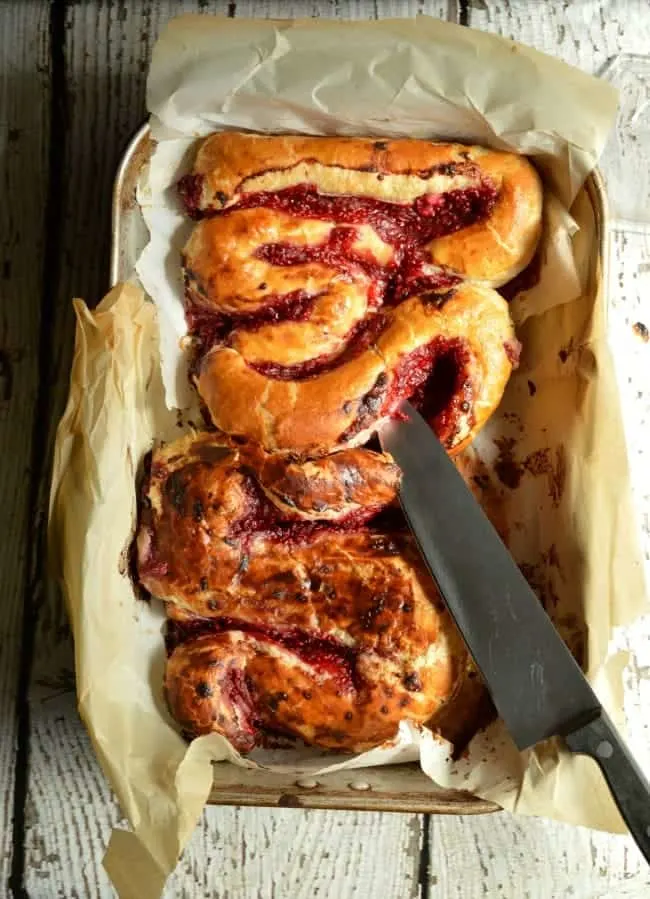 This Icky Intestines Bread looks pretty gross but it's really just puff pastry is filled with sweet cream cheese and raspberry sauce, rolled up into large and small intestine shapes, and baked for a sweet breakfast or dessert icky good Halloween treat.