Champagne, apple cider, and apple pie vodka are blended with ice and garnished with fresh vodka-soaked apples to make theie super delicious Bobbing for Apples Bellini Slush. Great for fall get togethers and [of course!] Halloween parties!

I can guarantee that I'm going to need a batch of Bellini Slush before the day is out.
First of all, it is Thursday. October 2nd. And I have no idea how that happened. This week flew by at lightning speed, but more importantly – this year is almost gone!!!!!!! That makes me feel old. Eh.
On top of the fact that 2014 seems to have entered some strange warp-speed in the space-time continuum, I also am running on just a few hours of sleep because last night I accidentally decided to test the efficiency of our alarm company.
Oops.
Around 2:45 a.m. something startled me awake. We sleep with a fan on full blast because Chad is like a human space heater and I hate to be hot. It's hard to hear anything over the fan, and the dogs were not at all alarmed – two of them sleep sprawled across their own beds on our bedroom floor and they were definitely snoring – but I was still spooked. You know when you hear a weird noise in the middle of the night and you become convinced there must be an axe murderer lurking around? Yeah. Like that.
So I layed there for a minute and tried to fall back to sleep, but actually I was just straining my ears for any sign of movement. Fun times.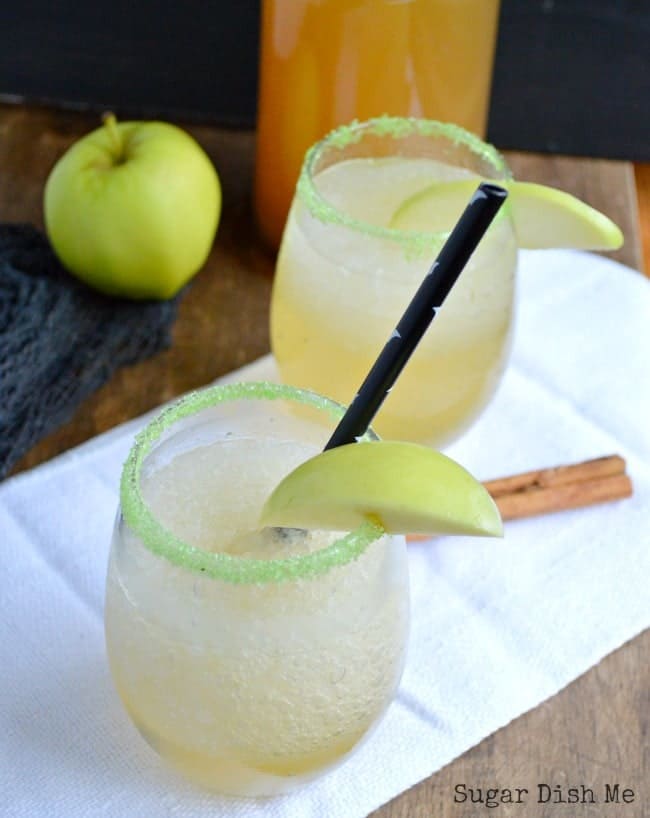 We have an alarm system but sometimes we forget to set it at night if the dogs are in and out a million times. I got up to check it, figuring that setting it would give me peace of mind so I could go back to sleep for a little bit, because while I am totally a morning person, 2:45 is a little too early for me.
In my foggy haze though, I must have accidentally hit the panic button triggering a silent alarm, except I had no idea. Awesome.
I finally got settled back into bed and 2 minutes later Lucy sounded her own panic alarm. And then I was completely convinced that I was right about the axe murderer in the first place. I shook Chad awake because he could sleep through a nuclear war and then sat there waiting in the dark while he approached the bad guys.
The bad guys turned out to be the police responding. So Chad keeps saying, "No, everything is fine. It must be a mistake. We were all sleeping, but thank you so much," and the police keep saying, "Sir, if someone is in the house and you are afraid to say so, that's what we're here for. Are you sure everything is alright?" I applaud their efficiency, but could not stop laughing about my other half being afraid of something while he stood shirtless at the front door and Betty ran in circles barking her tiny little head off.
The good news is that the police response time at our new house is crazy fast! The bad news is that we are both really really overtired.
Time for drinks!!!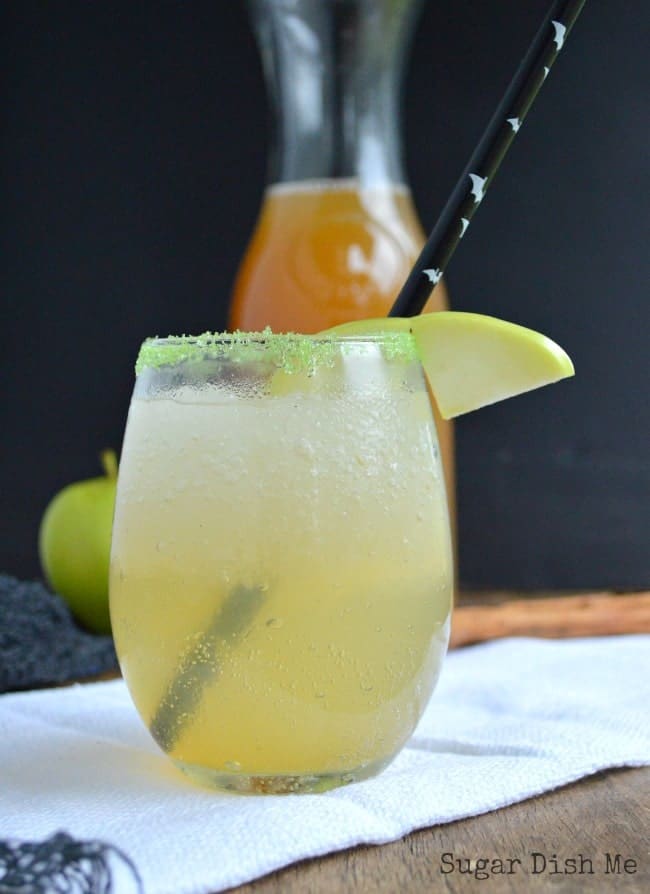 Bobbing for Apples Bellini Slush is so. much. fun. I soaked chopped apples in apple pie vodka. THEN I took champagne, a little more apple pie vodka, some spiced apple cider, and a little ice and threw them in a blender. The vodka-soaked apples are tossed in the bottom of each glass and then the bellini slush is poured over the top. I rubbed an apple sliced across the rim of each glass and then dipped them in green rimming sugar. These will be SO fun at our Halloween party later this month. I'm excited! And hopefully by then I'll get some sleep.
Bobbing for Apples Bellini Slush
A fun Halloween drink made with champagne, apple pie vodka, and apple cider. Vodka-soaked apples bob around in sugar-rimmed glasses. You'll love these! Prep Time = the time you'll need to soak the apples and Cook Time + the time you'll need to make the drinks!
Ingredients
For the Apples:
1 firm, tart apple, chopped into 1" pieces
½ cup (4 ounces) apple pie vodka
For the Bellini Slush:
4 cups ice
6 ounces apple pie vodka
1 cup spiced apple cider
1 750 mL bottle of champagne
rimming sugar and more apple slices to garnish
Instructions
Place the apples in a glass and pour the apple pie vodka over them. Let them soak for at least 30 minutes (I like to refrigerate mine).
Add 4 cups of ice to your blender. Then add the apple pie vodka, spiced apple cider, and as much champagne as you can fit without overflowing (using a standard 1 liter blender I was able to slowly pour in the whole bottle). Blend until the ice is slushy and well blended.
Rub the edge of 4 stemless wine glasses with an apple slice. Dip the edge in the rimming sugar.
To serve toss a few of the vodka soaked apples into the bottom of each glass and pour the slush over them.