My boys have been at Grammy's house enjoying their summer break for about a week now and … as much as I like talking to Lucy and the cats I think I'm ready for them to come back now.
Our house is so small that normally when we are all here you have no option but to be all up in everyone else's space. All summer long that has meant that Xbox and zombies are a regular part of my workday. So are 36537658 sandwiches and yelling to get out of the fridge about every 20 minutes.
When my mom asked if she could have my guys for a week so they could go with her to VBS (Vacation Bible School. Totally some of my most fun childhood memories full of glitter, glue, and cookies) and do some other fun things with their aunts and uncles this week, I was like yesssssssssssssssss. Take them!! But then after they are gone for a little bit and the joy of peace and quiet has worn off I pretty much just want them to come back and eat all the cake. .
Cake is completely necessary in this house and I'll tell you why. It's because we have conversations like this at 9 pm:
Andrew (13-year-old bottomless pit): Can we order pizza?
Me: Why?
Andrew: Because I just saw tacos on the internet and now I'm hungry.
I can only dream of a metabolism that lets me eat pizza at 9 pm…
Anyway.
Here's what you need to know about this cake: it will make your whole house smell sososososososososososososososo good for like the whole entire day. I don't have a ton of recipes using brown butter (mostly because it got pretty trendy there for awhile so I figured you guys were getting all your brown buttery things in other places and I'd just give you a break and feed you tacos or something), but if you have never played around with it I'm trying to tell you that it is straight up deee-freaking-licious and after you make this cake you're going to want to brown butter everything in your life.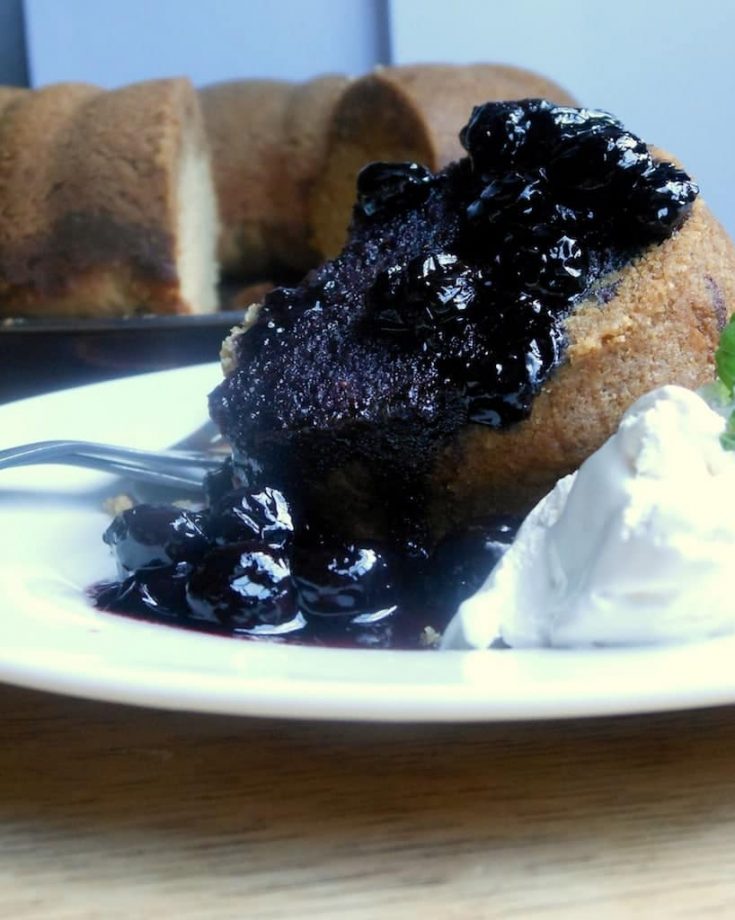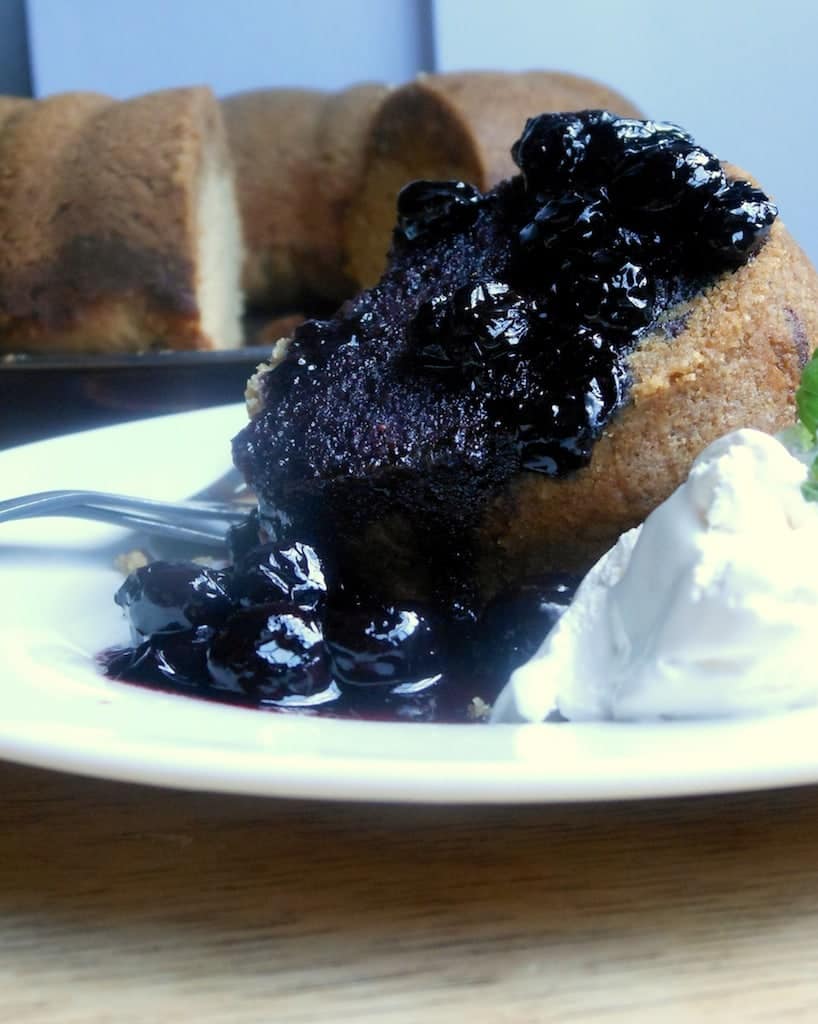 Yield:

12-14 slices
Brown Butter Bundt Cake with Roasted Blueberry Sauce
Brown Butter Bundt Cake is tender and rich, and is basically everything you want in a cake! There's a crumbly topping, roasted blueberry sauce, and this cake will WOW anyone you serve it to!
Ingredients
For the Brown Butter Bundt Cake:
3/4 cup unsalted butter
1/2 cup brown sugar
1/2 cup granulated sugar
2 eggs
1 1/2 teaspoons vanilla
1/2 cup sour cream (or plain Greek yogurt)
2 cups all purpose flour
1 1/2 teaspoons baking powder
1/2 teaspoon salt
1/2 teaspoon nutmeg
For the Crumble Cake Topping:
1/2 cup cold butter, cut into cubes
1 cup flour
1/4 cup brown sugar
1/2 teaspoon baking soda
1/2 teaspoon cinnamon
For the Roasted Blueberry Sauce:
I pint fresh blueberries
1/2 tablespoon olive oil
1 tablespoon butter
2 teaspoons brown sugar
2 teaspoons granulated sugar
1/4 teaspoon cinnamon
a squeeze of fresh lemon juice as needed
Instructions
Pre-heat the oven to 400. Butter your bundt pan.
Toss the blueberries with the olive oil and spread them on a baking sheet (you may want to use parchment paper; I have no problem with the blueberries sticking though). Place the baking sheet in the oven and let the blueberries roast for about 10-15 minutes (While you brown the butter).
Brown the 3/4 cup butter. To do this place the butter in a small saucepan over medium heat and let it melt. It will continue cooking and will start to snap and crackle as the water cooks out of it. Stir occasionally and let it keep going (you can raise the heat just a tad but be careful not to burn it) for about 10 minutes. When it's done the butter will be brown, your house will smell nutty and buttery and there will be teensy browned bits on the bottom of the pan. That's the good stuff. Put the pan in the freezer to let it cool.
Take the blueberries out and set them aside. Reduce the oven temperature to 350.
While the butter cools, mix up your crumble topping. Just combine the 1/2 cup cold butter, 1/4 cup brown sugar, 1/2 teaspoon baking soda, and 1/2 teaspoon cinnamon with your fingers until coarse crumbles form. Press the mixture into the bottom of your bundt pan (it will be the top of your cake).
Scrape the cooled brown butter into a large bowl and mix it with the brown sugar and granulated sugar (you can use a hand mixer but a whisk or sturdy spoon will work just fine). Mix in the eggs, vanilla, and sour cream.
Next add the flour, baking powder, salt, and nutmeg. Stir until combined-- the batter will be thick.
Spoon the batter over the crumble topping you pressed into the bundt pan. Bake for 35-40 mins. A pick inserted into the center will come out clean.
While the cake bakes scrape the blueberries and any liquid on the pan into a medium saucepan. Add the butter, sugars, and cinnamon. Cook over medium heat-- let the sauce come to a simmer. The sugar will dissolve. If it's too thick and you need liquid squeeze in the lemon juice as needed.
Turn the slightly cooled cake out onto a plate. It is AMAZING served warm with the warm blueberry sauce and a big 'ol scoop of ice cream.
Recommended Products
As an Amazon Associate and member of other affiliate programs, I earn from qualifying purchases.
Nutrition Information:
Yield:
16
Serving Size:
1
Amount Per Serving:
Calories:

322
Total Fat:

18g
Saturated Fat:

11g
Trans Fat:

0g
Unsaturated Fat:

6g
Cholesterol:

68mg
Sodium:

218mg
Carbohydrates:

38g
Fiber:

1g
Sugar:

18g
Protein:

4g
I originally found the recipe for
Brown Butter Sour Cream Cake with Roasted Pineapple Sauce
at
Frugal Foodie Mama
. Her version is delicious and roasted pineapple (with rum!!!) is something I can seriously get behind. Her blog is full of fantastic family-friendly recipes and I highly recommend it.