My favorite classic side dish! Creamy Garlic Mashed Potatoes are smooth, garlicky, and lightened up with Greek yogurt.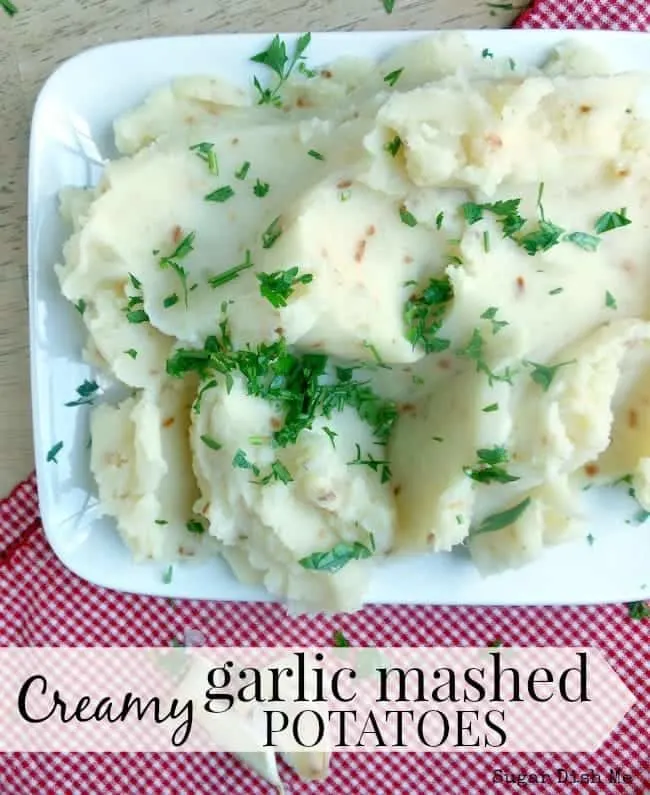 Last night while browsing Pinterest I saw a recipe for "Buttered Egg Noodles". I'm not even kidding. I thought for a minute it was a joke ( like this recipe for Ice Cubes that I read forever ago and a reader re-shared with me last night– the comments are hysterical.) but I'm pretty sure the buttered egg noodles were a for serious recipe.
And some might say that mashed potatoes fall into that category.
But.
There would be no such things as instant mashed potatoes if that were true. I'm not a food snob by any stretch of the imagination, but I cannot get down with instant mashed potatoes. I'd rather just have no potatoes.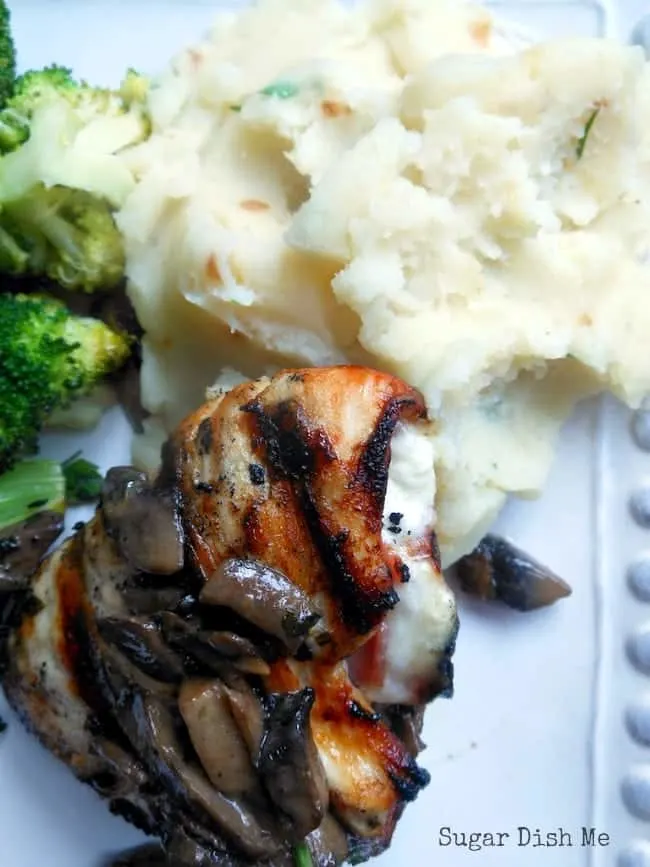 Anyway… having worked in many many restaurant kitchens, and mashed many many mAAAAAAANNNYYY potatoes, I think I can offer up a tip or two in this department. Side note: Restaurant potato mashers are crayzeee. They are kind of huge (like 3.5 feet tall) and in order to mash a ton of steamed potatoes at once you have to throw all your weight into it; I'm sure I looked like a total lunatic jump-leaning on the giant potato masher while prepping every morning.
Do you remember when I posted the Copycat Carrabba's Pollo Rosa Maria last month? One of my favorite dishes evuuuur. And in my opinion it is best served with a heaping side of creamy garlic mashed potatoes.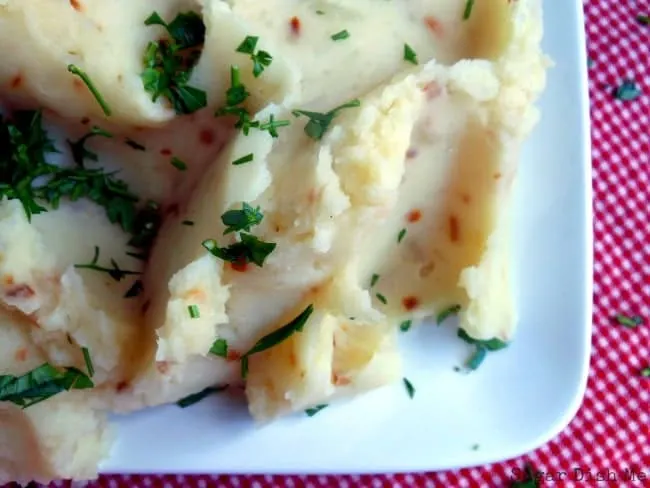 So let's get back to basics here and mash some potatoes, shall we?
Oh– also. I used a combination of Greek yogurt and low fat sour cream in these in addition to a splash of milk. I swear they are the creamiest, fluffiest, rich, and garlicky potatoes to ever come out of this kitchen. Love 'em.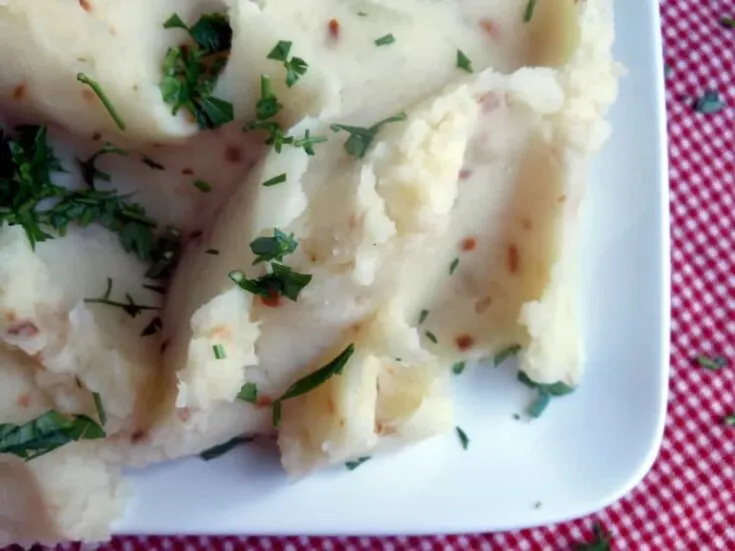 Yield:

Serves 4
Creamy Garlic Mashed Potatoes
Creamy Garlic Mashed Potatoes are the perfect side dish! Serve these on a holiday or a weeknight with chicken, beef, or fish. They are such a versatile crowd-pleaser!
Ingredients
4 large Russet or Yukon Gold potatoes, scrubbed, peeled, and cut into 3" pieces
1 tablespoon olive oil
3 cloves garlic, minced
1 cup sour cream
1 teaspoon kosher salt (more to taste)
1/2 cup milk or cream (more as needed)
fresh chopped parsley and butter to garnish
Instructions
Place the potato pieces in a large stock pot and cover them with cold water, plus another couple of inches.
Bring the pot to a boil and cook for 15-20 minutes -- the time will depend on the size of your potato pieces. Potatoes are done when they are fork-tender.

To test remove a piece of potato and try to mash it with a fork. Alternately you can try to cut it using the side of a spoon.

Be careful not to overcook the potatoes.
Drain and place them back in the stock pot.
Mash the potatoes before adding any additional ingredients. Properly cooked potatoes will have a creamy texture before you add any additional ingredients!
In a small skillet, heat the olive oil. Add the garlic and toast it over medium-low heat, just until it turns barely golden. The garlic should only cook for about a minute. Don't let it burn!
Pour the oil and garlic over the mashed potatoes. Add the sour cream and salt and continue mashing.
For best results, warm your milk or cream before adding it. You can gently heat it in the skillet you used for the garlic, or 30 seconds in the microwave will do.
Salt and pepper to taste.

Serve hot and garnish with a sprinkle of fresh parsley and a pat of butter.
Notes
Try swapping out 1/2 cup of the sour cream for 1/2 cup plain Greek yogurt to add protein and cut calories.
You can also try subbing low fat sour cream to cut calories and fat.
Heavy cream yields creamier results than milk, especially if you are using a low fat milk.
To reheat mashed potatoes, add a little more milk and cream and stir halfway through warming them in the microwave or on the stovetop.
Are you making these on a holiday where timing is crucial? Make your potatoes 45 minutes to an hour before serving, top with a few pats of butter, and wrap tightly with aluminum foil. They will still be hot when you are ready to serve.
Recommended Products
As an Amazon Associate and member of other affiliate programs, I earn from qualifying purchases.
Nutrition Information:
Yield:
4
Serving Size:
1
Amount Per Serving:
Calories:

452
Total Fat:

16g
Saturated Fat:

7g
Trans Fat:

0g
Unsaturated Fat:

6g
Cholesterol:

36mg
Sodium:

389mg
Carbohydrates:

69g
Fiber:

7g
Sugar:

7g
Protein:

10g