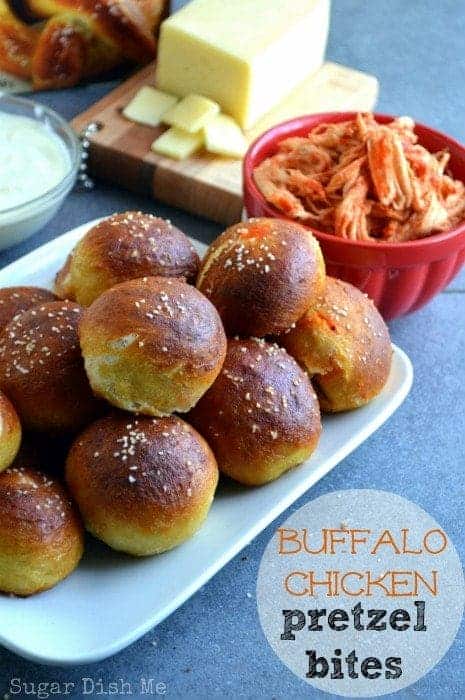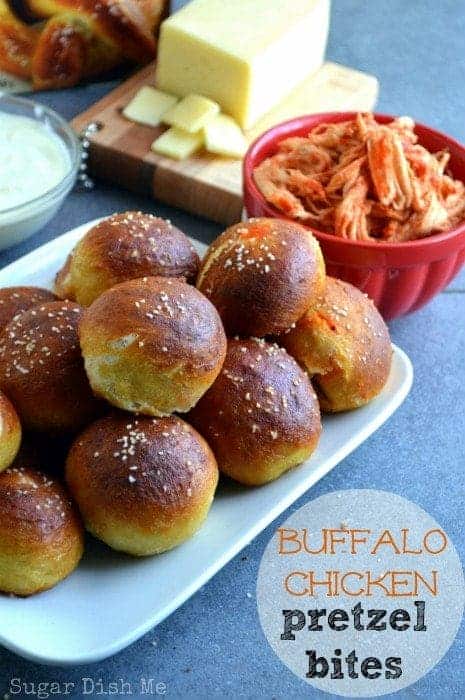 I have no idea how the last few weeks the last year has gotten away from me. I feel like an old lady saying "Where did the time go?!" But seriously, where did it go?!
I was talking to my friend the other day and we almost decided that 2013 turned out to be kind of a bust.
Almost.
But then we decided that 2013 was actually a pretty good year for laying the foundation for some soon-to-come great things. Because 2014 is gonna be full of great stuff.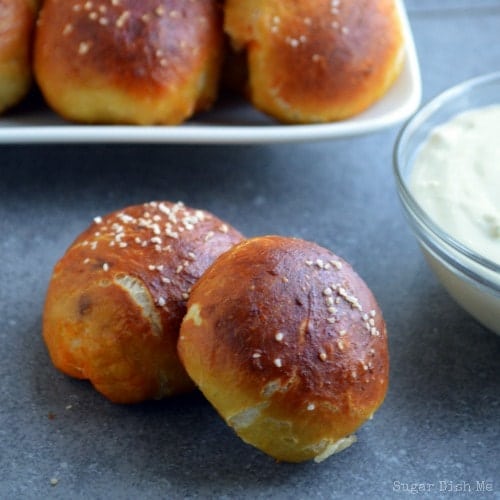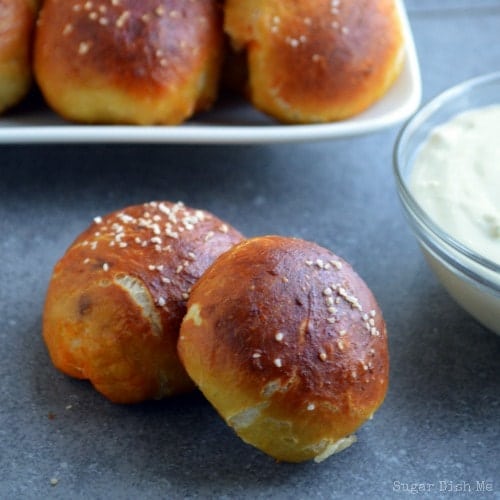 Do you make resolutions?
I always do every year, but after January they sort of fizzle out so this year I am making myself a list of things I want to do.
Like a checklist of awesome.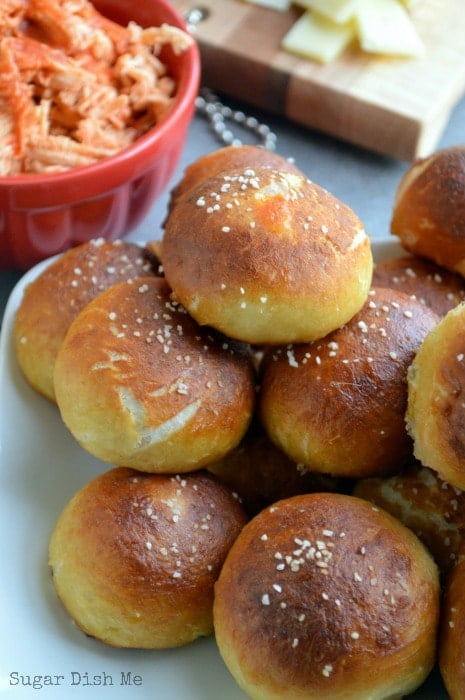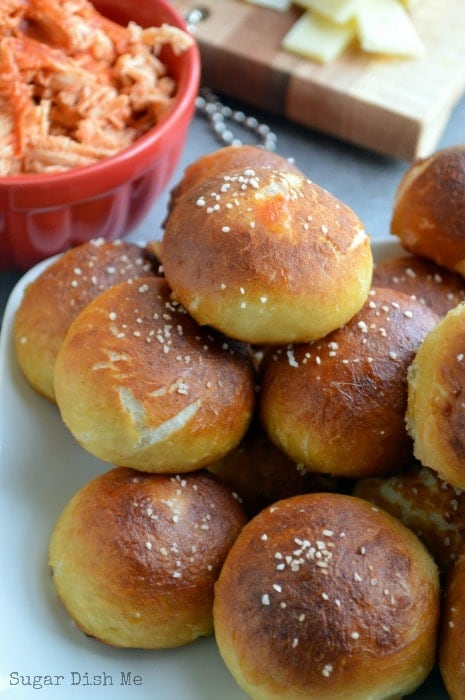 And um… at the top of my list? Make more of these.
I've had a soft pretzel recipe at the top of my to-do list for awhile. I make pretzel roll for burgers pretty often and it can be a bit of a process. So I was majorly excited when Fleischmann's sent me some of their Simply Homemade Pretzel Creations Baking Mix to play with. Just add oil and water, ready in less than an hour. Yes, I am serious.
So I mixed up a batch, let it rise, and did something fabulous: I stuffed the pretzels with shredded buffalo chicken. And Havarti cheese. Whaaaaat?!
I know.
Also we dipped them in blue cheese. This is officially my favorite appetizer in the universe. Great for parties. For football food. For anything really.
This is a resolution-quality recipe.
What's on your 2014 list?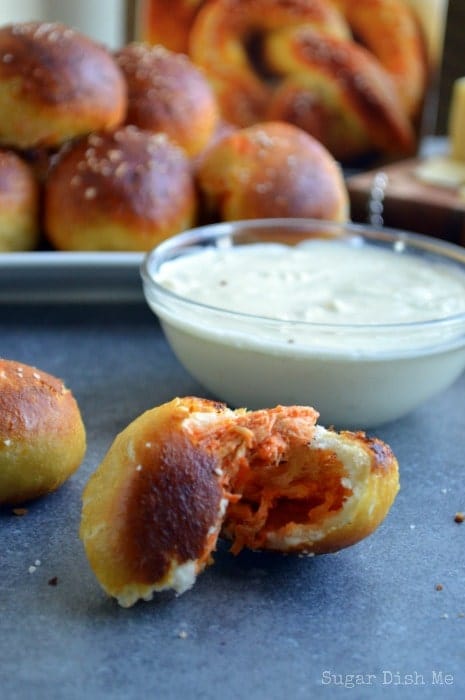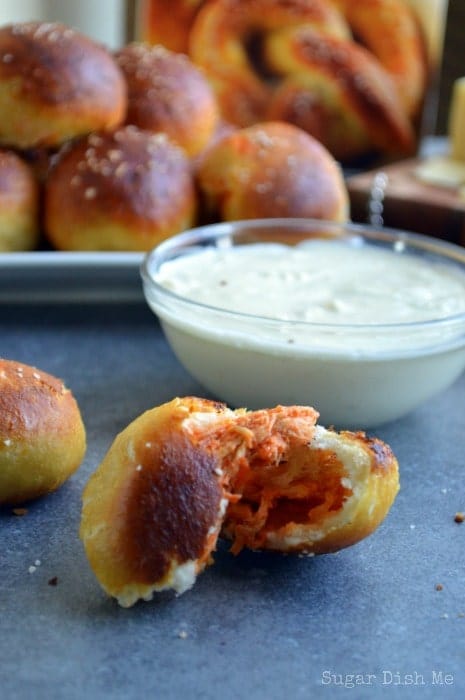 Buffalo Chicken Pretzel Bites
Little pretzel rolls stuffed with shredded buffalo chicken and melty Havarti cheese. Served with blue cheese for dipping
Serves:
15-20 pretzel bites
Ingredients
1 (16.5 ounce) package of Simply Homemade Pretzel Creation Baking Mix plus the oil and water required to make it
1 cup shredded chicken (see note)
buffalo wing sauce to taste
2-4 ounces Havarti cheese, cut into thin little ½" across slices
blue cheese or ranch dressing for dipping
Instructions
Prepare the pretzel mix according to package instructions through the first rise.
While the dough rises toss the shredded chicken with the buffalo wing sauce.
Preheat the oven to 400 and line a baking sheet with parchment paper (after the dough boils it WILL stick to the pan, even if it's been greased so I'd recommend using the parchment. If you don't have any handy you can liberally cover the baking sheet with non-stick spray.
Take the risen dough and pinch off a piece about the size of a ping pong ball. Flatten and stretch it into a circle a little smaller than the palm of your hand.
Lay a slice of cheese in the center of the circle. Then put a little pinch of the shredded buffalo chicken on top of the cheese. You can add a little more cheese if you like.
Pinch the dough around the filling in a little pouch and place it seam-side down on the prepared baking sheet.
Follow the package instructions to boil using the provided baking soda.
Lay the boiled dough back on the parchment paper about 2 inches apart.
Bake for 10-12 minutes, longer if you want your pretzels to have a deeper color.
Serve with the blue cheese or ranch dressing.
Notes
This is a great recipe for leftover chicken. If you need to prepare the chicken you can place a boneless skinless chicken breast in a saucepan and cover it with water. Bring it to a boil and cook until the internal temperature reaches 165°F. Shred the chicken and toss it with the wing sauce.
Reader Note
: I had a reader email me about freezing these but I couldn't answer because I hadn't tried it myself. She ran the test for us and says that she followed the instructions all the way through step 9 where she baked them until they just started to brown, then cooled them, and threw them in a freezer bag. To prepare she placed the frozen bites on a cookie sheet in a cold oven set to 350 and baked for 20 minutes. She said the outside was crunchy and the inside was warm and cheesy. Perfect make-ahead tip for a party! Thanks so much Mary Lou!
I was provided with product and a few fun kitchen goodies by Fleischmann's Simply Homemade to write this post but all the ideas and thoughts are my own. I would never write about or recommend a product I couldn't get behind!