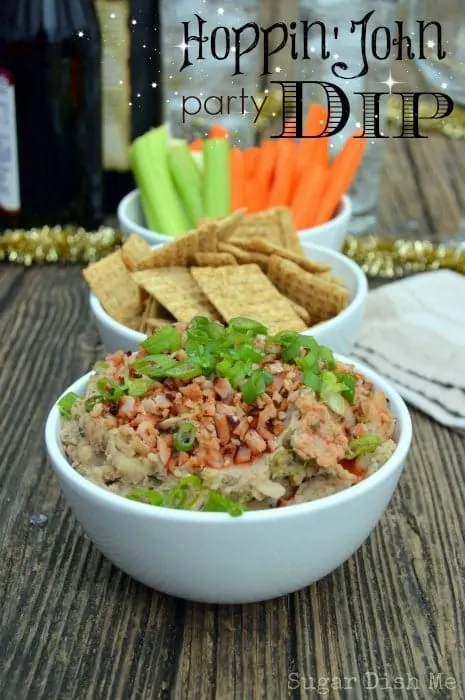 This recipe is like Hoppin' John meets hummus meets bean dip.
I was sort of iffy on sharing it because let's be honest here, black eyed peas aren't really beautiful to look at. Especially if you smash them. But then my brother was here and he inhaled the first batch. So I made more and then Chad stood over the stove with a box of Triscuits and ate most of it before I got it out of the pan.
It's that good.
Eating traditional Hoppin' John on New Year's is supposed to bring prosperity so I think maybe this dip is indicative of a great year.
Or maybe we will be broke because people keep eating it all?
Who knows.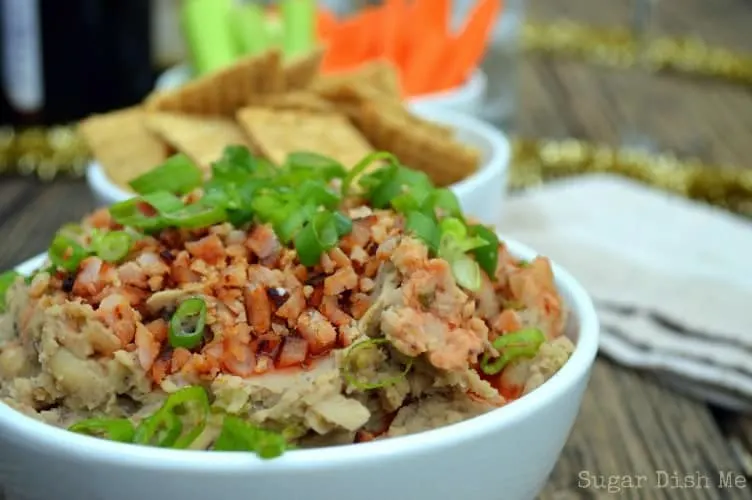 Chances are that you maybe bought all the things you need to make Hoppin' John for New Year's Day. Or maybe you are cool like me with bags of well-intentioned black eyed peas hanging around in the pantry.
There's onion, green pepper, garlic (ohhh yes, the garlic.), celery, crispy ham, green onions, and hot sauce happening here. YES. The hot sauce part is totally optional but in my world a few dashes of Texas Pete make it a party.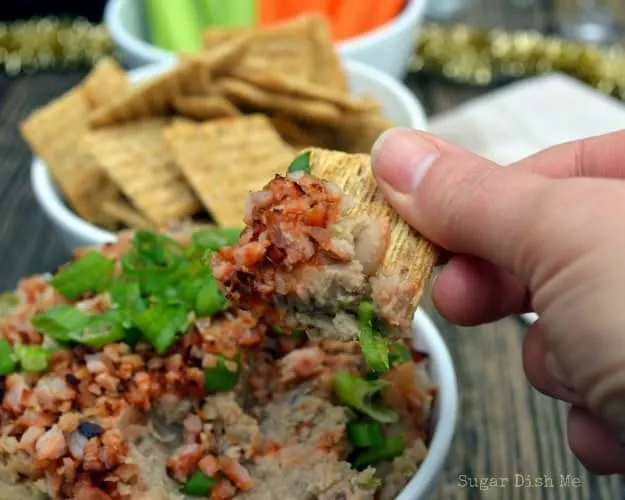 Normally this dish would be served over rice but I solved that problem by using these new Brown Rice Triscuits that I bought on a whim. Totally perfect. And they didn't even pay me to say that (although they could. ahem … prosperity).
So pour some champagne, eat some dip, and celebrate!

Hoppin' John Party Dip
Traditional New Year's fare turned party dip! All the good things about Hoppin' John in a hummus-like bean dip that is always a hit!
Serves:
many! Yields about 2½ cups of prepared dip
Ingredients
1 (15 ounce) can black eye peas, drained and rinsed OR about 2 cups cooked
2 tablespoons olive oil
⅓ cup finely diced onion
¼ cup diced green bell pepper
¼ cup diced celery
4 cloves garlic, minced
2 tablespoons white vinegar
1 - 1½ cups low sodium chicken broth
vinegar-based hot sauce to taste
¼ cup finely chopped ham OR cooked bacon, crumbled
2 tablespoons chopped green onions
Instructions
Pour the black eye peas into a large bowl.
In a medium skillet heat 1 tablespoon of the olive oil. Add the onion, bell pepper, celery, garlic, salt, black pepper, and cayenne pepper. Cook over medium high heat until all the vegetables are soft and the onions take on a slight caramel color.
Toss the vegetables with the black eye peas. Add to a food processor (or large blender OR see note) with the remaining tablespoon of oil and the white vinegar. Pulse and then add the chicken broth a little at a time until it moves easily and you have reached your desired consistency (I like mine thick - about the consistency of refried beans).
Scrape the blended dip into a small saucepan and heat it over medium heat to your preferred serving temperature (this dip is still good cold but is best served warm). You can add a little more chicken broth if you need it.
While the dip heats, toss the chopped ham into the pan you used to cook the onions and peppers. Lightly crisp in over medium high heat.
Put the dip in a serving dish. Add the hot sauce and then garnish with the crisped ham and green onions.
Serve with brown rice crackers or tortilla chips.
Notes
If you don't have a food processor or blender you can use the back of a fork to smash up and stir the beans. Same results, just a little more labor-intensive.