Lightened up breaded baked little chicken bites tossed in delicious buffalo wing sauce, wrapped with quinoa and fresh veggies in a leaf of buttery lettuce. Buffalo Chicken Lettuce Wraps make a delicious light lunch or dinner – like a salad you can eat with your hands!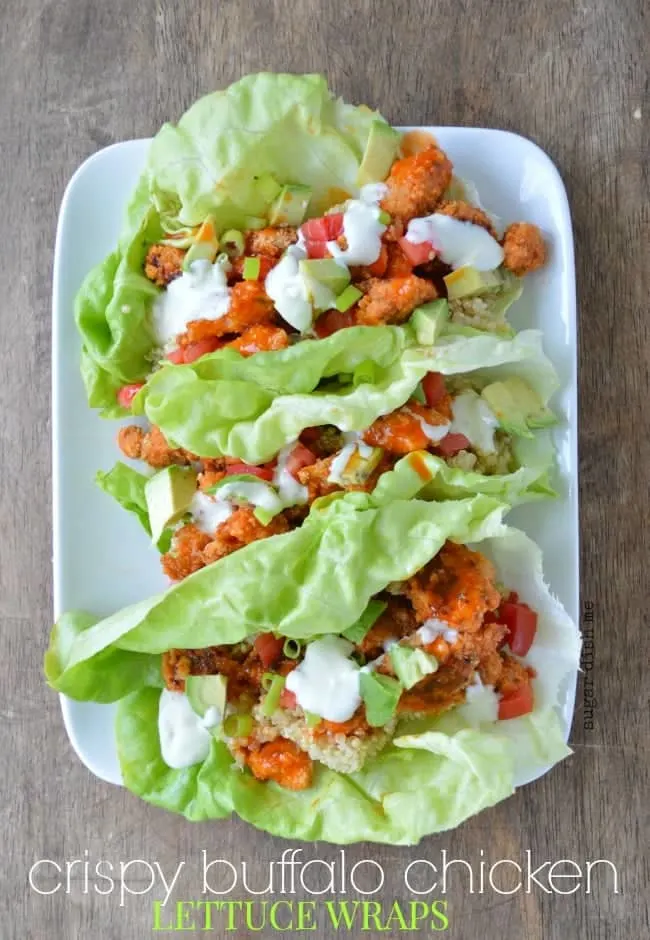 Update October 2017! These Crispy Buffalo Chicken Lettuce Wraps have remained the top recipe on Sugar Dish Me since 2014! They've been pinned nearly 1 million times and thousands of readers have made this recipe with ease, success, and great reviews!
***Picky significant others that need to lay off the cheeseburgers love them as much as the health food bloggers that have been sharing this recipe with their Instagram followers for the last 3 years.
That's when you know you've made a good-for-you meal that you can call a success!
There's loads of feedback in the comments and I'd love to hear from you – successes, struggles, little recipe tweaks here and there – it's all helpful when I am making new content for you! There are also even more lightened up comfort food goodies if you scroll past the recipe. Enjoy!***
I think hot sauce might be the greatest condiment ever invented. Buffalo sauce is definitely the best thing to ever happen to chicken.
It is.
Keeping it real here you guys: I cannot be held responsible for the words that end up in this post today because I think I had like 1.6 hours of sleep.
You might just wanna do that thing where you scroll to the end and read the recipe because run-on sentences, grammatical errors, and spell-checks on words I could spell since I was 10 are definitely happening here today.
Last night Betty and Charlie were possessed by the lunar eclipse blood moon and decided that 2:30 a.m. was the perfect time to run around and have a dog party. Also 3 a.m. and 4 a.m.
AND because of the lunar eclipse blood moon, I'd set my alarm for 5 a.m. so Evan and I could go camp in the driveway and watch the coolness unfold.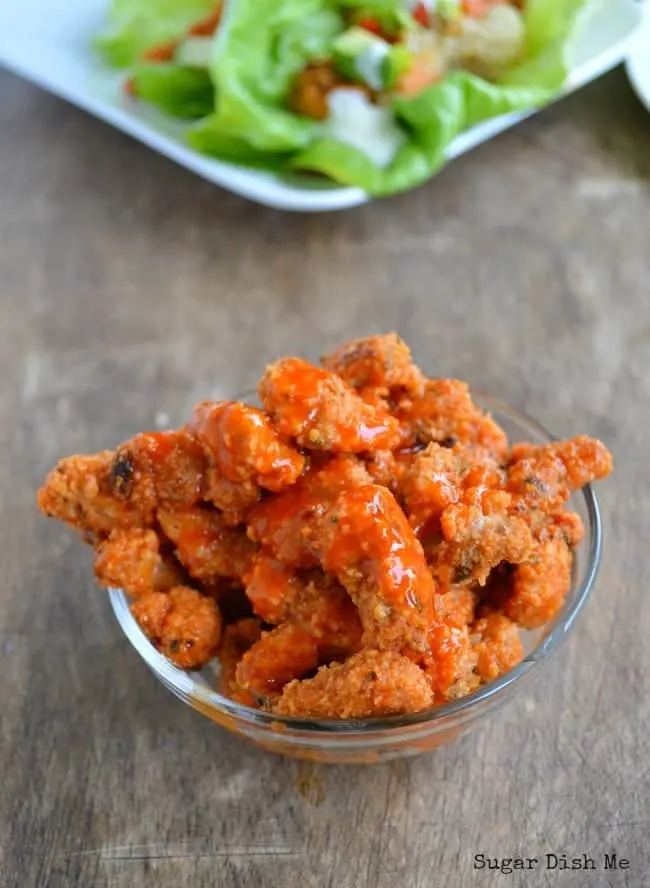 So after the dog party persisted and my head spinning around like the exorcist while yelling in my best demon voice for the puppies to go lay down did not work, I gave up and got up.
Did you guys traipse around in the dark and catch the eclipse? We tried, but that's the other thing that has started my day off like a total train wreck: At 5:45 a.m. Evan and I stood in the driveway in the cool pre-dawn air peering through the trees at the smoky cloud-covered moon. It was about 2/3 of the way covered and the stars lit up the other half of the sky.
We decided to come back inside and finish getting ready for school because the cool phases weren't supposed to happen until 6:14 – 6:55. But.
When we went back out the clouds were thick and it started to sprinkle rain.
My kid had a lunar eclipse blood moon meltdown, because we all know it is Mom's job to change the weather for cool astronomical (<<<— totally just typed astrological and had to Google my sleep-deprived vocabulary) events.
So awhile back I made this Crispy Orange Chicken . It's one of my favorite recipes I've ever shared. I decided it would be fun to switch it up and go all buffalo with the breaded baked chicken.
Suuuuch a good decision.
Then I wrapped it in soft buttery lettuce leaves with quinoa, fresh tomatoes, avocado, and light blue cheese dressing. You could go ranch, but I'm BC all the way.
The resulting Buffalo Chicken Lettuce Wraps are lightened up, protein-rich, totally filling, spicy, yummy, buffalo goodness.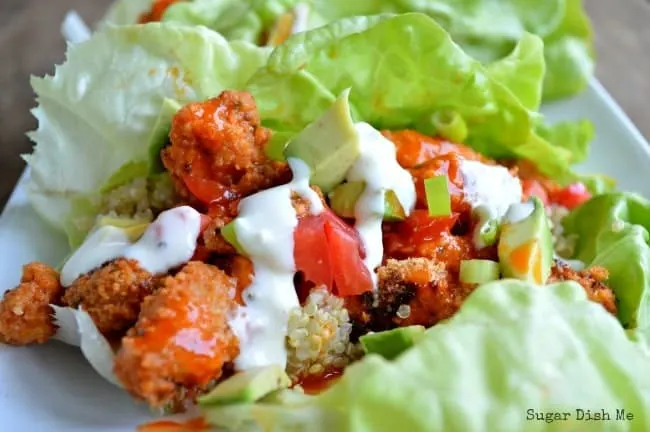 And now I have to make more coffee or I *might* fall asleep.
Fave Reader Tips:
"My father has as of late been determined to have a heart issue so I made this low cal supper for us the previous evening. He was raving about them and we ate every one of them! I did the chicken without bread pieces for much all the more low carb. Likewise, I included slashed green onion for another touch of flavor. Unquestionably going to be a standard dish I will be making!"
---
"My husband took one look at the lettuce and decided he probably wasn't going to like it. He then took one bite, then another, and another, and went back for more!! Thanks for this recipe. It was super easy and will definitely be on the regular meal rotation. The only change I made was to put the buffalo sauce and some garlic in the food processor to use as the the 30 minute marinade. So good!! I also liked that it was really easy to switch up the marinade for our 3 year old that does not like spicy food. I was able to add those chicken pieces right on the same pan."
If you love lightened up comfort foods, you should also try…

Buffalo Turkey Sliders are one of the best little appetizers I ever made! Juicy little turkey burgers loaded with your favorite wing sauce spice, topped with melty cheese, crisp lettuce, and your choice of blue cheese or ranch dressing!
Lightened Up Cheesy Broccoli Potatoes are a household favorite! Baked potatoes covered in crisp steamed broccoli and smothered in a lightened up cheese sauce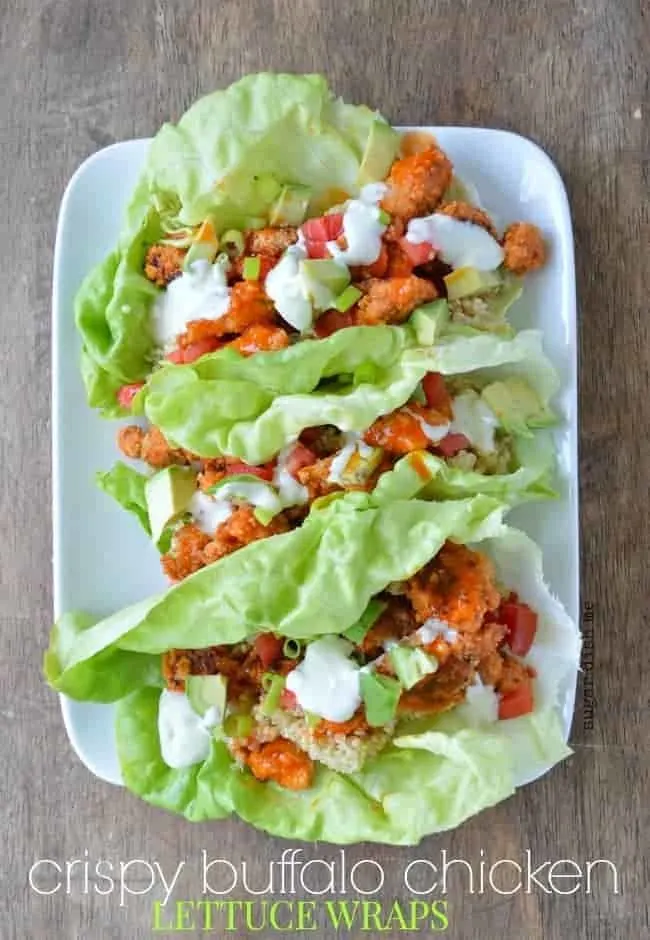 Yield:

4-6
Buffalo Chicken Lettuce Wraps
Additional Time:
40 minutes
Total Time:
1 hour
50 minutes
Spicy buffaloed oven fried chicken bites wrapped in buttery lettuce leaves with tomatoes, quinoa, avocado, and blue cheese dressing. Buffalo Chicken Lettuce Wraps are a healthy and filling lunch or dinner your whole family will love. Note that prep time includes 30 minutes for the chicken to marinate.
Ingredients
1 1/2 pounds boneless skinless chicken breast, cut into bite-size pieces
1/2 cup buffalo sauce, plus a little more for drizzling over the finished chicken if you prefer
2 cups plain panko bread crumbs
4-6 large soft leaves of lettuce (I used Boston Bibb Lettuce)
1 cup cooked quinoa
1/2 cup diced tomatoes
1/2 cup diced avocado
blue cheese (or ranch) dressing & scallions to garnish
Instructions
Preheat the oven to 375 and lightly grease (I used cooking spray) a baking sheet or line it with parchment paper.
Toss the chicken in the 1/2 cup buffalo sauce, cover, and refrigerate for at least 30 minutes.
Pour the breadcrumbs into a shallow dish. Coat each chicken piece evenly and place them on the prepared baking sheet. The baking sheet will get pretty crowded -- it's okay.
Bake for 30 minutes. You can toss the baked chicken with the extra buffalo sauce if you like.
To assemble the wraps, fill each leaf of lettuce with quinoa, tomatoes, and avocado. Top with the crispy baked buffalo chicken, drizzle with the blue cheese, and sprinkle with the green onions.
These are also a delicious cold lunch if you prepare the chicken ahead of time and refrigerate it before serving.
Nutrition Information:
Yield:
6
Serving Size:
1
Amount Per Serving:
Calories:

471
Total Fat:

15g
Saturated Fat:

4g
Trans Fat:

0g
Unsaturated Fat:

9g
Cholesterol:

115mg
Sodium:

987mg
Carbohydrates:

36g
Fiber:

4g
Sugar:

4g
Protein:

47g