Cadbury Candy Egg Brownies are thick and fudgey with a perfect crackly wisp of brownie crust on top. Stuffed with pretty pastel Cadbury Candy Eggs these are the perfect Easter treat, and are great for leftover candy!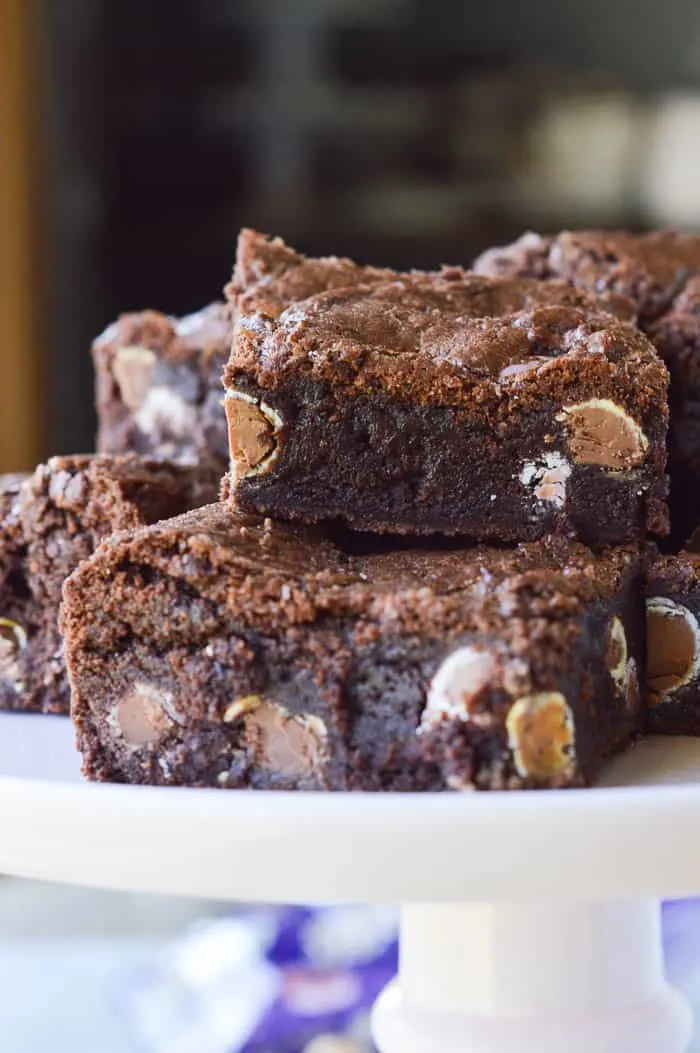 I get on these kicks and it's like my brain can't shift gears. Brunch, for example. I have been cooking and photographing an endless string of brunch recipes lately. And while brunch is, in my opinion, basically a perfect meal, I decided to take a minute to interrupt my regularly scheduled programming with BROWNIES.
P.S. You can totally have brownies at brunch, too.
Let's back up for a second though and talk about Cadbury Candy Eggs. Not the creme eggs, of which I will only eat if they are the chocolate creme variety, but the candy eggs with that speckled and perfect pastel candy shell that gives way to rich, smooth chocolate… I die.
Yesterday my youngest had a meeting at a school — and not his school. It was for this robotics science challenge thing that sounds like a ton of fun, so we have had what I've dubbed 'The Robot Meeting' on our calendar for a couple of weeks. We made it out the door on time, phone navigation in hand. But when the phone told me I'd reached my destination, after we sat in morning drop-off traffic, we were at the totally wrong place.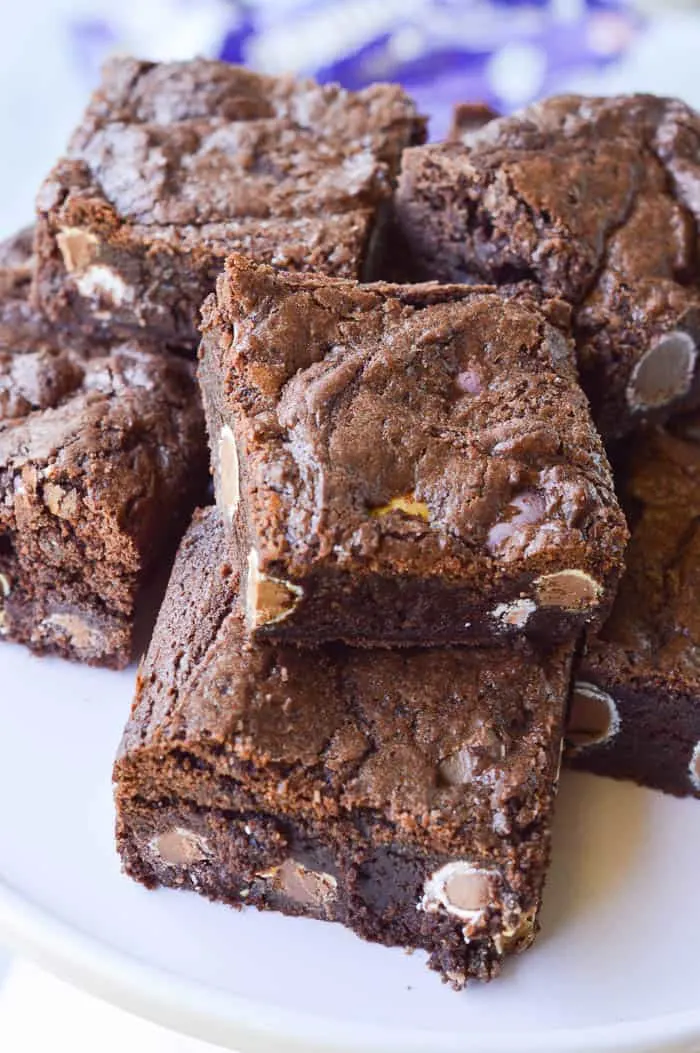 It was A school, but not THE school. Because I swear that Google Maps is trying to ruin my life at least once a week.
I live in a pretty small town, you guys. I grew up in a medium-sized but very sprawling city (like 42 times the size of this place) and I never got lost. But yesterday, as I watched 7:45 a.m. come and go, while my little guy sat all ready to learn in the back seat, and a very overzealous lady in a minivan followed much too closely, I was totally clueless.
And obviously Google maps was trying to sabotage me so entering an address was not even a remote possibility.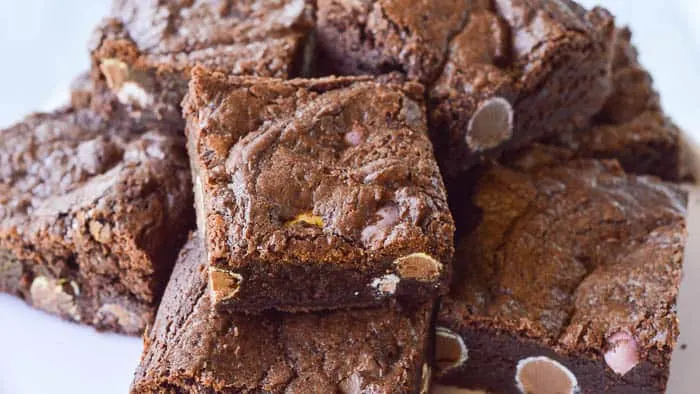 Evan suggested that we should just 'find a big road' and then see where we are, and that's pretty much what we did after a few random turns and some gratuitous arm-flailing at the minivan lady that was STILL behind me.
Needless to say, this day called for chocolate.
These brownies are FUDGEY. They are thick and loaded with rich dark chocolate, and they bake up with that amazing crackle across the top. Every other bite gives way to a Cadbury Candy Egg and that candy shell crunch. These things are intense, and whipped cream or a big glass of milk is highly recommended (and I don't even like milk if that tells you anything). Or coffee. Because chocolate goes very well with coffee. Especially at brunch.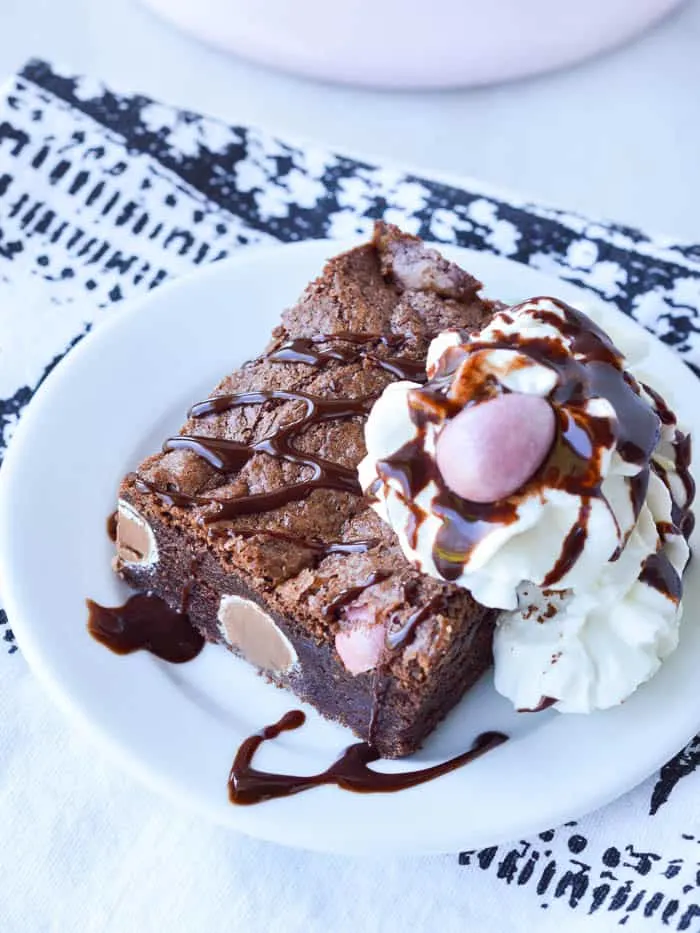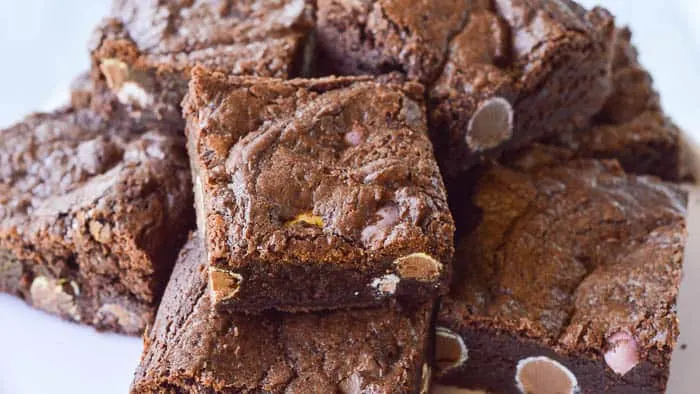 Yield:

16-20 brownies
Cadbury Candy Egg Brownies
Thick and fudgey from-scratch brownies loaded with Cadbury Candy Eggs. Cadbury Candy Egg Brownies are a perfect Easter treat!
Ingredients
1 1/3 cups all purpose flour
1 teaspoon baking powder
1/2 teaspoon coarse salt (I used pink Himalayan salt- kosher salt will also work well)
3/4 cup (12 tablespoons) unsalted butter
8 ounces dark, unsweetened chocolate (good quality chocolate is best!)
3 eggs
2 cups granulated sugar
2 teaspoons vanilla
1 1/2 - 2 cups Cadbury Candy Eggs (you will need most of a 10 ounce package; you can use the whole thing if you can manage to stir it all in)
Instructions
Preheat the oven to 350. Butter a 9 X 9 baking dish. Line it with parchment paper and then butter the parchment (this extra step is not COMPLETELY necessary, but it will make lifting the brownies out of the pan to slice a total cinch).
In a medium bowl whisk together the flour, baking powder, and salt. Set aside.
Melt the butter in a small saucepan. Remove from the heat and stir in the chocolate until smooth.
In a large bowl whisk together the eggs and sugar until frothy. Slowly pour in the chocolate/butter mixture, stirring the whole time. This helps to temper (gently heat) the eggs so they stay smooth as they warm.
Add the flour mixture all at once and stir until just combined.
Stir in the Cadbury Candy Eggs. The batter will be THICK.
Spread it evenly in the prepared pan and bake for 25-30 minutes. A pick inserted into the center should come out clean, but these keep in mind that these are fudgey brownies so definitely time it.
Let them cool for at least 10 minutes before lifting the parchment from the pan.
I highly recommend you serve these with whipped cream (or ice cream!)
Recommended Products
As an Amazon Associate and member of other affiliate programs, I earn from qualifying purchases.
Nutrition Information:
Yield:
12
Serving Size:
1
Amount Per Serving:
Calories:

655
Total Fat:

23g
Saturated Fat:

14g
Trans Fat:

0g
Unsaturated Fat:

8g
Cholesterol:

93mg
Sodium:

262mg
Carbohydrates:

106g
Fiber:

4g
Sugar:

70g
Protein:

6g