Compensation was provided by General Mills via Federated Media. The opinions expressed herein are those of the author and are not indicative of the opinions or positions of General Mills.
For more easy dinner ideas, visit http://progresso.com/Products/Recipe-Starters
Tender chicken in a delicious sauce with creamy garlic, peanut, soy, and ginger. This Easy Satay Chicken is a fast and fresh complete meal idea that will satisfy the whole family.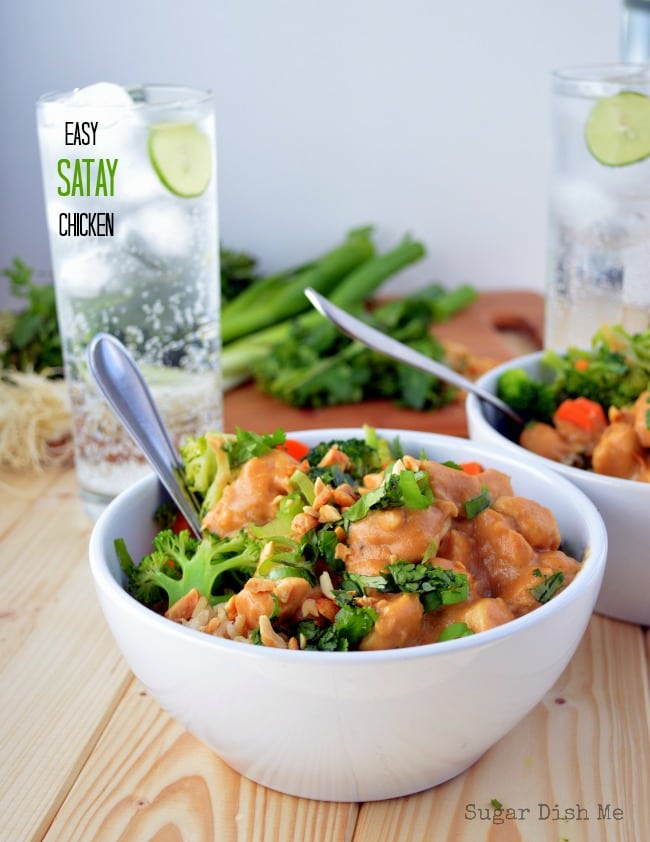 Things have gotten a little bit bananas around here lately.
School activities and family plans are popping up all over the place. Our weekends have been filled with too many trips to the old home improvement store, with a few sprinkles of appliance shopping, and a trip or two to the local plant nursery.
Add to this the fact that I have reduced my kitchen to the bare necessities in my flurry of packing and cleaning, and you have a recipe for … lots of take-out and garbage eating.
I have been such a dinner slacker lately. For all my meal planning and good intentions, I have to admit that we have been hitting the drive-thru or grabbing a pizza pretty regularly.
Shame on me.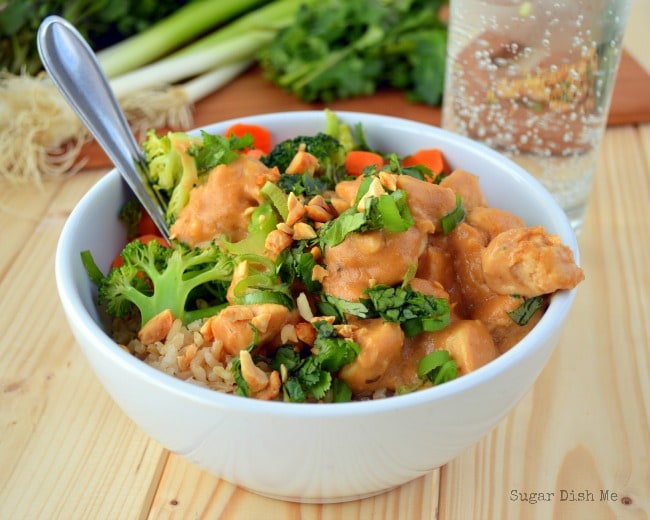 Here's the thing: I am a regular person that sometimes just really does not feel like cooking. OR I just don't have an hour to fool with it. OR I have been in the car all day and everything is annoying me. OR I used all my food creativity on brownies.
You know, all of those kinds of things.
It is really really nice to have a few quick tricks in your pocket, or cabinet, or cupboard (<<<— who says that?!).
Progresso Recipe Starters are one of those tricks for me.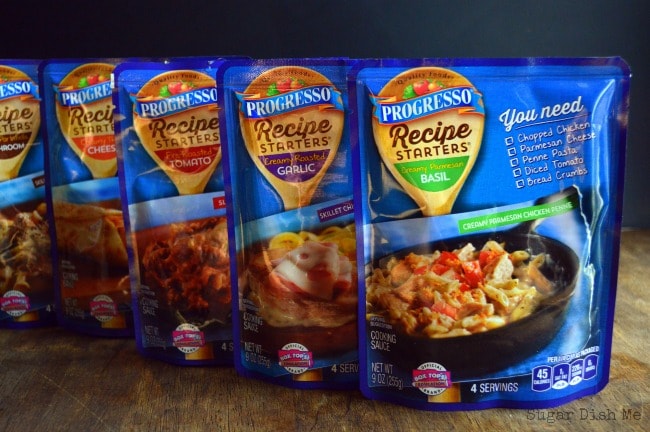 With a little 9 ounce package I have a ton of quick ideas right at my fingertips. Sauces and starters that cover everything from pasta to enchiladas to fancy-feeling Cordon Bleus. I can just add a pile of veggies, a little protein, and BAM — we have dinner. It's that easy. There are great ideas for simple recipes on the back of each package, but there are even more ideas at Progresso.com. I opted for some creativity and made this Easy Satay Chicken with a handful of things I always have on hand.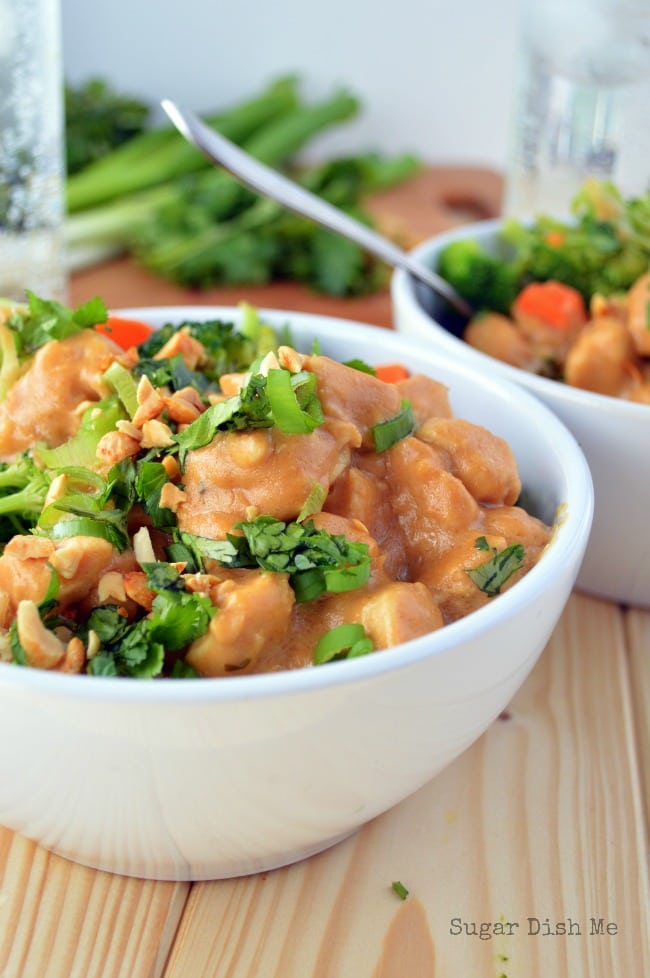 I USUALLY do satay chicken on the grill. But it keeps raining here, so the weather is not really cooperating. If you are not familiar, satay chicken is a southeast-Asian dish that I can usually find at Thai restaurants. It is traditionally grilled and covered in a sauce made with fresh peanuts, garlic, ginger, and soy sauce, among other things. Delicious is an understatement.
I used the Creamy Roasted Garlic Progresso Recipe Starter as a base for my shortcut version, and then added a few things to build on the garlic flavor. Tossed over some quickly browned-in-a-skillet chicken and then served with brown rice and veggies, we had a totally well-balanced, FAST meal that everyone inhaled, and it was super easy. Here's what you'll need:

Easy Satay Chicken
Tender chicken in a delicious satay-inspired sauce created with Progresso Recipe Starters.
Ingredients
1 tablespoon oil
1 pound boneless skinless chicken breast, cut into 1" pieces
1 (9 ounce) package Creamy Roasted Garlic Progresso Recipe Starters
¼ cup creamy peanut butter
1 tablespoon soy sauce
¼ teaspoon ground ginger
½ - 1 cup low sodium chicken broth (as needed)
2 cups cooked rice (I used quick cooking brown rice)
2 cups carrots, peeled and sliced
4 cups broccoli florets
¼ cup chopped fresh cilantro and 2 tablespoons chopped roasted peanuts to garnish
Instructions
Heat the oil in a medium skillet and add the chicken. Brown the chicken over medium high heat.
When the chicken is cooked through, add the Creamy Roasted Garlic Progresso Recipe Starter Sauce, peanut butter, soy sauce, and ginger. Stir to coat the chicken and reduce the heat to medium. Stir in the broth to thin the sauce as needed.
Reduce the heat to low and continue stirring occasionally. Place the carrots and broccoli (or your choice of veggies) in a medium saucepan with about an inch of water. Cover and bring to a boil. Steam for only a minute or two so that the broccoli stays bright green and still slightly crisp.
Serve the chicken in a bowl over the rice with a heaping portion of veggies. Top with the cilantro and peanuts.
Full disclosure: This post was sponsored by Progresso via General Mills through Federated Media. I was compensated with product and payment for my opinions, experience, and recipe development, but all opinions are my own.