Burgers covered in meaty chili and tangy crisp slaw — just how we do it in North Carolina. Carolina Style Burgers are a local staple and a comfort food favorite.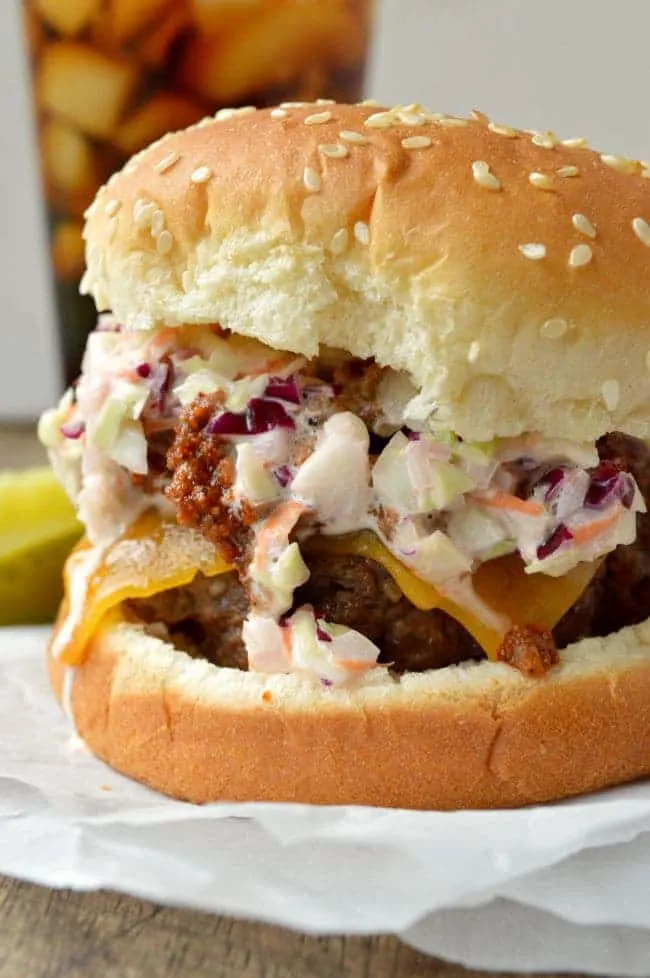 Oh haaaayyyyyy.
My grandpa used to say, "Hay is for horses!," whenever I said 'hey' instead of 'hi'. I didn't realize it at the time, but I'm pretty sure he was teasing me for picking up some sort of southern-ish affectations in my speech.
My parents moved to North Carolina from Illinois before I turned 2. My mom is a Midwest meat-and-potatoes cook through and through. I wasn't raised eating any traditional southern foods, so even though I wandered into grits-with-my-omelet territory by the time I was in high school, I was a full-on adult before I ever had a Carolina Style Burger or hot dog. Or Sundrop for that matter. But we will talk about that one another day.
There are some local foods I can't get down with. Like livermush. NO. Or peanut butter and mayonnaise sandwiches. DOUBLE NO.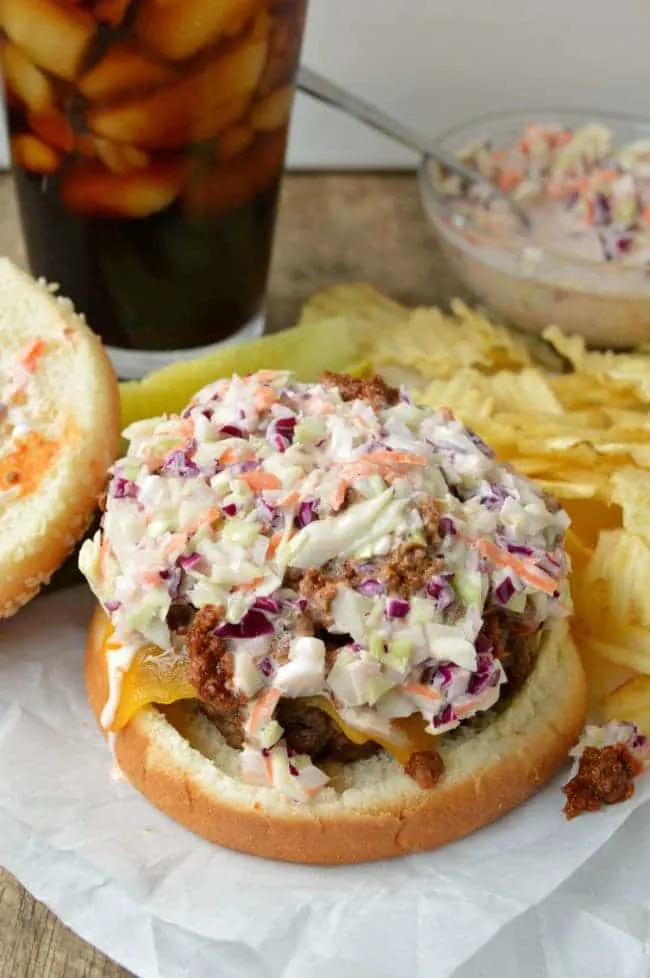 Burgers covered in cheese, chili, and slaw though — those I can get behind. Which is strange for me because I have never been a lover of slaw. <<<— I type that every single time I write a recipe with slaw in it, for the record. (See evidence here, here, and here) I think the issue is that I don't like other's people's slaw. I'm a slaw snob.
Can I confess something before we make this very southern-style burger thing? I don't ever feel authentic enough to use the word 'ya'll'. Sometimes I type it and I feel like a total fraud because I never say it in real life. Chad does, though! So we are gonna borrow some of his thick-drawl-sundrop-loving style and work out this Carolina Style Burger recipe.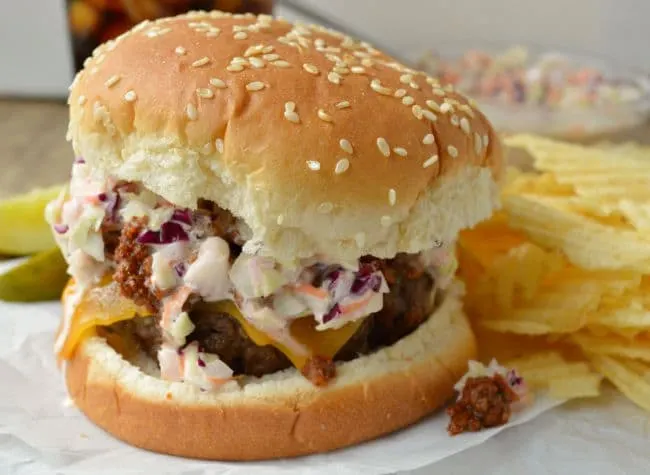 I can assure you that I do say 'HEY!", I love sweet tea, and I have mastered this southern burger with chili and slaw thing.
I used 93% lean ground beef here. That leaves me enough fat in the pan (I pan-seared these burgers because we got a big-fat thunderstorm just as I was ready to start cooking, but you can definitely go for the grill) to cook without additional oil, but also turns out juicy burgers.
This is Southern-style chili, the stuff you pour over your cheese fries, hamburgers, and hot dogs, is rich with just a slight spice, and there are NO BEANS. If you are looking for beefy chili with beans, you have to check out this Mole Chili con Carne. It's my favorite. But burger chili is a whole other situation.
If you read the ingredient list for the chili, your eyes might bug out of your head because it is REALLY long. If you have a well-stocked pantry, there is nothing out of the ordinary listed and you are good to go. If you do not have a zillion spices hanging around, please don't feel intimidated. Grab yourself one of those chili seasoning packets for $1.39 at the store, add the tomatoes and brown sugar, and get on with your day. Seasoning can get pricey and you need this chili in your life.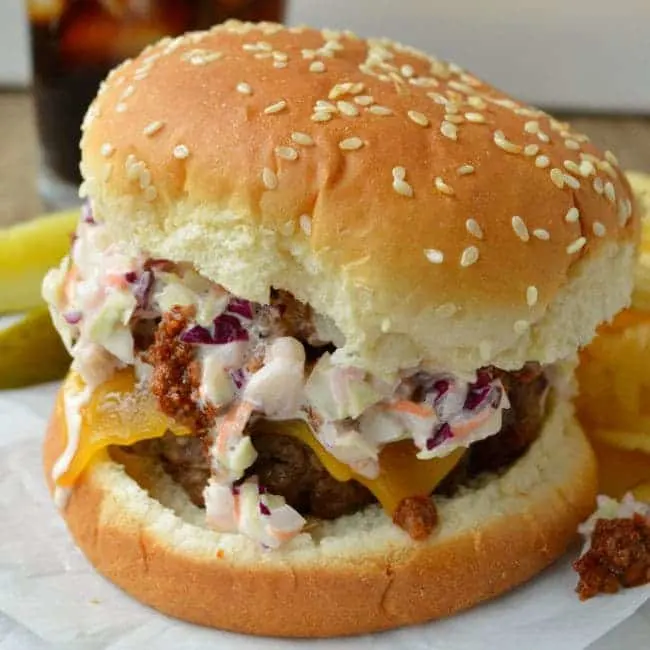 And these burgers. Hey, ya'll. Trust me.

Carolina Style Burgers
A Carolina tradition! All beef burgers are covered in a meaty chili and homemade slaw.
Ingredients
For the Chili:
1 pound lean ground beef
2 tablespoons chili powder (see note for chili seasoning)
1 teaspoon paprika
1 teaspoon cumin
1 teaspoon oregano
1 teaspoon brown sugar
½ teaspoon onion powder
½ teaspoon garlic powder
½ teaspoon salt
½ teaspoon black pepper
cayenne or red chili flakes to taste
1 cup broth (I used low sodium chicken broth)
1 (15 ounce) can of crushed tomatoes
For the Burgers:
1 pound lean ground beef
1 tablespoon dried minced onions
1 teaspoon kosher salt (more to taste)
1 teaspoon coarse ground black pepper(more to taste)
4 thick slices American cheese
4 sesame seed burger buns
For the Slaw:
1¼ cup cabbage, very finely chopped (see note)
¼ cup red cabbage, very finely chopped
¼ cup carrots, shredded
1 tablespoon finely chopped onion
¼ cup mayo
1 tablespoon cider vinegar
1 tablespoon granulated sugar
½ tablespoon canola oil
Instructions
Brown the ground beef for the chili in a large pan. Add all the seasonings and pour in the broth. Turn it over in the skillet a few times to coat the meat. You also want to break the beef up as much as possible. Add the tomatoes, reduce the heat to medium, and let is simmer while you make everything else, stirring occasionally.
Gently work the minced onions, salt, and pepper into the ground beef for the burgers, and then form the meat into 4 patties. Keep in mind that the less you work the beef, the more tender your burgers will be!
You can grill these burgers or pan sear them. To pan-sear, preheat the oven to 450F. Heat a large cast iron skillet over medium high heat on the stove. Add the burgers to the hot skillet and cook for 1 minute on each side and then put the pan in the oven. How long they cook in the oven will depend on how you like your burgers cooked. For medium well, check them after about 4 minutes. Internal temperature would read between 150F-155F.
In a large bowl toss together the cabbage, red cabbage, carrots, and 1 tablespoon of finely chopped onion.
In a liquid measuring cup whisk together the mayo, cider vinegar, canola oil, and sugar until smooth. Pour the dressing over the cabbage mixture and toss to combine.
To assemble the burgers, top them each with 1 slice of cheese, a heaping helping of chili, and slaw. Ketchup and mustard are optional.
Notes
You can use a package of chili seasoning in place of all the seasonings and spices listed here. I always have everything on hand to make my own, but if you have to go out and buy the items listed, it will be much more cost effective to grab a chili packet and go.
Short cut!!! You can use a prepared bag of slaw mix (the cabbage and carrot mixture) to save time
You should also check out…