Here I am making good on my promise of ice cream.
Seriously fresh, creamy, full-of-pie ice cream.
I Scream for Ice Cream! Too cliche? Sorry.
I mentioned the other day that Chad got an ice cream maker and we have been experimenting like crazy with fun new recipes.
Blue Bell makes a flavor called Southern Blackberry Cobbler that is OUTSTANDING. My favorite part about it is the little bits of pie crust that surprise you every few bites. I love those sweet little pie crusty bits.
The only problem I have with the Southern Blackberry Cobbler Ice Cream is that it's reeeally hard to find. I feel like they maybe stick one or two half gallons in with every delivery and bam! That's it. No cobblery ice cream for you.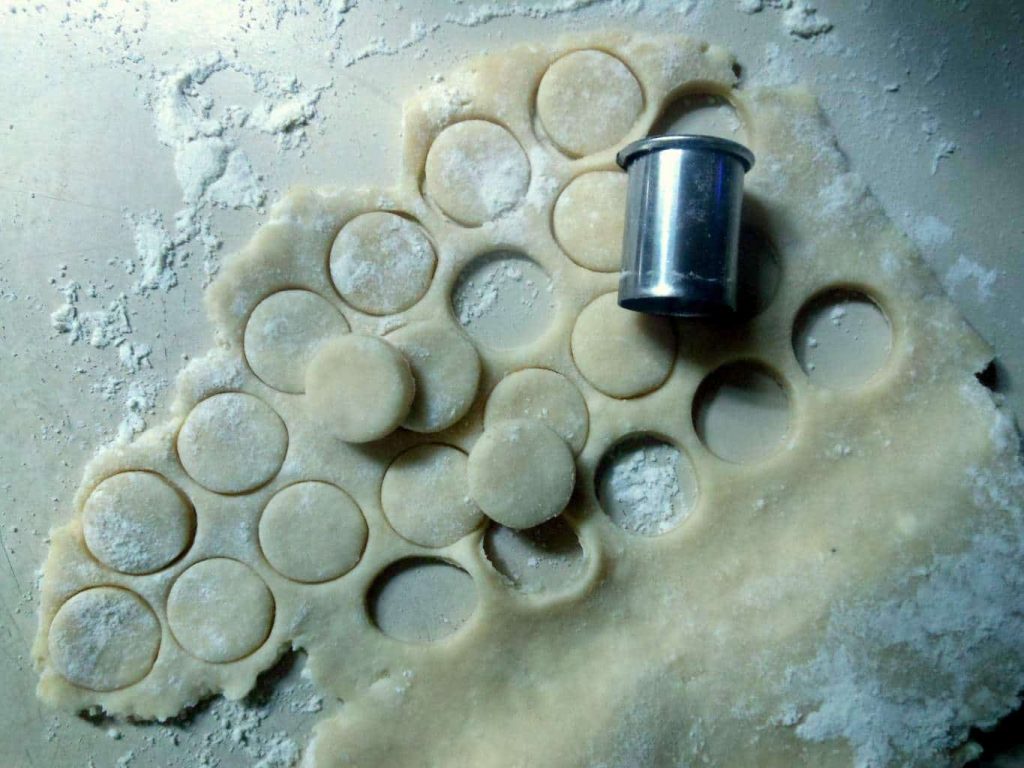 So my first mission with the new ice cream maker was to put pie crust alllllllllllll up in it. Sweet all-butter pie crust. The same pie crust I used for my Strawberry Rhubarb Hand Pies. And I'd just bought two beautiful pounds of strawberries so of course those had to get tossed in the mix.
The strawberries are roasted– it doesn't take long and it really intensifies the flavors, just like in a freshly baked strawberry pie.
I, of course, had to serve this ice cream in waffle bowls because I found them at my local grocery and I just couldn't pass them up.
Don't ya just WANT some ice cream?!
Even my guys, who usually don't really go for the fruity stuff, happily taste-tested the 3 batches of this that we made trying to get it just right.
Okay… maybe we made 3 batches just because it's awesome. But I'm calling it research.
I'm really glad the research has found a home in my freezer.
Strawberry Pie Ice Cream
Deliciously creamy homemade ice cream full of roasted strawberries and bits of sweet all-butter pie crust. ********Make sure you allow yourself 2 hours ahead of ice cream making to chill the pie dough and chill the cream mixture.*********
Ingredients
For the pie crust:
1 cup all purpose flour
2 tablespoons granulated sugar
pinch of salt
½ cup COLD butter
¼ cup ice cold water
***You could also use a prepared pie crust to save time***
For the Strawberries:
1 pound strawberries, washed, hulled, and coarsely chopped
1 teaspoon olive oil
a pinch of granulated sugar
For the Ice Cream:
2 cups heavy cream
1 cup half & half
½ cup granulated sugar
1 tablespoon vanilla
Instructions
About 2 hours before you want your ice cream (or as much as a day or two ahead), make your pie crust by combining the flour, sugar, and salt in a large bowl. Use a box grater to grate in the butter and combine it with the flour using your fingers until coarse crumbs form. Add the water and press all the dough together until it is smooth and uniform. Wrap it tightly in plastic and refrigerate.
After you refrigerate the pie crust, whisk together the heavy cream, half & half, granulated sugar, and vanilla until the sugar dissolves. Place the mixture in the freezer (Tip-- I mix mine up in a clean pitcher and put that in the fridge for easy pouring) and let it chill for about 2 hours.
Pre-heat the oven to 350. Take out your chilled dough and press or roll it out. Cut it into 1" pieces. I used a very cute little bitty biscuit cutter. But since it's getting mixed into ice cream just make it bite-size. Squares are fine if all you have handy is a knife. Place your pieces of pie crust onto an ungreased baking sheet about ½" apart. Bake for 10-12 minutes, until the crust is golden and has puffed up a bit.
While the crust bakes, toss the strawberries with the olive oil and sprinkle with the sugar.
When the pie crust bites have baked, take them straight off the baking sheet, toss them in a bowl, and stick it in the freezer.
Spread the strawberries across the same baking sheet, bump the heat up to 375, and let them roast for about 15 minutes. Scrape them immediately (so they don't cool and begin to stick) into the same dish as the pie bits and place it back in the freezer.
Pour the chilled cream mixture into the base of your ice cream maker and churn according to manufacturer's instructions. The chilled ingredients don't take long to come together (in mine it's only about 20 minutes).
When the churn slows down and the ice cream has thickened, empty the chilled strawberries and pie bits into the ice cream, stir, and let it churn a little more just to incorporate.
If you serve it immediately, you'll have softer ice cream. This ice cream does set up really well when frozen though. It is a creamy hard dip ice cream with a texture I just love.
The awesome ice cream maker we used for this recipe (and will continue to use for everything all the time) can be found
HERE
. It's ice, salt, and mess free.