A simple comforting dish that clocks in at just 214 calories per serving! Chicken Paprika is rich and flavorful without being heavy, and requires just a few simple cabinet staples plus fresh vegetables.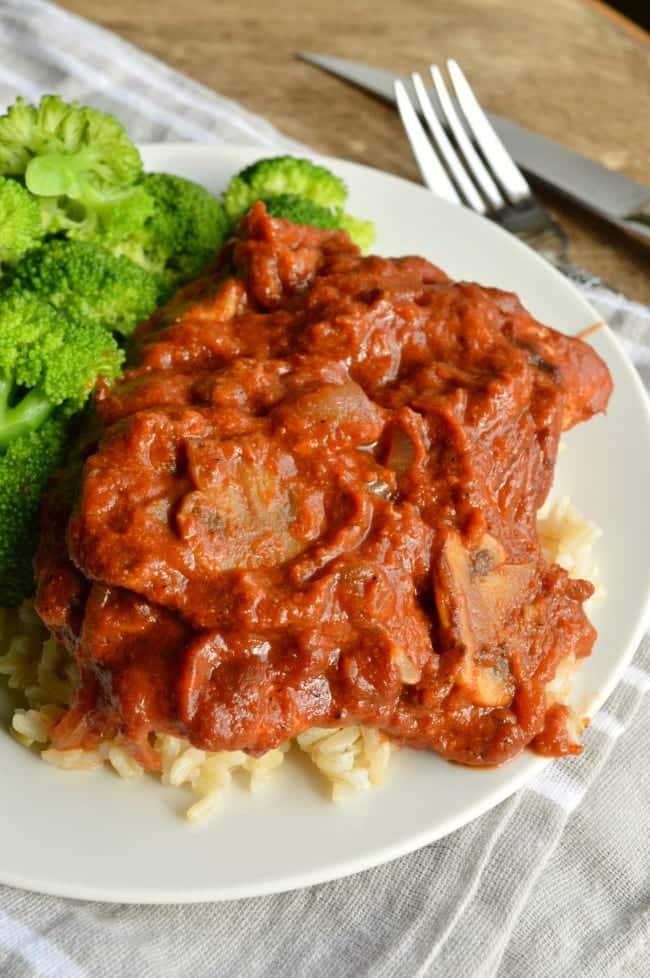 This post has been sponsored by alli®. All thoughts and opinions are my own.
Getting dinner on the table quickly can be a hassle. Getting a meal on the table quickly that you can actually feel good about eating is even more tricky. And getting out of that rut where you make the same 3 meals all the time (ahem… tacos, tacos, and also tacos) is and even bigger challenge than that.
Chicken is my fallback protein and I feel like I am usually pretty creative with it, but not when I am actually in a hurry. And not when I am actually feeding my family. I run out of ideas (just like anyone) because it's Wednesday, or because I'm tired, or because I cannot make one. more. trip. to the grocery store. Days like that I am oh so grateful for dinners like this Chicken Paprika.
It reminds me of this dish I used to make with my mom as a kid which I am pretty sure started out with some pan fried chicken and a jar of sauce. This recipe is for sure elevated from my 11-year-old dinner-in-a-jar days, but is still super simple. I forfeited fried chicken in favor of a quick saute in only a teaspoon of the olive oil. The key here is the seasoning — the rich color and the deep flavor are both attributed to that red spice we take for granted on our deviled eggs: paprika.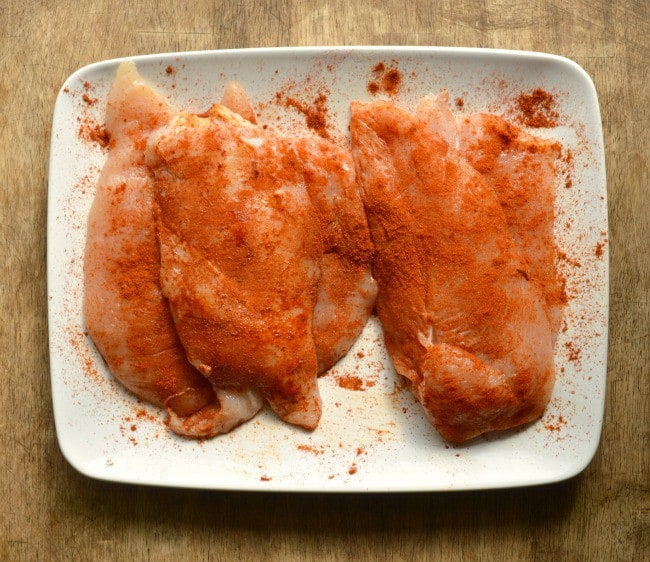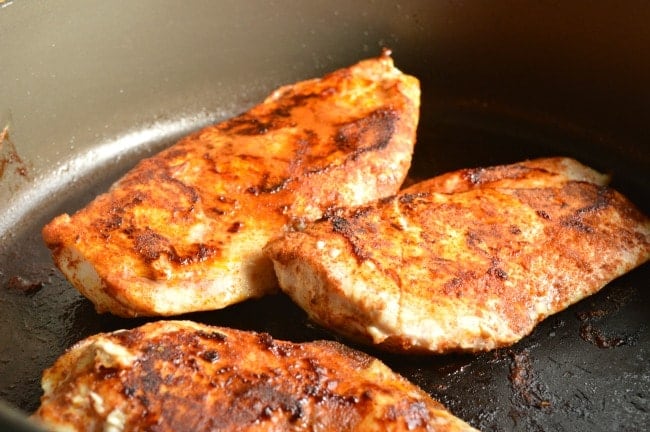 After the chicken is seasoned and sauteed, it gets set to the side so you can add ALL THESE ONIONS AND MUSHROOMS to the pan.
Yes I am yelling.
Yes I am excited.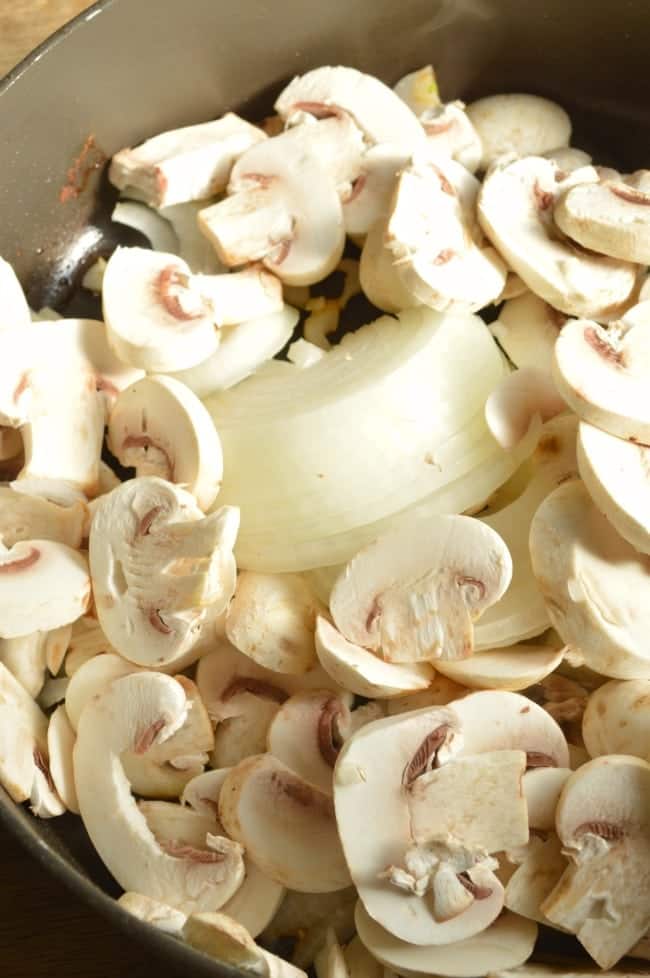 After that you get down to business with the sauce. The sauce is really what sets this dish off. It has more of that handy paprika smoky slight spiced flavor, but is also sweetened a tiny bit with tomato paste. The creaminess in the sauce comes from a source that surprised me. it's not heavy cream or cheese, or anything else that will make me ponder on the fate of my cholesterol. it's evaporated skim milk!
And to think I only ever bought that before for pumpkin pie making. Sheesh.
Anyway, the results are SERIOUS.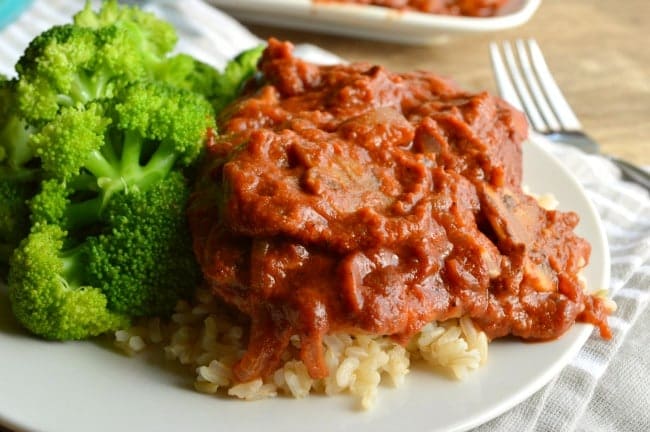 If you are having momentary dinner insanity, if you are trying to feed kids, if you need to watch your waistline, or if you are just making a quick grocery trip, this Chicken Paprika Recipe needs to find its way into your kitchen. It felt like we were indulging! Except at 214 calories per serving there is nothing to even be worried about.
I served mine over brown rice with a big portion of steamed veggies. You can't go wrong.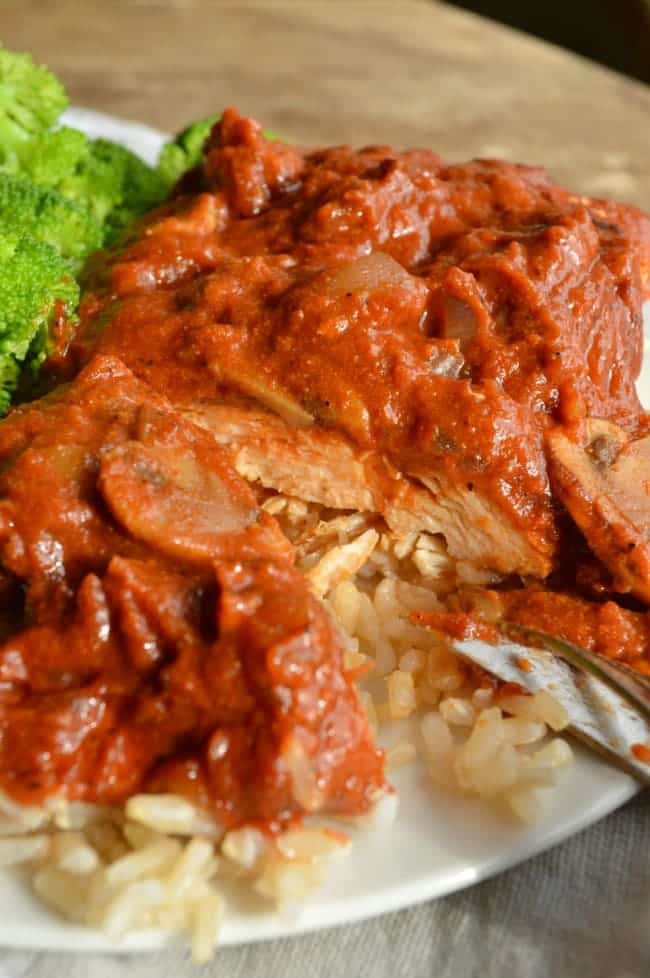 For more crave-able recipes designed to fit your lifestyle be sure to check out https://www.myalli.com/recipes-for-you/
Chicken Paprika
Ingredients
8 ounces fresh mushrooms,
1 yellow onion
1 b
lb boneless skinless chicken breast
1 tablespoon paprika
2 teaspoons extra virgin olive oil
6 ounces low soudium, fat-free chicken broth
1 tablespoon low sodium tomato paste
6 ounces evaporated skim milk
Instructions
Wash and slice mushrooms, or purchase pre-sliced mushrooms to save time. Peel and slice onion thinly. Set aside.
Trim any visible fat from chicken, rinse and pat dry with paper towels. Sprinkle both sides of the chicken pieces with ½ tablespoon (1-1/2 teaspoons) of the paprika
Melt 1 teaspoon of the olive oil in a large non-stick skillet over medium-high heat.
Add the chicken to the skillet and saute´ until the chicken is cooked through (no longer pink inside), about 4 minutes per side. Transfer the chicken to a plate and cover loosely with foil to keep warm
Add the remaining olive oil to the skillet and add mushrooms and onion. Cover and reduce heat to medium
Sauteé until the onion and mushrooms are soft and most of the mushroom liquid has evaporated, about 10 minutes.
Uncover and stir in the remaining ½ tablespoon (1-1/2 teaspoons) of paprika, the chicken stock, and the tomato paste.
Simmer, stirring, until the sauce thickens slightly, about 2 minutes. Stir in the evaporated milk and return the chicken to the skillet.
9. Simmer until the chicken and sauce are heated through, spooning the sauce over the chicken. Do not allow mixture to boil.
Season with pepper to taste, and serve over cooked noodles or brown rice, with steamed green beans, if desired.
Notes
**Nutrition facts are estimates only**
Nutrition Information
Calories:
214.6
Fat:
5.4
Saturated fat:
1.3
Carbohydrates:
11.8
Sugar:
8.8
Sodium:
145.2
Fiber:
1.3
Protein:
28.9