This Chili Recipe for Hot Dogs and Hamburgers is quick, simple, and perfect for all your cookout chili as a condiment needs. Lots of flavor – NO BEANS!
I live in North Carolina where we top all the things with a good dose of chili and some slaw. Two popular recipes here on Sugar Dish Me continue to be Carolina Style Hot Dogs and Carolina Style Burgers.
Those recipes are not without controversy though!
A quick scroll through the comments will turn up a whole bunch of people that love my Carolina-style recipes and then a whole bunch of dudes that want to mansplain things like chili and cole slaw.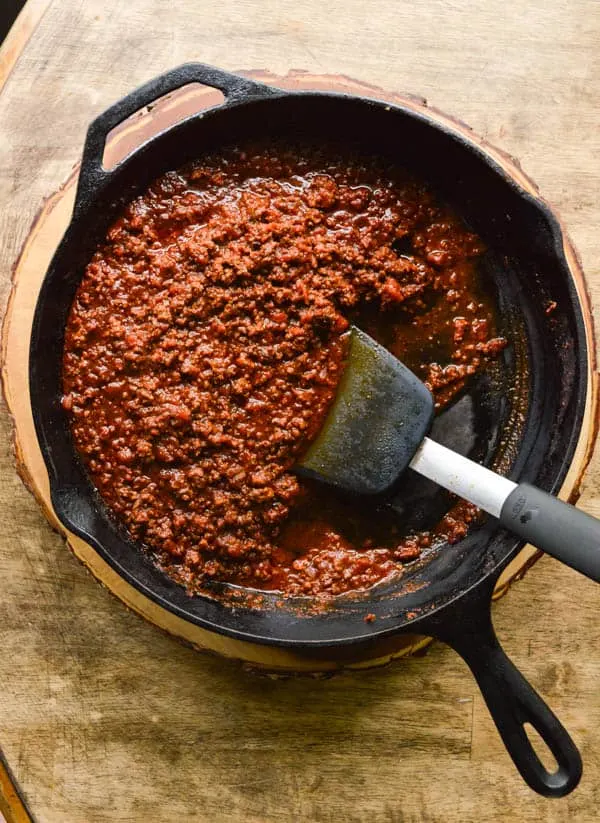 If you know me at all, you know that having rando dudes with no credentials try to explain my own recipes to me on the internet will basically get you nowhere. Fast.
But to assuage some of their troll-ey food blog concerns, I have some credentials to share!
I've lived in North Carolina for most of my life. My parents moved here before I was 2!
I like hot dogs and hamburgers with chili and slaw.
My restaurant experience dates back to 1995.
My husband was born and raised in Cleveland County, North Carolina, and grew up on a working farm. It doesn't get much more Carolina than that.
My Chili Recipe for Hot Dogs and hamburgers kicks all the ass.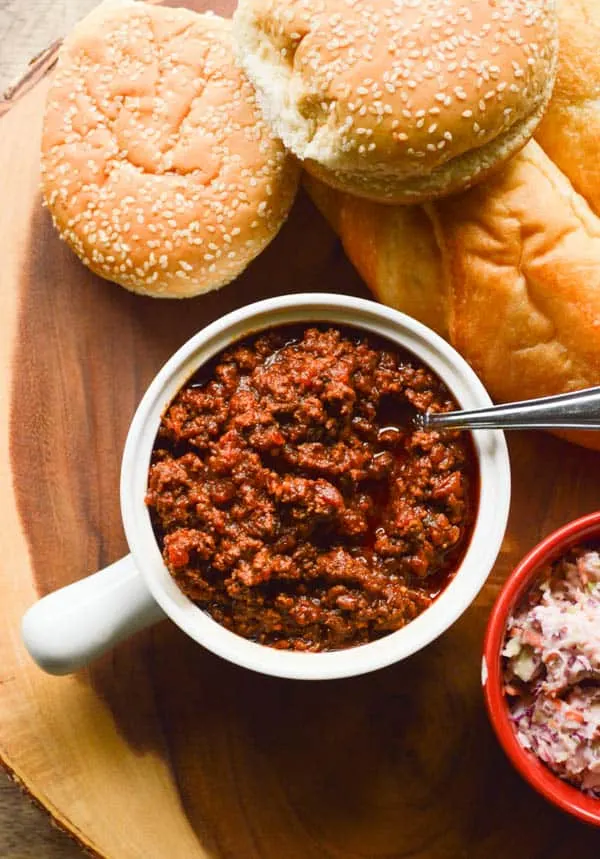 Important things to note!
This chili recipe does not have to simmer all day to taste good. This is basically just chili as a condiment. If you wanna cook it low and slow for hours then that's your prerogative. But if you wanna start it while you heat up the grill and make some slaw THAT'S OKAY TOO.
Mansplainers be damned.
This chili recipe doesn't have onions. That's because in NC we add raw chopped onions to the slaw AND to the actual hot dogs (or hamburgers). If you want onion, FINELY DICE IT and add it after you drain excess grease from the ground beef.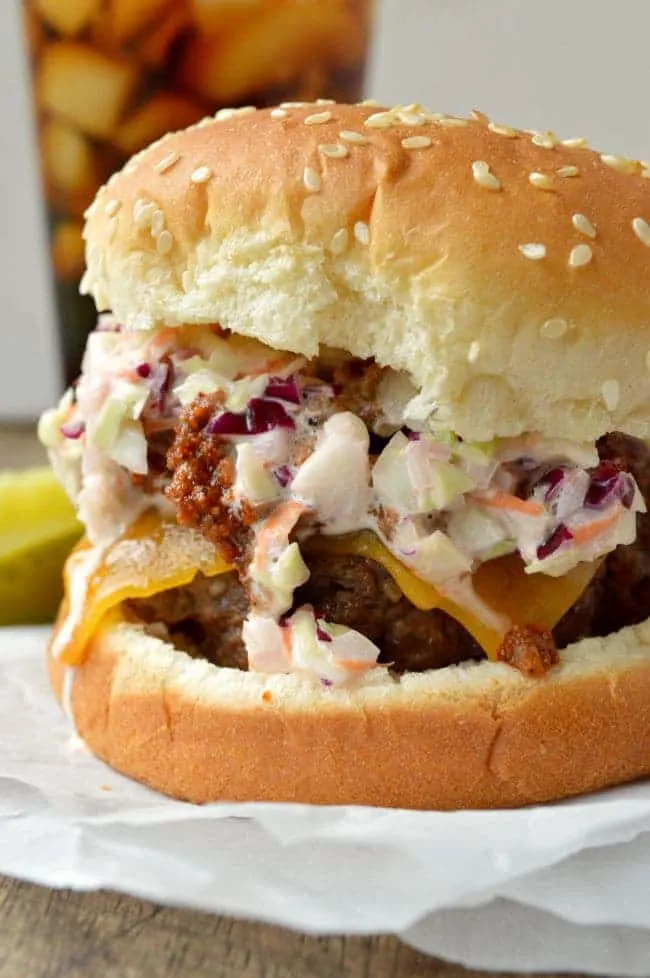 We just made Carolina Style Burgers with this chili earlier this week! Hot dogs are on the horizon.
And chili on all.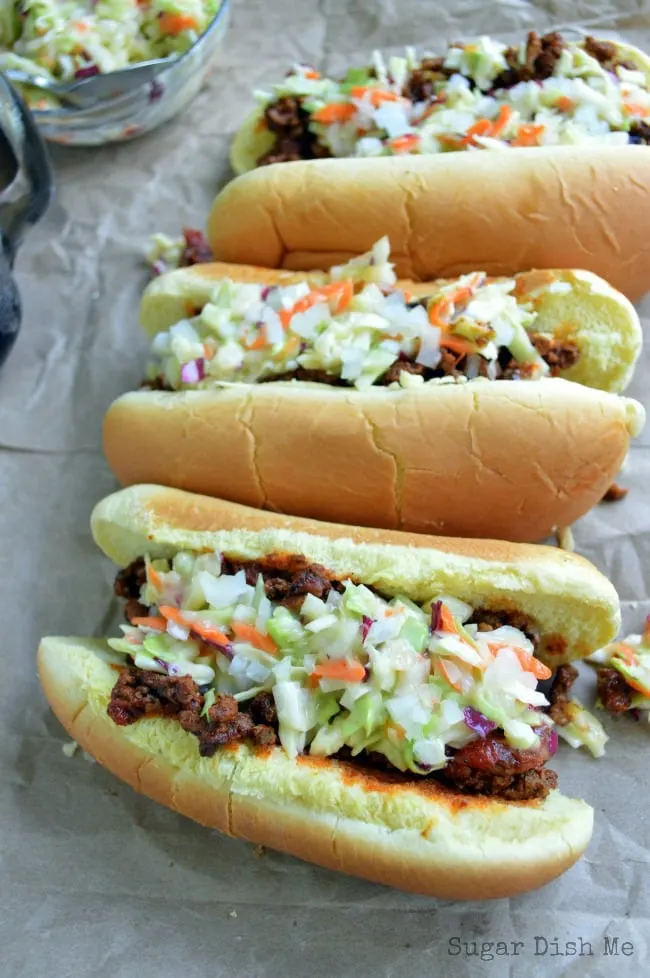 Yield:

serves 10 - 12
Chili Recipe for Hot Dogs and Hamburgers
This Chili Recipe for Hot Dogs and Hamburgers is quick, simple, and perfect for all your cookout chili as a condiment needs. Lots of flavor - NO BEANS!
Ingredients
1 pound lean ground beef
2 tablespoons chili powder (see note for chili seasoning)
1 teaspoon paprika
1 teaspoon cumin
1 teaspoon oregano
1 teaspoon brown sugar
1/2 teaspoon onion powder
1/2 teaspoon garlic powder
1/2 teaspoon salt
1/2 teaspoon black pepper
cayenne or red chili flakes to taste
1 cup broth (chicken, beef, or vegetable)
1 (15 ounce) can of crushed tomatoes
Instructions
Brown the ground beef in a large pan. Drain excess grease.
Add all the seasonings to the ground beef and pour in the broth. Turn the beef and seasonings over in the skillet a few times to coat the meat. You also want to break the beef up as much as possible.
Add the tomatoes, reduce the heat to medium, and let is simmer, stirring occasionally.
Notes
You can use a package of chili seasoning in place of all the seasonings and spices listed here. I always have everything on hand to make my own, but if you have to go out and buy the items listed, it will be much more cost effective to grab a chili packet and go.
Chili Recipe for Hot Dogs and Hamburgers