Chinese Pork Lettuce Wraps are simple and delicious! Made with Slow Cooker Chinese Hacked Pork loaded with the flavors of Chinese BBQ (hellooooo hoisin sauce!). A little sticky rice and buttery, crisp lettuce, and these Chinese Pork Lettuce Wraps will fast be a new fave addition to your weekly menu rotation!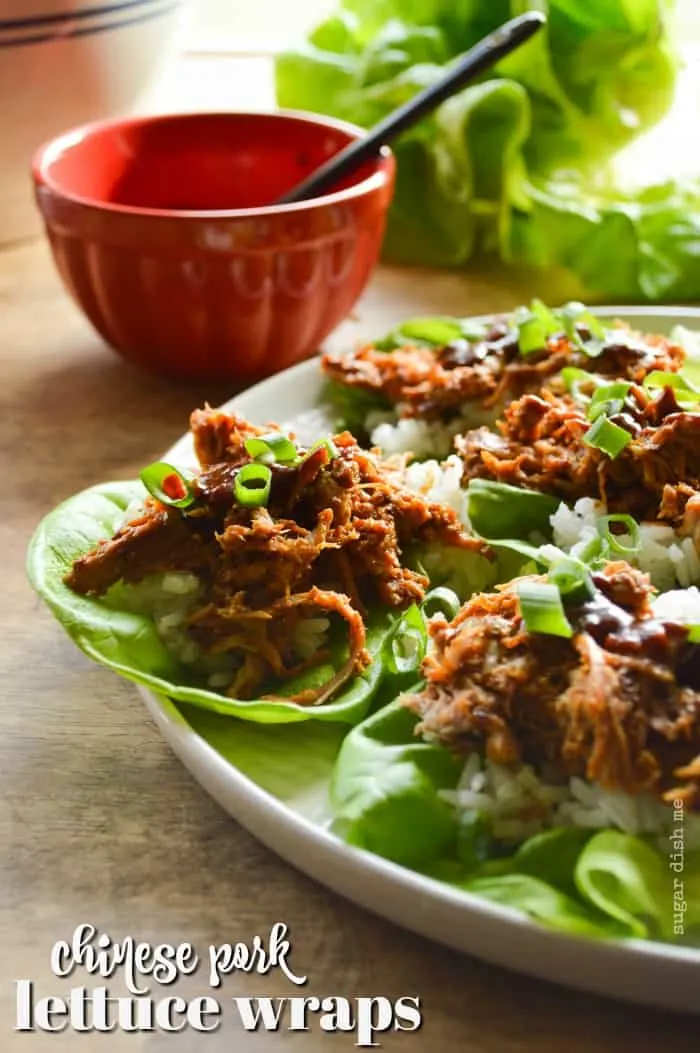 A few years back I realized that you guys looooooove a good lettuce wrap when I made these Buffalo Chicken Lettuce Wraps. That recipe stays in the Sugar Dish Me top ten no matter the season.
So this year, as I was digging through the archives looking for some of my older but still good recipes to revitalize, I landed on my old [like so old it had no photos old] Slow Cooker Chinese Hacked Pork recipe and thought AHA!!! Imma put that pork into a lettuce wrap.
It was a great plan.
The slow cooker piece of this recipe puzzle means that you can start this in the morning, let it get good and fork tender while you go about your day, and then you can come home, make some jasmine rice really fast (or not if you are low carb-ing it), and stuff your face. You can also make the pork a day ahead, if you are a planner (I am not). Annnnd there are always leftovers.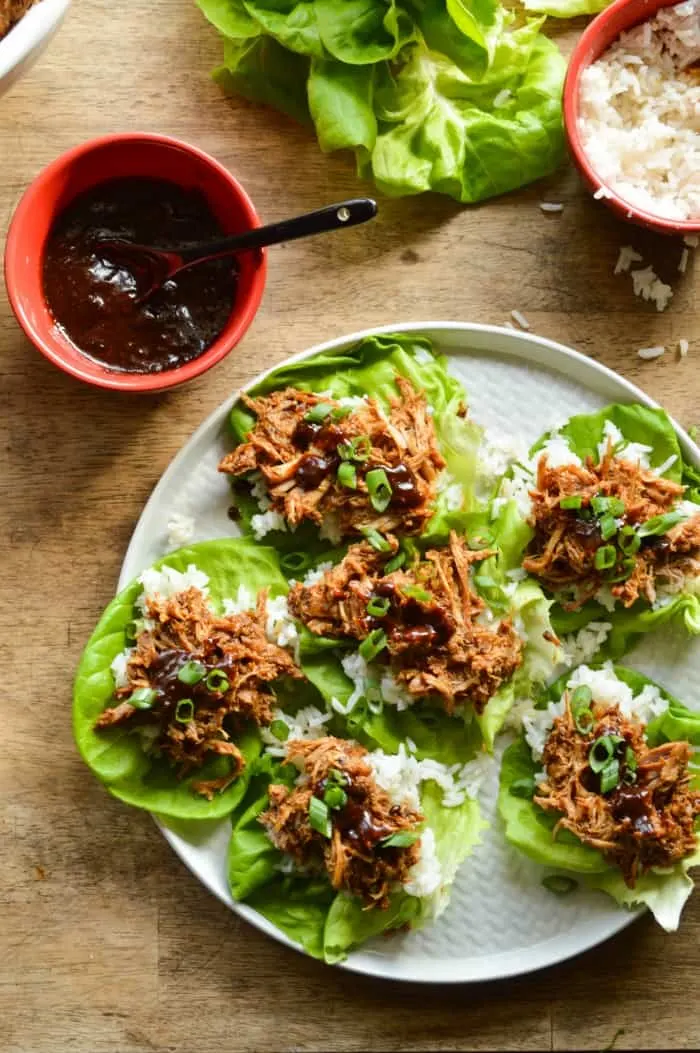 After reading through years of comments and feedback from you all on my other lettuce wrap recipes, I learned that what most people are looking for is really just easy meal suggestions that help you eat a little lighter, a little better, a little more homemade, without hating it.
You want your significant other to love a Chinese Pork Lettuce Wrap instead of the Chinese Buffet.
You want to eat something green that tastes fresh and bright instead of sad and boring (Also see 5 Salads that Won't Make You Hate Your Diet).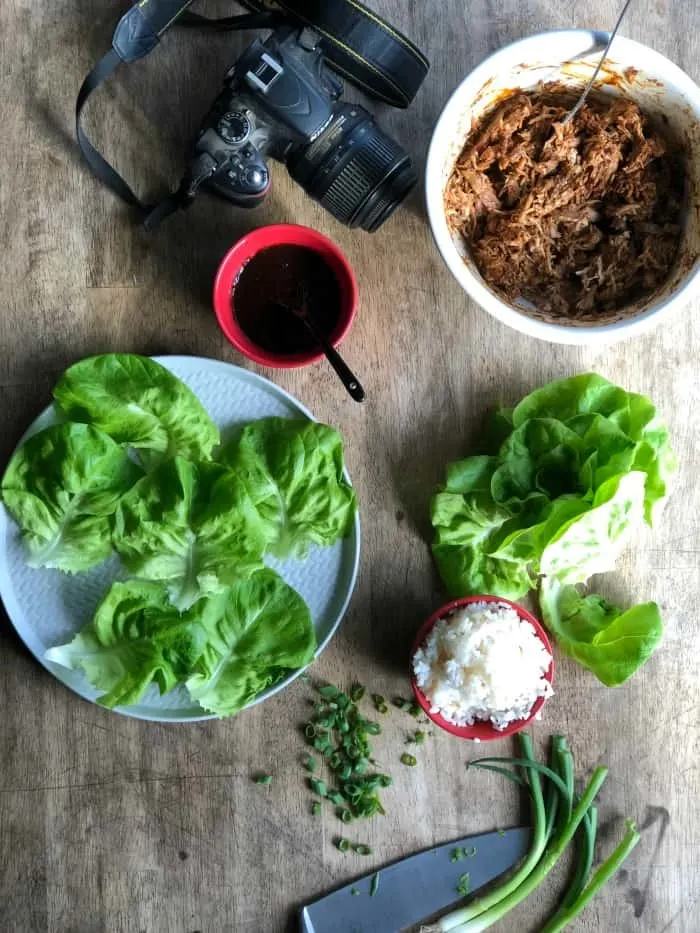 (you can find the tutorial on this tabletop food photography cart that I use in ALL my photos here)
And ya know? That's really what I want, too.
My days are LONG, y'all.
It is so hard for me not to just say EF IT and order some takeout when it's 7:30 pm and I am still at my desk.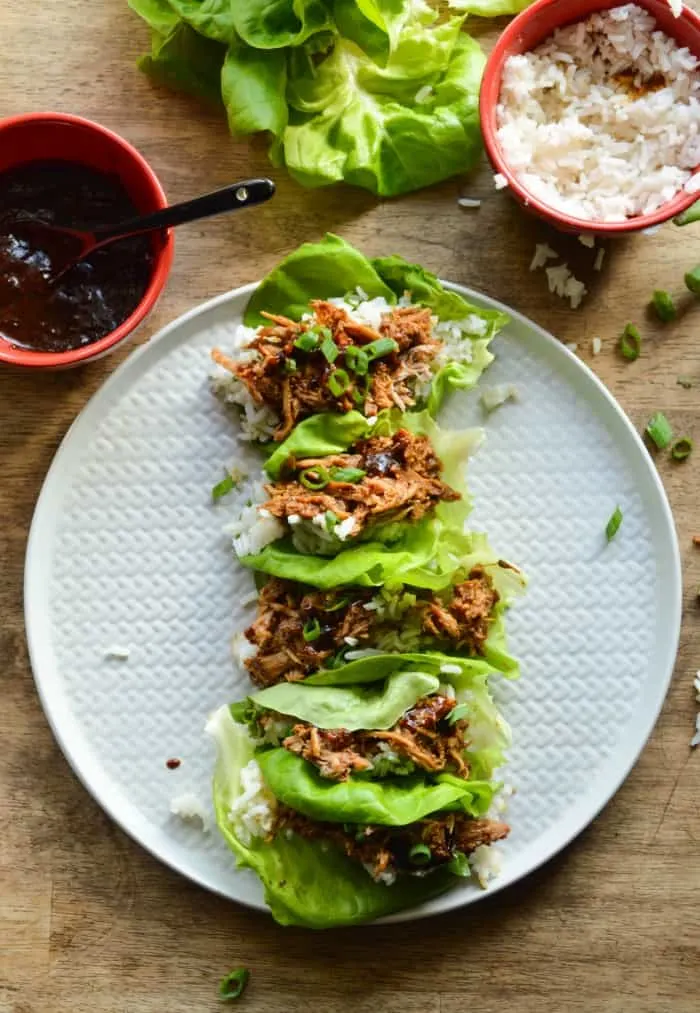 And let's not even get started on cleaning up the mess. No one wants to explode their kitchen, eat substandard food, and then clean for an hour. Forget it.
Chinese Pork Lettuce Wraps are little to no mess. If you make the pork ahead you really only have to deal with the slow cooker. If you skip the rice (which I don't) you have one less pan to wash. Don't they have microwave rice now? That would be an easy shortcut, too. No judgement here.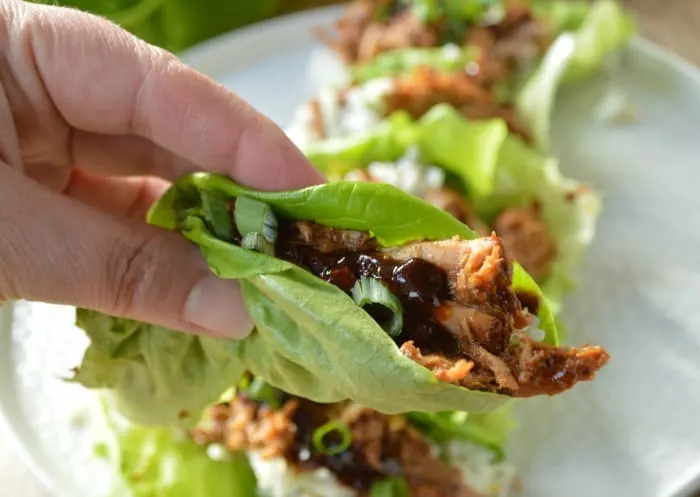 You are going to need Hoisin sauce for the pork (if I can find it in-store I usually buy this one). I detail that in the post on how to actually make the Chinese BBQ pork part of this recipe, but let's cover it again, just in case. If you can't find Hoisin sauce it's super simple to make your own with a few pantry staples.
To Make Your Own Hoisin Sauce
4 tablespoons soy sauce
2 tablespoons creamy peanut butter
1 tablespoon honey
2 teaspoons white wine vinegar
1/8 teaspoon garlic powder
2 teaspoons sesame oil
hot sauce to taste
1/8 teaspoon black pepper
Whisk alla that together and ta daaaaa. Sauce.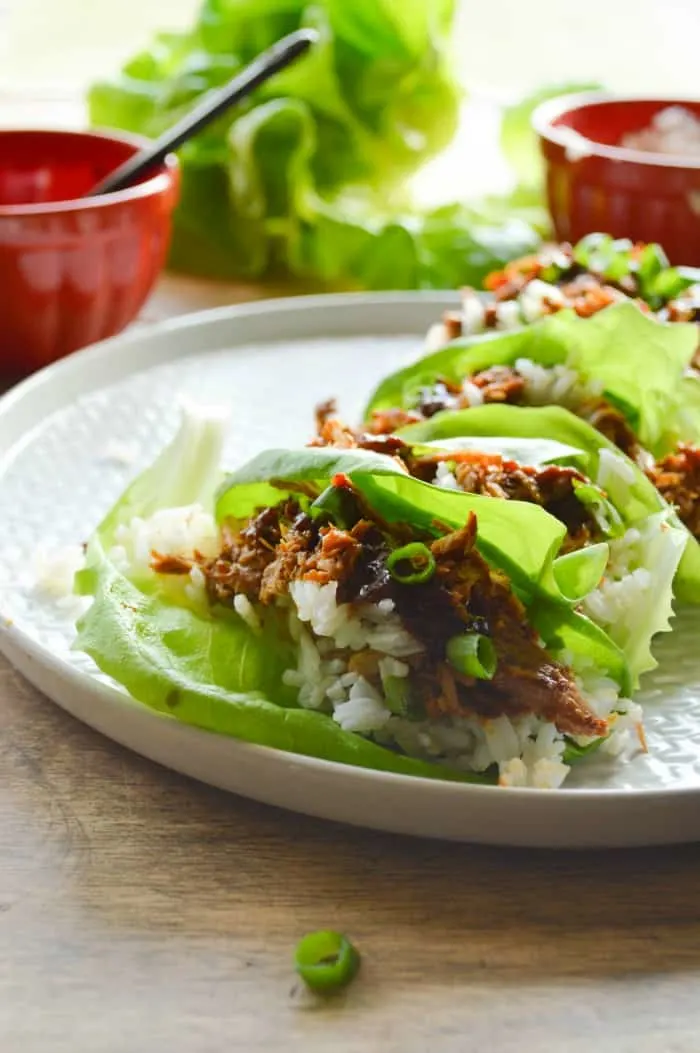 These are good, y'all! Like my husband INHALED them good. Like my teenage boys even ate things wrapped in lettuce good. Like I am totally making them again GOOD.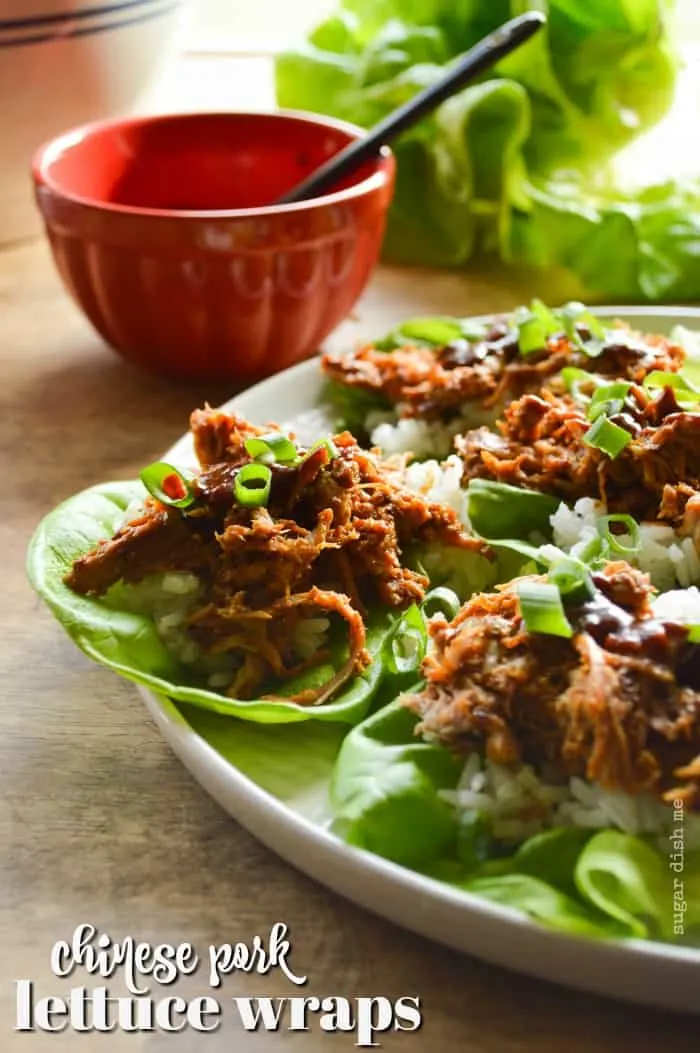 Yield:

serves 6-12
Chinese Pork Lettuce Wraps
Total Time:
6 hours
10 minutes
Chinese Pork Lettuce wraps are a simple make ahead meal and make a great pick-up appetizer! The tender Chinese BBQ Pork is piled on top of jasmine rice and wrapped in buttery soft leaves of lettuce. Leave off the rice for a tasty low carb treat! Note that the cook time listed includes the time to slow cook the pork!
Ingredients
2 cups cooked jasmine rice [optional]
12 - 15 leaves of Boston Bibb lettuce, washed and patted dry
chopped green onions to garnish
Instructions
Step 1

Lay out your lettuce leaves and spoon rice onto each. Careful not to over-fill. You want your lettuce to fold up after you load it up.

Step 2

Top the rice with the shredded Chinese Hacked Pork

Step 3

Spoon the sauce you made with the slow cooker pan drippings over the pork

Step 4

Top with chopped green onions.

Step 5

Best served warm, but cold is still delicious!
Recommended Products
As an Amazon Associate and member of other affiliate programs, I earn from qualifying purchases.
Want Some More Quick Dinner Ideas?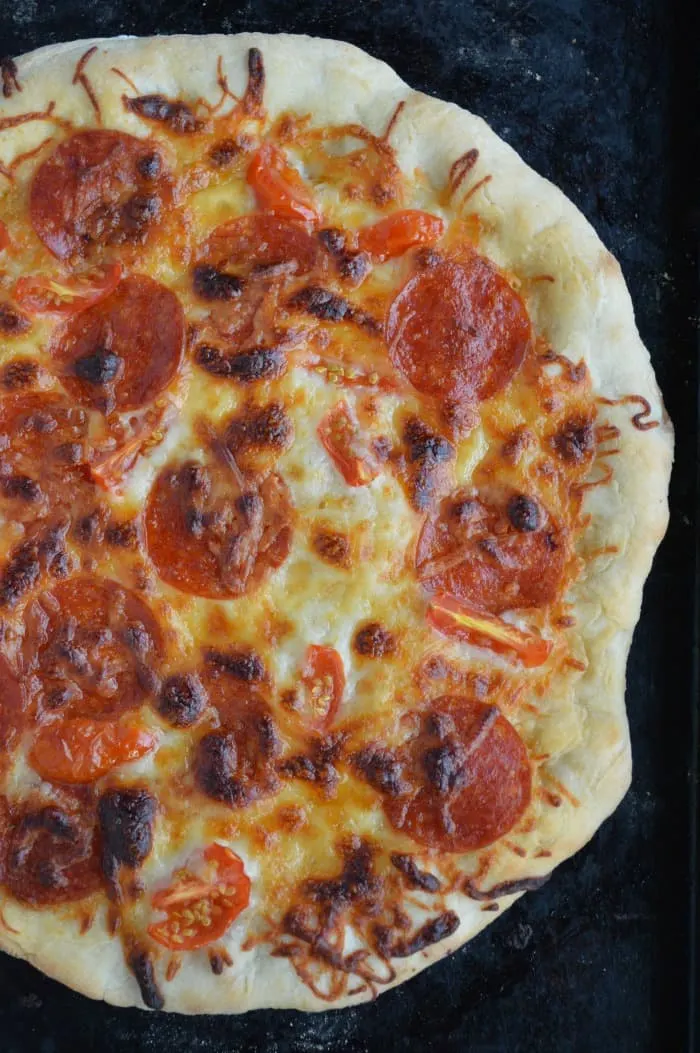 10 Minute Pizza Dough. I swear by this y'all. It's just as quick as frozen pizza and tastes WAY better. This has also been one of my top recipes since 2013!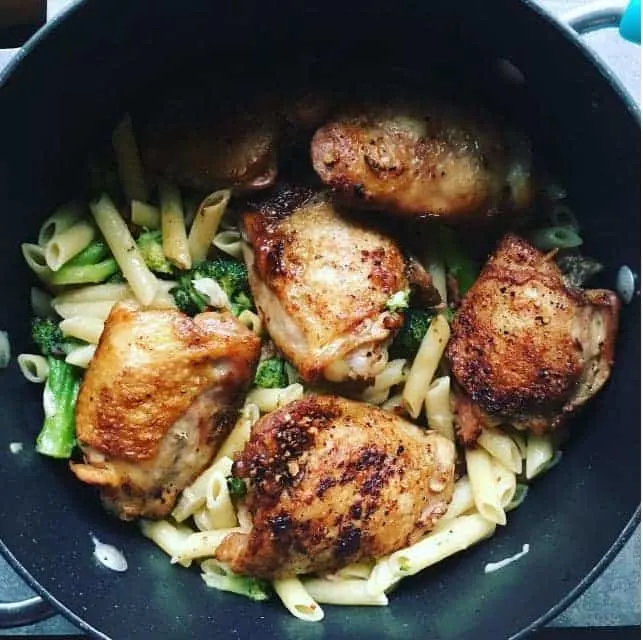 One Pot Garlic Chicken Thighs with Penne and Broccoli. Another winner that we make ALL the time! This recipe also stays in my top 10. The comments are handy, but please ignore all the people that argue about the amount of water to use. My recipe tests are solid. Promise.