Chocolate Chip Blondie Cookies are soft, chewy, and loaded with chocolate chips. Learn how to make this perfect brown sugary cookie with a secret ingredient!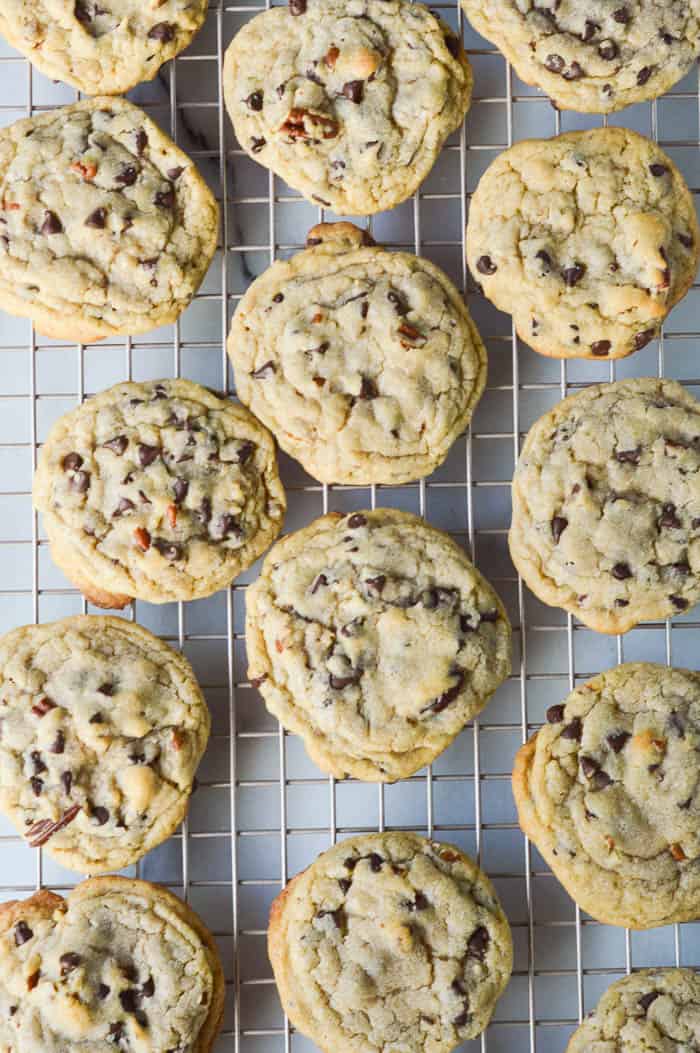 I have about a bazillion cookie recipes. I truly love a good cookie, and try my best to send them out of my house when I make them, because I am basically powerless against a plate of cookies on my counter top.
Just like with brownies, I have some really definite ideas about how the taste and texture of a blondie should be. That logic also applies to a blondie cookie.
I want there to be just a little bit of bite on the outside – like the edge texture of a really solid corner piece of brownies. The crackles on top are crucial. You won't get those wispy crackles here like you do with brownies in a pan. But the crackles on top of the cookies give way to a soft, chewy interior.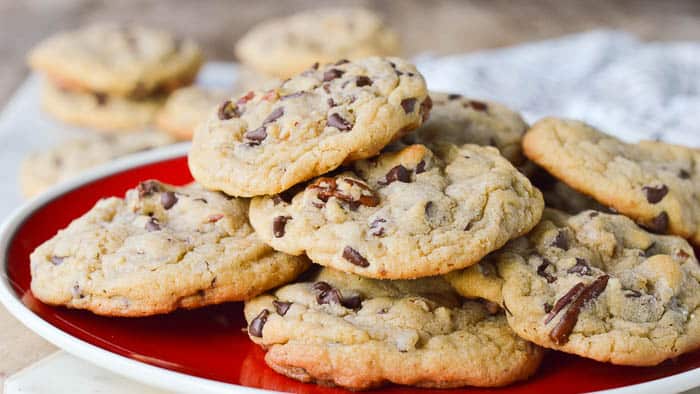 What's the Difference Between a Blondie Cookie and a Brownie Cookie?
The "vanilla" base. It's technically just the absence of chocolate.
My recipe for blondie cookies is basically the same base as my Peppermint Hot Chocolate Brownie Cookies. Both have a brown sugar base, vanilla, and enough salt to bring out the flavor, but the blondie cookie base is sans that dark cocoa powder that makes a brownie into a brownie.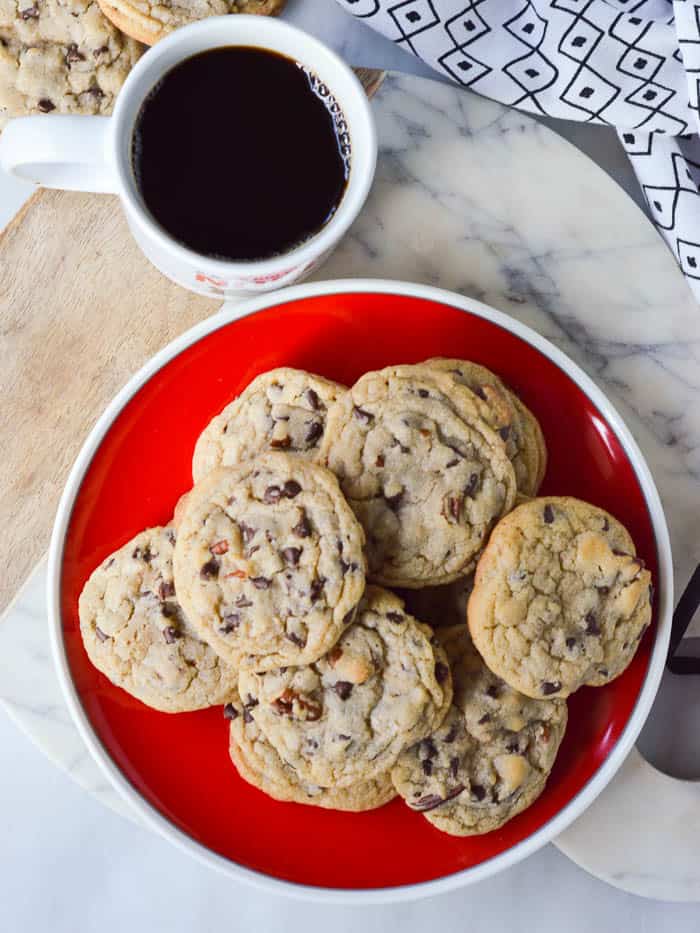 Can I Make The Dough Ahead of Time?
Yes! You can make this dough ahead of time. It freezes really well.
My preferred method is to mix up the dough, line baking sheets with parchment paper, and then use a cookie scoop to portion the dough out onto the sheet. I use this cookie scoop most of the time, in case you are looking for something that will do the trick.
If you freeze this cookie dough you don't need to adjust anything or thaw – just add 2-3 minutes on to the original bake time.
Can I Use Butter Instead of Shortening?
You can. But the results will be VERY different.
I am usually the captain of the use-real-butter ship. I really just prefer real ingredients in general. Heat me out though. Vegetable shortening is a "real ingredient". And it FOR SURE has its place.
The reason shortening works well in this particular recipe is because we are after a VERY SPECIFIC texture.
Butter has water. Shortening does not. The water in butter increases the gluten production when you are baking anything, because when you heat water, you get STEAM. Shortening is all fat, and so it reduces the chemical reaction and gives you SOFTER COOKIES.
Shortening also gives you height because it has a higher melting point than butter. That means taller cookies.
What I'm saying is, try the recipe as-is. THEN come back and try it later with butter.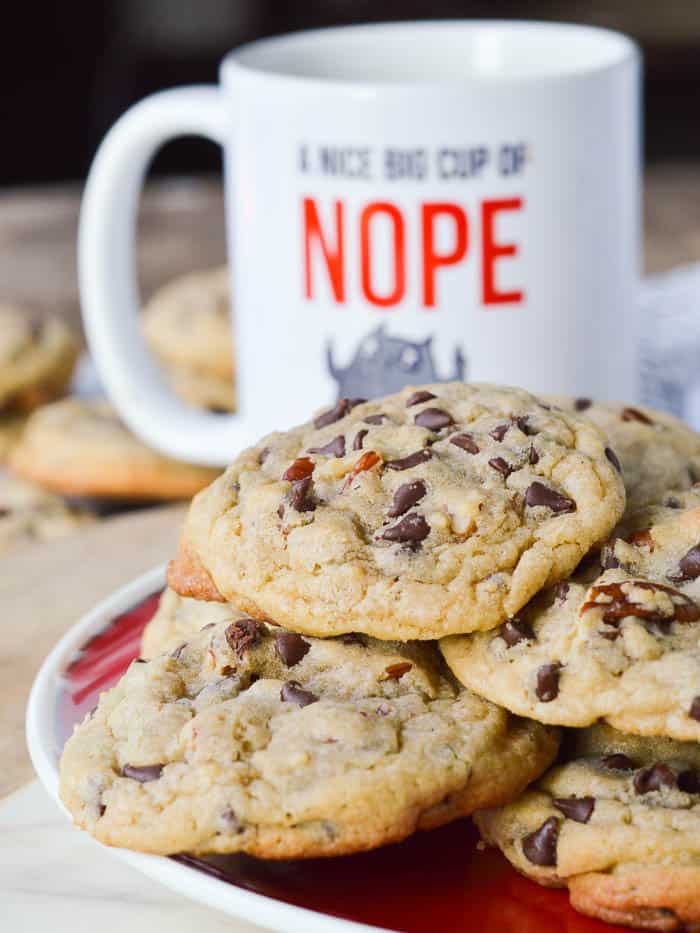 If you are looking for where to buy this coffee mug (it's one of my very favorites), it's from The Oatmeal. The actual link is here. I did find it on Amazon, but it appears to be a knock off and I cannot vouch for either quality or hilarity.
School started here this week, and these Chocolate Chip Blondie Cookies are perfect for lunch boxes and after school snacking.
Kids aside though – these are really just DANG GOOD COOKIES. TRY THEM!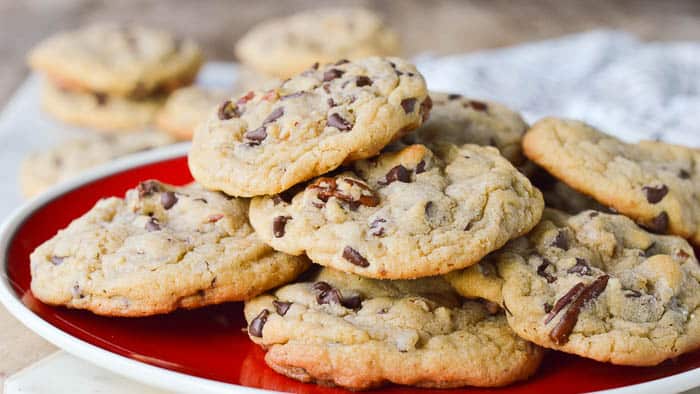 Yield:

36 cookies
Chocolate Chip Blondie Cookies
Chocolate Chip Blondie Cookies are chewy, and rich with the perfect texture! Crackled on the top and chewy in the middle with just the right bite, and loads of mini chocolate chips
Ingredients
2/3 cup shortening
1 1/2 cups light brown sugar, packed
1 tablespoon water
1 teaspoon vanilla
2 eggs
1 1/2 + 1/3 cups all purpose flour
1 teaspoon salt
1/4 teaspoon baking soda
1 cup mini semi-sweet chocolate chips
1 cup chopped pecans
Instructions
Preheat the oven to 375°F.
In a large bowl cream the shortening and brown sugar. Mix in the water and vanilla. Then add the eggs. Mix until combined.
In another bowl whisk together the flour, salt, and baking soda. Gradually add it to the sugar/egg mixture.
Stir in the chocolate chips and pecans.
Drop by rounded tablespoons onto an ungreased baking sheet, about 2 inches apart.
Bake for 7 - 9 minutes (8 was exactly perfect for me). Let the cookies cool slightly before removing them to a wire rack to cool completely.
Notes
I've found that it's important to keep this cookie dough cool. If the dough gets too warm (like if your kitchen gets too warm while you're baking) the cookies spread out and are more crisp than chewy. I like to refrigerate the dough either in the bowl or portioned out onto the cookie sheet until ready to bake.
Recommended Products
As an Amazon Associate and member of other affiliate programs, I earn from qualifying purchases.
Nutrition Information:
Yield:
36
Serving Size:
1
Amount Per Serving:
Calories:

118
Total Fat:

8g
Saturated Fat:

3g
Trans Fat:

0g
Unsaturated Fat:

5g
Cholesterol:

12mg
Sodium:

74mg
Carbohydrates:

12g
Fiber:

1g
Sugar:

10g
Protein:

1g