Easy Pico de Gallo is at the center of so many delicious dishes! Serve it as a dip for chips, with tacos, on salads and burgers, etc. Ready in 10 minutes!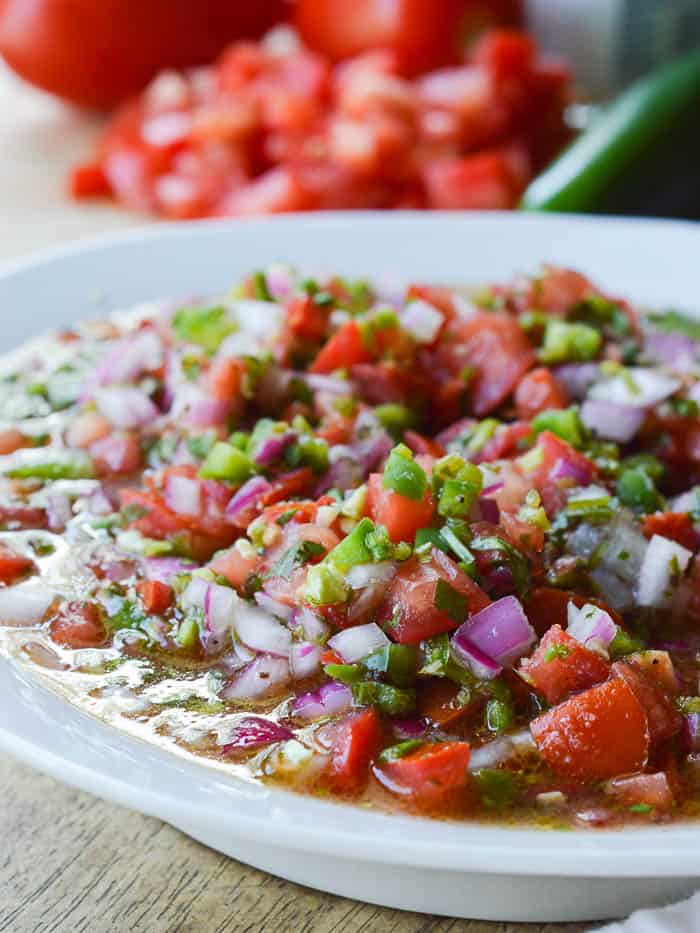 You guys. I have no idea why it has taken me almost 8 years to share this recipe. Shame on me.
Pico de Gallo is reliably easy to make and you can literally add it to EVERYTHING. Pico stands great on its own, and I will happily stand over the bowl and inhale it via a big bag of tortilla chips, but it's also excellent to add to basically anything.
What's the difference between pico de gallo and salsa?
Pico and salsa are similar – the ingredients are nearly identical in many cases. But the biggest difference between pico de gallo and salsa is that one is always fresh and the other can be canned.
See: store-bought salsa
Pico is usually chunkier, (though I do also love a good chunky salsa), and if you put the two side by side, the salsa looks saucier. Salsa can be cooked and is often blended, while pico de gallo is just a big bowl of freshly chopped ingredients with some fresh lime squeezed over the top. And vinegar.
Never forget the vinegar.
Pico also will not keep as long.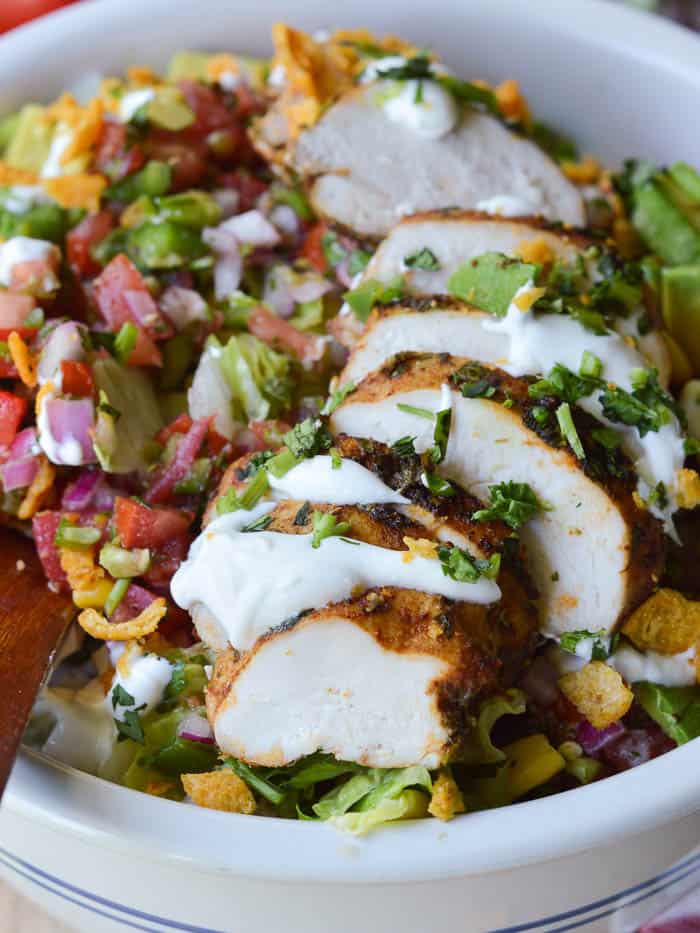 How long does pico keep?
Refrigerated, it'll keep for about a week. But I am over it after a couple of days. Fresh tomatoes don't belong in the refrigerator, y'all.
The texture gets weird. If we actually have any left on Day 3 I usually mix it with rice in a skillet or bake and call it good. The fresher the better and no one likes mushy tomatoes.
That said though, you can definitely make this a day ahead if it makes things easy on you. AND the flavor is better after it's been sitting a little bit.
What I'm saying is, we are walking a weird line between super fresh and all the flavor. You'll be fine. It's easy I promise.
How do I make pico de gallo?
Arm yourself with a big 'ol cutting board and a knife and get to work.
Fun fact: commercial kitchens use a dicer like this one to get uniform pieces and make quick work of things. I personally LOVE LOVE LOVE a big walnut board (this John Boos board is what I use. Bonus! It's pretty), but if you are limited on space
[Need to care for your cutting board? This kit is great. If you need a cheaper option, skip the kit and just grab some food grade mineral oil.]
To make pico you are literally just going to chop everything up and throw it in a bowl, and then stir. The instructions are two steps. My kinda recipe.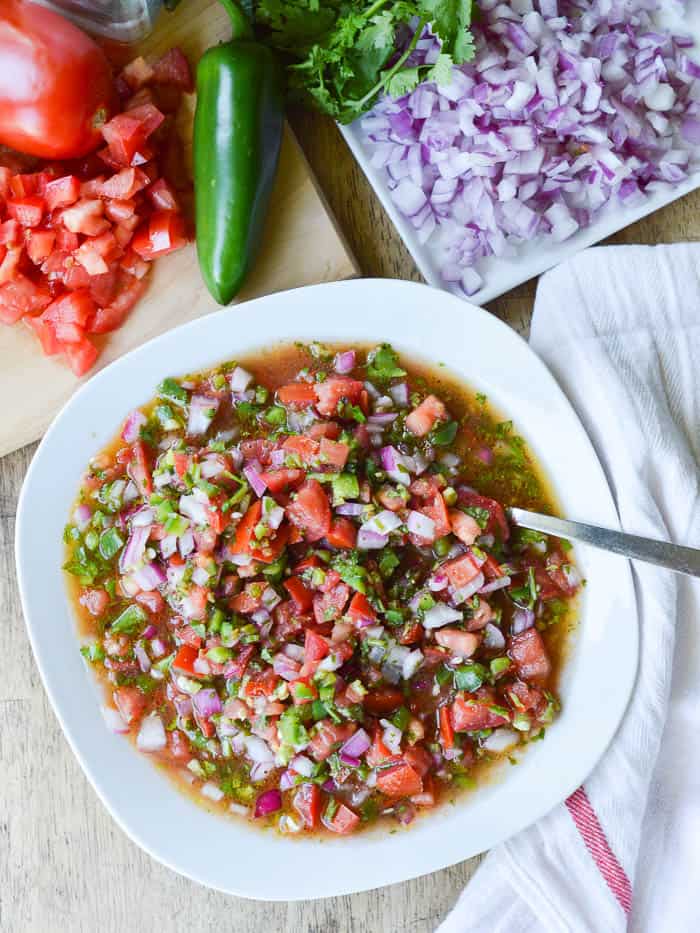 What can you do with pico de gallo?
WHATEVER YOU WANT! Seriously though – this stuff is so versatile that I don't even have a firm grasp on what to call it. Is it a condiment? A salad? A type of salsa?
The answer is yes. And you can use it in so many ways.
scoop it up with chips!
spoon it over a taco salad – who needs dressing? This Southwest Chicken Salad calls for a heaping amount of pico and a little sour cream, and that's IT.
top your baked potato with it! add a little pico and a sprinkle of shredded cheese and DONE.
top chili with it
mash up an avocado and add pico de gallo, and BAM! That's guacamole. You're welcome.
Obviously you need to add it to all of your tacos.
use it to garnish this Easy Cheesy Enchilada Breakfast Casserole
speaking of breakfast, use it to top Sausage and Egg Breakfast Tacos!
I can keep going, but you get the idea.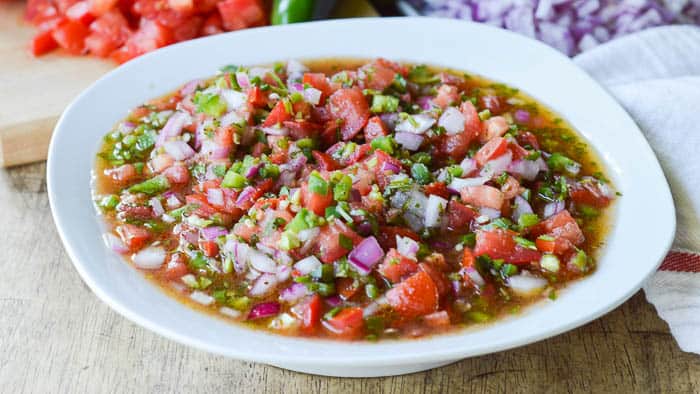 If you make this pico and need to pair it with some tasty drinks, let me point you towards this Classic Margarita Recipe. You really can't go wrong with the classics.
If you wanna get cute, definitely try Mason Jar Margaritas. There's pineapple juice. Also you just add the ingredients to a mason jar, screw on the lid, and shake.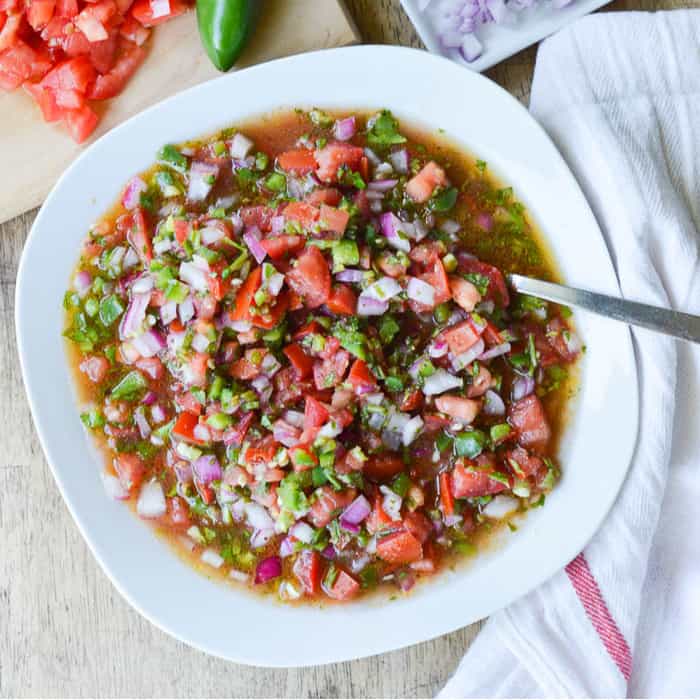 Yield:

serves 12
Easy Pico de Gallo
This quick and fresh Easy Pico de Gallo is at the center of so many great dishes! If you are making tacos, a good southwest salad, burgers, or if you just have a summer vegetable garden gone wild, this recipe will come in handy.
Ingredients
1 1/2 cups diced roma tomatoes
1/2 cup diced red onions
1/4 cup minced jalapeno pepper
2 heaping tablespoons chopped cilantro
1/2 teaspoon black pepper
1/2 teaspoon kosher salt
1/2 teaspoon garlic powder
1/2 teaspoon onion powder
1/3 cup red wine vinegar
2 tablespoons olive oil
Instructions
Add all ingredients to a medium bowl and stir to combine.

Serve with tacos, chips, burgers, salads, and more.
Recommended Products
As an Amazon Associate and member of other affiliate programs, I earn from qualifying purchases.
Nutrition Information:
Yield:
12
Serving Size:
1
Amount Per Serving:
Calories:

38
Total Fat:

3g
Saturated Fat:

0g
Trans Fat:

0g
Unsaturated Fat:

2g
Cholesterol:

0mg
Sodium:

109mg
Carbohydrates:

3g
Fiber:

1g
Sugar:

2g
Protein:

1g