Peppermint Hot Chocolate Brownie Cookies are soft, fudgy cookies with the rich flavors of hot chocolate, crushed peppermints and brownies! Great for the holidays and especially perfect for cookie swaps!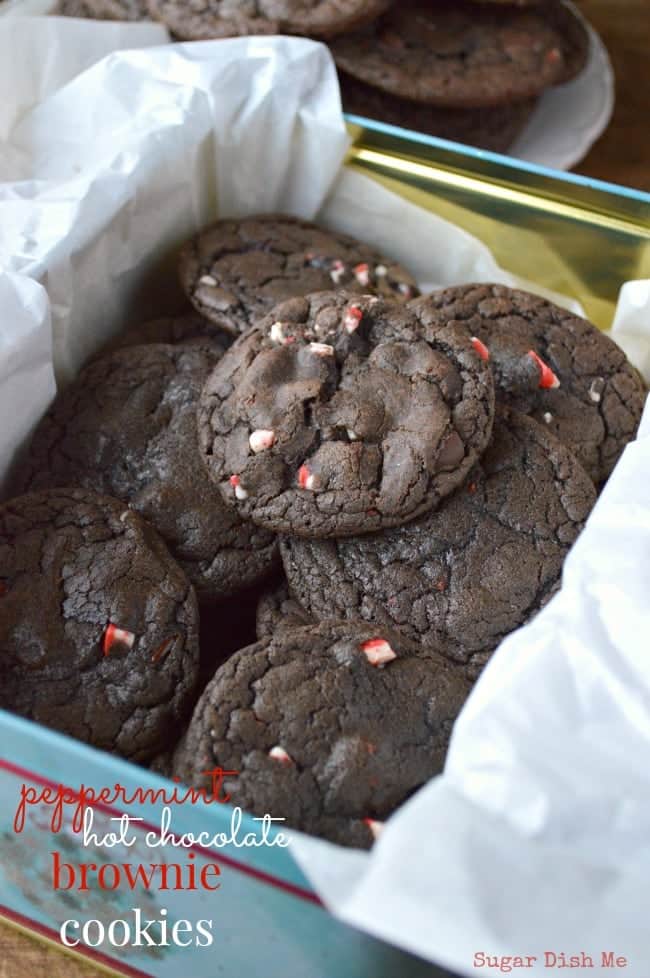 I am not trying to brag, but have you ever seen such perfectly perfect cookies? The texture, the crackle, the peppermint chips! Brownies are always and forever at the top of my list of favorite desserts, but I have a serious weakness for cookies.
Combining the two things was basically next level dangerous, but in the best way.
Peppermint Hot Chocolate Brownie Cookies were part of a giant cookie sprint wherein I mailed somewhere in the neighborhood of 5 dozen cookies to various corners of the country. These cookies are PERFECT for cookie swaps, but they are also really perfect for mailing because the texture holds up really nicely. They stay moist without things getting weird or mushy (apologies if you have an aversion to that word), and when you open the box, a GORGEOUS waft of chocolate and peppermint hits you right away.
The outside of these cookies stays crisp, while the inside is soft and chewy, like a brownie. There's a secret to that perfect texture, and it might surprise you!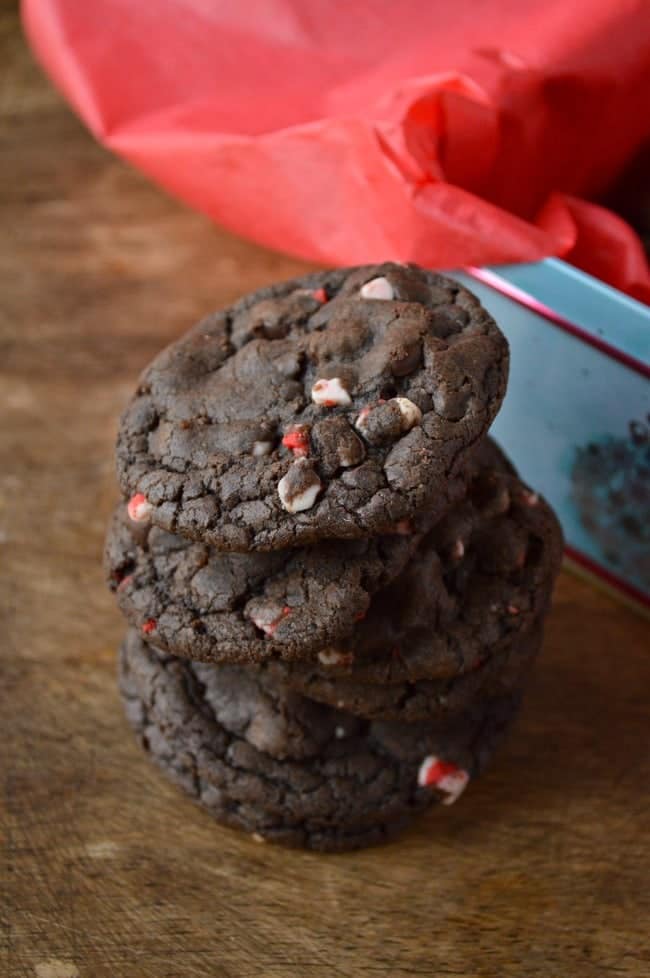 The Secret to Perfect Chocolate Brownie Cookies
The secret to perfect hot chocolate brownie cookies … Is shortening.
Don't throw things at me – y'all know how much I love butter. But hear me out.
Butter has water. Shortening does not. The water in butter increases the gluten production when you are baking anything, because when you heat water, you get STEAM. Shortening is all fat, and so it reduces the chemical reaction and gives you SOFTER COOKIES.
Shortening also gives you height because it has a higher melting point than butter. That means taller cookies.
Baking science!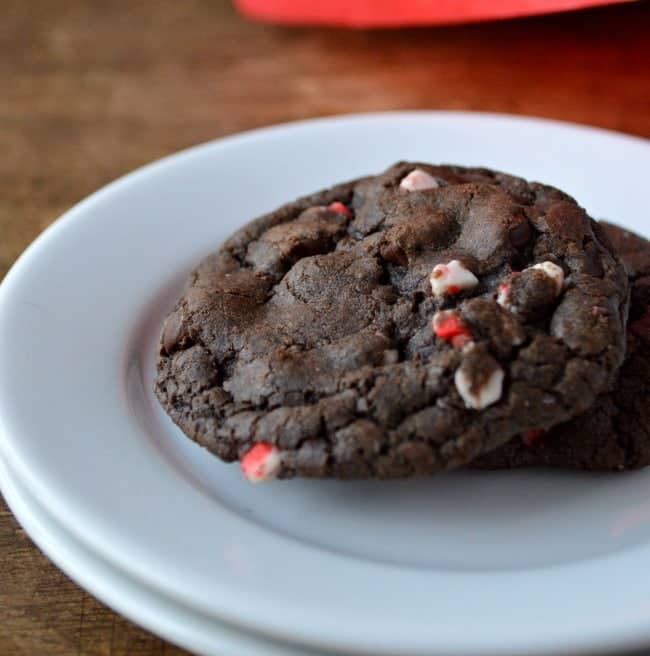 What Kind of Peppermint Chips Can I Use?
I use these Andes Peppermint Crunch Baking Chips. As soon as I see them in stores I snatch up all the bags I can carry, because not everywhere has them, and they are usually only sold certain times of the year.
If you are unable to find those and aren't interested in waiting on an Amazon Prime box to show up on your porch, you can try crushed candy canes. Lots of readers have had success with that if you poke through the reviews and comments.
Sometimes it's easier to find the Peppermint Crunch candies and chop them into bits yourself. I love the red and white in my holiday cookies but if you can't find them the regular Andes mint baking chips will work well. too. Also — when in doubt, check Big Lots.
Can I use regular cocoa powder instead of dark cocoa powder?
You can, but I'd say that the results might not be exactly what you are hoping for, OR what you are seeing here in these photos. Since this recipe calls for baking SODA and not baking powder, you CAN safely substitute lighter or "regular" cocoa powder without affecting how the science works.
If you'd like some quick easy tips on How to Ship Baked Goods I wrote a whole tutorial on it. I have lots of treat-mailing practice.
Other awesome recipes you should try!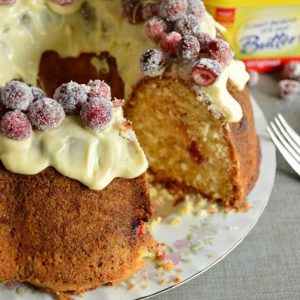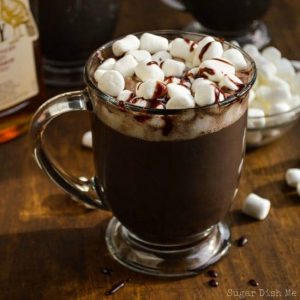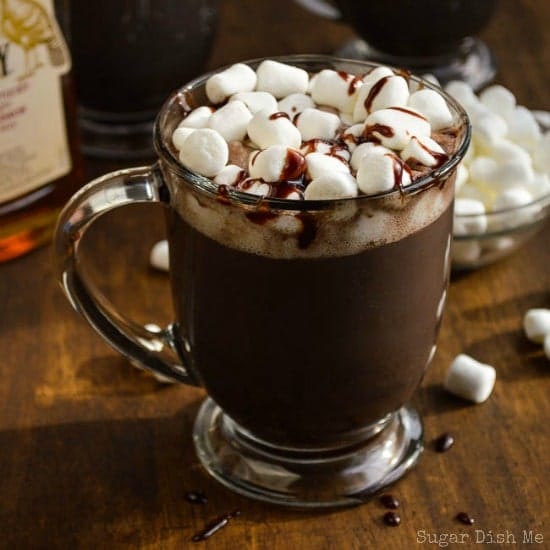 White Chocolate Cranberry Pound Cake is made with shortening! It's SO festive and looks gorgeous added to any holiday spread.
Bourbon Spiked Hot Chocolate is rich and creamy, made from scratch, and spiked with bourbon to make all your winter days warmer. You can leave the bourbon out and this is also just a really SOLID from scratch hot chocolate recipe.
If you are looking for more great cookies to mail, try these Mint Chip Chocolate Chip Cookies from Dorothy at Crazy for Crust.
You might also want to try Chocolate Cookie Dough Cookies from Janet at Food Beautiful.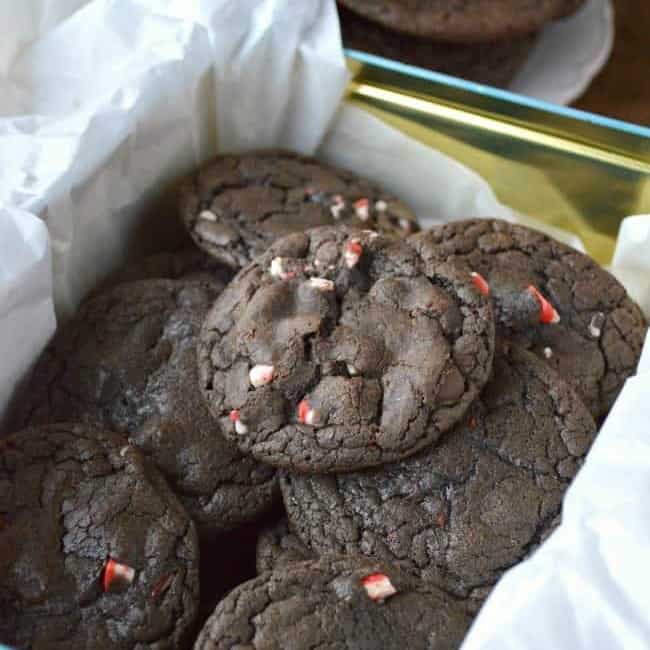 Yield:

36 cookies
Peppermint Hot Chocolate Brownie Cookies
Peppermint Hot Chocolate Brownie Cookies are chewy, rich Holiday cookies with the delicious flavors of peppermint and hot chocolate. These have the texture of a brownie in cookie dough form, come together simply, and are so delicious!
Ingredients
2/3 cup shortening
1 1/2 cups light brown sugar, packed
1 tablespoon water
1 teaspoon vanilla
2 eggs
1 1/2 cups all purpose flour
1/3 cup dark cocoa powder
1/2 teaspoon salt
1/4 teaspoon baking soda
1 cup peppermint crunch baking chips *See Note*
1 cup semi sweet or dark chocolate chips
Instructions
Preheat the oven to 375°F.
In a large bowl cream the shortening and brown sugar. Mix in the water and vanilla. Then add the eggs. Mix until combined.
In another bowl whisk together the flour, cocoa powder, salt, and baking soda. Gradually add it to the sugar/egg mixture.
Stir in the peppermint crunch baking chips and the semi-sweet chocolate chips.
Drop by rounded tablespoons onto an ungreased baking sheet, about 2 inches apart.
Bake for 7 - 9 minutes (8 was exactly perfect for me). Let the cookies cool slightly before removing them to a wire rack to cool completely.
Notes
1. The Peppermint Crunch Baking Chips can be elusive! Sometimes it's easier to find the Peppermint Crunch candies and chop them into bits yourself. I love the red and white in my holiday cookies but if you can't find them the regular Andes mint baking chips will work well. too. Also -- when in doubt, check Big Lots.
2. I've found that it's important to keep this cookie dough cool. If the dough gets too warm (like if your kitchen gets too warm while you're baking) the cookies spread out and are more crisp than chewy. I like to refrigerate the dough either in the bowl or portioned out onto the cookie sheet until ready to bake.
Recommended Products
As an Amazon Associate and member of other affiliate programs, I earn from qualifying purchases.
Nutrition Information:
Yield:
36
Serving Size:
1
Amount Per Serving:
Calories:

120
Total Fat:

6g
Saturated Fat:

3g
Trans Fat:

0g
Unsaturated Fat:

3g
Cholesterol:

13mg
Sodium:

50mg
Carbohydrates:

15g
Fiber:

1g
Sugar:

10g
Protein:

1g