This super Easy Stromboli Recipe is like a pepperoni pizza roll and is ready in 30 minutes or less! Made with quick homemade dough, and loaded with cheese for the perfect pick up savory treat.
Does this count as a meal in your house? In my house it's a heavy appetizer. Or a snack, depending on who you ask. I actually hesitate to call this a meal of any kind because there are no vegetables, and if you only eat stromboli you will still be hungry. It's SOOO GOOD THOUGH.
This easy stromboli recipe is definitely good enough to be whatever you want it to be.
Let's start with some basics on stromboli before we get too far ahead of ourselves. I almost called this a pepperoni roll or a pizza roll. It's both of those things. If you are feeding children you should probably just call it a pizza roll and be good with that. Less arguing.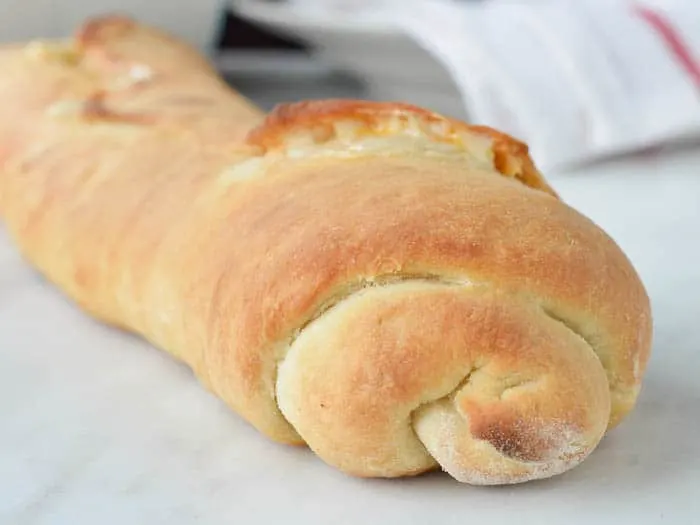 What is Stromboli?
I think the exact definition says that stromboli is a savory Italian turnover filled with meats and cheeses.
Meats and cheeses is fun to say ?
In all seriousness though, when you say turnover, I think dessert. I do not tend to think about pizza dough rolled up with meats and cheeses inside, which is what stromboli actually is. It does not have sauce inside, though lots of recipes tend to call for it. We are going sauce on the side here. It's easier, trust me.
Traditionally you'd probably use fancier meats than sliced Hormel pepperoni, but calling this recipe stromboli gave us SO MANY OPTIONS.
You're welcome.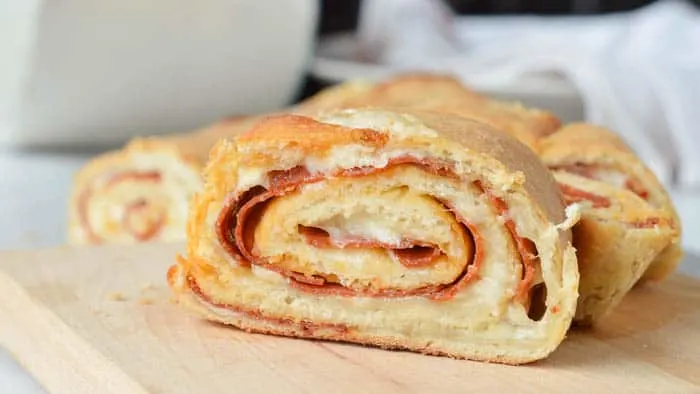 I made this using my quick pizza dough recipe. That dough is ready to go in 10 minutes flat. That means you can make the pizza dough from scratch, load everything up with meats and cheeses (recurring theme here), bake, and stuff your face in 30 minutes. Pepperoni Roll Win in my book.
You only need a few ingredients!
To make the dough you will need just a few basic pantry staples:
active dry yeast
warm water
sugar
flour
salt
olive oil
To fill the dough and make easy stromboli you need:
Italian meats (pepperoni, salami, capocollo, ham)
Italian cheeses (mozzarella will do the trick!)
And then you'll just need a little more olive oil.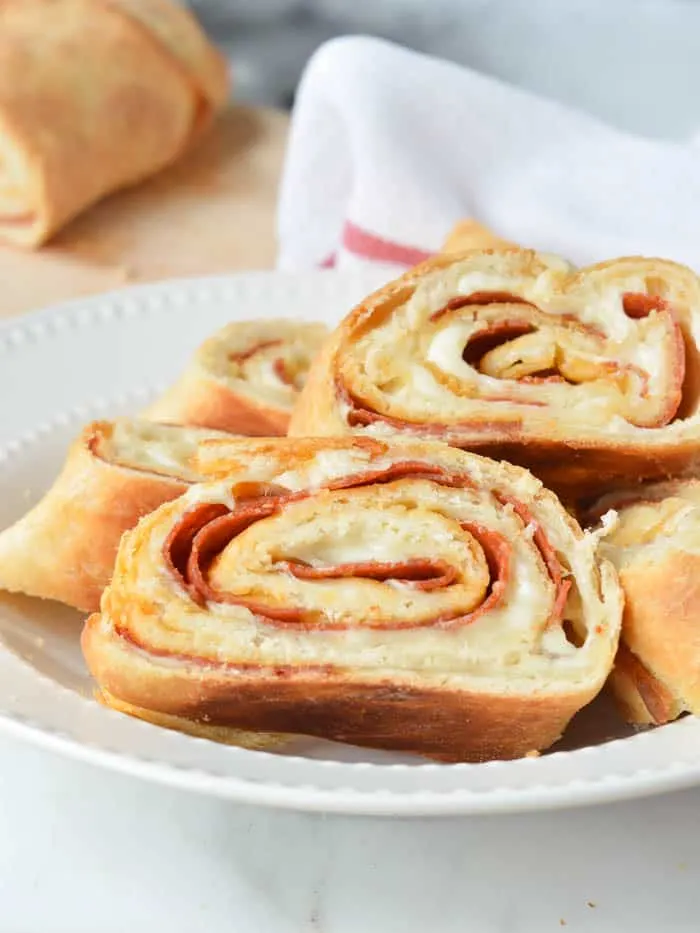 How to Fold Stromboli
So listen – authenticity is not my goal here. Just like with things such as dumplings, there's definitely a right way to do things, which means that there IS a correct way to fold stromboli. HOWEVER – I didn't spend my time researching that. My intention here was quick and easy. Like Friday night food at its best.
I wanna open a bottle of wine and stuff two slices of meat and cheese filled pizza bread in my face.
Anyway, all of these words are to preface my "how to fold" portion of this tutorial with a strong caution to not come at me with your crazy comments on how this is not REAL stromboli and how I am sacrilegious or whatever.
Please See: the comments on this Philly Steak and Grilled Cheese Sandwich.
To fold this easy stromboli recipe you are just going to start on one of the long sides of your stretched out dough, and roll it away from you. Tuck the sides in a few times as you are rolling, and take care not to pull holes on the dough as you roll.
The tighter you roll the more layers you'll have, but keep in mind that thinner dough on the OUTSIDE of the stromboli won't be as tender. It's a balancing act.
Serve the finished product with this crazy good pizza sauce!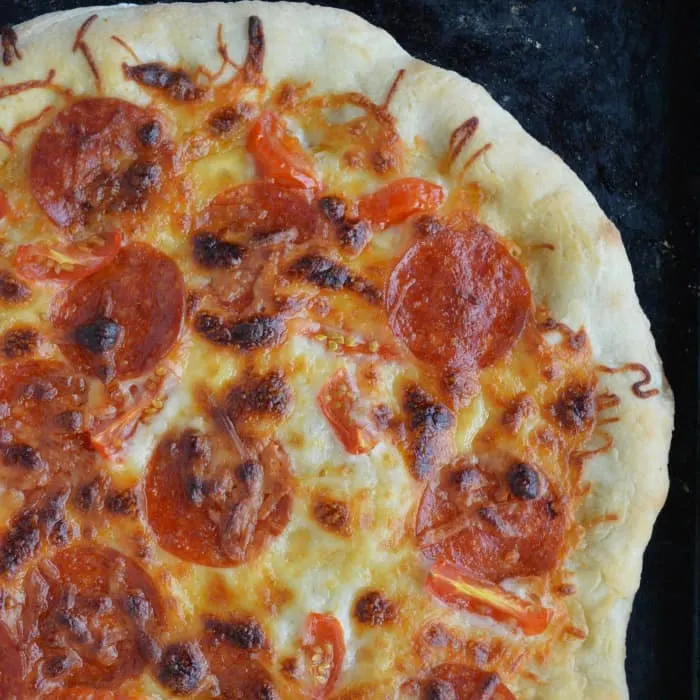 Yield:

2 (12") Pizzas
Quick Pizza Dough
This Quick Pizza Dough comes together and is ready to bake in just 10 minutes; you can have fresh, hot, homemade pizza on the table in 20!!!
Ingredients
3/4 cup warm water *See Note*
1 teaspoon active dry yeast (if you buy the little envelopes you will have some left over. Envelopes typically contain 2 1/4 teaspoons. Fold the remaining yeast up tightly and keep refrigerated for the next time)
2 cups all purpose flour, plus more for kneading and dusting your work surfaces
1 teaspoon sugar
1 teaspoon kosher salt (less if you only have table salt handy)
1 1/2 tablespoons olive oil
cornmeal (optional)
Instructions
Preheat the oven to 500 degrees. NOT BROIL. If you have a pizza stone, be sure it's in the oven before you turn it on (This prevents is from cracking). If you are not using a pizza stone you can use the back of a cookie sheet -- see instructions below.
Pour the warm water in a large bowl. Add the yeast and let it sit for about a minute until it's looking a little foamy.
Add the flour, sugar, salt, and olive oil. Stir to combine (I use a sturdy spatula or wooden spoon) and form a shaggy dough.
Flour a clean work surface and dump the dough onto it. Knead the dough for about 4 minutes, incorporating any dry bits that weren't mixed in the bowl.
Place the dough back in the bowl and cover it with a kitchen towel (I know the bowl is dirty; it's fine.). Put the bowl on top of the stove (the heat from the oven will make the dough more pliable) and let it sit for 5 minutes.
While you wait for the dough, get your pizza toppings ready -- grate your cheese, slice onions and peppers, etc.
If you have a pizza peel, rub it with flour and dust with cornmeal (this prevents sticking). If you do not have a pizza peel you can use a wooden cutting board OR you can assemble and bake on THE BACK of a cookie sheet.
Divide the dough in half (well-floured hands help) and stretch it carefully into a circle. I like a thinner crust so I just leave a slight lip around the edge of my circle and I stretch it pretty thin but this is all about preference (Note: thicker dough will take a little longer to cook).
Place your circle on the peel/cutting board/cookie sheet you set up and add your toppings.
If you are using the cookie sheet, place it right in the oven (middle rack) and bake for 10 minutes.
If you heated a pizza stone in the oven, carefully slide your pizza off the peel or cutting board and onto the stone. Bake for 10 minutes (more if you opted for a thicker crust) or until the crust is golden and the cheese is melted.
Repeat with the second dough.
EAT.
Notes
#1 - I always test my water temp by sticking my fingers under the faucet and letting the water run -- you are looking for just barely warm (I read once to think of a baby's bath water if that gives you a reference point). Too hot will kill the yeast and too cold won't activate it. Your packaging should have a recommended temperature if you're nervous about this.
Recommended Products
As an Amazon Associate and member of other affiliate programs, I earn from qualifying purchases.
Nutrition Information:
Yield:
8
Serving Size:
2
Amount Per Serving:
Calories:

197
Total Fat:

3g
Saturated Fat:

1g
Trans Fat:

0g
Unsaturated Fat:

3g
Cholesterol:

0mg
Sodium:

344mg
Carbohydrates:

37g
Fiber:

2g
Sugar:

1g
Protein:

5g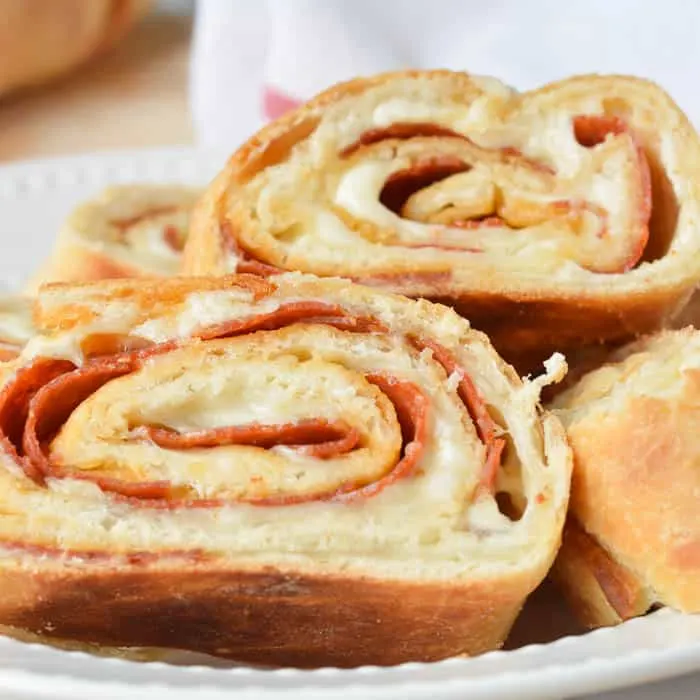 Yield:

Serves 8
Easy Stromboli Recipe
This super easy stromboli recipe is quick and simple! You only need a few ingredients and you can have the whole thing ready made from scratch in about 30 minutes!
Ingredients
1 recipe quick pizza dough
1 pound shredded mozzarella cheese
3.5 ounces sliced pepperoni (see notes)
2 tablespoons olive oil
Instructions
Preheat the over to 500°F (NOT BROIL!). Line a half sheet pan sized baking sheet (18" X 13") with parchment paper.
Follow the pizza dough recipe through Step 6. On a well-floured work surface stretch the dough out into a rectangle that's about 1/4 - 1/2" thick. You can use a floured rolling pin here if it's easier; just be sure the dough isn't sticking to the work surface.
Spread all of the cheese evenly across the dough leaving about 1" around all of the edges.
Lay the pepperoni slices over the cheese in an even layer.
Starting on one of the long sides, gently roll the dough in 1" - 2". Tuck the sides in just a little; not all the way up, but just enough to keep the filling in while you continue rolling.
Continue rolling gently, tucking the sides in just a little as needed as you roll. If you end with the seam on the bottom you can flip it when you move the roll for baking.
GENTLY lift the stromboli onto the prepared baking sheet, seam-side up. Stretch it so that it is the length of the sheet pan.
Brush the entire top and sides with olive oil. OPTIONAL: Use kitchen scissors to slash the top 4-5 times. It's not required but can make for a prettier presentation.
Bake for about 15 minutes. You want the outside to be golden brown. You can shake grated Parmesan cheese over the top before slicing to serve.
Let the stromboli rest for a few minutes before slicing.
Notes
3.5 ounces of pepperoni is about half of a standard package. You can also use various other Italian cold cuts or meats; salami, cappocollo, etc.
Recommended Products
As an Amazon Associate and member of other affiliate programs, I earn from qualifying purchases.
Nutrition Information:
Yield:
8
Serving Size:
1
Amount Per Serving:
Calories:

273
Total Fat:

20g
Saturated Fat:

9g
Trans Fat:

1g
Unsaturated Fat:

9g
Cholesterol:

49mg
Sodium:

594mg
Carbohydrates:

6g
Fiber:

0g
Sugar:

1g
Protein:

16g