February 1st!!! Which gives me free reign to make everything pink for approximately 2 weeks. I have procured a ridiculous amount of nonpariels, tinted several tubs of buttercream, and I've stashed away a bag of Valentine M & M's (but not the raspberry kind because… actually I just really don't like them). To get it all rolling I made these itty bitty sandwich cookies.
I just baaaarely dipped my pinkie toe in the Valentine holiday water last week with THIS Whiskey Sour Cake, though in all fairness, a Whiskey Sour Cake is pretty much always appropriate. Last year I made these chocolate sprinkled pretzels…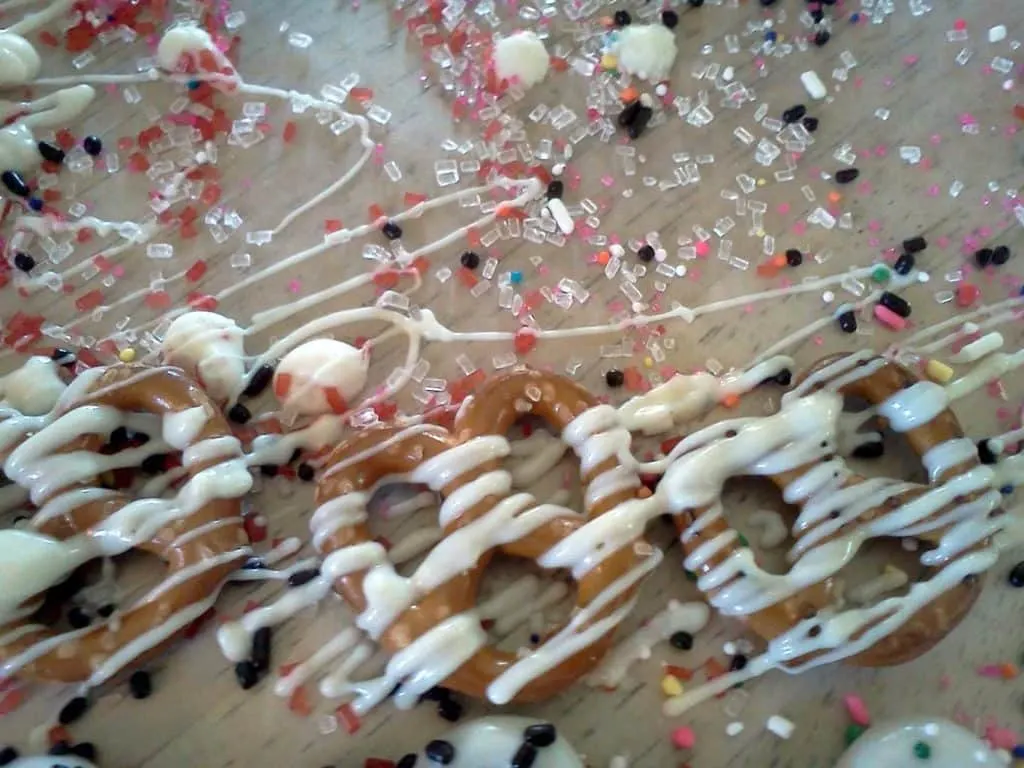 …and a few other heart-shaped cakes, but I never really went overboard with the pink & red & white colors. Consider yourself warned.
I'm still kind of bumming that I can't send home baked goodies to Evan's school anymore… so I have resorted to stuffing THE MOST awesome things into his lunch box with the hopes that the children will be jealous and stage a baked goods revolution. The last two days I armed him with these cookies.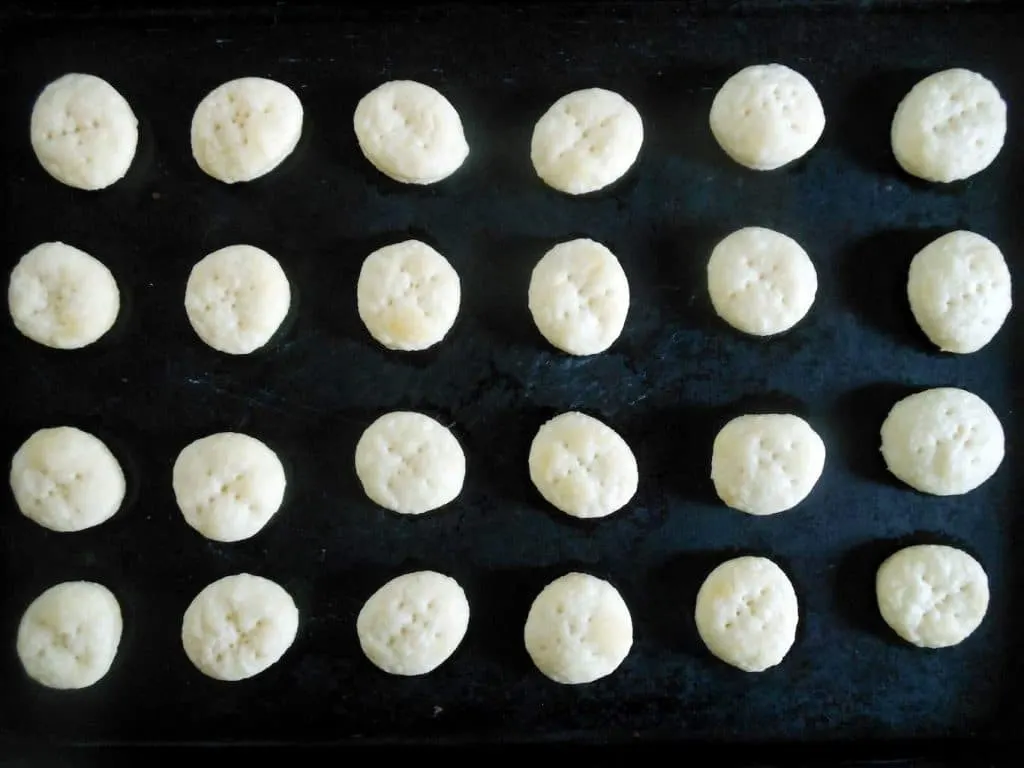 This is a recipe that I adapted just the tiniest little bit from THIS recipe at Erin's DC Kitchen. I'm probably like the last person on earth to ever make something like these because that's usually how it goes, but these little butter wafers were straight up amazing. I'd never cranked out a cookie that consisted of exactly 3 ingredients.
Ummm yeah. I said 3.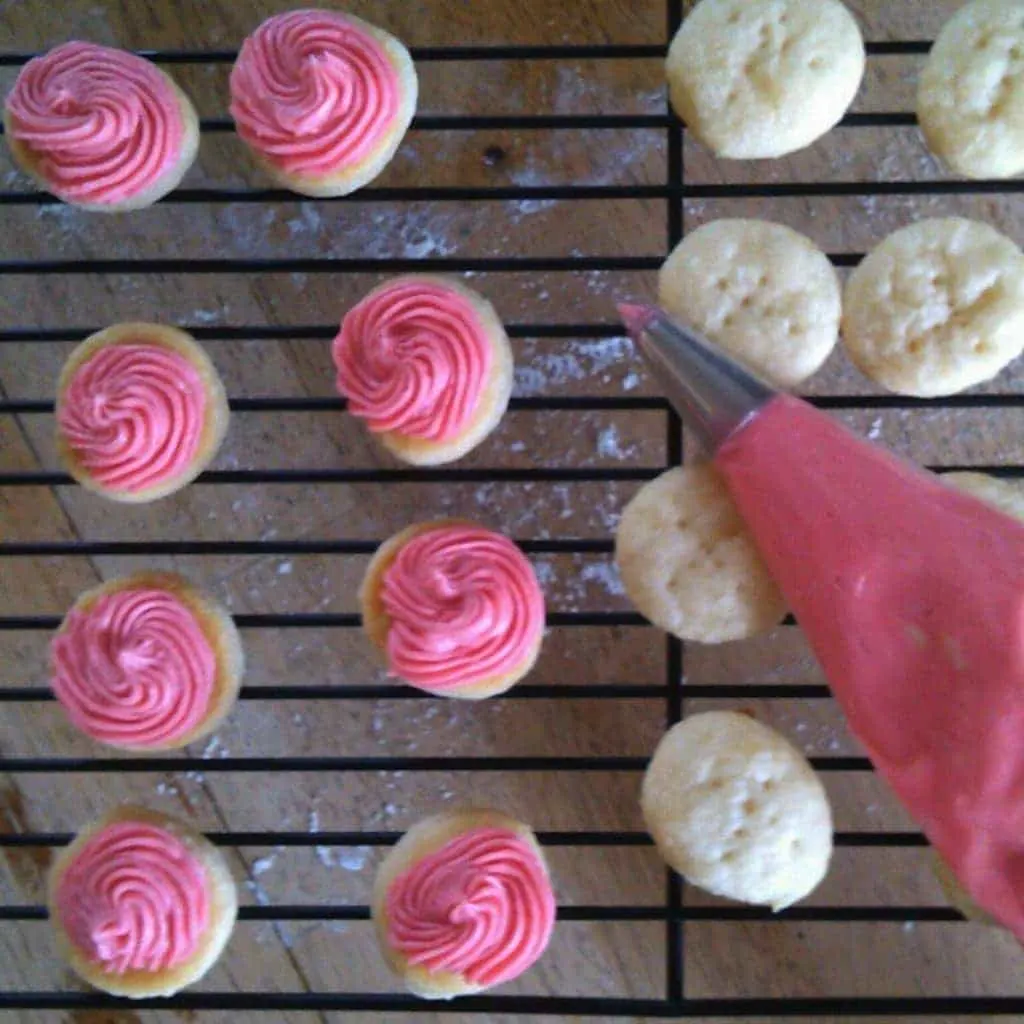 And the best part about a 3-ingredient cookie is that you can go waaaaay overboard on the toppings. You can make sandwiches with pink tinted buttercream. Then you can dip them in chocolate ganache. And then you can throw some sprinkles all over everything.
Plus these things are tiny. Like 1-inch cookie cutter tiny. Like I-used-a-shot-glass-because-I-didn't-have-a-1-inch-cookie-cutter tiny. So that means you can have a fistful of butter wafer cookie sandwiches and it's pretty much like eating just one regular cookie. That's what I tell myself anyway.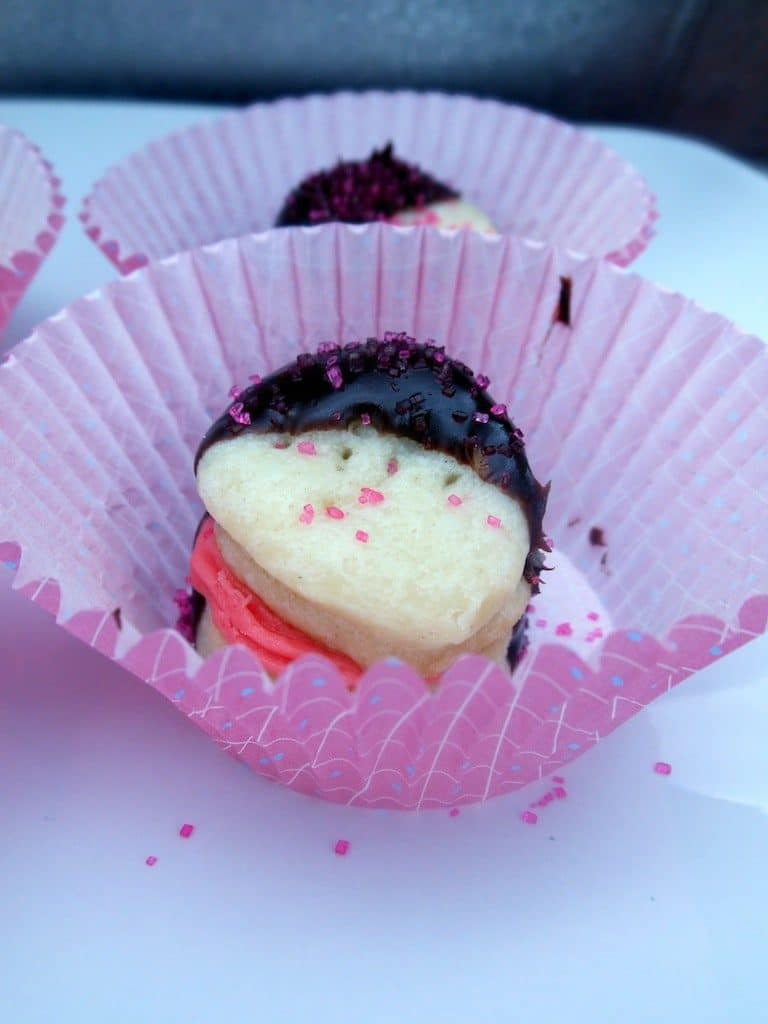 Chocolate Dipped Butter Cookies
Ingredients
½ cup (1 stick) unsalted butter, softened
2½ tablespoons heavy whipping cream
1 cup all purpose flour
¼ cup unsalted butter, softened
¾ cup powdered sugar
1 teaspoon vanilla
6-8 drops of red food coloring
¾ cup semi-sweet chocolate chips
¼ cup heavy whipping cream
SPRINKLES!!!
Instructions
In a large bowl, beat together the ½ cup butter, 2½ tablespoons heavy cream, and flour until a sticky dough is formed. Scrape down the sides of the bowl, form the dough into a ball, wrap tightly in plastic wrap, and refrigerate for at least an hour or overnight.
Pre-heat the oven to 375.
Roll the chilled dough out to a little over ¼ inch thick. Cut the cookies out using a 1 - 1½ inch cookie cutter (or a shot glass/ 1 ounce pour measure) and space them evenly across an ungreased baking sheet. Bake the cookies for 7-9 minutes. You want them to set but NOT to brown. Let the cookies cool completely.
Beat together the ¼ cup butter, ¾ cup powdered sugar, vanilla, and red food coloring. Pipe the frosting onto half of the cookies.
Top the frosted cookies off with another butter wafer to make sandwiches.
Place the chocolate chips and ¼ cup heavy cream into a small saucepan and stir frequently over medium heat until the chocolate melts and is smooth.
Line a baking sheet or tray with a sheet of wax paper.
Dip half of each sandwich into the chocolate and place carefully onto the wax paper.
Cover each cookie with sprinkles before the chocolate cools.
Let the chocolate set completely before serving.
I am so glad I made these cookies.