Fluffy, sweet, and tart homemade scones that pull apart like perfect flaky biscuits. Cranberry Orange Scones are loaded with fresh cranberries, orange zest, and are topped with a yummy sweet orange glaze.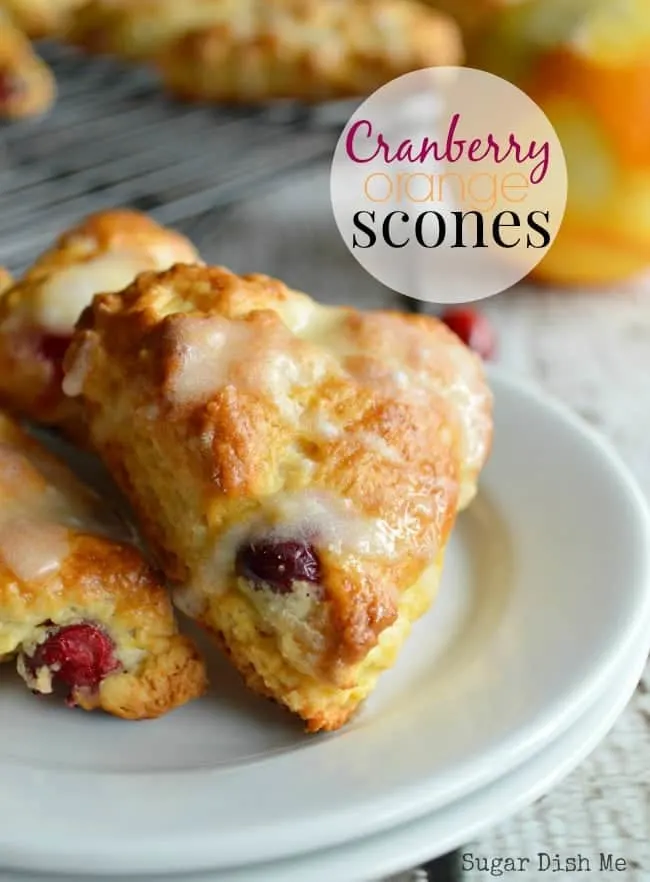 How was your holiday weekend? Are you in Christmas mode yet? Have you picked out a tree covered your house in lights and hung all your stockings with care?
Did you listen to The Drifters' White Christmas on repeat? No? Just me?
What about shopping? I am kind of in a panic about shopping because um… 25 days!
Not to stress you out or anything.
I spent my weekend shopping at Lowes because the freaking bathroom is still besting us. At last count we found a doorway hidden under two surprise layers of wallpaper, moved the toilet to replace the seal, broke the toilet, found more holes covered by wallpaper, and then found a lightswitch hidden in the wall that is wired backwards and ruined Chad's life for 3 hours yesterday.
Are we the only people that went Black Friday shopping for toilets? I thought so.
Now I know why people write whole blogs dedicated to home remodels.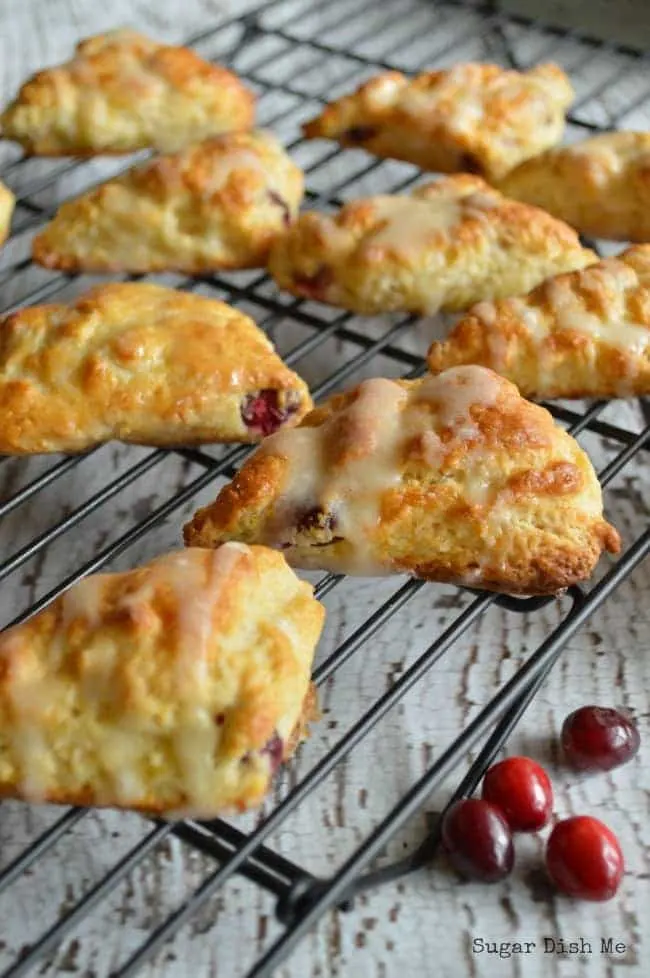 I also managed to hit Starbucks like 3 times this weekend. Those of you that have a Starbucks on every corner could not possibly imagine the freaky stars that have to align for me to land at my favorite coffee chain once in a month, much less 3 times in a holiday weekend.
Winning!!!
And I can never hit a coffee shop without ogling all the baked goods. Quick breads and scones, muffins and danish … it's all so tempting! But I really don't ever indulge.
Because I know I can make a big batch of Cranberry Orange Scones and eat them all warm and freshly glazed just out of the oven.
These are loaded with fresh cranberries, orange zest, and buttermilk (which makes all the breakfast foods better– think pancakes and biscuits. YES). Then these happy holiday scones are covered in a sweet orange glaze that I actually considered adding to my coffee.
I made these scones tiny because I feel like tiny food is cute, but I've included instructions for how to make big fat coffeehouse scones, too. Bonus on the mini scones: They make great gifts.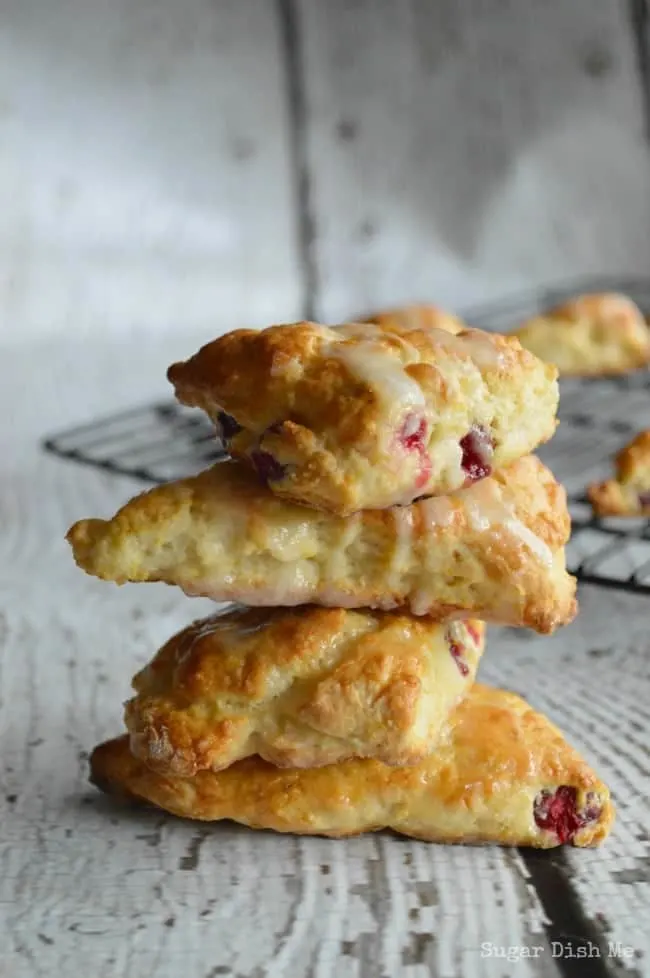 I made these Cranberry Orange Scones for my terrific friends at Food Fanatic. Did you know I write about breakfast there twice a month? Well I do. Because breakfast is the most amazing, and clearly the best meal of every day.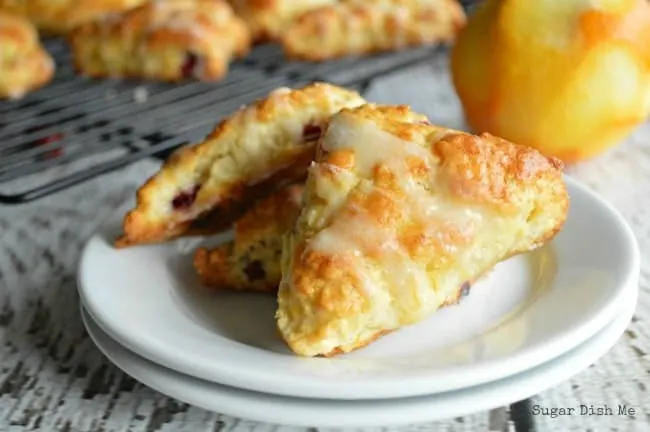 Yay for December, ya'll! I'm excited.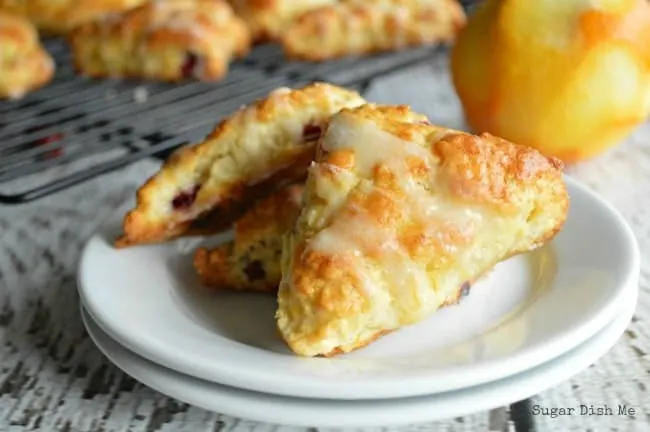 Yield:

24
Cranberry Orange Scones
Cranberry Orange Scones are loaded with fresh cranberries, orange zest, and are topped with a yummy sweet orange glaze.
Ingredients
For the Scones
3 cups All-Purpose Flour, Plus more for the work surface
1/4 cup Granulated Sugar
1 tablespoon Baking Powder
1 teaspoon Kosher Salt
1 tablespoon Orange Zest
1 cup Whole Cranberries, Fresh or frozen (if frozen, thawed)
1/2 cup Butter, Cold
1 cup Buttermilk
For the Egg Wash
For the Glaze
1/2 cup Powdered Sugar
1 tablespoon Milk, Or cream
1 tablespoon Orange Juice
Instructions
Preheat the oven to 400°F and line a baking sheet with parchment paper.
In a large bowl, whisk together the flour, sugar, baking powder, kosher salt, and orange zest. Toss in the cranberries and stir for a minute to coat them with the flour.
Cut the butter into the flour mixture until coarse crumbles form (My favorite method is to grate in the butter with a cheese grater and then incorporate into the flour with my fingers).
Pour in the buttermilk and incorporate it gently using a sturdy rubber spatula or wooden spoon. You want to JUST combine the ingredients. Do not overmix.
Turn the mixture out onto a lightly floured surface and pat it out to about 3/4 " thickness. If you are making large scones make a circle with the dough and then slice it like a pie. For mini scones (pictured) make a rectangle, cut it into strips, and then cut each strip into triangles.
Lightly beat together the egg and water and then brush the tops of the scones.
Place the scones on the prepared baking sheet about an inch apart. Bake for 12-14 minutes.
To make the glaze, mix together the powdered sugar, milk, and orange juice until smooth.
Drizzle the glaze over each scone (it takes a few minutes to set up so it's not sticky).
Recommended Products
As an Amazon Associate and member of other affiliate programs, I earn from qualifying purchases.
Nutrition Information:
Yield:
24
Serving Size:
1
Amount Per Serving:
Calories:

122
Total Fat:

5g
Saturated Fat:

3g
Trans Fat:

0g
Unsaturated Fat:

2g
Cholesterol:

20mg
Sodium:

203mg
Carbohydrates:

18g
Fiber:

1g
Sugar:

5g
Protein:

2g