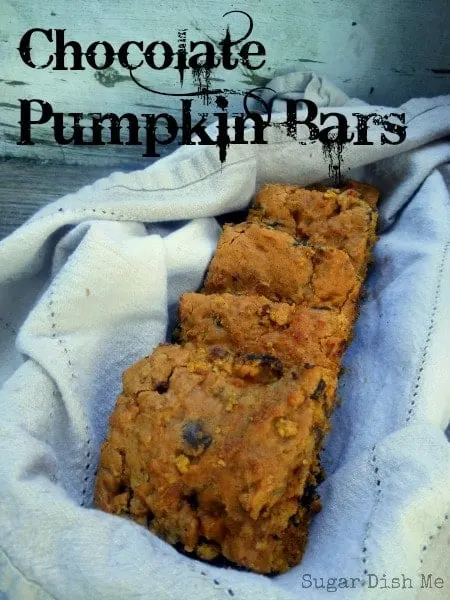 I need some chocolate after a go-round with not only a finance company but a bank in the last 24 hours. I'm gonna go ahead and guess that the policies put forth by these entities and agencies are a big chunk of the reason people are camped out in front of banks and institutions of wealth across the country.
I went to the bank to cash a check yesterday. Just a regular old personal check. Deposit some, gimme the rest- normal enough request, never been a problem before, right? Wrong wrong wrong. My bank was recently taken over by a bigger and more obnoxious bank, one full of rules that do nothing but complicate the simplest of tasks. I cannot quote verbatim what the bank teller told me, but to me it sounded like this:
"Ms. Tullos we really do not care that you have had an account here for 8 years. We also do not care that this money belongs to you, and you are doing our institution a favor by leaving it in our care. We are going to hold this personal check even though you cash the exact same check here several times a month and we have never done this before. Yes, your account is in good standing, but we are going to hold onto your money anyway, just to piss you off. Ms. Tullos, you are being punished because the party that wrote you the check has the good sense to bank elsewhere. We do not care that you had to wait in line for 30 minutes because we failed to train our employees on our computer system and half-assed policies- in fact we expect you to wait here all day with a smile. Thank you for banking with Wells Fargo."
I would donate my baked goods to the "Occupy" cause if I weren't stuck here in the middle of nowhere, but I am (in the middle of nowhere), so I'm just going to share with you the chocolate pumpkin bars that have temporarily distracted me from the rage.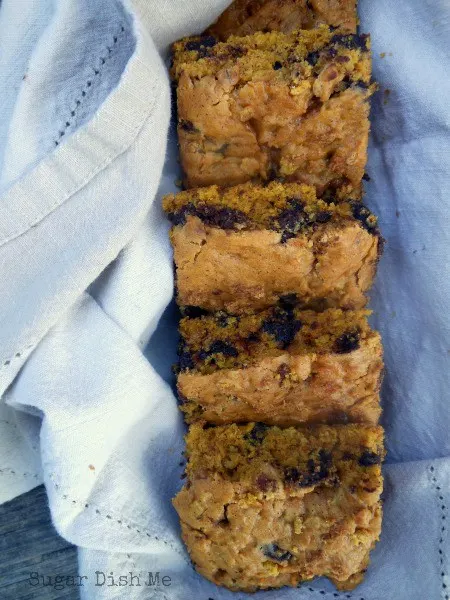 I was pretty happy about these bars, all pumpkin spiced and laced with chocolate. As for the bank… well I don't really care if they're happy or not.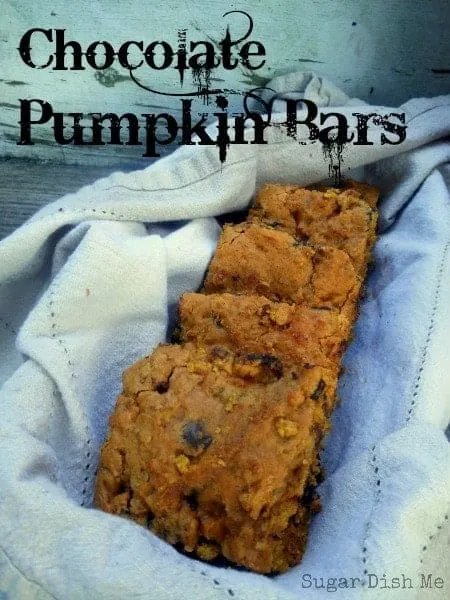 Yield:

15-20 bars
Chocolate Pumpkin Bars
Soft pumpkin spice bars studded with semi-sweet chocolate chips
Ingredients
1/2 cup unsalted butter
1 cup canned pumpkin
1/2 cup granulated sugar
1/2 cup packed light brown sugar
1 egg
1 teaspoon vanilla
2 cups all purpose flour
1 cup quick oats
1 teaspoon baking soda
1 teaspoon pumpkin pie spice
1/2 teaspoon cinnamon
1/2 teaspoon salt
1 cup semi sweet chocolate chips
Instructions
Preheat the oven to 350. Grease a 9 X 13 pan or line with parchment paper (I also like to butter the parchment).
Cream together the butter, pumpkin, and sugars in a large bowl.
Mix in the egg and vanilla.
Then add the flour, oats, baking soda, pumpkin pie spice, cinnamon, and salt. Stir in the chocolate chips.
Pour the batter into the prepared pan and bake for 35 or 40 minutes.
Let the bars cool completely before slicing. If you used parchment paper you can lift the whole pan out and then slice.
Notes
You can also prepare this batter as cookies! Portion the dough by the tablespoon, space 2 " apart on a greased cookie sheet, and reduce the bake time to 10 minutes.