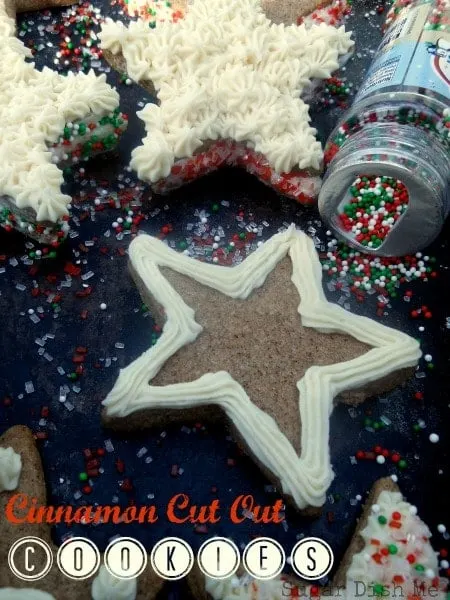 I think that on the second day of Christmas you are supposed to get two turtle doves. But unless we are talking about pecans, caramel, and Dove chocolate, I'm pretty sure no one wants that. So FROM ME, on the second day of 12 Days of Christmas Cookies, you get little cinnamon cut out cookies covered in frosting and sprinkles.
If you were here last year, you might remember my youngest guy trying to trip up my Christmas-ness by attempting to disprove/debunk the Santa Claus mystery. I'm not sure why anyone would ever not want to believe in Santa Claus, but apparently there are some kids at school murmuring some things. So instead of asking me what's up directly, Evan has taken to sneak attack measures. Last year he asked for an elf hat from Santa. Like the hat from an actual elf.
This year he set his sights a little higher and asked Santa for an iPad. But he did offer a lower cost alternative — a tiny hand carved reindeer.
Game on Santa.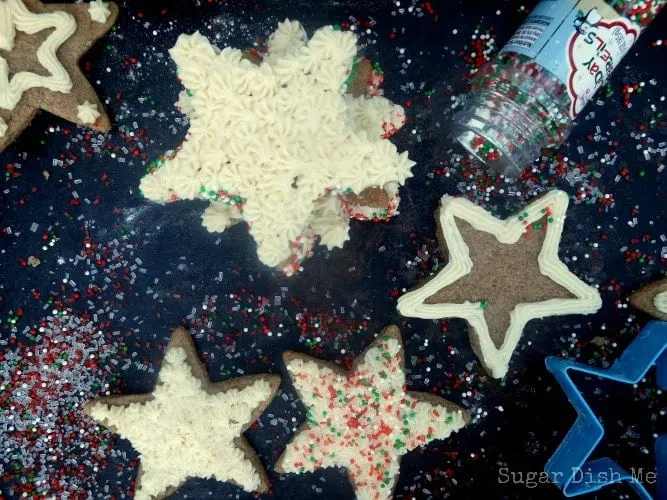 Since Santa is working overtime, I am sure he will appreciate all these cookies.
Really these were just an excuse to explode frosting and sprinkles all over the house. Santa doesn't need to know.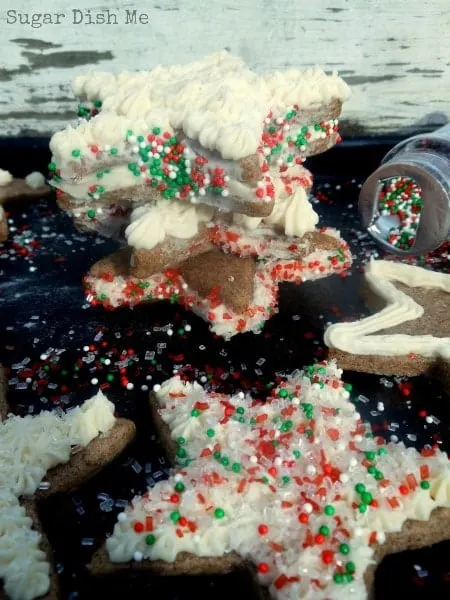 Cinnamon Cut Out Cookies
Soft cinnamon cookies that cut out just like traditional sugar cookies. These are so fun to decorate and make your whole house smell totally amazing.
Ingredients
1 cup unsalted butter, softened
2 cups granulated sugar
2 eggs
2¾ cups all purpose flour
⅓ cup ground cinnamon
½ teaspoon salt
For the Frosting:
6 tablespoons unsalted butter, softened
3 cups powdered sugar, sifted
2 teaspoons vanilla
¼ teaspoon salt
¼ cup milk
Instructions
Cream together the butter and sugar. Beat in the eggs until fluffy.
Mix in the flour, cinnamon, and salt. You'll want to knead the dough by hand a little because it can be kind of tricky getting all of the cinnamon incorporated evenly. Wrap the dough tightly in plastic and refrigerate for at least an hour or overnight.
Preheat the oven to 350.
On a well floured surface roll the dough out into a ¼" slab. I like to divide it into 2 or 4 pieces before rolling to give me a smaller work surface.
Cut the dough with your favorite cookie cutters and place 2" apart on an ungreased cookie sheet. Bake for 15-17 minutes.
Let the cookies cool completely before decorating.
To make the frosting beat together the butter and powdered sugar using the whisk attachments on a hand or stand mixer. Add the vanilla and salt. Beat well. Drizzle in the milk to reach your desired consistency.
Frost the cookies and cover with sprinkles. I also frosted two cookies together and sprinkled the edges to make little sandwiches. You can refrigerate the cookies to get the frosting to set up faster.
Notes
Be sure to allow at least an hour for dough to refrigerate before rolling/cutting/baking.
Prep time listed does not include chill time, nor does it include the time it will take you to decorate (but they taste delicious right off the cookie sheet!)
Slightly adapted from Taste of Home Baking Classics Cinnamon Stars recipe