In my quest to keep checking things off my holiday to-do list I watched Love Actually this afternoon.
It is still tied with Christmas Vacation for the #1 most awesome Christmas movie. Because while I super love Buddy the Elf, you really can't beat this proposal, or this freak out.
And so, in the spirit of awesome chick flick Christmas movies, I cried at appropriate intervals through the whole entire thing. Chad strategically avoided the room I was in.
But… the joke is on Chad because I have cookies.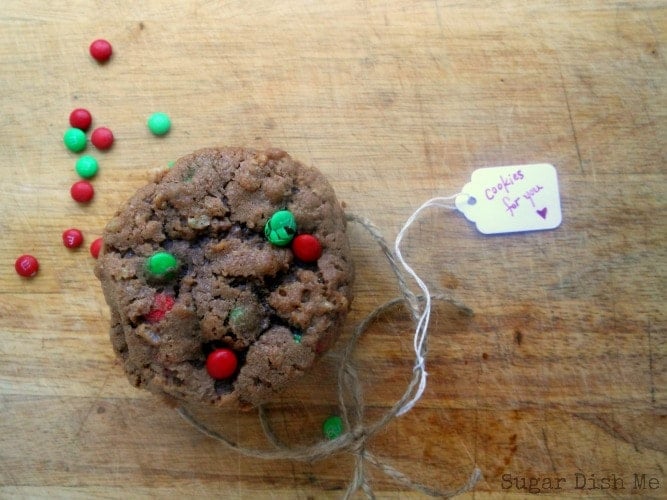 Which I will be using to bribe him into the freezing cold damp weather this evening to finish wrapping the trees in the front yard with lights.
These are totally bribe-worthy cookies.
Nutella. Rice Krispies. M & M's baking bits. And they are mixed up and baked in less than 20 minutes. These cookies are super perfect for last minute get-togethers or fun neighbor gifts. Oh also! Word on the street is that some people don't really dig Nutella. I can't say I understand, but I CAN say that peanut butter is also delicious. Or cookie butter. WHAT?! I know. Delicious. Way better than 4 calling birds on this 4th Day of Christmas Cookies.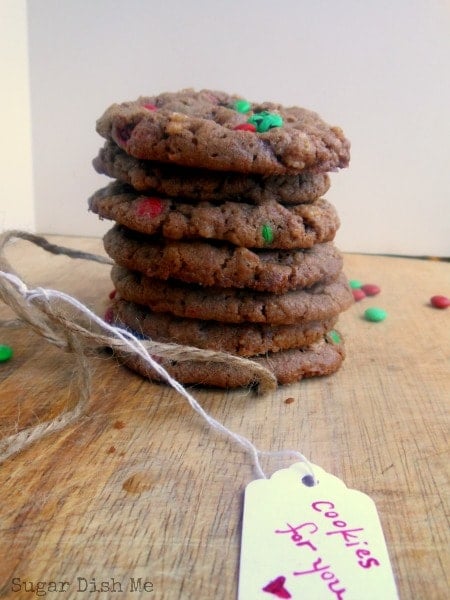 Hazelnut Crunch Cookies
Ingredients
½ cup unsalted butter, softened
⅔ cup granulated sugar
⅓ cup packed light brown sugar
⅓ cup Nutella Hazelnut Spread
1 egg
½ teaspoon vanilla
1 cup all purpose flour
½ teaspoon baking soda
½ teaspoon salt
2 cups Rice Krispies cereal
1 cup Mini M & M's Baking Bits
Instructions
Preheat the oven to 350. Lightly grease a baking sheet or line with parchment paper.
Beat together the butter and sugars. Add the Nutella, Then beat in the egg and vanilla.
Add the flour, baking soda, and salt. Beat until combined.
Stir in the Rice Krispies and M & M's baking bits.
Form the dough into 1½" balls and space them about 2" apart on the prepared baking sheet.
Bake for 10-12 minutes. Let the cookies cool slightly before removing them to a rack to cool completely
Adapted from my
Cereal Crunch Chocolate Peanut Butter Cookies
Visit Sugar Dish Me's profile on Pinterest.