This sandwich is like winning the lottery.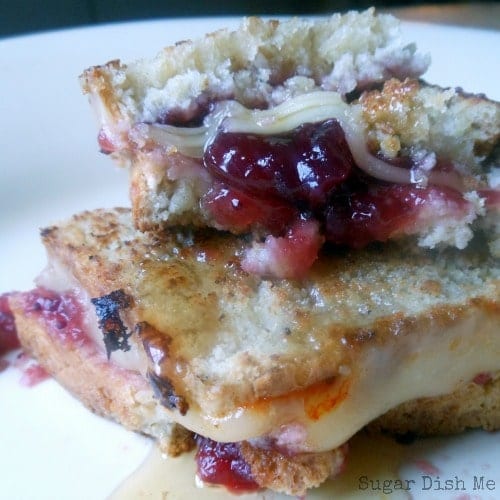 Do you all play the lottery? Because tomorrow the drawing is gonna be something like $425 million, and holy moly wouldn't that solve a lot of problems?
I'm a tentative lottery ticket buyer. The five-dollar-gambler. That's me. If the incentive is high enough we drive to the nearest retailer, get out this magic little number selector that used to belong to my grandpa (sort of like a Magic 8 Ball, but for lottery numbers), and painstakingly fill out one of those paper cards. I figure if I'm gonna throw money in the trash can, five bucks is as much as I can part with. But there's always that teensy 1:176,000,000 chance that I'll win with my $5 investment, right?
I'm usually much more comfortable gambling with things like bread recipes. Like this oatmeal sandwich bread I found the other day. It only has to rise for a total of 30 minutes. I was skeptical, but oh man is this stuff good. It was super awesome straight out of the oven with honey. Of course it was even better with butter, cranberry sauce, melted cheese AND honey, but that's not gambling. That's just common sense.
So every time I spend my five lottery dollars (maybe once, twice a month) I play this imaginary "If I had a Million Dollars" game with myself about all the places we'd go and the things we would do… mostly I fantasize about moving out of this cardboard house and all the bills I could pay. Does that make me super lame? Dreaming about owing absolutely nothing? Better yet, dreaming about making it so that all the people I love owe nothing! Also, I'm in need of a reliable vehicle, so I'm pretty sure $425,000,000 could make that happen.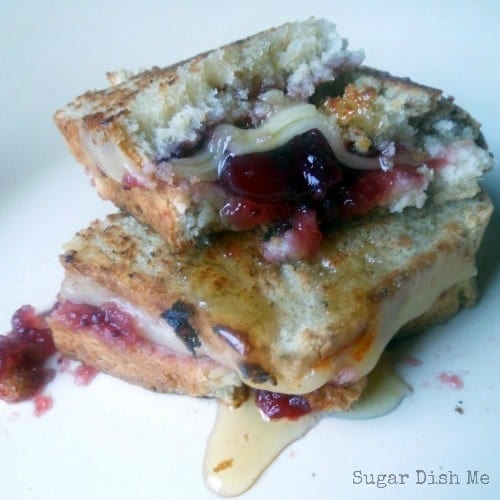 Anyway.
Since I'm obviously probably just contributing my $5 to whatever "school fund" my local government designates, I figure I need to win some kinda lottery. Enter whole berry cranberry sauce, muenster cheese, and honey.
Is it breakfast? Lunch? Dinner? The greatest snack on earth (besides cookies)? This sweet melty grilled cheese sandwich is allllll of these.
No purchase necessary.

Cranberry Honey Grilled Cheese
Ingredients
thick slices of good bread (sourdough, oatmeal, honey wheat...)
butter, softened
whole berry cranberry sauce (canned! or get crazy and make your own)
thinly sliced muenster cheese (or brie... brie would be amazing)
honey
Instructions
Heat a large skillet over medium high heat.
Spread one side of each bread slice with the softened butter. Place one slice of bread in the skillet, butter side down.
Using the back of a spoon, spread cranberry sauce in a thick layer onto the bread slice in the skillet.
Layer cheese slices over the top of the cranberry sauce.
Take another buttered slice of bread and spread honey across the un-buttered side. Have fun. Make a sticky honey-drizzled mess. Place the bread on top of the cheese, honey side down.
Using a spatula, flip the sandwich so it browns on both sides.
Serve with more honey.
So don't forget to buy your ticket. What are your contingency plans for if you win the lottery? Or are you like me, dreaming of simple things like bill-paying and grilled cheese sandwiches?