Moist yellow cake mixed with mandarin oranges and poked full of pineapple juice. Covered in a fluffy Cool Whip frosting with crushed pineapple and coconut, topped with pecans. This fruity treat is the perfect cake for a warm day!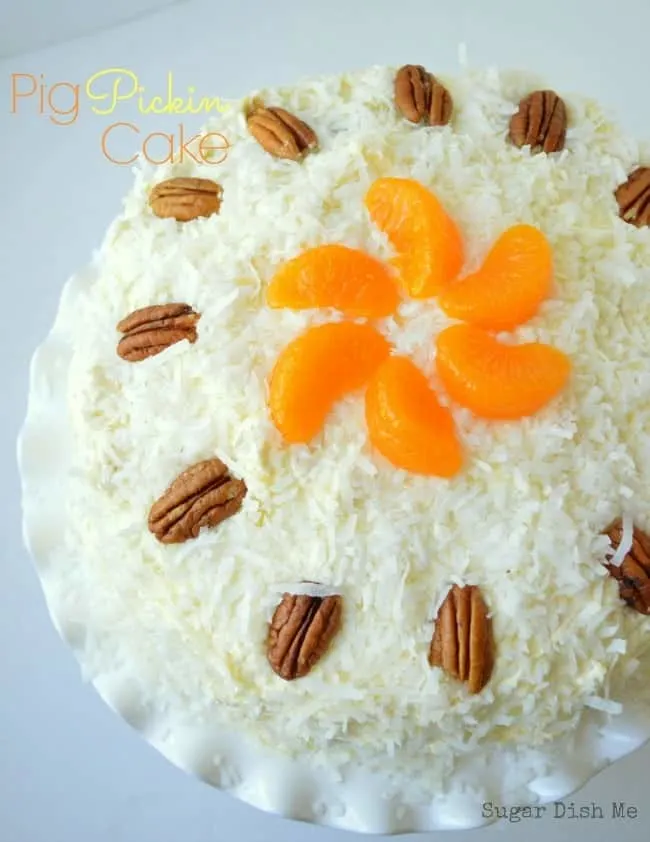 I feel certain that this cake has a story. I mean… who decided it should be called a PIG PICKIN' cake?! I decided not to Google this question though, because I'm not sure I can handle the sure-to-be-random results.
So anyway. This should be called a Freaking Delicious Cake. Or Someone Take It Away From Me Before I Hurt Myself Cake. I seriously cannot be trusted with it in the fridge. It's cool and fruity and fluffy and basically dangerous.
Once upon a time I helped to run a little breakfast and lunch cafe with a friend. We had a cold case by the front counter that we filled full of cupcakes and trifles, but most importantly: This Cake. Her mother-in-law would make them and bring them to us, carrying in her tupperware tote like the cake shrine it was.
I'm not being dramatic. I promise. It's that good. Evidenced by the fact that we could not keep it in stock.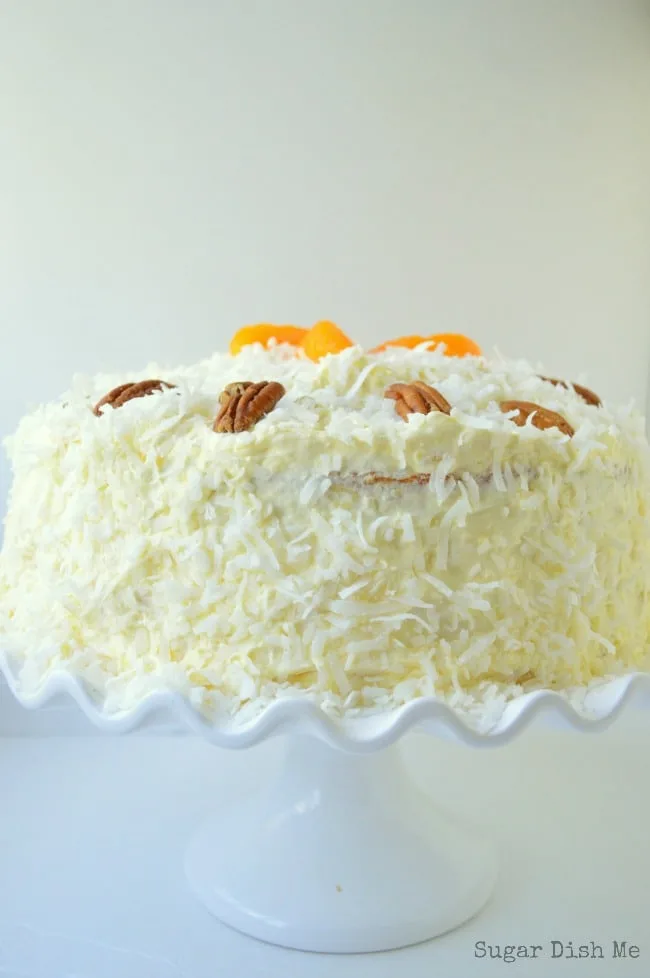 My mom had a recipe for it, passed on from friend to friend, scribbled on the back of an envelope or something, as all the best recipes are. It's the kind of gem recipe you find in the pages of a church cookbook surrounded by jello molds and calls for oleo, a cake that I will shamelessly share contains canned fruit and Cool Whip.
I request this for my June birthday a lot – it's perfect for a hot day – but today I made it for my friend Cathy at Lemon Tree Dwelling because…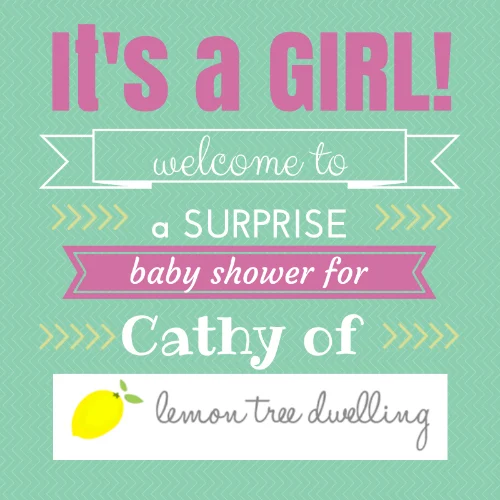 Do you know how much I love writing posts like this?! Well I do. I love them.
The blogging community is nothing if not supportive, and I am always so thrilled to be a part of these efforts. I got an email several weeks ago from Jen at Yummy Healthy Easy (you might know her from regular contributions to my weekly meal plans), who took the time to organize this virtual baby shower for Cathy. I DO NOT know where these ladies find the time to cook, much less organize a shower. Jen has 4 boys (I only have two and some days I want to hide in the closet with wine), but Cathy — the reason I made you this cake today — has 3 little girls, with one more on the way!
I cannot say enough nice things about Cathy – I can always count on her for sweet comments and totally incredible food. Lemon Raspberry Meltaways, Banana Split kabobs, Lemon Ginger Strawberry Shortcake Cups… I can keep going, but you get the idea.
And it wouldn't be a party without lots of food and friends.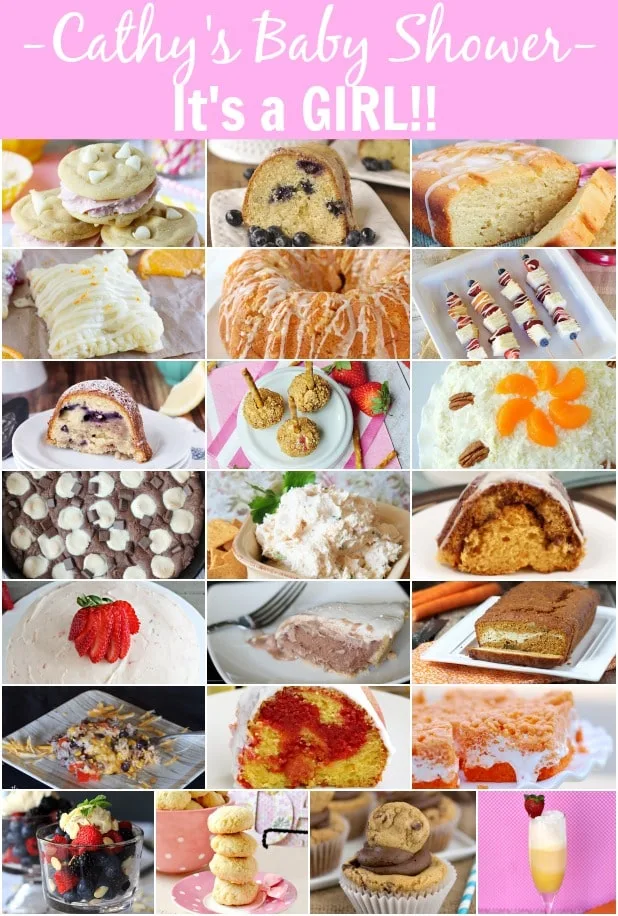 Congratulations Cathy!!! We are so happy for you!!!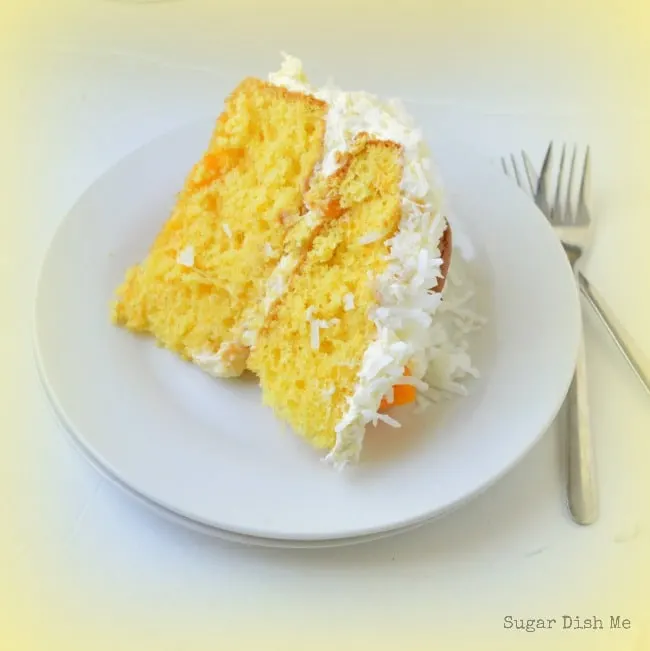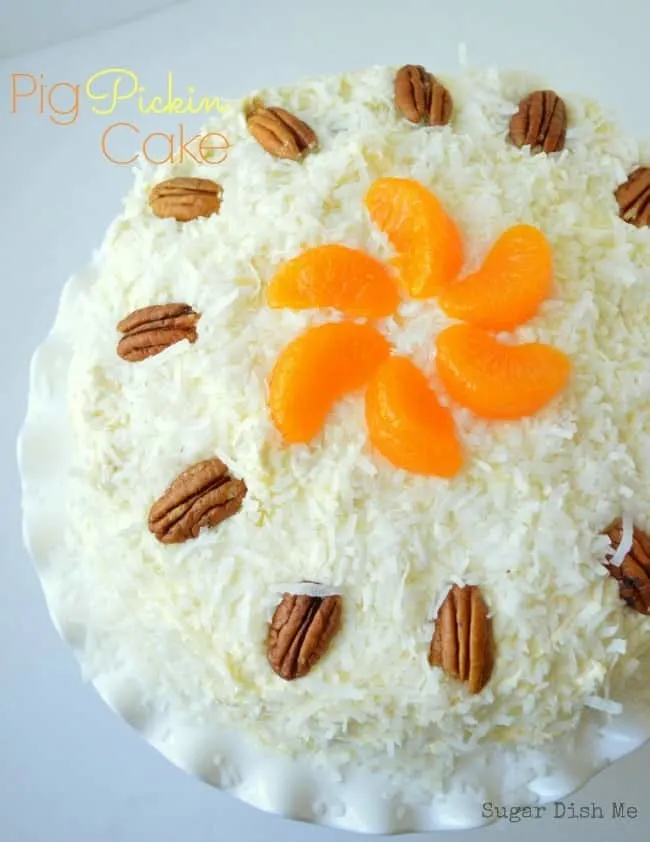 Yield:

makes 1 double layer cake
Pig Pickin' Cake
Pig Pickin' Cake is a fruity delicious treat. It starts with a yellow cake mix and is loaded with mandarin oranges, poked with pineapple juice, and frosted with pineapple Cool Whip frosting!
Ingredients
1 box yellow cake mix with "pudding in the mix"
4 eggs
1/2 cup vegetable or canola oil
1 (15 ounce) can of mandarin oranges
1 (4 ounce) package instant vanilla pudding mix
1 (20 ounce) can of crushed pineapple, drained, juice reserved
1 (9 ounce) carton of Cool Whip, thawed
1/2 cup sweetened shredded coconut
pecan halves to garnish
Instructions
Step 1

Preheat the oven to 350°F. Butter and flour 2 (9-inch) round cake pans.

Step 2

In a large bowl beat together the cake mix, oil, eggs, and mandarin oranges (set aside 5 or 6 slices to garnish the top of the cake) for about 2 minutes.

Step 3

Divide the batter evenly between the 2 prepared cake pans. Bake for about 35 minutes (check at 33), or until a pick inserted into the center comes out clean.

Step 4

Let the cakes cool completely. Place the bottom layer on a cake plate or stand. Poke holes all over the cake using a skewer. Pour half of the reserved pineapple juice over the cake and let it soak in.

Step 5

In a large bowl mix together the Cool Whip, crushed pineapple, and instant vanilla pudding. You can either add the coconut to this frosting mixture OR pat it around the outside of the cake (I patted it onto the outside in the photos shown).

Step 6

Spread the bottom half of the cake with the Cool Whip frosting. Place the second cake round on top. Poke holes in the top layer. Pour the remaining pineapple juice over the top cake.

Step 7

Finish frosting both layers with the Cool Whip frosting and decorate with the oranges and pecans.

Step 8

You can serve this cake immediately, but it is best served cold. Keep refrigerated.
Recommended Products
As an Amazon Associate and member of other affiliate programs, I earn from qualifying purchases.
Nutrition Information:
Yield:
16
Serving Size:
1
Amount Per Serving:
Calories:

220
Total Fat:

4g
Saturated Fat:

2g
Trans Fat:

0g
Unsaturated Fat:

2g
Cholesterol:

47mg
Sodium:

374mg
Carbohydrates:

42g
Fiber:

1g
Sugar:

28g
Protein:

3g