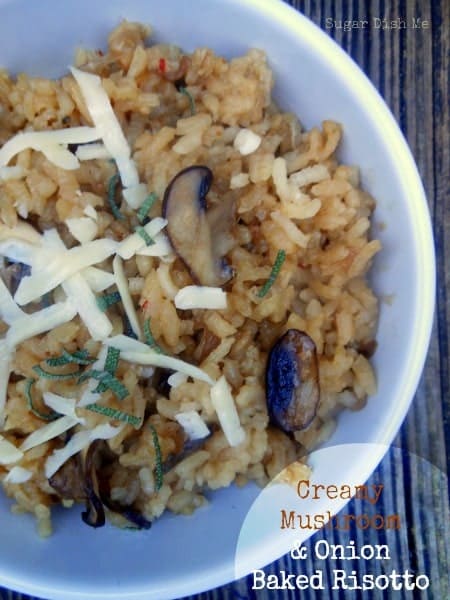 There's this thing that happens when I try to feed my kids a dish with mushrooms. All of the mushrooms stay on the plate. And actually as much as I'd like to protest and convince them that mushrooms are the most delicious things ever and why don't you know that and eat your food already gah!?, I know that really it's just much smarter to keep all the mushrooms for myself.
Big slices do the trick. They can eat around them while I reach across the table and steal all the mushrooms with my fork. I have also been known to reach across the table in a Japanese restaurant and steal mushrooms with my fork, but I guess that's another story for another day. Anyway. Keeping up with my kiddos and their ever-changing taste buds can be a task, let me tell you. And since I can't very well feed them chicken fingers and cheeseburgers everyday, I like to have a few tricks up my sleeve. Ways to get a beautiful, grown-up meal on the table that the boys will eat without negotiation. Ain't nobody got time for negotiating mushrooms. Or green beans. Or broccoli. One of my favorite tricks involves Campbell's soups. With the help of Campbell's Wisest Kid in the World you can arm yourself with tons of easy recipes and creative dinner solutions that even your super picky eaters won't be able to refuse.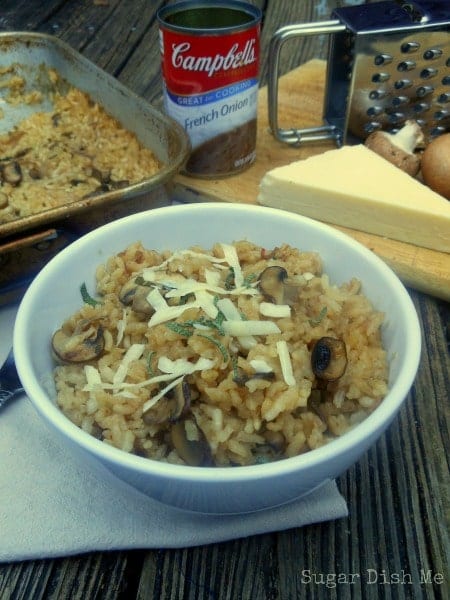 My kids did not refuse this risotto! (although… they did let me steal all the mushrooms.) I love risotto as a side, but this is hearty enough to enjoy as a meal. Add a salad or roasted veggies to round it out and blam-o! Dinner. Done. Risotto usually involves lots of stove-standing attention, but this baked version is only 20 minutes of actual active time. While it bakes you can wander off, check some homework, make a salad, and stand on the front porch to check your voicemail because if they see you with the phone to your head we all know the gig is up. For more delicious fresh ideas and dinner solutions visit www.campbellskitchen.com

Creamy Mushroom and Onion Baked Risotto
A deliciously simple baked risotto made with caramelized onions, baby portabella mushrooms, and Campbell's French Onion Soup!
Serves:
6 dinner-sized portions
Ingredients
2 tablespoons butter
1 medium red onion, quartered and thinly sliced
½ teaspoon kosher salt
4 ounces baby portabella mushrooms
2 cups Arborio rice, divided
1 (10.5 ounce) can Campbell's French Onion Soup
1 teaspoon chopped fresh sage
½ teaspoon red pepper flakes
1 cup shredded Asiago cheese
1¼ cups water
2½ cups low sodium chicken broth
Instructions
Preheat the oven to 350. Butter a 9 X 13 baking dish. Set aside.
Heat the 2 tablespoons of butter in a medium skillet. Add the onion and cook over medium heat until soft, about 5 minutes. Add the mushrooms to the onions and cook for another 3-4 minutes.
Measure ½ cup of the uncooked Arborio rice into the pan. Let it toast for 1-2 minutes, stirring around occasionally. Stir in the Campbell's French Onion Soup.
Let the soup heat up and the whole mixture come to a simmer. Stir in the sage, red pepper flakes, cheese, and remaining Arborio rice.
Pour the mixture into the prepared pan and spread it out evenly. Pour the water and broth over the top, and bake for about 40 minutes. The risotto will be creamy; if it's not tender enough, stir in a little more water or broth and let it cook for a few more minutes.
Serve hot. Garnish with more sage and cheese if desired.