I love broccoli.
Is that a weird thing to love?
Broccoli seems like a super weird thing to have stuck at the end of a bunch of posts about cookies. Call it the broccoli-cookie-detox.
So anyway… broccoli soup. In my crock pot. I've had a thing for broccoli soup since I was little. I think once I had a bowl at a restaurant where my mom worked and I was hooked. If I see broccoli soup (cream of OR cheese… either way I'm happy) on a menu, chances are I'm gonna order it. My kids do not share my sentiment. They will eat broccoli without argument but not in soup. No sir.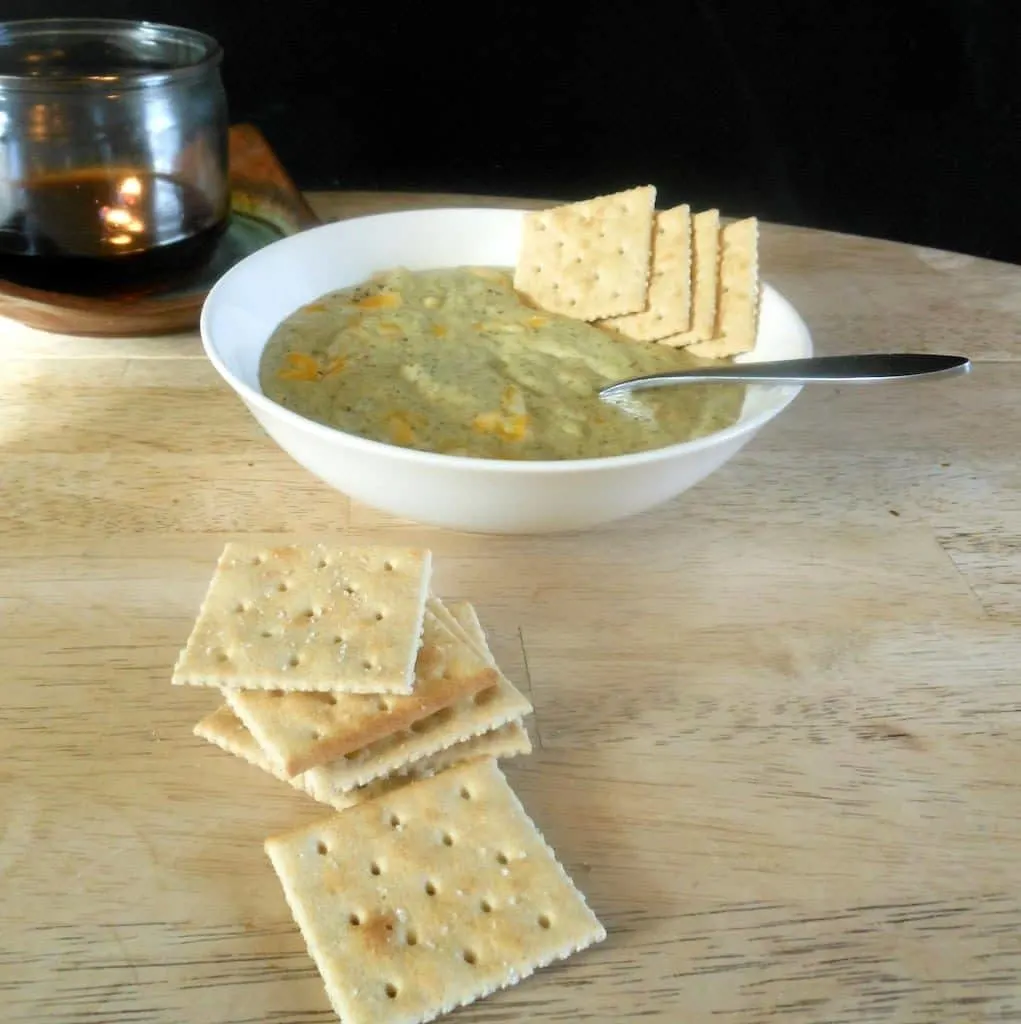 But I'm not gonna argue on this one because that means more soup for me.
Can I tell you a secret? Sometimes I make soup just because I know it means I don't have to share. No one else eats soup which means I have leftovers for dayssssss. I was actually probably planning out my lunch soup leftovers when I made this earlier. All the Christmas nesting has me kind of worn out and I had a lunch date with a bowl of this broccoli soup and a stack of whole wheat saltine crackers. Except that Chad called me and asked me to meet him for lunch. So of course I obliged. It's not often that our lunches get much fancier than a turkey sandwich at the kitchen table so I was glad for the opportunity to get out.
The soup waited for me until dinnertime… still creamy and cheesy and full of broccoli. And I still didn't have to share. Also there are tons of leftovers.
I found this recipe awhile back at A Pinch of Yum (Lindsay is also the author of the Tasty Photography e-book for sale at the right of the page there… check it out! It's an awesomely helpful book!) and waited to make it… why I don't know. Because it was crazy easy and super delicious.
Exactly what I needed to happen on this day (and the 6 more to follow it) because I have exactly 9,763 things to do.
I'll admit that broccoli soup is not the most photogenic thing in the world, but it's delicious. Trust me on this one.

Crock Pot Broccoli Soup
Ingredients
1 medium onion, chopped
4-5 cups fresh chopped broccoli florets
1 can cream of chicken soup
1 can cream of mushroom soup[
1 soup can of milk
1 can evaporated milk
½ cup grated cheddar, jack or blended cheese
additional cheese and crackers for garnish
Instructions
Put the onions, broccoli, cream of chicken soup, cream of mushroom soup, milk, and evaporated milk in the crock pot.
Cook on high for 4 hours or low for 6 hours, stirring halfway through.
Stir in the cheese.
You can blend the finished soup in the blender or you can just stir it vigorously to chop up the broccoli.
Serve with more cheese and crackers.
Notes
I blended this soup and it was awesome but for the next round I'll probably just vigorously stir and break up the broccoli that way. I would have liked bigger pieces of broccoli in this batch and the blender gave the florets a funny texture. It's all about preference though so have at it!