Chicken Philly Sandwiches are a classic! And EVERYONE has opinions. My opinions include onions, peppers, AND mushrooms! No matter what though, you need this cheese sauce in your life. DO IT.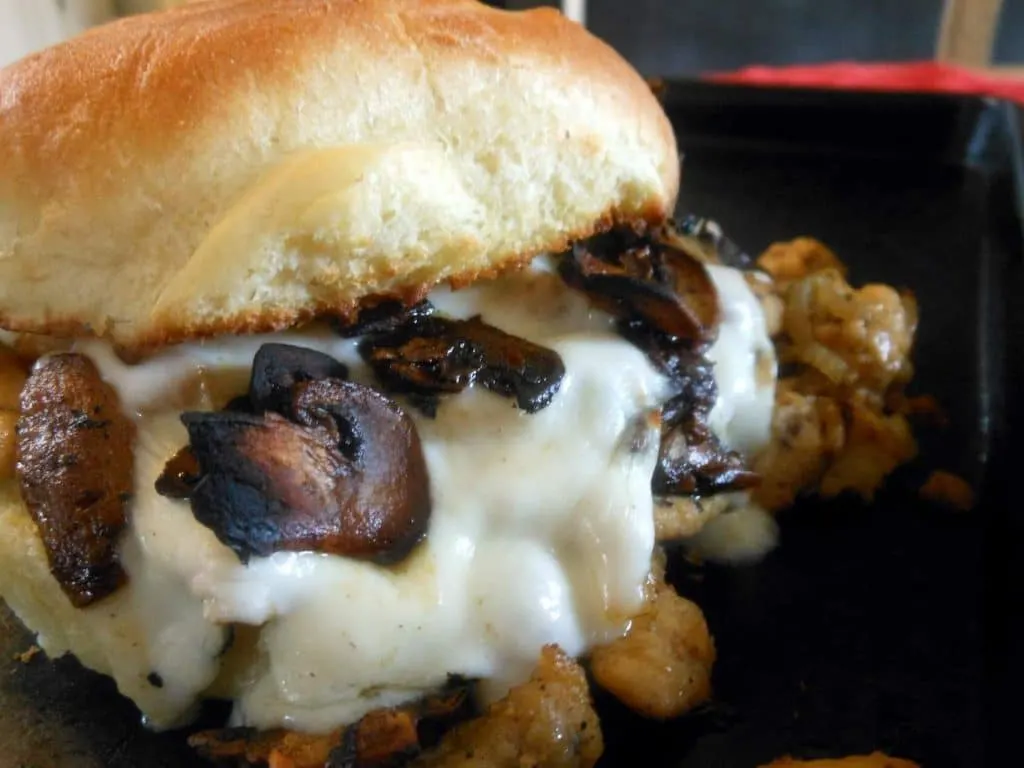 This is my post for the end of the world.
Because if we're all going out then I'd be completely okay with this sandwich as my last meal.
It's Friday, marking the end of the Mayan calendar, yet another indicator of the end of the world. And I actually had plans for this whole post full of goodies, a list of allllll the things we should be eating on this supposed last day of regular earth, but two things happened:
1) I'm really busy. I am present wrapping and house scrubbing like a crazy lady because Friday is also the day we have Chad's family over for Christmas gift exchanging, and
2) If you have these sandwiches on your last day you'll be good to go.
So there was really no need for a list.
What I should be listing are the 40 billion things that I am supposed to be doing right now. Does this happen to you at Christmas time? The list that just keeps on going?
I wrote down the five last (or so I thought) things that we needed to get on an index card. We went out, got them, headed home, I detoured us 3 more times with more stuff I forgot, and now that we are here I think we've only crossed 2 things off, but we put like 5 more things on. Christmas math.
I need a drink.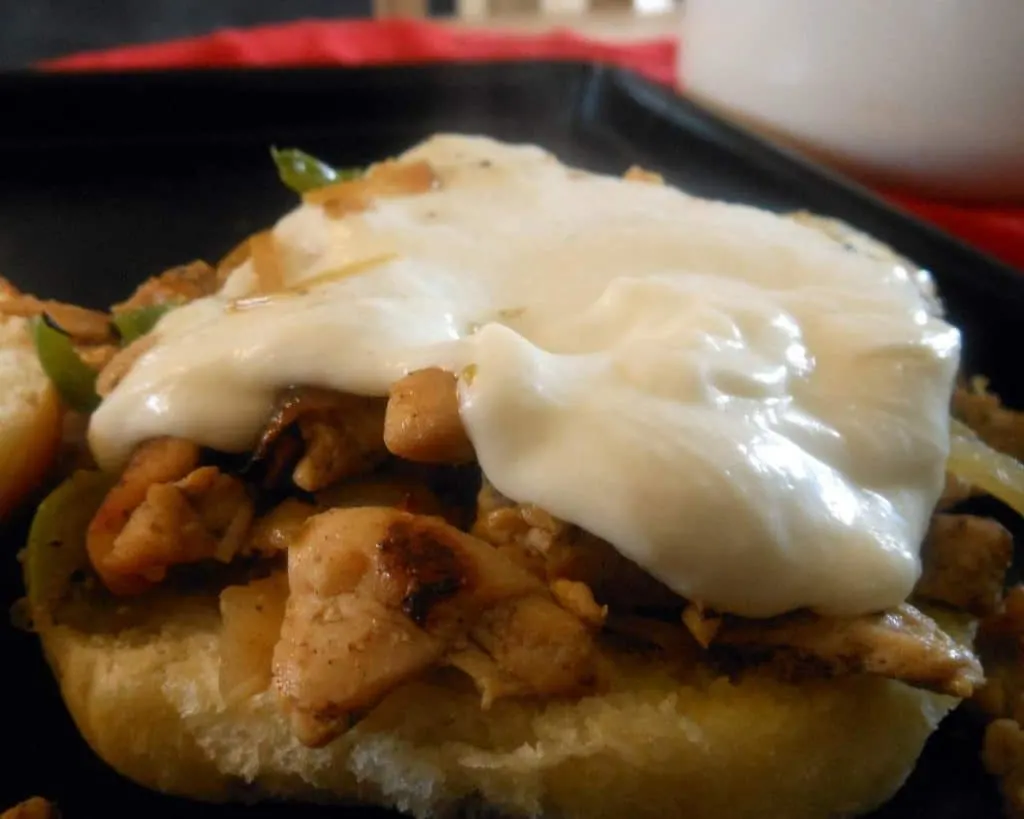 Or more cheese sauce.
Both maybe? Let's live a little, since it's the end of the world and all.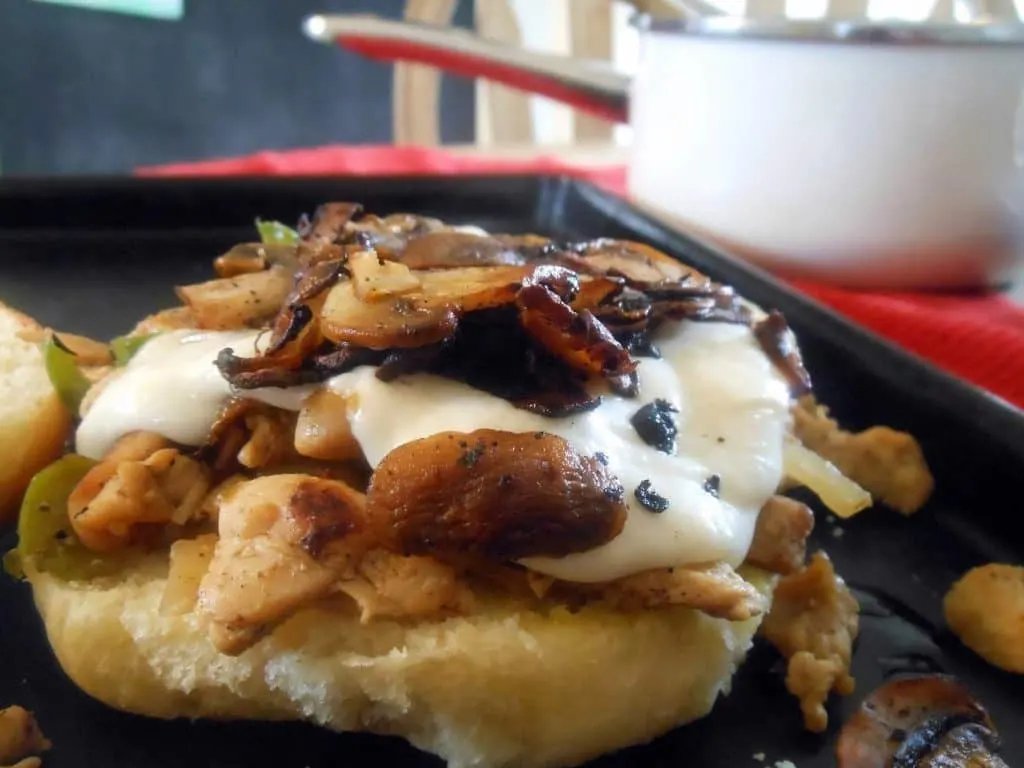 Also… at the end of the world you should have really. good. bread. So I put these sandwiches on the most amazing sandwich rolls. I'm not exaggerating even a little. I've made them about 753 times now, the recipe is crazy simple, and it has never failed me.
They make fan-freaking-tastic burger buns, dress up leftover roasted chicken like nobody's business, and were the perfect buttery soft squishy bread compliment to this cheese sauce. I mean, look at these rolls: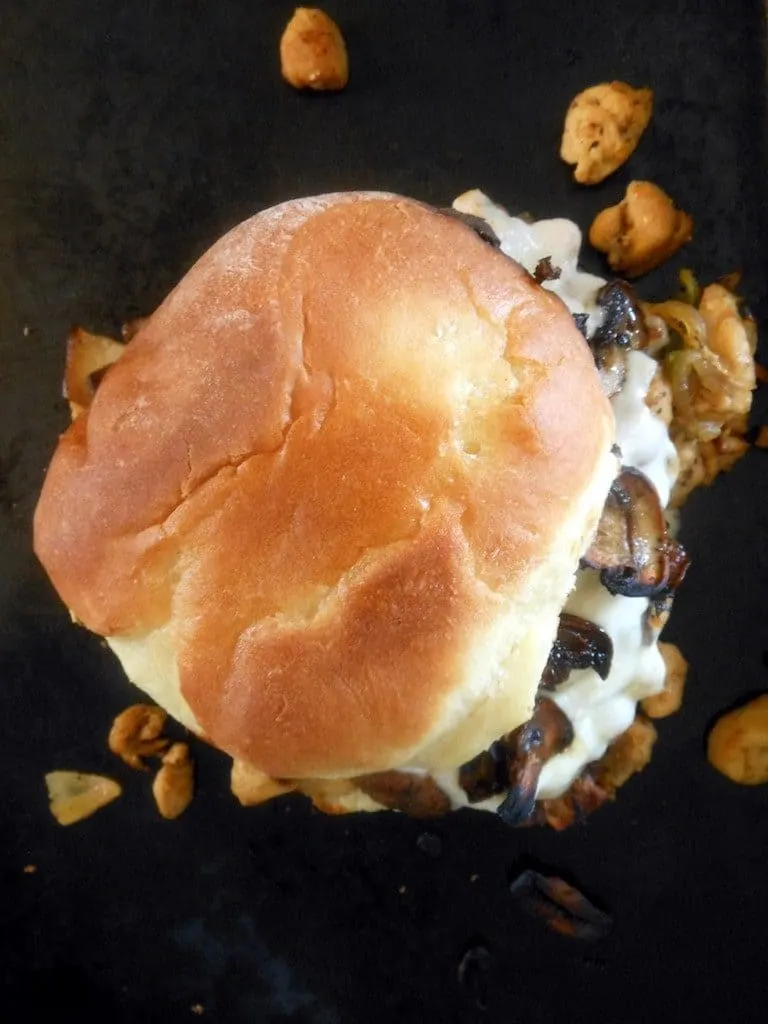 You can do it! I promise it's not complicated! Plus it's the end of the world, so you owe it to yourself. The sandwich roll/burger bun recipe from The Kitchn can be found HERE.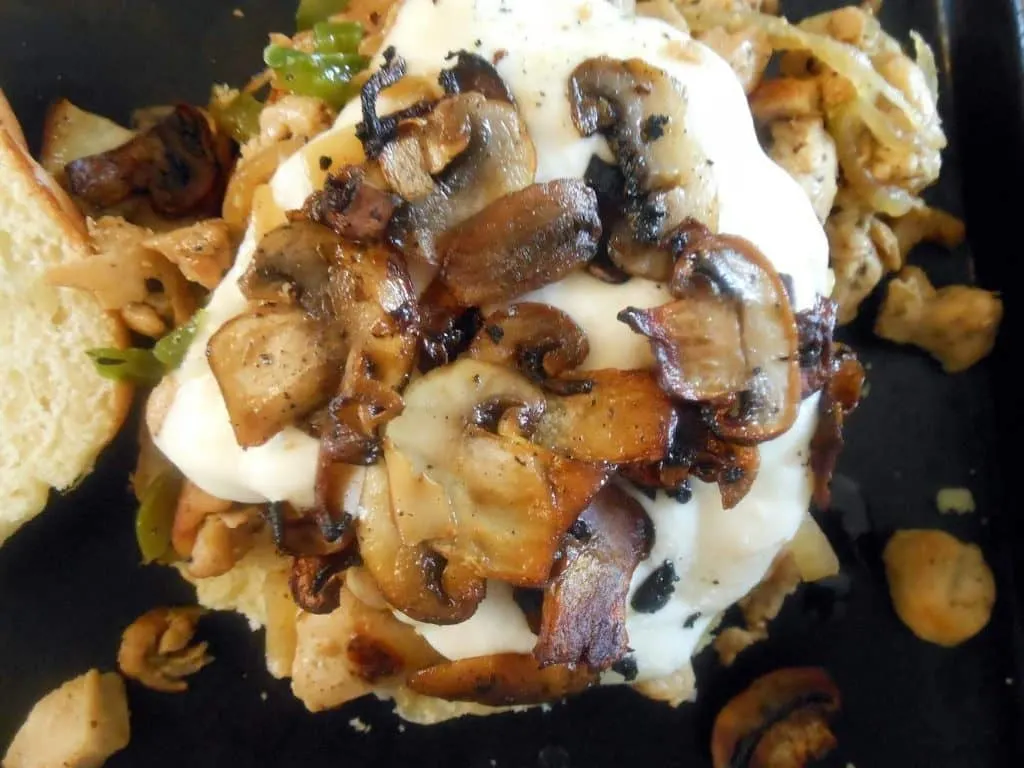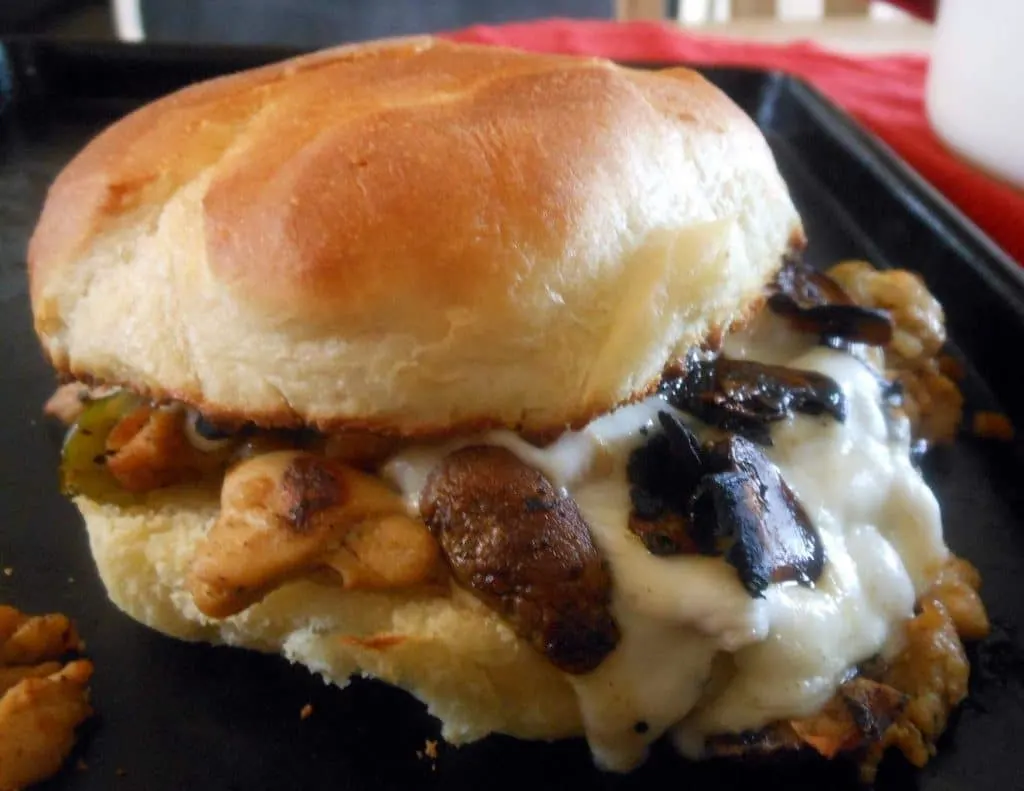 So let's pretend it's the end of the world as we know it (I'm sorry… I couldn't help it)… are you going out in style? More importantly, will there be sandwiches?
Other Philly Things You Will Wanna Try…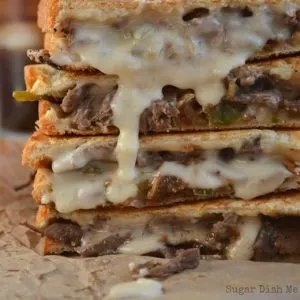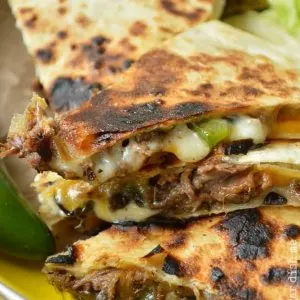 Philly Steak and Grilled Cheese Sandwiches are my favorite was to use horseradish cheddar. Yep. That's right. I said HORSERADISH CHEDDAR. What are you waiting for?!
Crock Pot Philly Cheesesteak Quesadillas are an innovative use for pot roast.The beef is tender and full of flavor, slow cooked all day with onions. You'll dig it, I promise.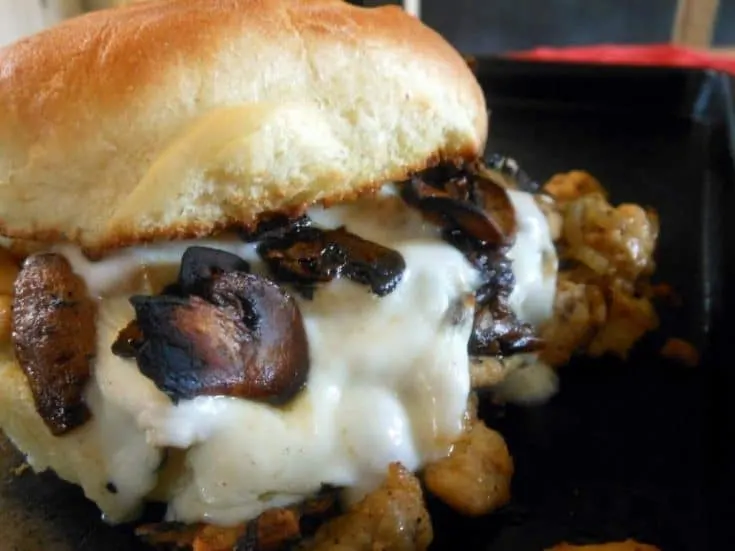 Yield:

serves 4-6
Chicken Philly Sandwiches
This Chicken Philly Sandwich Recipe has been getting rave reviews for years! Chopped, seasoned chicken, onions, peppers, mushrooms, and my favorite cheese sauce ever.
Ingredients
For the Chicken Filling
2 tablespoons olive oil, plus more for brushing the bread
1 pound boneless, skinless chicken breast, cut into bite-sized pieces
1/2 teaspoon kosher salt
1/2 teaspoon coarse ground black pepper
1/2 teaspoon onion powder
1 teaspoon dried oregano
1 large onion, thinly sliced
1 green bell pepper, thinly sliced
2 cloves garlic, very finely minced
1/2 cup water
8 ounces mushrooms, thinly sliced
For the Cheese Sauce
1 tablespoon butter
1 tablespoon flour
1/2 cup milk
6-8 ounces provolone cheese, chopped
To Make the Sandwiches
4 soft sandwich or hoagie rolls
Instructions
Heat the olive oil in a large skillet. Add the chicken, salt, pepper, onion powder, and oregano. Cook over medium heat until the chicken is cooked through but hasn't turned golden brown just yet.
Using a wooden spoon or a spatula, move the chicken over to one side of the pan. Turn the heat up to medium high.
Add the onions and peppers to the empty side of the skillet. Cook until they start to take on color and soften up, 3 or 4 minutes.
Add the garlic to the onions and peppers. If the skillet seems dry or you feel like the vegetables might burn, splash in a little water and stir. Cook for 1-2 more minutes.
Stir everything together (chicken, onions, peppers, garlic) and toss in the mushrooms and the remaining water. Cook until the onions are a caramel color and the chicken pieces are golden brown.
Remove from the heat and set aside.
Slice the sandwich rolls and arrange them on a baking sheet. Brush the insides of each roll with a little olive oil. Pre-heat the oven to broil.
In a medium saucepan melt the butter. Whisk in the flour and cook over medium high heat, stirring constantly for about 2 minutes.
Stir in the milk and bring it to a low boil (careful not to burn the milk!!).
Stir in the cheese until it's melted and saucy. Remove the cheese sauce from heat.
Divide the chicken mixture between the 4 prepared sandwich rolls. Spoon the cheese over the chicken.
Broil the sandwiches open-faced (top bun inside facing up, too) for a minute or two (careful not to brown the cheese), put the tops on, and eat.
Notes
Cheese matters! You can use cheddar here; white cheddar is my preference. If you are looking to mimic that classic Philly cheese sauce, you can use yellow American cheese - grab a block of Velveeta and go wild.
Recommended Products
As an Amazon Associate and member of other affiliate programs, I earn from qualifying purchases.
Nutrition Information:
Yield:
8
Serving Size:
1
Amount Per Serving:
Calories:

879
Total Fat:

56g
Saturated Fat:

32g
Trans Fat:

0g
Unsaturated Fat:

20g
Cholesterol:

177mg
Sodium:

1941mg
Carbohydrates:

26g
Fiber:

2g
Sugar:

5g
Protein:

68g