These Death by Chocolate Guinness Cupcakes are rich and decadent, loaded with stout beer and Irish whiskey.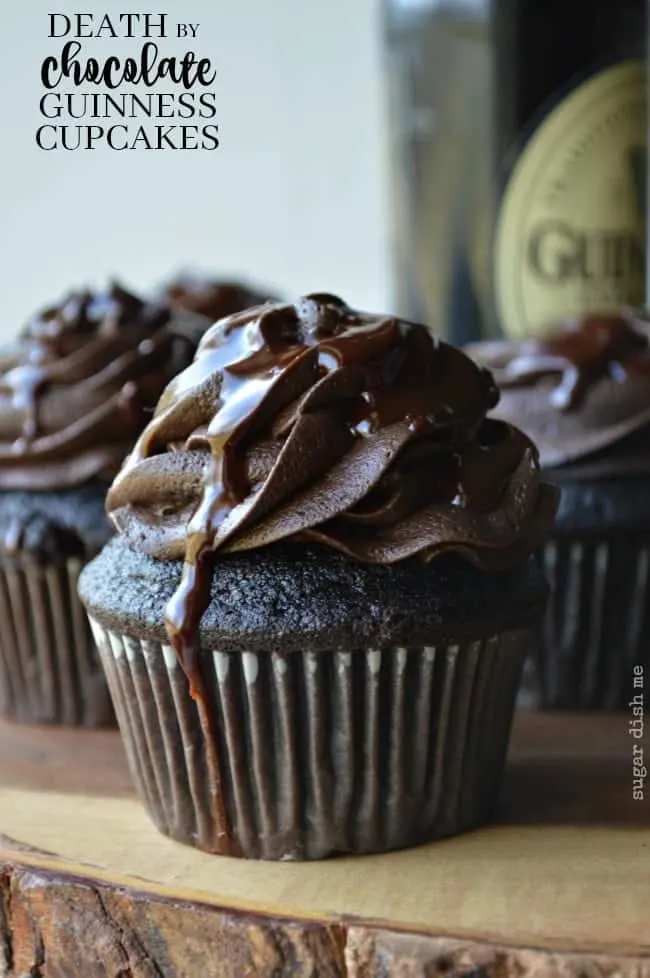 I need to gather my thoughts for a minute…
Because these cupcakes left me kind of speechless.
If you are making treats for Valentine's Day, these need to go to the top of your list. They are. Insane.
I turned these little devilish things out over the weekend for my brother's birthday. He's a chocolate on chocolate cake kinda guy, so I knew going in that I was heading in a delicious super chocolate direction. Baking with beer is something I've wanted to try for awhile now and I figured my brother's birthday was a perfect opportunity to play with that concept a little bit. Plus his birthday falls on the week of Valentine's Day, so booze-soaked dessert seemed sort of appropriate.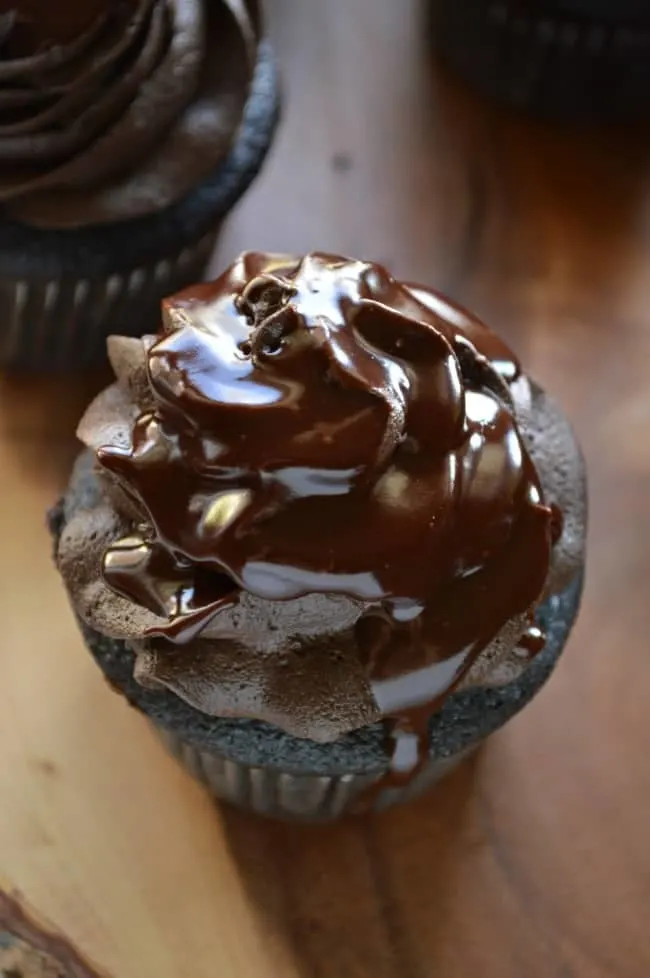 I'm pretty sure Chad would be thrilled if I made these over and over and over again. These are guy-friendly cupcakes.
The cake is pretty similar to this Sour Cream Fudge Cake recipe. Crazy moist and rich. The Guinness has notes of chocolate and espresso in it anyway, so it complements the chocolate cake in a pretty great way.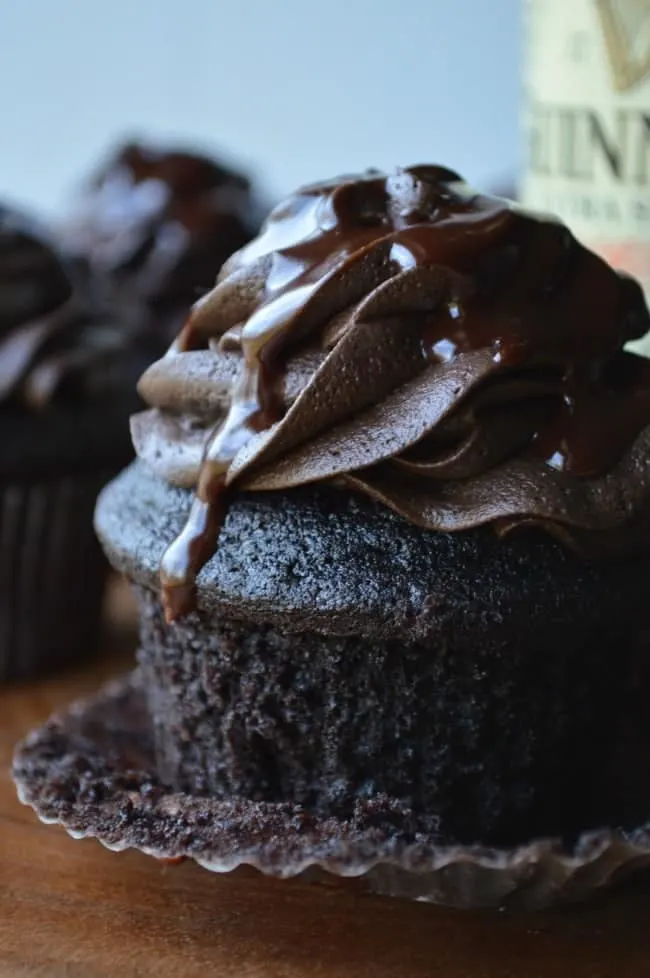 I think that the Whiskey Chocolate Ganache on top was my most favorite part. I'm pretty sure I'll be putting it on all kinds of things. Some that make sense like WAFFLES. And some that don't like… ummm well, I can't actually think of anything.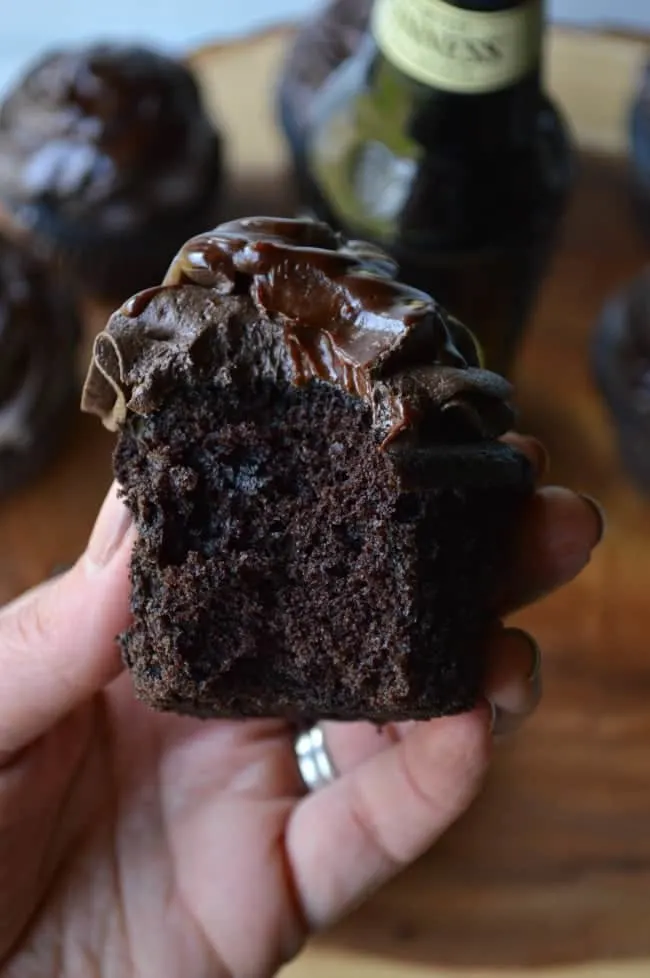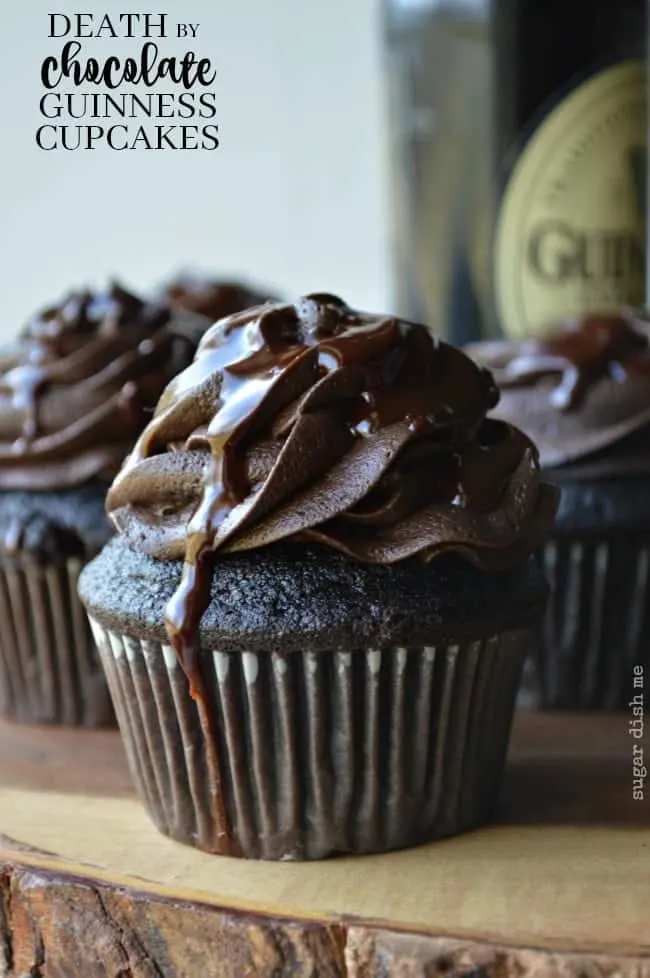 Yield:

24
Death by Chocolate Guinness Cupcakes
These Death by Chocolate Guinness Cupcakes are rich and decadent, loaded with stout beer and Irish whiskey Text Here"
Ingredients
For the Cupcakes:
2 cups all-purpose flour
2 cups granulated sugar
1 1/2 teaspoons baking soda
3/4 teaspoon salt
1 cup unsalted butter, at room temperature
1 cup Guinness Stout
3/4 cup Dutch process unsweetened cocoa powder
2 eggs
2/3 cup sour cream
For the Chocolate Buttercream:
1 cup butter
3 1/2 cups powdered sugar
1/2 cup unsweetened cocoa powder
1/2 teaspoon salt
2 teaspoons vanilla
4 tablespoons heavy cream, as needed to desired consistency (see note)
For the Whiskey Chocolate Ganache
1/4 cup heavy cream
3/4 cup semi-sweet chocolate chips
2 tablespoons butter
2 tablespoons bourbon whiskey
Instructions
Preheat the oven to 325°F. Line a muffin pan with paper liners.
In a large bowl whisk together the flour, sugar, baking soda, and salt. Set aside.
In a medium saucepan, melt the butter. Stir in the Guinness and bring to a simmer. Remove from the heat and whisk in the cocoa powder until smooth. Let cool slightly for a few minutes.
While the chocolate/butter/beer cools, using an electric mixer on low, beat the eggs and sour cream into the flour mixture. Pour in the chocolate and continue mixing until combined, about 1 1/2- 2 minutes.
Distribute the batter evenly between the muffin cups.
Bake for 15 minutes, or until a pick inserted into the center comes out clean. Let the cupcakes cool completely.
To make the chocolate buttercream, beat the butter for a minute until it's fluffy. Sift in the powdered sugar 1/2 cup at a time, beating a little in between each addition. Sift in the cocoa powder and beat until it's combined. Add the salt, vanilla, and 2 tablespoons of the heavy cream. Continue mixing until smooth. Add the last 2 tablespoons of heavy cream (or Bailey's; see note), more if needed, to reach the desired consistency.
Pipe the frosting onto each cupcake.
To make the chocolate whiskey ganache, heat the heavy cream in a small saucepan until it simmers (be careful not to burn!). Remove from the heat and stir in the chocolate chips until smooth. Whisk in the butter. Then whisk in the whiskey.
Drizzle the ganache over the frosted cupcakes. Let it cool and set before serving.
Notes
When making the chocolate buttercream, you COULD make it chocolate Bailey's buttercream by using 1-2 tablespoons of Bailey's Irish Cream Liqueur in place of 1-2 tablespoons of the heavy cream.
Nutrition Information:
Yield:
24
Serving Size:
1
Amount Per Serving:
Calories:

394
Total Fat:

22g
Saturated Fat:

13g
Trans Fat:

0g
Unsaturated Fat:

7g
Cholesterol:

68mg
Sodium:

269mg
Carbohydrates:

47g
Fiber:

1g
Sugar:

36g
Protein:

3g
Chocolate Guinness Cupcake Recipe slightly adapted from
THIS
recipe at Brown Eyed Baker (her cupcakes are filled and call for a different frosting and look yum-mmmmy). Whiskey Chocolate Ganache is from the same place. The Chocolate Buttercream is from my favorite chocolate buttercream recipe (You may remember it from
HERE
) found at Savory Sweet Life via
THIS
link.