This Easy Chicken Broccoli Bake is a comfort food casserole at it's best. It's a great way to use up leftover chicken and calls for fresh broccoli bringing a pretty green twist to an old fashioned favorite.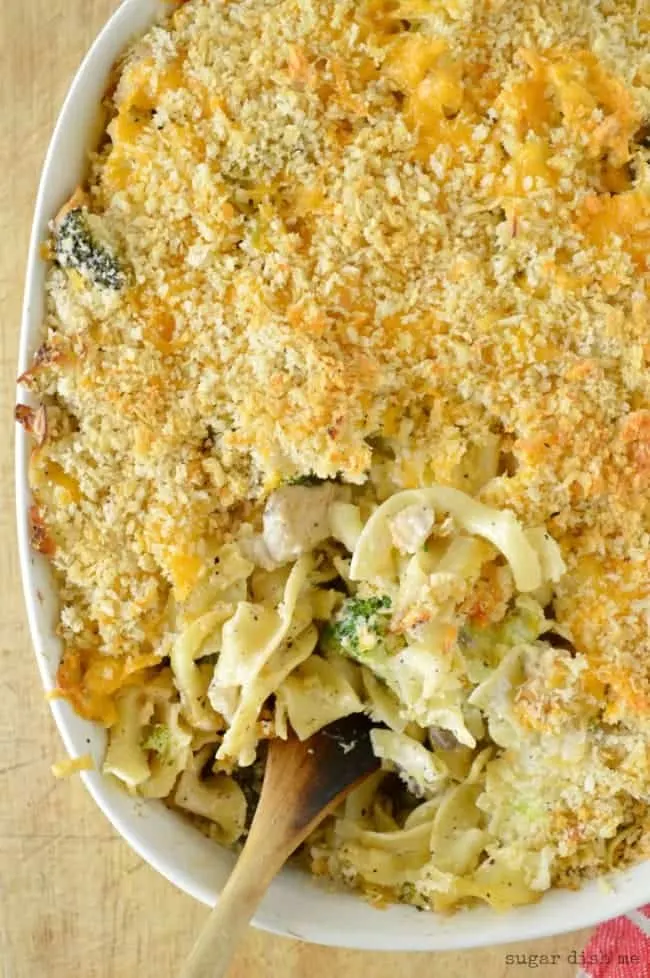 It's not often I make a casserole. But sometimes a casserole is exactly what you need.
Casseroles are also the greatest things you can ever bring to a friend in need. The neighbor that just had a baby, the friend who's having surgery, the other friend whose baby needs a liver + a kidney and also whose husband is battling Stage 4 colon cancer… yeah.
So some of you probably remember back in 2013 when I made this Kick Ass Chicken Lasagna as part of a potluck fundraising effort for my friend Ashley at Center Cut Cook. When I, along with some of my favorite food blogger friends, learned that Ashley's husband of then 10 years, her high school sweetheart that hadn't even hit 30 yet, was diagnosed with Stage 4 Colon Cancer, our hearts were just breaking.
When I found out she'd just learned they were expecting their first baby my heart crumpled into 1000 pieces.
But Ashley, positive thinking little trooper that she is soldiered on, took care of her husband, and even made us some chicken sandwiches.
Miles, her sweet little boy arrived in August 2014. They had to schedule his birth around her husband's chemo schedule.
Then in October 2014 Ashley & Ryan's whole world got turned upside down again when Miles had a seizure. And after too much time in the hospital and way too many tests, these two new parents who already have a much fuller plate than most, learned that their little miracle boy needed both a kidney transplant and a liver transplant.
You guys. I just can't even.
Time has passed, they have spent way too much time in and out of hospitals, Ryan is still receiving chemotherapy, and Miles is getting really close to his kidney and liver transplants.
And so we, the food blogging community, in an effort to do the thing we know how to do best, made a bunch of food to virtually fill up the Wagner family's fridge.
Casseroles and comfort foods and all the kinds of things you would bring to your neighbors, your friends, your people that need to NOT think about cooking dinner.
It's hard when you want to help and you are so far away. We wish we could show up for the Wagner family in so many ways — help to walk the dogs, bring reading material to waiting rooms, drop off much-needed cups of coffee, and run all the endless errands (if you guys knew how much time Ashley was spending in the car driving, commuting to hospitals here recently… whoa.)
There is a way we can help though; a super simple way to let the Wagner family know how much we care. Through the food, through the writing, and through this little fundraising effort to help cover the insurmountable medical costs incurred by cancer treatments and organ transplants.
If every person that came here to read about an Easy Chicken Broccoli Bake left just $1 we could put a HUGE dent in expenses and take that stress off our friend's back.
If you'd like to help you can take just a second to donate below.
You guys. I would L.O.V.E. to see us hit that goal. And I swear just $1 from each of you lovelies would totally do it.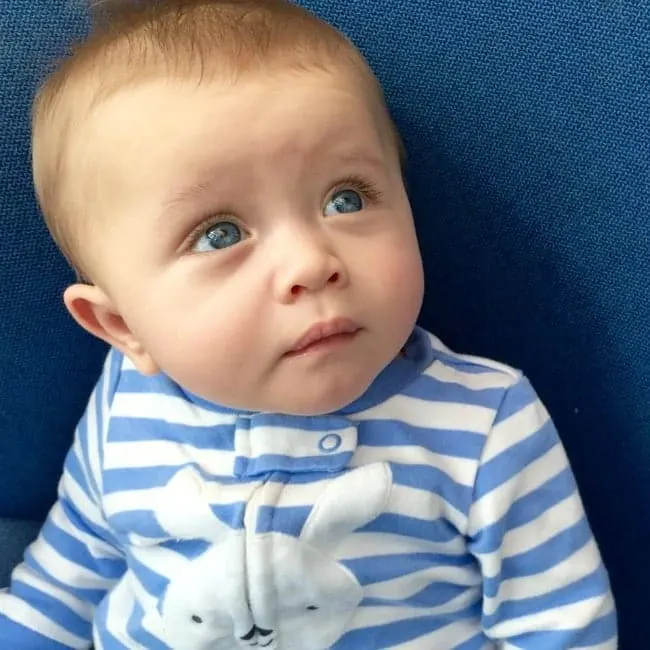 Other ways you can help include following Team Ryan on Facebook and surfing around Center Cut Cook for Ashley's crazy awesome recipes. Remember Chocolate Lasagna? Yeah she did that.
Or you can make this Easy Chicken Broccoli Bake and share.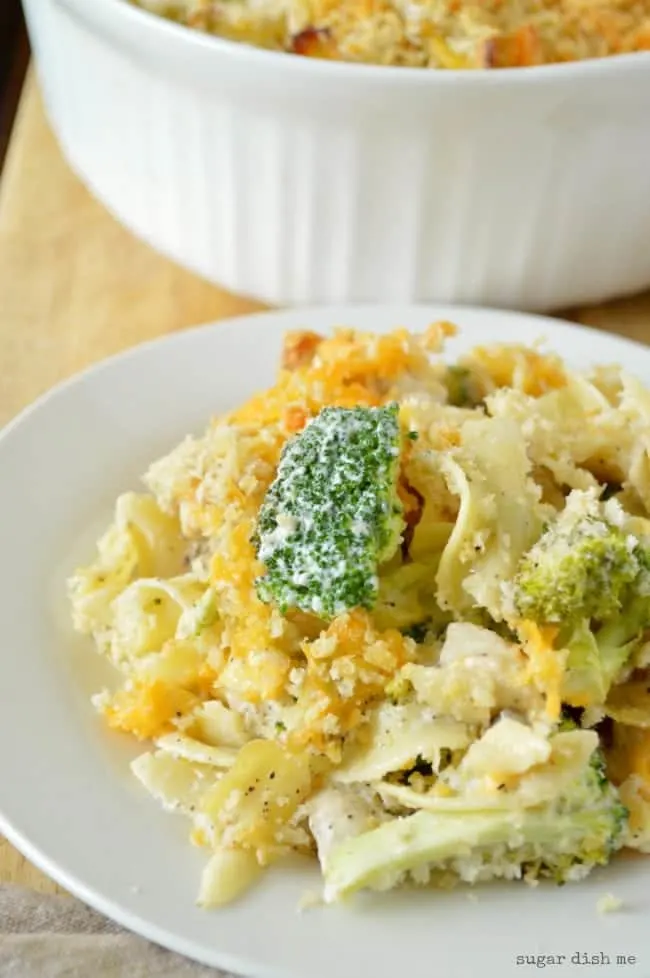 You can also surf the other recipes meant to fill the Wagner family's fridge. If you need some super awesome comfort food this is totally your one-stop-shop.
That Skinny Chick Can Bake made Mexican Chicken Manicotti
Food faith & Fitness made a Paleo Casserole with Turkey, Peppers, Zucchini, and Tomato
Spend with Pennies made Chicken Noodle Casserole (from Scratch)
Wishes & Dishes made this Creamy Chicken Tetrazzini
Frugal Foodie Mama made Pizza Pierogi Casserole
Snappy Gourmet made Chicken Cordon Bleu Pasta Casserole
Miss in the Kitchen made a Chicken and Mushroom Tortellini Bake
Life, Love, and Good Food made this Poppy Seed Chicken Casserole
Bless This Mess made Quick and Easy Summer Chicken Salad
Mandy's Recipe Box collected 30 Freezer Meals
Hugs and Cookies made Baked Parmesan Meatball Casserole
Barbara Bakes made this Veal & Wild Mushroom Stew
A Cedar Spoon made Sausage, Roasted Red Pepper, & Gouda Macaroni & Cheese
It's Yummi made an Easy Cheese & Sausage Pizza Bake
A Family Feast made these Easy Freezer Meatballs
Stuck on Sweet made Homemade Goulash
Two Healthy Kitchens made a 5-Ingredient Easy Pasta Bake
It Bakes Me Happy made a Peach Skillet Galette
Easy Chicken Broccoli Bake
A creamy and comforting Chicken and Broccoli Casserole Recipe made with fresh broccoli. Super simple, inexpensive to make, and totally delicious.
Ingredients
8 ounces uncooked egg noodles (**See Note**)
1 tablespoon oil
1 pound boneless skinless chicken, cut into bite-size pieces
5 cups fresh broccoli florets
1 can cream of mushroom soup
8 ounces sour cream (can use light)
1 teaspoon black pepper
1 teaspoon seasoned salt (I used Nature's Blend -- so good & with less salt)
2 cups shredded cheddar cheese
½ cup Panko breadcrumbs + 1 tablespoon oil
'
Instructions
Preheat the oven to 350. Spray a 2½ quart baking dish with nonstick cooking spray.
Start a large stock pot of water and cook the egg noodles according to package instructions.
While the noodles cook, heat the oil in a medium skillet. Add the chicken pieces and cook for about 5 minutes, or until cooked through. Take the chicken off the burner and drain the pasta.
Add the cooked pasta, cooked chicken, fresh broccoli, cream of mushroom soup, sour crea, black pepper, and seasoned salt. Stir to combine. Add 1 cup of the cheddar cheese. Stir and pour everything into the prepared baking dish.
Sprinkle the top with the remaining 1 cup cheddar. Combine the breadcrumbs + olive oil and sprinkle over the top.
Bake for 30 minutes. If you like your breadcrumbs toasty you can broil for 1-2 minutes before taking the casserole from the oven.
Notes
1. Egg Noodles usually come in 12 ounce packages. You can use the whole package but for me it was too much noodle and not enough of the good stuff. But it's totally up to you.
Thanks for being awesome. Thanks for any help you can offer. You guys are the best.