Moist and fragrant, full of flavor, and sweetly spiced, this Apple Butter Roast Chicken has become a favorite staple in our house! It is the perfect easy Sunday supper and the leftovers make the best cold chicken sandwiches!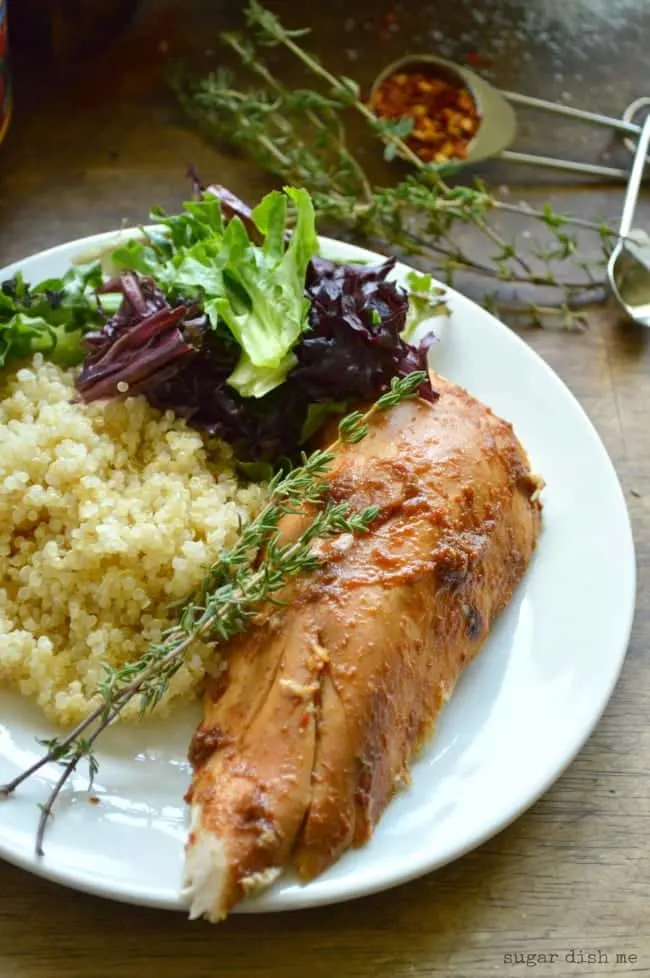 This content is sponsored by Musselman's Apple Butter but all opinion, photos, and original recipes are my own. I've partnered with Musselman's this year to bring you a wide variety of Apple Butter recipes because gahhhh there is so much more to do with apple butter than just put it on toast.
There are some recipes I share with you that I make only enough times to test them, and then it's on to the next one. It's not that they aren't totally awesome (they are!!!), it's just that there is a revolving door of ingredients in my fridge and ideas in my head. So there aren't a whole lot of things I make over and over again.
Meet the exception to that rule.
Apple Butter Roast Chicken.
To give you a tiny little bit of insight about what goes into the things I share for you here, I test every recipe no less than 3 times. When I'm working on things that take a little tweaking (like cookies and breads) it can be a whole lot more. So most of the time I try to space the tests out a some. Because 3 Pulled Pork Pizzas in one week can get to be a little much. But also because when I get too carried away with quinoa or whatever the family revolts and ends up at Burger King.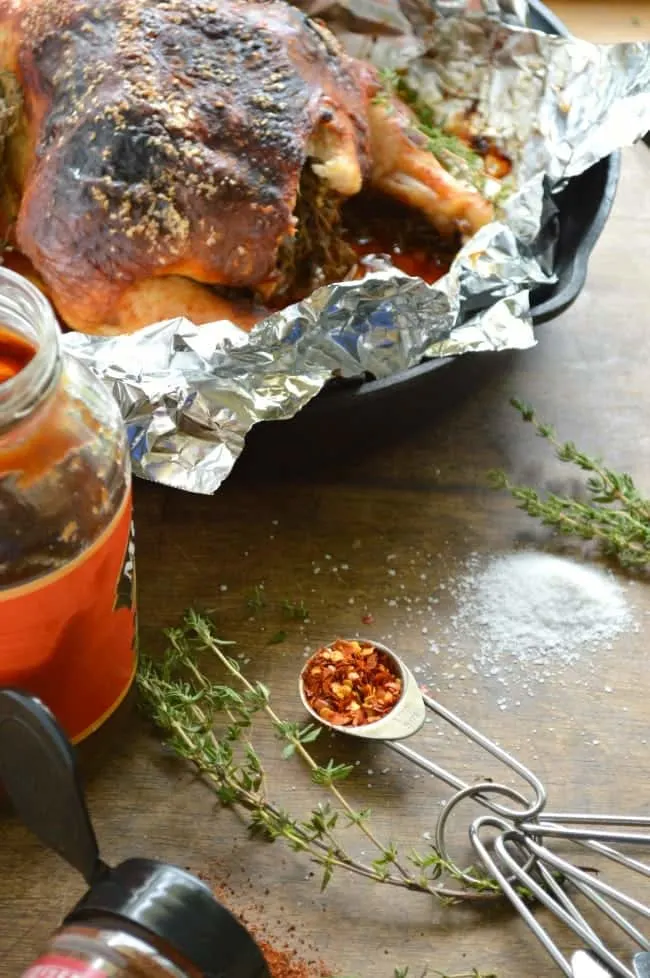 This chicken though? Well first I made it twice in one week.
Both chickens disappeared. I mean… they were totally picked clean.
Then I made two more in two days.
Chicken roasted with apple butter makes for some freaking excellent sandwiches. It has become a staple. We have it for a meal and then I throw it on salads and stuff it in lunch boxes the next day. It never lasts long, and then someone will go poking around in the fridge asking me, "Hey! Where's that chicken?"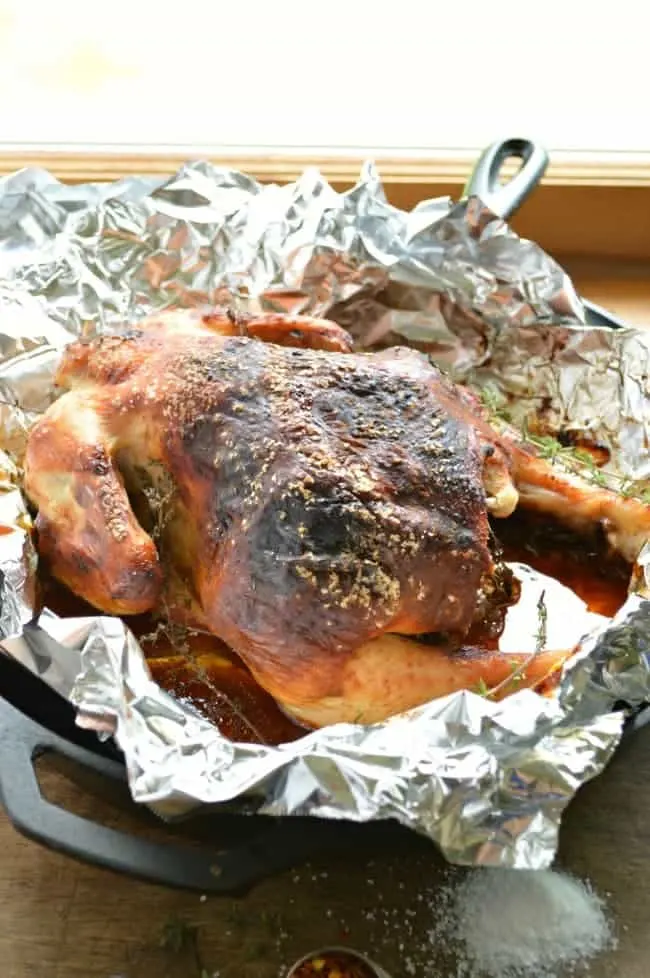 Also, apologies. You guys know how I feel about photographing whole chickens. I've learned that they don't look so scary breast-side-up, but that would make a liar out of me because I always roast breast-side-down. In my opinion it keeps that easy-to-dry-out breast meat really tender and never ever dry.
So let's talk apple butter. It's Musselman's, obvi. You guys know I love my Musselman's. With their help I gave you guys the best pulled pork recipe AND pulled pork pizza.
In this recipe I mixed the apple butter with some chili powder, paprika, cumin, and crushed red pepper. It took the sweet sort of smoky molasses flavor of the apple butter and made it into this sweet and spicy complex rub that helped to keep the chicken moist while cooking in ALL THIS FLAVOR! It's easy and looks a little fancy and is so dang good you'll wanna join me in making it once a week.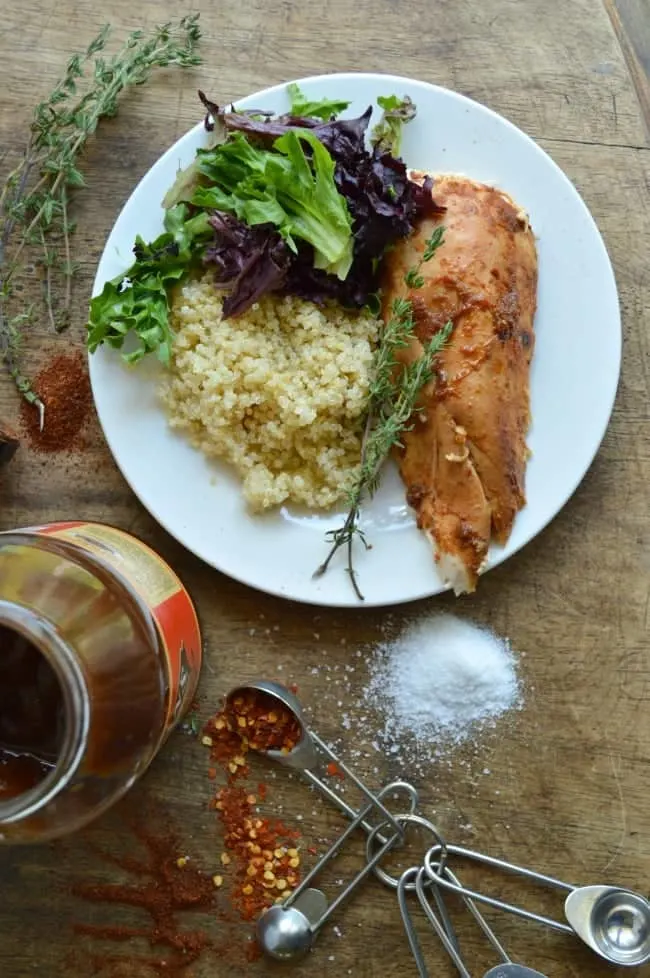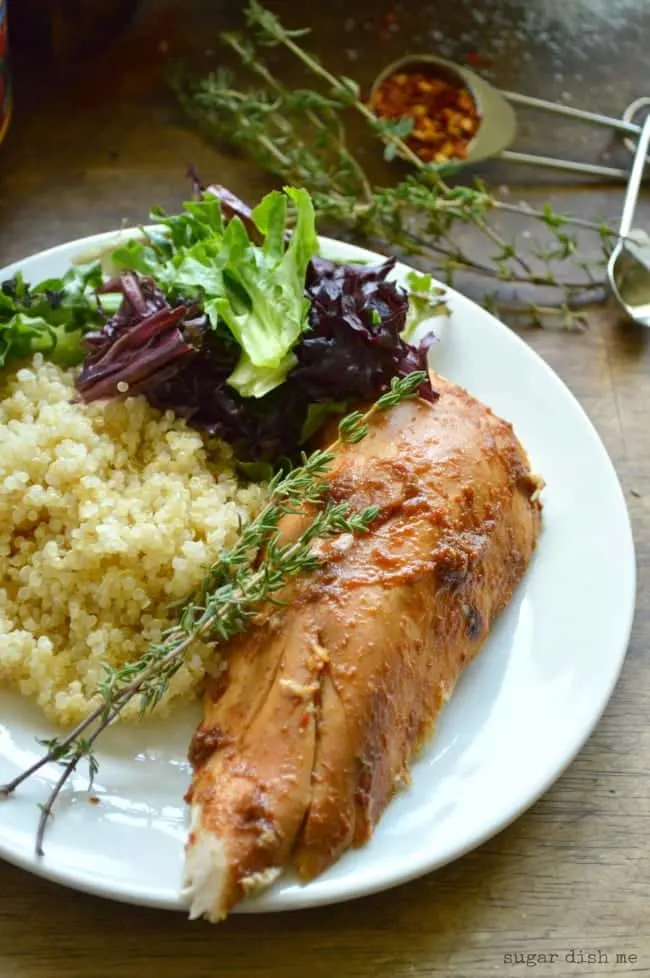 Yield:

serves 6 - 8
Apple Butter Roast Chicken
Cook Time:
1 hour
30 minutes
Total Time:
1 hour
40 minutes
Apple Butter Roast Chicken is tender and juicy, and sweetly spiced with a rich and fragrant depth of flavor you will LOVE. Makes for great leftovers, too!
Ingredients
1 ( 3-5 lb) whole chicken
½ cup Musselman's Apple Butter
1 teaspoon chili powder
1 teaspoon cumin
1 teaspoon paprika
1 teaspoon crushed red pepper flakes
3 or 4 sprigs fresh thyme
3 cloves garlic, peeled
1 -2 teaspoons kosher salt
Instructions
Preheat the oven to 375F. Line a roasting pan with foil for easy clean-up.
To prepare the bird make sure that there are no "little goodies" in the cavity.
In a bowl mix together the apple butter, chili powder, cumin, paprika, and crushed red pepper flakes.
Gently pull the skin away from the flesh of the bird. Scoop a little of the apple butter mixture up in your hand and push it between the skin and the flesh. Lay the skin back down and gently rub so the apple butter mixture is coating as much of the meat under the skin as possible.
Repeat with both legs, thighs, and breasts. Try not to tear the skin.
Place the chicken breast side down in the prepared pan. Stuff 1 thyme sprig under each wing and the remaining thyme inside the bird. Place the garlic cloves inside the bird.
Sprinkle the outer skin all over with the kosher salt.
Bake for 20 minutes per pound. You may want to tent with foil after about 40 minutes to prevent the skin from getting too dark.
Let the chicken cool/rest for about 5 - 10 minutes before slicing and serving.
Recommended Products
As an Amazon Associate and member of other affiliate programs, I earn from qualifying purchases.
Nutrition Information:
Yield:
6
Serving Size:
1
Amount Per Serving:
Calories:

79
Total Fat:

2g
Saturated Fat:

1g
Trans Fat:

0g
Unsaturated Fat:

1g
Cholesterol:

13mg
Sodium:

733mg
Carbohydrates:

11g
Fiber:

1g
Sugar:

8g
Protein:

4g