Creamy bars of cheesecake with a buttery crushed pretzel crust. Topped with chopped fresh strawberries and drizzled dark chocolate, these Strawberry Cheesecake Bars with Pretzel Crust are salty, sweet, rich, and totally delicious. Plus this recipe is super easy!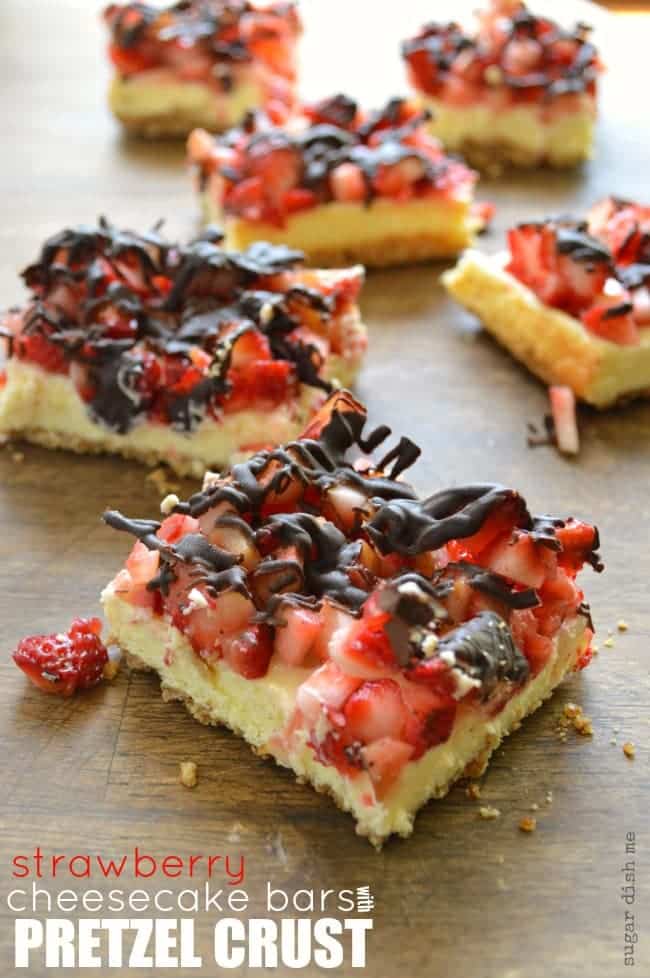 I'm gonna be a total nerd and talk about the weather for a minute because ohmygosh you guys the sun is shining!
It's pretty exciting since I have not seen it in a week. I'm not one to complain about rain because that feels like a big fat jinx waiting to happen, but I have been cooped up in the house with my furry monsters and we are all itching to take a really long walk.
Because I need to walk off the cheesecake bars. Also those tequila cupcakes from last week.
Yesterday there was a break in the storms and I made the mistake of letting the dogs go run around in the yard. That error yielded this muddy squish face that I love so much but don't want anywhere near me.
And then I spent the next hour hosing down my furry family and mopping the floor repeatedly.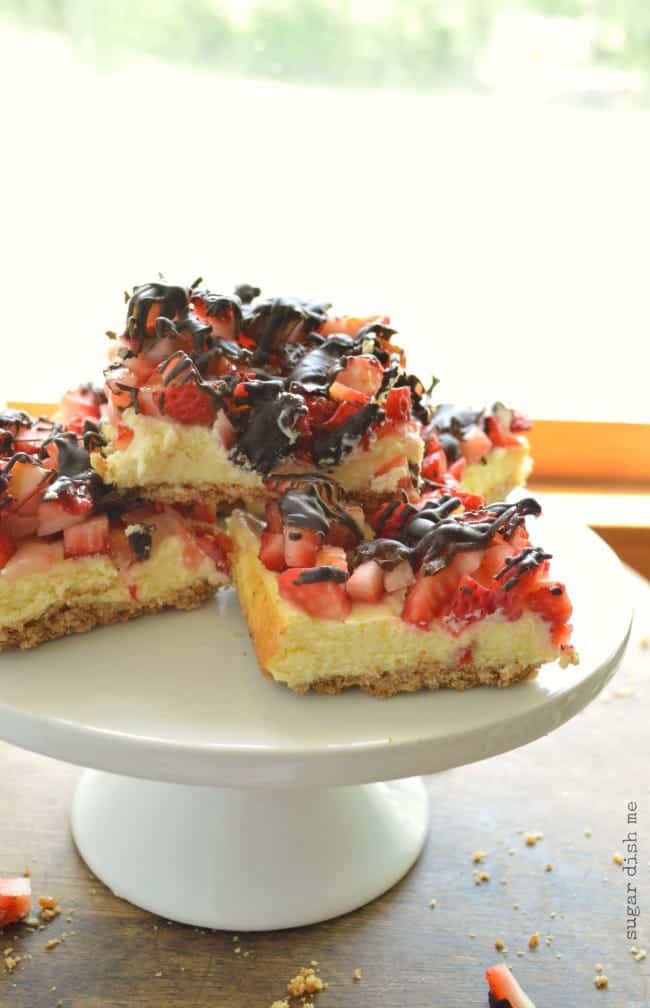 Oh and they are repeat offenders so we totally had to do it all again at 8 o'clock this morning.
Fun times over here.
Anyway.
These cheesecake bars.
They are amazing. And simple. And you will love them. I know I say that about all the recipes (I mean I would never share something I think you would hate. That's just good sense. Unlike my decision to let the dogs play in the mud twice in 12 hours), but I really mean it! The cheesecake part is fool proof, the crust is crunchy and buttery and salty and sweet. Strawberries are SO perfect right now, and the dark chocolate just makes everything extra perfect.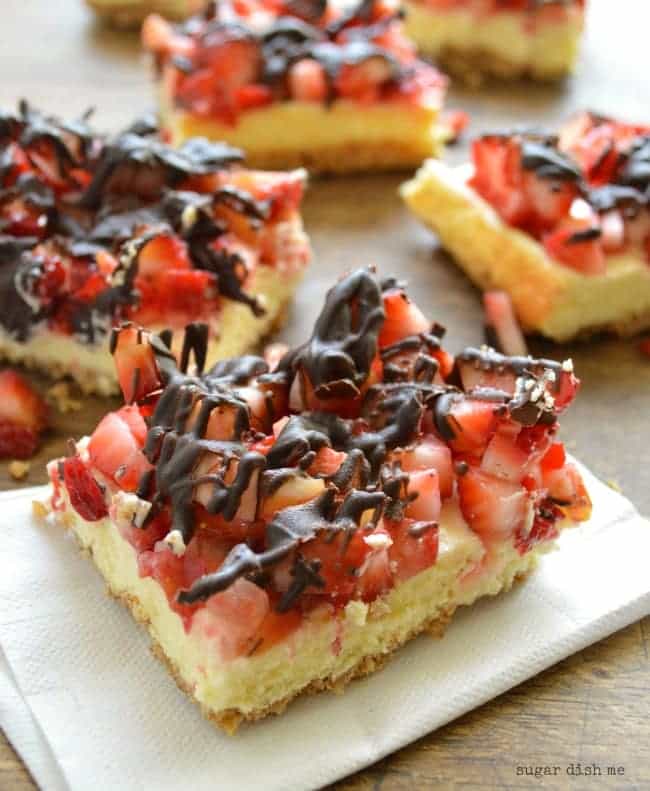 Strawberry Cheesecake Bars with Pretzel Crust
A super easy cheesecake bar recipe with a pretzel crust topped with chopped strawberries and dark chocolate. Prep and cook times DO NOT include the time required for the bars to cool. Be sure to read through the entire recipe to give yourself enough time for the cheesecake to cool and then chill.
Ingredients
2 cups crushed pretzel crumbs
6 tablespoons butter, melted
2 (8 ounce) bricks of cream cheese, softened
½ cup granulated sugar
2 eggs
1 tablespoon vanilla
¼ teaspoon kosher salt
1
2 ounces dark chocolate, melted
Instructions
Preheat the oven to 350F. Line a 9 X 9 baking sheet with foil or parchment paper. Butter the lining and set the pan aside.
Combine the crushed pretzel crumbs and melted butter. Press the mixture into the bottom of the prepared pan.
Beat the cream cheese until fluffy. Add the sugar and beat on medium high for another minute or two. You want it to be light. Add the eggs one at a time, beating well between each addition. Then beat in the vanilla and salt.
Pour the batter over the crust. Bake for 15 minutes. Reduce the heat to 275F and bake for the remaining 15 minutes.
Turn the oven off, crack the door, and let the bars cool until they reach room temperature IN the oven. This prevents the cheesecake from cracking.
Cover the top of the cooled cheesecake with the chopped strawberries. Drizzle the melted chocolate over everything.
Refrigerate for at least an hour or overnight before cutting and serving.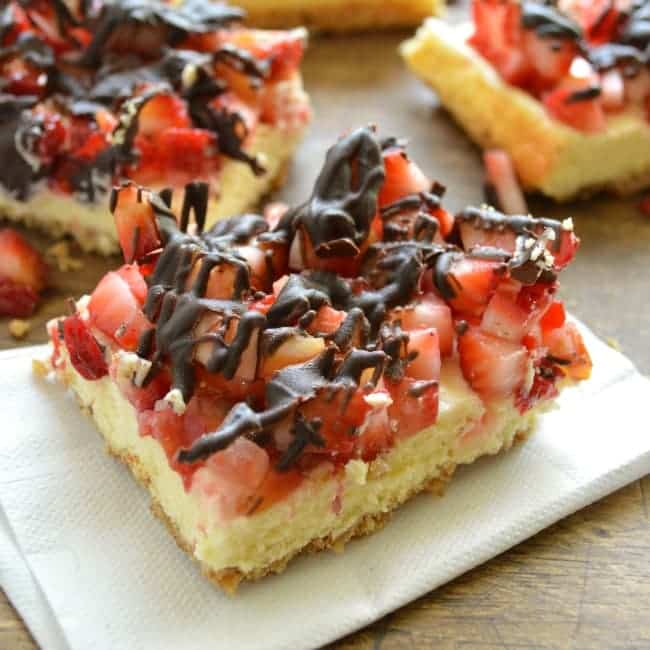 Want Some More?
Get new recipes plus a healthy dose of snarky humor delivered to your inbox each week. It's good stuff y'all.