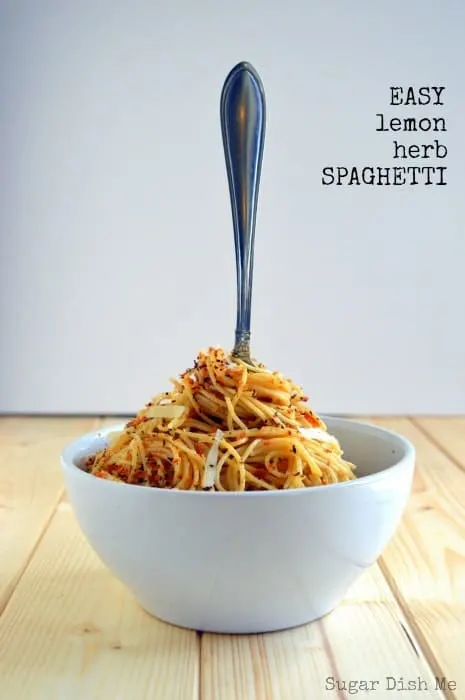 You might have noticed that last week Sugar Dish Me got something of a face-lift but I didn't really explain it and instead told you stories about my mean cat and the Christmas boxes that I finally finally shoved into a closet. I'm sure you are all incredibly organized and together and don't know anything about stuff like that.
So anyway– blog makeover! Let's discuss.
In September 2012 I set things up the way you've grown used to seeing them (big 'ol clunky photo banner across the top and all). I am not a computer programmey kind of person – I love book stores and libraries and stationary!!! So when I was in school I totally resisted all things technology related, much preferring pen to paper.
OOPS.
Trying to navigate the back end of a website is complicated you guys. And most days I just want to cook, make the food look pretty for a few photos, and write. So every time I needed to do something technical it would take me all the live long day. You would probably laugh at me with my stacks of composition books all spattered with frosting, loaded with lists of ingredients and recipe scribbles, with random bits of techno-code stuffed in between while I tried to figure out where to place html and numbers and other un-food-related garbledy gook.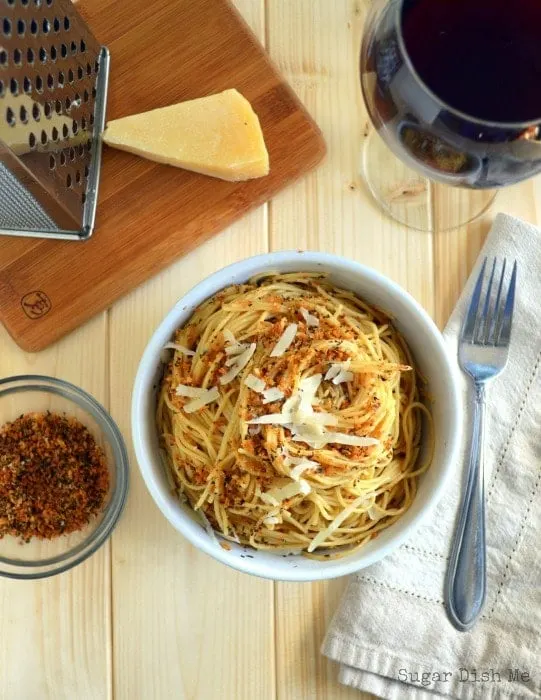 I was ready for a change — I needed things to run more smoothly. I needed you guys to be able to figure out how to contact me, use your recipe box, or find something in the archives easily. And I needed a set of fresh eyes.
So I did something crazy.
I hired someone awesome that knew what in the world she was doing to fix it all and make it look pretty. Whew!
That was a load off my mind. Web design and all the things that go into it is a skill I do not possess. And I'm good with that.
I really just want to feed you anyway.
I hope you like the changes! I could not be more happy. I am in the middle of revamping the Recipe Index so it's easier to find everything with pictures! instead of a big long eye-straining list of words.
And I made you spaghetti.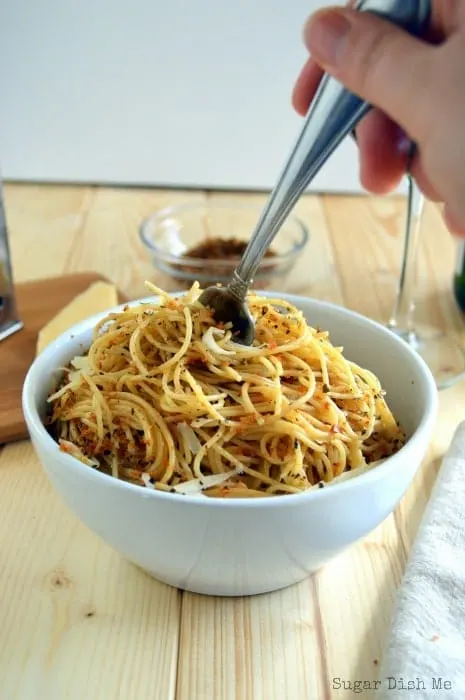 This Easy Lemon Herb Spaghetti is a really fast meal that will make everyone in your house so happy! With a few fresh ingredients you can have dinner on the table in a super flash. It would be amazing with some sliced chicken or shrimp on top, but I just enjoyed it as-is with a big green salad and a glass of wine. Yum.
I wrote this recipe with winter in mind so I used dried herbs but if you have fresh herbs on hand they would be totally delicious! I would opt to add fresh herbs at the end instead of to the toasted breadcrumbs because … well because they are fresh herbs. I also chose to use extra virgin olive oil with mine because this dish is sooo simple it gives great ingredients a chance to shine, but regular olive oil will work just fine.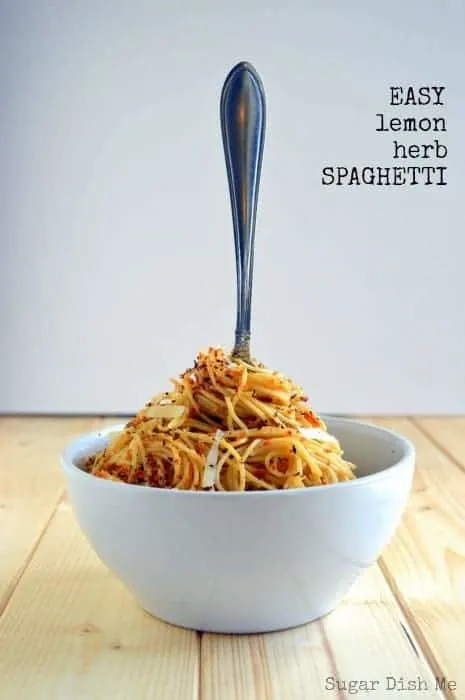 Yield:

serves 6
Easy Lemon Herb Spaghetti
Fresh and simple pasta tossed in garlic-infused extra virgin olive oil, fresh lemon juice, basil, oregano, a dash of crushed red pepper, and toasty panko bread crumbs.
Ingredients
1 (12 ounce) package whole wheat or multi-grain spaghetti (I used thin spaghetti)
1/4 cup olive oil ( I went with extra virgin)
4 cloves garlic, finely minced
1 medium lemon
1/4 cup Panko bread crumbs
1 teaspoon dried basil
1 teaspoon dried oregano
1/2 teaspoon kosher salt
1/4 teaspoon coarsely ground black pepper
1/4 teaspoon crushed red pepper flakes (optional)
freshly grated Parmesan and Romano cheeses to garnish
Instructions
Cook the pasta according to package instructions for al dente, reserving 1/2 cup of the liquid from the cooked pasta when draining.
While the pasta cooks, pour the olive oil in a small saucepan. Add the garlic and cook over medium heat for a few minutes until the garlic JUST starts to turn golden (more than that and the garlic will burn and taste bitter). Remove from the heat.
Slice the lemon in half and squeeze the juice into the oil, being careful not to get seeds in it. Toss the drained pasta with the garlic lemon oil. Add a little of the reserved pasta water to help move things around in the pan and coat the noodles evenly.
Place the small pan that you heated the oil and garlic back on the burner on low heat. Add the Panko bread crumbs to the pan and stir them around a little to toast them. Watch the breadcrumbs closely! Toasting them only takes a minute and they will burn if you aren't careful. Add the dried basil, oregano, kosher salt, black pepper, and red pepper flakes to the breadcrumbs. Toss to combine.
Stir the breadcrumbs into the pasta. I like to save a few to sprinkle on top of each serving.
Garnish with the cheese and serve.
Nutrition Information:
Yield:
6
Serving Size:
1
Amount Per Serving:
Calories:

287
Total Fat:

13g
Saturated Fat:

3g
Trans Fat:

0g
Unsaturated Fat:

9g
Cholesterol:

10mg
Sodium:

325mg
Carbohydrates:

35g
Fiber:

5g
Sugar:

1g
Protein:

10g