Making these Easy Sloppy Joes from scratch is so simple and fast — you'll wonder why you ever bothered buying that stuff in a can! Spooning the saucy meat onto homemade brioche buns makes them even better!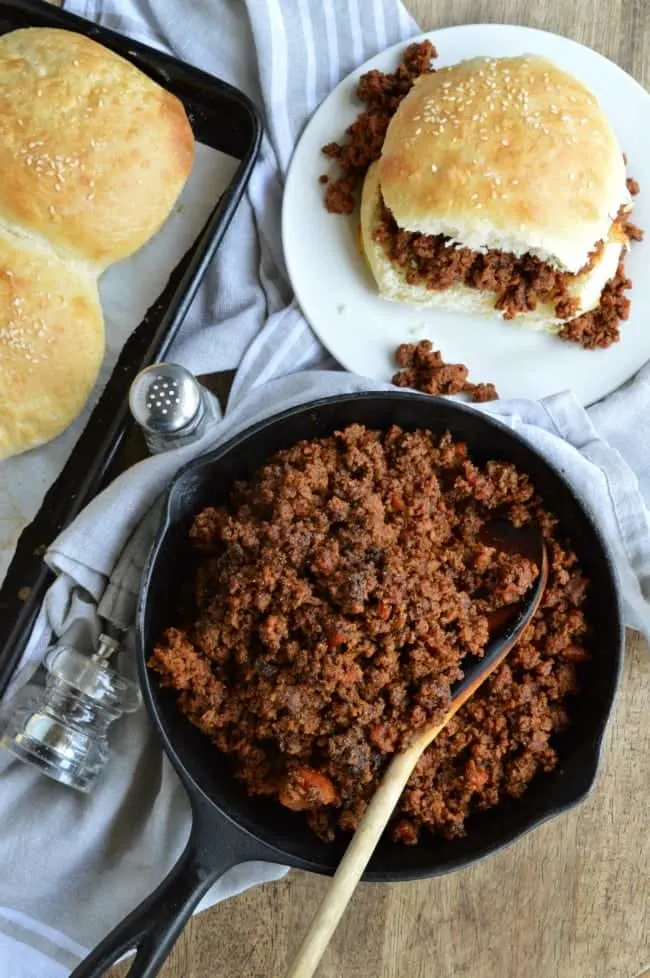 My boys LOVE sloppy joes. But normally I don't so much.
Because when I think of sloppy joes I think of that stuff in a can paired with greasy-ish ground beef and less than satisfying buns. I'd rather have a cheeseburger if we're going there — you get what I'm saying? But.
But but but. <<– too many buts
Then I started making my own sloppy joes. From scratch. With stuff I had in my cabinet. It's fast! And doesn't taste like weird preservatives! Making these Easy Sloppy Joes is a total breeze.
Also crazy cheap.
We go out to dinner every Friday night because I boycott the kitchen (mostly I boycott dishes but you get the idea). Anyway. We were out to dinner and Evan always ends up across the table from me.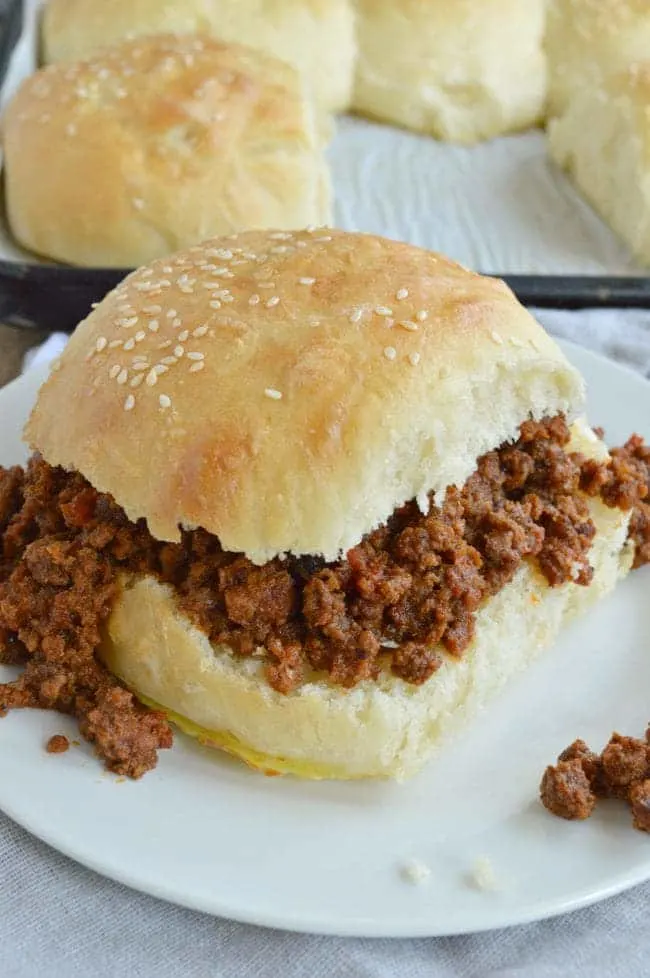 He is at this really special age (12), and everything is kind of … dramatic. So I guess he had been rough-housing with the dogs earlier in the day and somehow managed to bite his lip. Then he dipped his fries in ketchup. And then?
He gave us a full 5 minutes of that sharp intake of breath that happens when atomic wing sauce burns your face, complete with squinted eyes and slurping (I freaking cringe even typing that word) noises, and when we asked what was wrong all he could say was, "The Ketchup. IT BURNS."
To which we all laughed hysterically.
Ketchup burn is a real thing, I guess.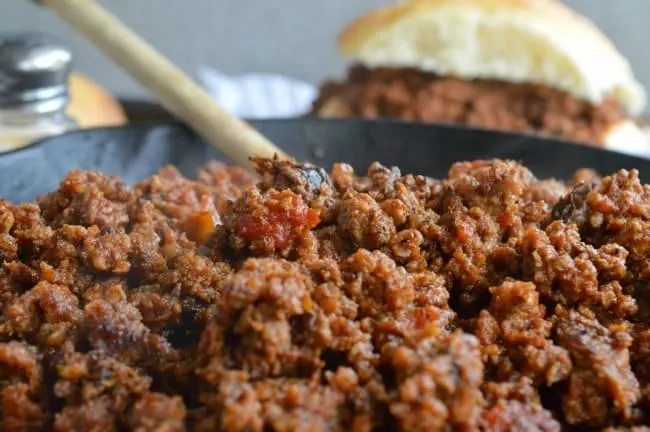 All of this is to say that there's a little ketchup in these sloppy joes. I don't use a lot of ketchup. But I think sloppy joes require a little ketchup. It's for authenticity and sauciness. You could use BBQ sauce too (I won't tell).
The other thing you need? Brioche buns. If you have time, please please please make these Homemade Brioche Buns. They are soft and the perfect kind of chewy. They will set your burgers and sloppy joes on fire.
But not your lips.
That's just for ketchup.

Easy Sloppy Joes on Homemade Brioche Buns
Dinner is ready in less than 10 minutes! These Easy Sloppy Joes are great for busy weeknights when you need to get a meal on the table fast!
Ingredients
1½ pounds lean ground beef (or ground chicken or turkey)
½ cup onion, diced
1 (15 ounce) can diced tomatoes (see note)
¼ cup ketchup
2 tablespoons brown sugar
2 teaspoons worcestershire sauce
2 teaspoons spicy mustard
½ teaspoon onion powder
½ teaspoon garlic powder
salt & pepper to taste
1-2 cups chicken broth (as needed)
Instructions
In a large skillet, brown the ground beef (or chicken or turkey). Add the onions and cook for just a few minutes until they are soft but still translucent.
Add the tomatoes, ketchup, brown sugar, Worcestershire sauce, mustard, onion powder, garlic powder, salt, and pepper. Stir it all together and continue cooking over medium heat.
Pour in 1 cup of the broth. Stir and let everything simmer. Add the remaining cup of broth just a little at a time as needed to reach your desired saucy consistency. Continue cooking for a few more minutes while the sauce thickens.
Serve onHomemade Brioche Buns.
Notes
1. I used plain petite diced tomatoes in this recipe, but there are so many varieties you can add some interesting flavor pretty quickly. Try Ro-tel or diced tomatoes with jalapenos for some spice!