My favorite recipe for big fluffy Homemade Brioche Buns! These are the perfect vehicle for all your burgers and sandwiches. Making your own sandwich buns at home is really easy. Read on and find out how.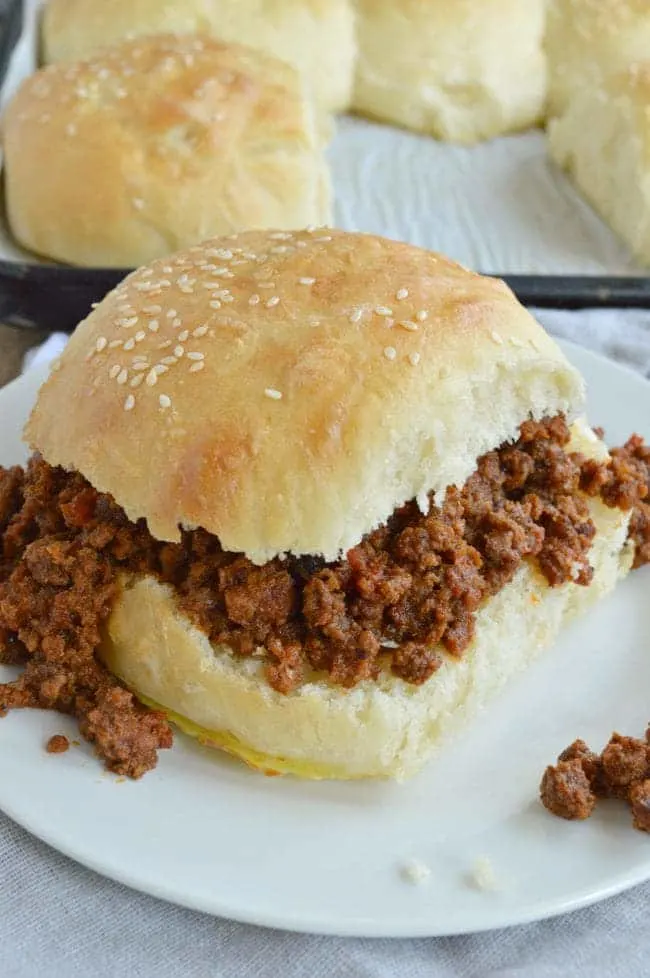 Don't worry. I'm going to tell you alllll about those Sloppy Joes tomorrow. Today we are discussing one of my favorite things: CARBS. More specifically carbs that make great sandwiches. These Homemade Brioche Buns are OUTSTANDING. Soft and chewy. Great with poppy seeds or sesame seeds or just brushed with butter. We love them piled with sliced ham, topped with burgers, or stuffed with Sloppy Joes.
Let's talk about making them!
Sometimes making things like homemade burger buns can seem sort of daunting. But I promise this recipe will not steer you wrong. I've been using it since about 2010 and never really wanted to publish it because I feel like there are a bajillion other homemade bun recipes out there.
Then a friend of mine shared her results with a recipe she'd tried. She loved them, but she wasn't super confident about baking with yeast, so she followed the instructions to the letter and then wondered what went wrong.
Baking with yeast is a tiny bit different than just plain baking because it's not an exact science. The conditions in your house will change the results a little bit so you have to pay attention to what's going on. Beyond that it is EASY. I swear it.
For example — we live in North Carolina. And in the summer? It is like being inside a big giant proofing oven unless the air conditioner is on major full blast. So my first rise only takes about 45 minutes. The second rise only 30 or 35. If you live in a drier, cooler climate, your first rise could take up to an hour. Maybe an hour and 15 minutes. What you're looking for after kneading the dough is that it has doubled in size.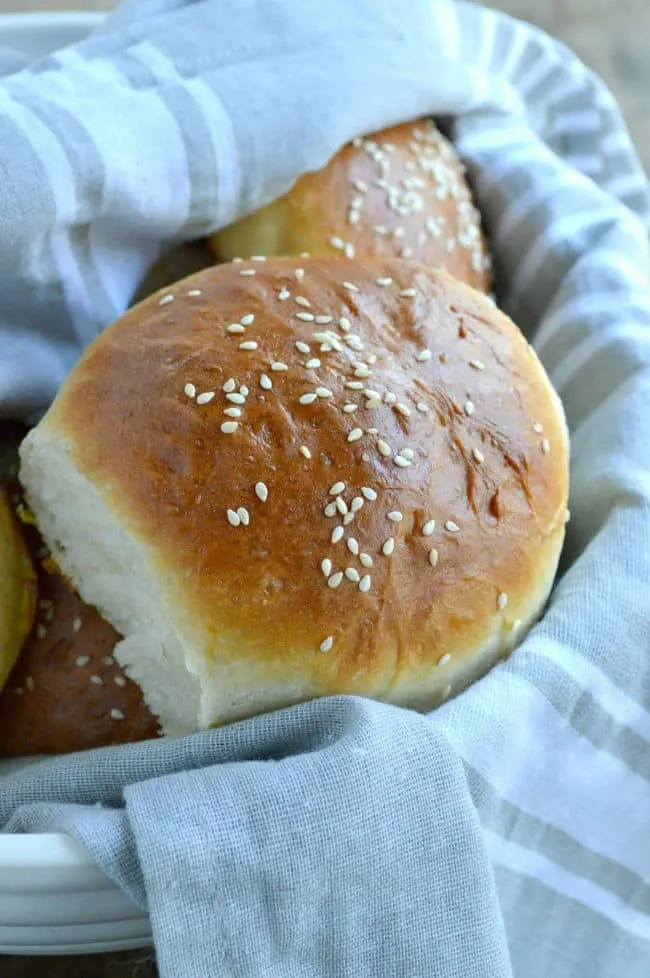 One trick I use to sort of speed the rise process along is to preheat my oven when I am making the dough. Sort of like with my One Hour Crusty Dinner Loaf, you just put your bowl of kneaded dough on the stove top and cover with a towel.
The second rise is THE MOST important one though. Once you have divided the dough into 8 little balls, you want to let them get rise to just slightly smaller than your finished buns will be. This is the rise that will take you from delicious beautiful rolls to delicious Frankenstein rolls.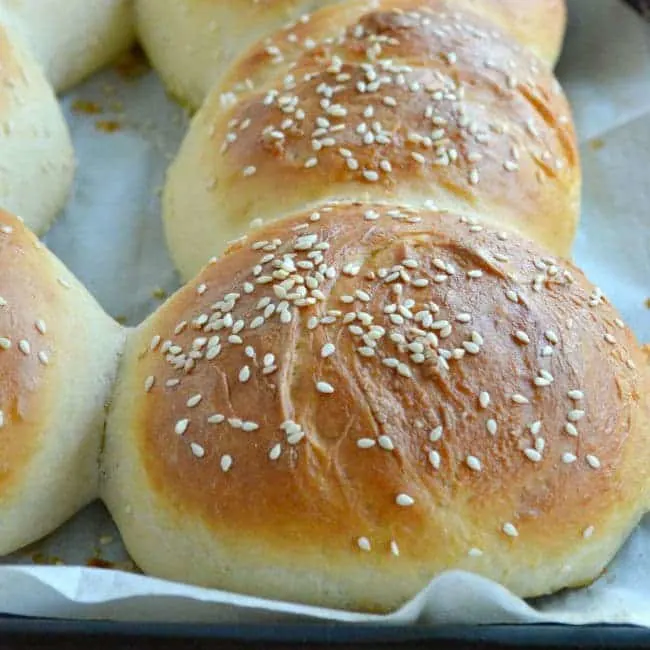 You've got this!

Homemade Brioche Buns
This Easy Homemade Brioche Bun Recipe will set off all your burgers and sandwiches! Note that the prep time includes time for 2 rises.
Ingredients
1 cup warm water (check the label on your yeast for temperature recommendations)
3 tablespoons milk
2 teaspoons instant dry yeast
2½ teaspoons sugar
3 cups bread flour
⅓ cup all purpose flour
1½ teaspoons salt
1 egg + another for the egg wash
sesame seeds or poppy seeds if you want them
Instructions
Whisk together the water, milk, yeast, and sugar. Let it sit until it looks foamy - about 5 mins. While it sits, whisk together the flours and salt in a large bowl and beat the egg.
Pour the liquid and beaten egg into the flour and fold it in until it mostly comes together. I use a rubber spatula or wooden spoon.
Turn the dough out onto a very well floured surface and knead it until smooth - 6 to 8 mins. You can keep adding flour as you go if it feels too sticky, but you don't wanna make it tough. When the dough forms a nice smooth and slightly tacky ball, put it back in the bowl and cover with a towel.
Put the bowl in a warm place and let it rise until it has doubled in size. In the summer it will be less time! I like to just turn the oven on and put the bowl on top of the stove.
Line a baking sheet with parchment or you can just lightly grease it. Divide the dough into 8 equal pieces and place them 2 or 3 inches apart. Lightly cover them with a towel, or I like to spray a tiny bit of nonstick spray on plastic wrap and cover them with that. Put them back in the warm place and let them rise again until they are ALMOST the size you want them to be.
While they rise preheat the oven to 400. Put a pan on the bottom oven rack with about an inch of water in it.
Make a quick egg wash with the remaining egg and a little water (about a tablespoon). Gently brush the tops with the egg wash and sprinkle with sesame seeds. Bake for 15 minutes, turning the pan halfway through.