A lemon herb crust is the perfect base for building this Easy Vegetable Tart. You can use your favorite seasonal vegetables, and of course goat cheese, to turn out a dish that makes a perfect brunch, lunch, or side!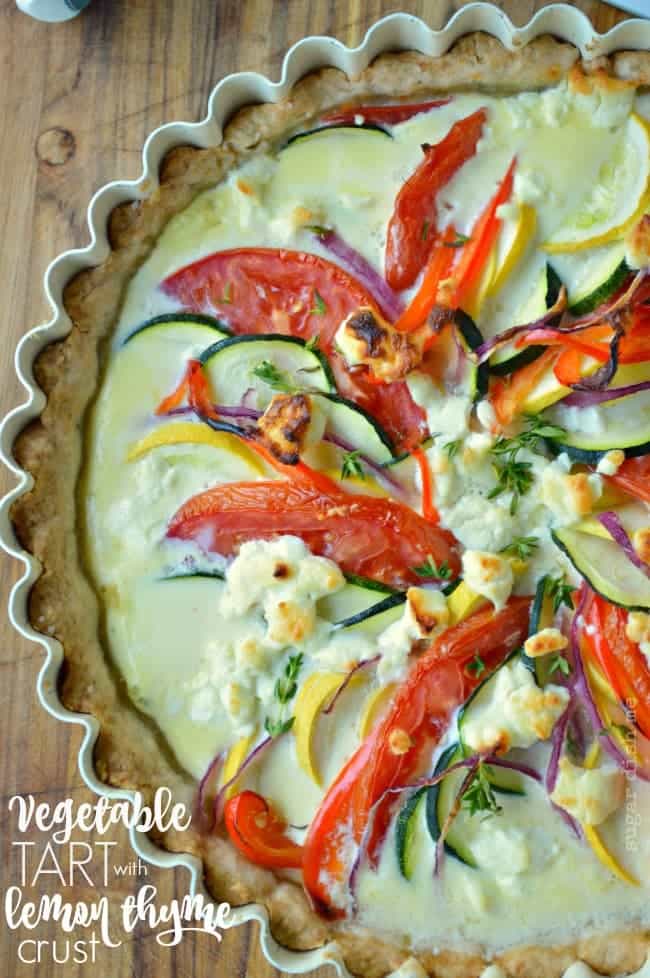 This post is sponsored by Smith's. All opinions, original photos, and the recipe are my own.
Today we are going to talk about something really really really basic, but also something that I've found so many kitchens are lacking. Sharp knives!!!!
—SHARP KNIVES—
Before you go running off thinking that this is out of your league, bear with me. Sharp knives are a thing that every kitchen needs. I'm going to tell you how to get sharp knives for less than $10. Then we're going to make this really easy vegetable tart with a lemon herb crust that will make you do cartwheels (no, really).
Raise your hand if you watch cooking shows! (me! me! me!)
When serious chefs are about to get down to business, they always grab a steel and make a big production out of knife sharpening. They have a knack for making it look like you need 3.6 years of culinary school to wield a sharp instrument for cutting. Chefs also always have knives that cost approximately 1 gajillion dollars; most of us just realistically don't have a budget for that. So today we are talking sharp knife solutions. Take your hand off the panic button because no culinary degree is required. You won't even need a fancy blade.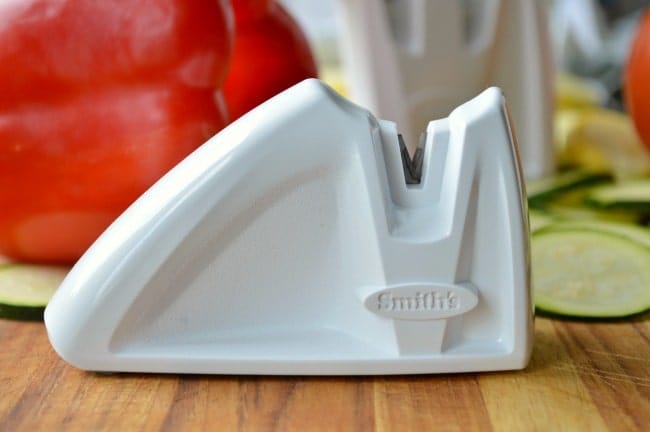 No fancy equipment required #SmithSharp
I keep these pull-through sharpeners handy — they live in the drawer under my cutting board. Before I prep, I sharpen. The two stage sharpener (seen in most of these photos) has carbide blades which are perfect for dull or even damaged blades. The ceramic rods in the second slot offer a sort of finish to the sharpening — like a fine point. The single-stage sharpener (shown above) is just as efficient as its two-stage counterpart, just minus the fancy ceramic finished edge. It's less than $5, ya'll.
So no more dull blades again, ok?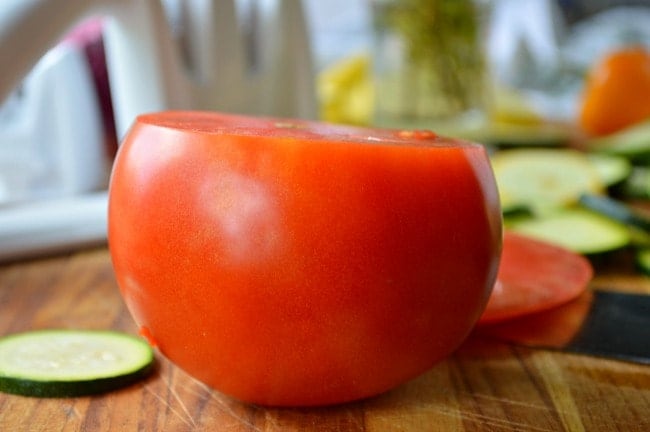 –Dull Knife Hazards–
It takes more effort (and more pressure) to use a dull blade. A dull knife can…
slip off the food you are cutting and cut you instead (think carrots – ahhhhhhhhh)
cause the user to lose control
bruise your foods (have you ever tried to cut a tomato with a dull knife?)
ruin your day because now you have to go spend all your money on bandaids
you get the idea
Dull knives are easy to fix. Sharp knives will make this Easy Vegetable Tart a cinch to make.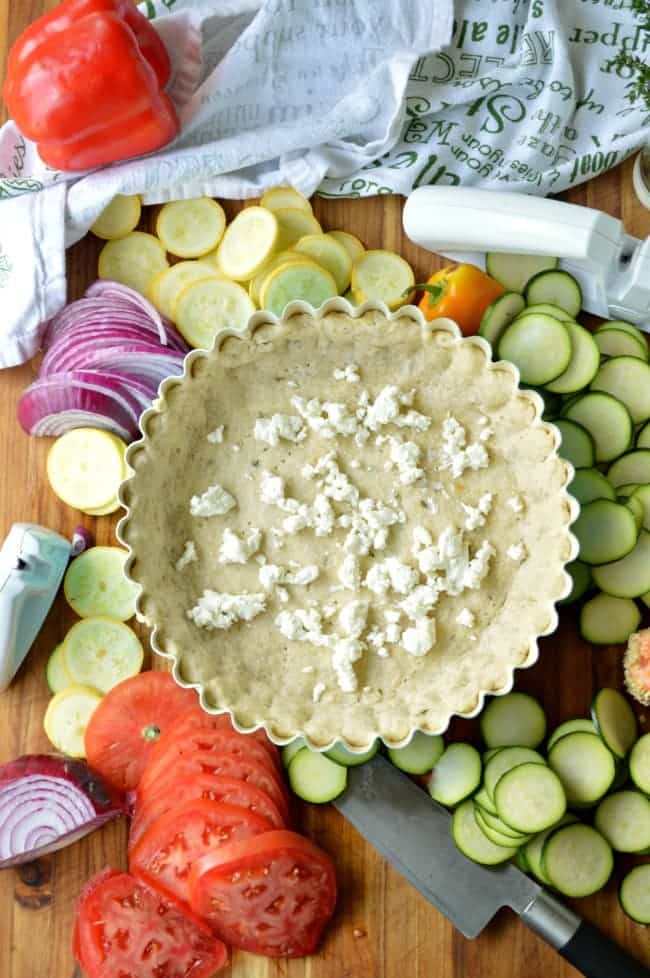 I made the crust — it's a basic pie crust with some added lemon zest and chopped thyme. A quick 15 -minute bake and then you can add your cheese. Goat cheese is the direction I went, but Roquefort, Gruyere, or even slices of whole milk mozzarella all will work well here.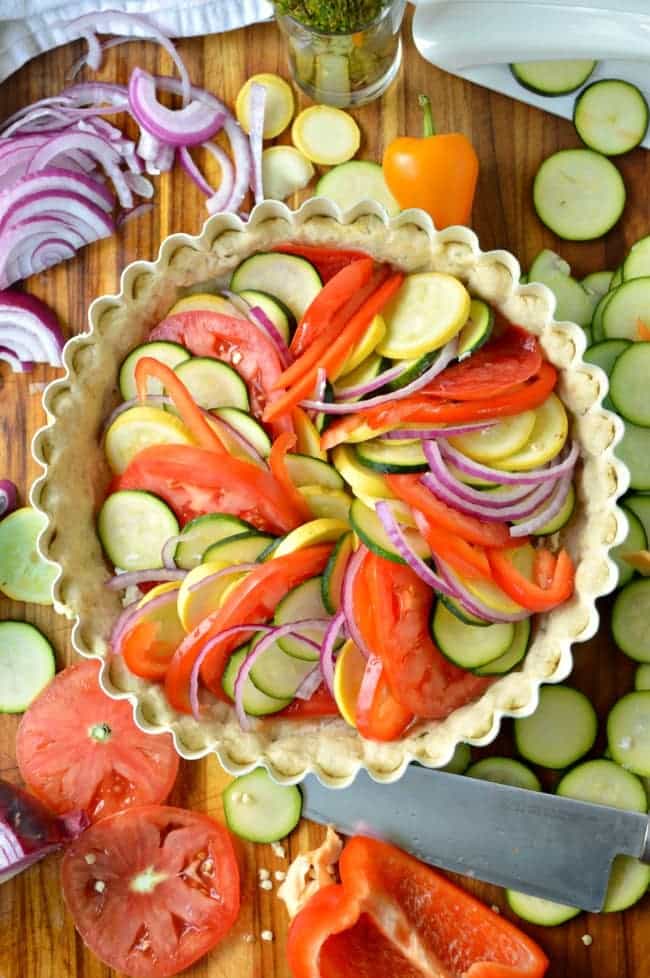 Layering the vegetables is the fun part. This tart recipe is actually really versatile. Obviously I have loaded mine down with summer, but as the seasons change you could easily layer acorn or butternut squash, carrots, Brussels sprouts, cauliflower, or turnips. (You'll also like this Garlic Herb Potatoes and Squash Recipe)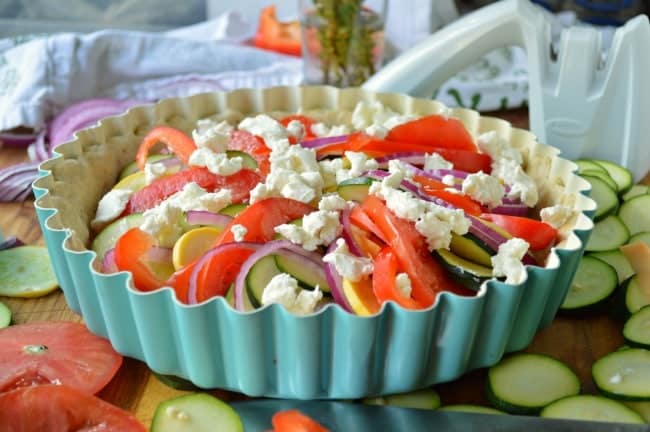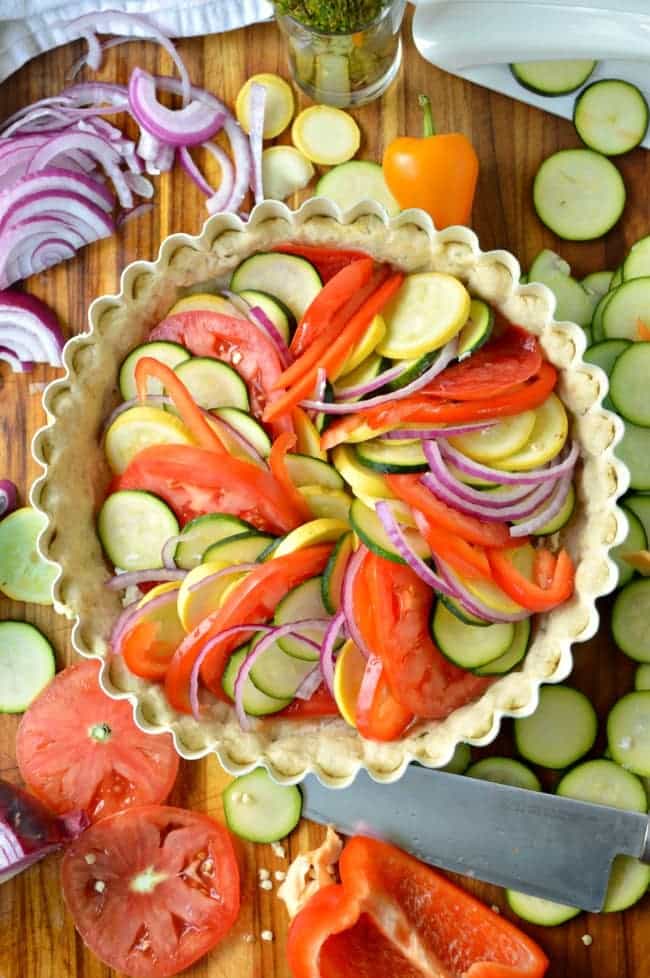 Yield:

serves 8
Easy Vegetable Tart with Lemon Herb Crust
Ingredients
For the Crust:
1 1/4 cups all purpose flour
1/2 teaspoon kosher salt
1 teaspoon lemon zest
1 1/2 tablespoons fresh thyme, minced
1/2 cup COLD butter
2 tablespoons ice water
For the Vegetable Filling:
4 ounces cheese (goat cheese is pictured; Roquefort, Gruyere, and whole milk mozzarella also work well)
1 large tomato, thinly sliced
1 medium zucchini, thinly sliced
1 medium summer squash, thinly sliced
1/2 a medium red onion, very thinly sliced
1/2 a red bell pepper, very thinly sliced
1 teaspoon kosher salt
1 egg
1/2 cup milk
Instructions
To make the crust, whisk together the flour, salt, lemon zest. and thyme. Use a box grater to grate the butter into the flour mixture, and mix it in with your fingers until coarse crumbles form. Add the ice water and use a sturdy spatula to mix until a ball forms. You may need an additional teaspoon or so of ice water, but you don't want it to be too wet.
Press the crust into an ungreased pie plate or tart pan. Place it in the freezer for 15 minutes. While it chills, preheat the oven to 350°F. After the dough has chilled, place it directly in the oven and bake for just 15 minutes.
Remove the par-baked crust. Add 2 ounces of the cheese. Then start layering your vegetables.
Sprinkle with salt. Whisk together the milk and egg. Pour the liquid over the vegetables and then sprinkle the rest of the cheese across the top.
Bake for 25 minutes, or until the egg mixture has set, the vegetables are roasted, and the crust is golden.
Let the tart cool slightly before serving.
Nutrition Information:
Yield:
8
Serving Size:
1
Amount Per Serving:
Calories:

362
Total Fat:

25g
Saturated Fat:

15g
Trans Fat:

1g
Unsaturated Fat:

8g
Cholesterol:

93mg
Sodium:

806mg
Carbohydrates:

21g
Fiber:

2g
Sugar:

3g
Protein:

14g
These Smith's knife sharpeners are Made in USA ( with imported parts) and are available at Wal-Mart.