Warm goat cheese, caramelized onions, chopped artichokes, chicken, thyme, and OF COURSE white wine. This White Wine Cheesy Chicken Dip will make you swoon.
This post was sponsored on behalf of The Seeker Wines via One2One Network. All opinions, original photos, and recipes are my own.
There is something you should know about me: I choose wine by how much I love the label. I know you aren't supposed to go around choosing books by their covers, but wine? My logic is that there HAS to be a reason so much effort goes into pretty label making. Confirmation of my theory :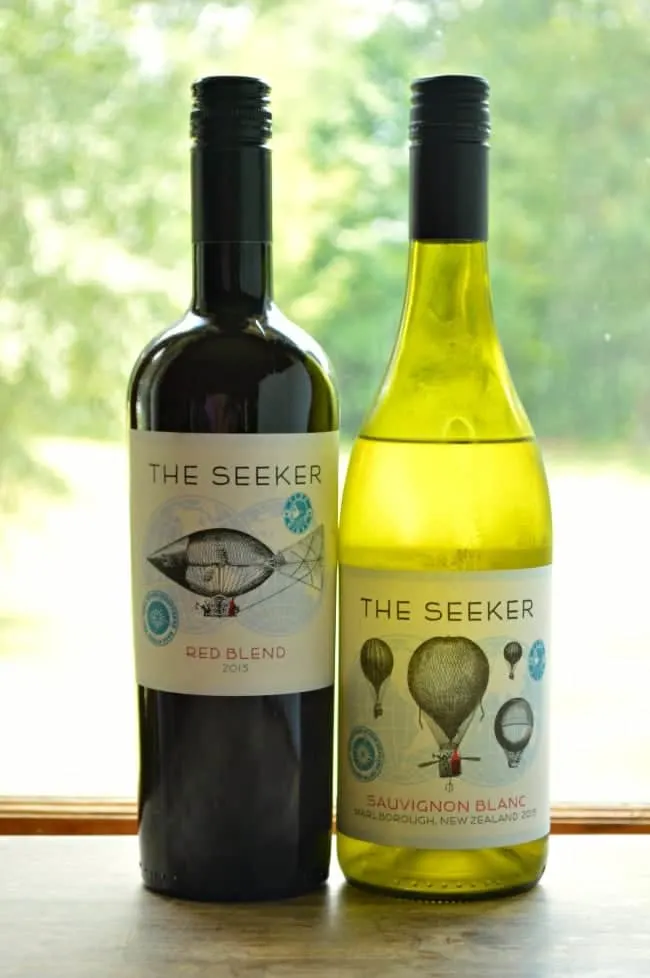 To me this label looks like it's all about the journey. Mid-19th century flying machines, an era of wonder and mystery, of explorers out to conquer the known world…
Am I waxing too poetic about my wine labels?
I'll shut up.
But seriously though — these bottles made me want to go on an adventure. Actually they came with me on two. We traipsed through Dupont State Forest with a picnic in tow ( I'll explain all that VERY soon!), AND we had a little kitchen adventure with The Seeker Sauvignon Blanc. That's the White Wine Cheesy Chicken Dip adventure you showed up for.
This dip is THE PERFECT appetizer to pair with white wine. The Seeker Sauvignon Blanc is from New Zealand (can we go there, please???) and has notes of zesty lime, grapefruit, passion fruit, and just a smidge of green herbs. My brain immediately wanted goat cheese and an entire loaf of crusty bread, so I took that and ran with it.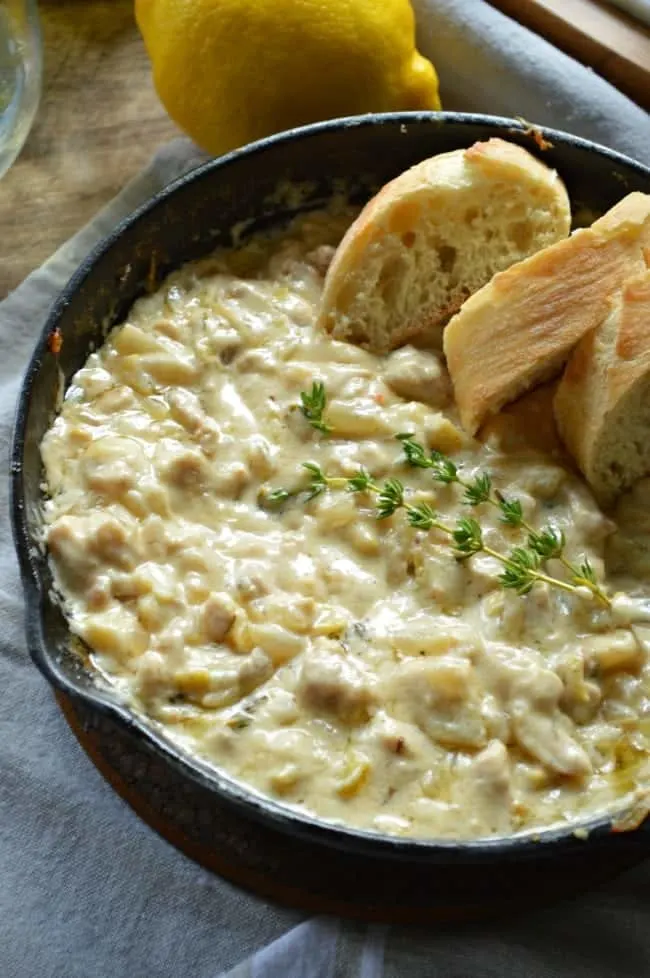 I loaded this dip with sauteed onions, chopped chicken and artichokes, fresh thyme, lemon goat cheese, and mozzarella. Goat cheese and sauvignon blanc are like best friends anyway, but I added a mild part-skim mozzarella for the stretch factor. You know when you go in for dip and a long string of cheese follows? That is where the mozzarella happens.
Oh! And there's wine IN the dip. Because OF COURSE there is.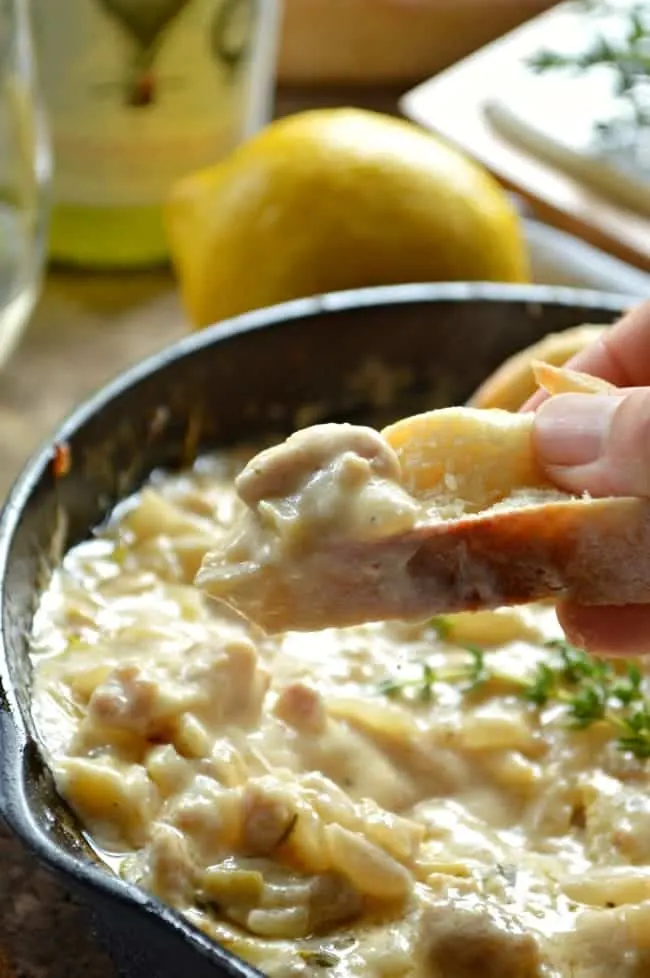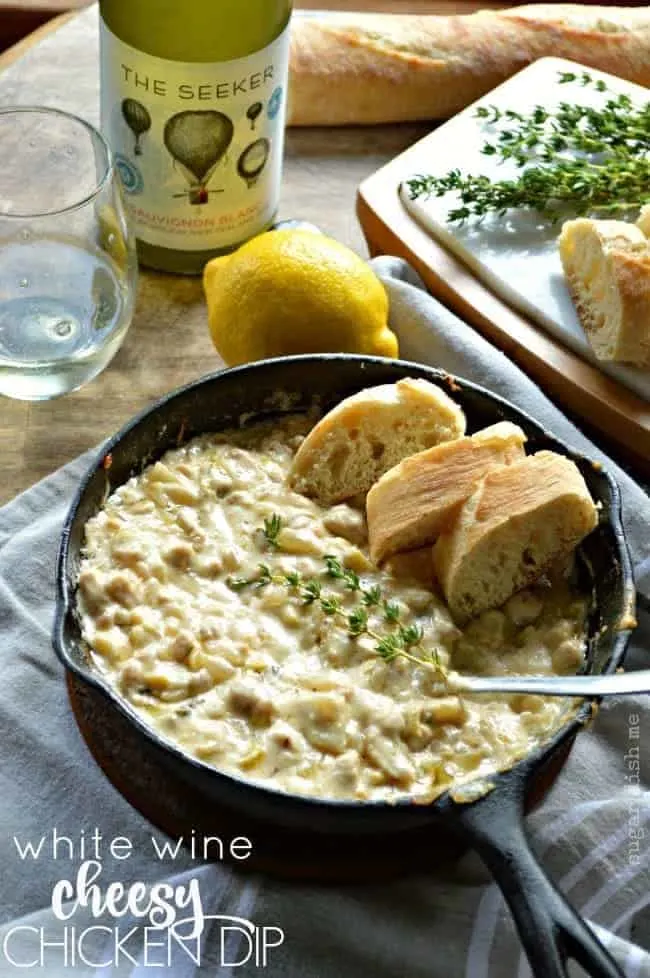 Yield:

Serves 6-8
White Wine Cheesy Chicken Dip
White Wine Cheesy Chicken Dip is warm, cheesy, and perfect for spreading on sliced baguette and is great on tortilla chips! This easy appetizer will definitely win you some new fans.
Ingredients
1 tablespoon olive oil
1 1/2 cups chopped boneless skinless chicken (I used thighs, but tenders or breasts are fine; cut into 1/2" pieces)
1 teaspoon kosher salt, divided
1 tablespoon butter
1 medium yellow onion, finely diced
1/2 cup chopped marinated artichokes
4 ounces goat cheese
juice of half a lemon
2 tablespoons fresh thyme, plus more to garnish
1 cup part skim shredded mozzarella cheese, plus a little more to melt over the top.
Instructions
Preheat the oven to 350°F. Heat the oil in a small oven-proof skillet.
Add the chicken, sprinkle with 1/2 teaspoon of the kosher salt, and brown. Then remove the chicken to a plate. Melt the butter in the skillet and add the onions. Reduce the heat to medium, sprinkle the onions with the remaining 1/2 teaspoon of salt, and cook until they are soft and caramelized.
Stir in the artichokes and add the chicken back in. Then stir in the goat cheese. It will be thick and a little clunky to stir. This is where you add the wine and lemon juice. Stir until smooth and then add the thyme.
Stir in the mozzarella cheese, sprinkle a little across the top, and put the skillet in the oven.
Let it bake just until the cheese melts and is bubbly, about 5 minutes.
Serve with the bread and a nice pour of The Seeker Sauvignon Blanc.
Recommended Products
As an Amazon Associate and member of other affiliate programs, I earn from qualifying purchases.
Nutrition Information:
Yield:
8
Serving Size:
1
Amount Per Serving:
Calories:

225
Total Fat:

13g
Saturated Fat:

6g
Trans Fat:

0g
Unsaturated Fat:

7g
Cholesterol:

64mg
Sodium:

527mg
Carbohydrates:

9g
Fiber:

1g
Sugar:

5g
Protein:

18g
You can find The Seeker Wines in all these amazing places:
And go on an adventure of your own!