Feels Fancy Figgy Chicken is my new go-to dish when I need to make something on the quick but I want it to feel a little fancy. Sweet caramelized shallots, sticky dried figs, fresh thyme, and Madagascar Bourbon vanilla – it FEELS fancy! But it's really just a simple chicken dish you can whip up anytime.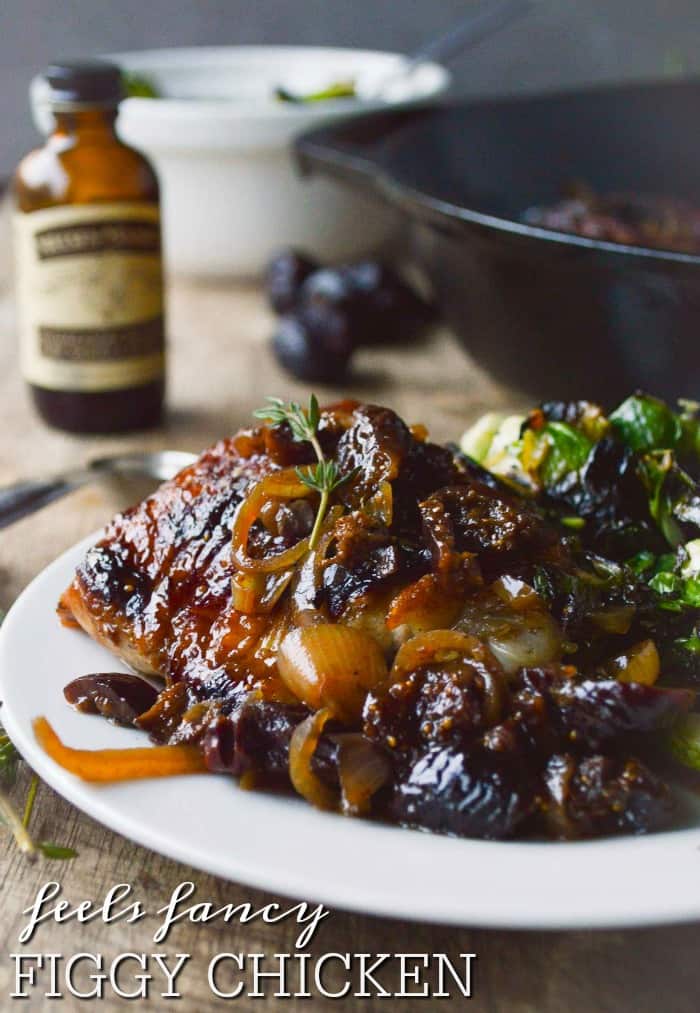 This post is sponsored by Nielsen-Massey Vanillas. All opinions, the original recipe, and photos are my own.
Remember that time I made One Garlic Chicken Thighs with Broccoli and you guys went wild? Everyone loves an easy recipe and this Feels Fancy Figgy Chicken is no exception. I wanted a recipe that comes together quickly (and doesn't bust the bank!), but at the same time makes people think you are a rock star in the kitchen.
This is that.
I imagine that somewhere in this world there are people that are 100% cool with unexpected guests. Maybe you have friends and neighbors that just drop by, mosey over with a glass of wine that turns into opening a bottle to share while you chat, and then you think Hey! Let's share a meal!
Is this a thing? Or is this like something I made up in my head in my 20's when Desperate Housewives was still on TV? Those women were ALWAYS just running over to each other's houses, showing up any hour of any day, and loitering like there's no place to be.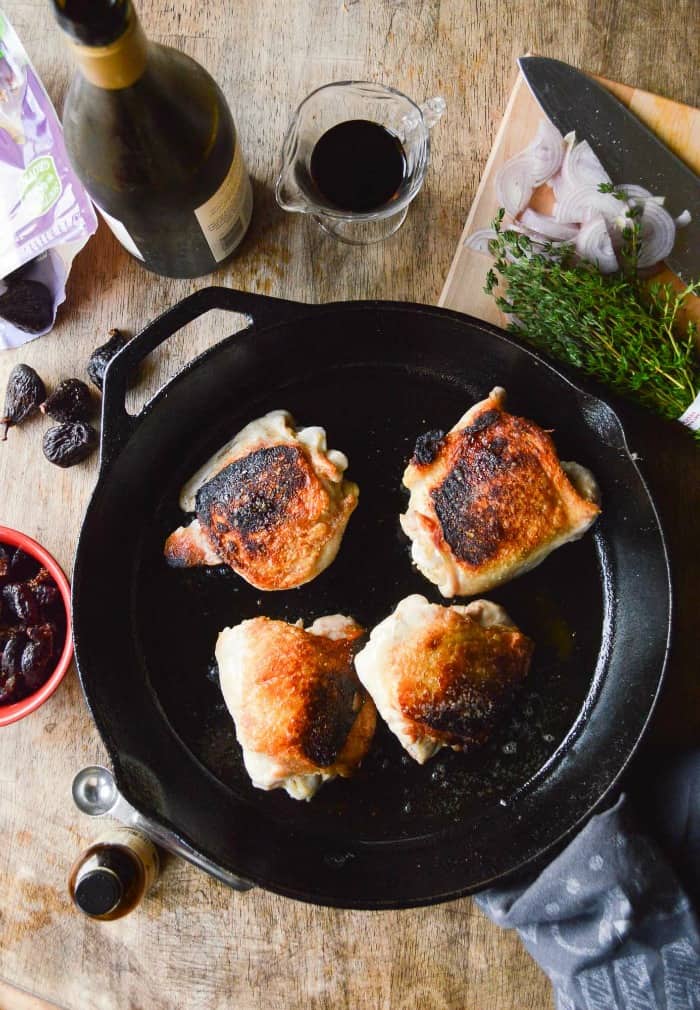 I do not live in the 'y'all just come on by' world. I need time to move the stacks of folded clothes off the arm of the couch, get all the things that have accumulated on the kitchen island OFF of it, and a solid 20 minutes to sweep up dog hair. If you don't give me a heads up and I have no time to clean the bathroom before you roll up at my house?
I might not forgive you.
Like once we hosted a holiday here and Chad's cute little grandma showed up an hour early, while I still needed to make a last minute grocery store run, and I was definitely still in my sweats not wearing a bra. Oh! And she had 2 unexpected guests in tow. Still not over it.
Whether you are in a rush because of life, or just a rush because people show up with no warning looking to be fed, this Feels Fancy Figgy Chicken recipe is the answer.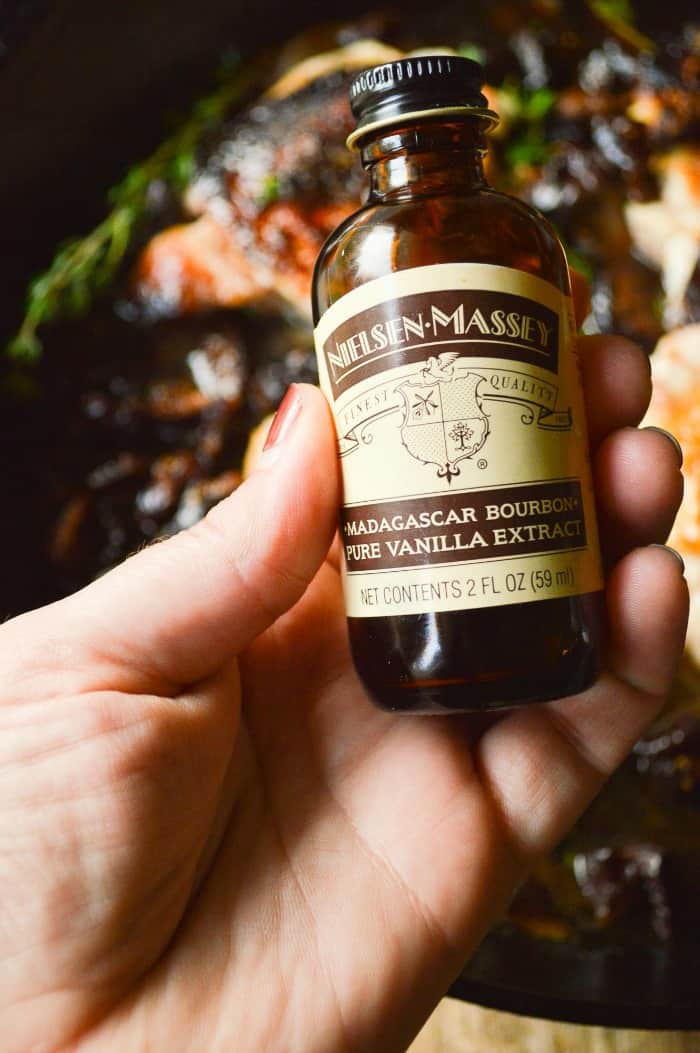 There are a few things you'll need to make this chicken dish. Most of them I try to keep on hand all the time. Wine, chicken broth, shallots (or sweet onions), balsamic vinegar, and chicken thighs with the skin on are pretty much staples around here. Dried figs are next on the list. I almost always have them handy because they keep forever and I love dried fruit. If you have to run out and buy them I can always find dried figs in my produce department. Grab some fresh thyme while you're there.
The real star of this show is the Nielsen-Massey Madagascar Bourbon Pure Vanilla Extract, and trust me when I say this needs to live in your pantry forever and always. I love it in cookies and cakes, but it gives this Feels Fancy Figgy Chicken a depth of flavor that you can't get anywhere else. (I always order this but you can find a local retailer here)
When you are making festive recipes, especially with simple dishes, using pure, quality ingredients with rich flavor profiles [such as Nielsen-Massey Vanillas] is crucial.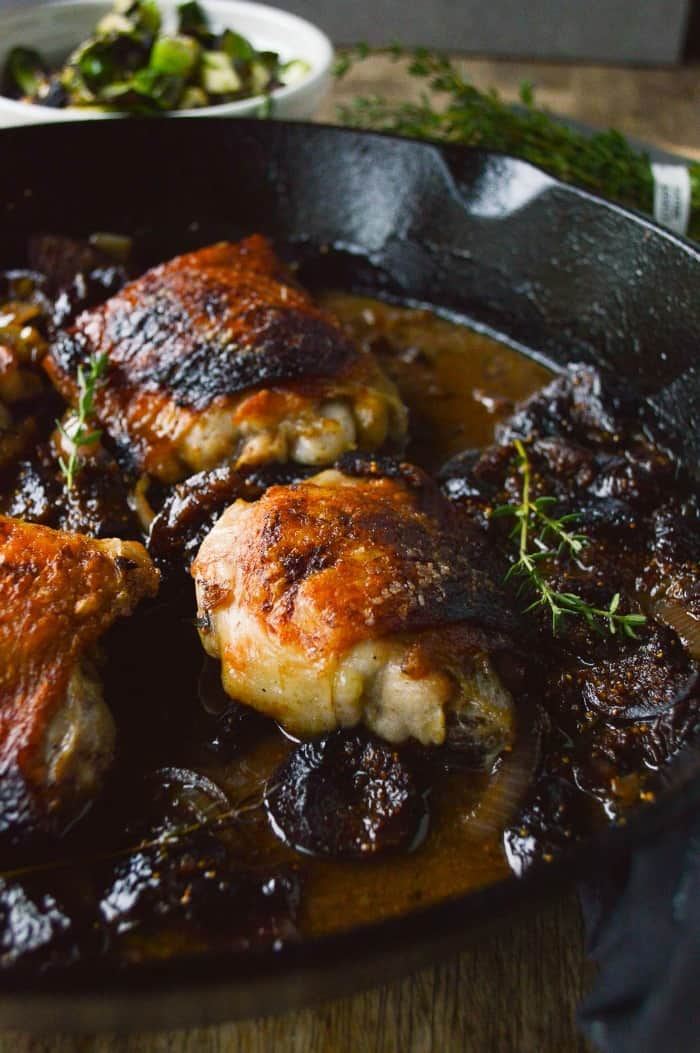 This is super easy. Ready? You are just going to crisp up the skin on those chicken thighs, set them aside for a minute, caramelize your shallots and then add all your other ingredients to the same oven-safe pan, simmer, add back the chicken, bake, and serve.
The sauce is great over creamy garlic mashed potatoes, but if you aren't looking to get another pot dirty you can throw a sheet of quick veggies to roast (broccoli, Brussels sprouts, green beans) in the oven for the last 10 minutes the chicken is cooking.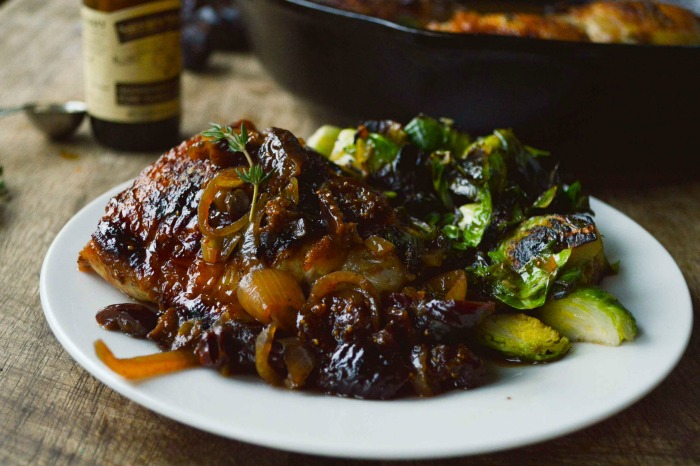 This dish looks impressive, keeps the mess to a minimum, and is really an all-around hit!
Oh oh oh! Also. If you have a thing for figs you HAVE to try my recipe for Fresh Fig Newtons.
You can follow Nielsen Massey Vanillas on Facebook, Twitter, Instagram(my personal fave), or on their website (where you can find more fab-o recipes).