Balsamic Fig Chicken feels fancy enough for guests but is fast enough for a weeknight, and is a great way to dress up chicken thighs. Made with caramelized shallots, dried figs, fresh thyme, and balsamic vinegar, the rich color and depth of flavor is sure to be a hit.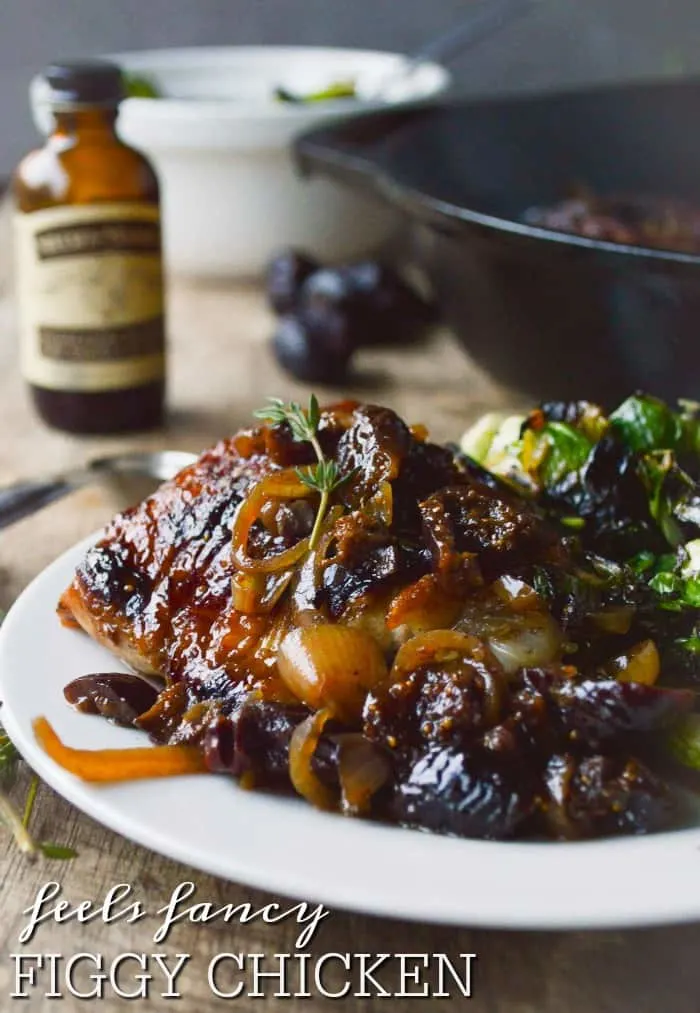 If you're looking for a recipe that comes together quickly and won't bust the bank, look no further! These balsamic chicken things are super simple, but at the same time will make people think you are a rock star in the kitchen.
Excellent in a Pinch
I imagine that somewhere in this world there are people that are 100% cool with unexpected guests. Maybe you have friends and neighbors that just drop by. They might mosey over with a glass of wine that turns into opening a bottle to share while you chat, and then you think Hey! Let's share a meal!
Is this a thing? Or is this like something I made up in my head in my 20's when Desperate Housewives was still on TV? Those women were ALWAYS just running over to each other's houses, showing up any hour of any day, and loitering like there's no place to be.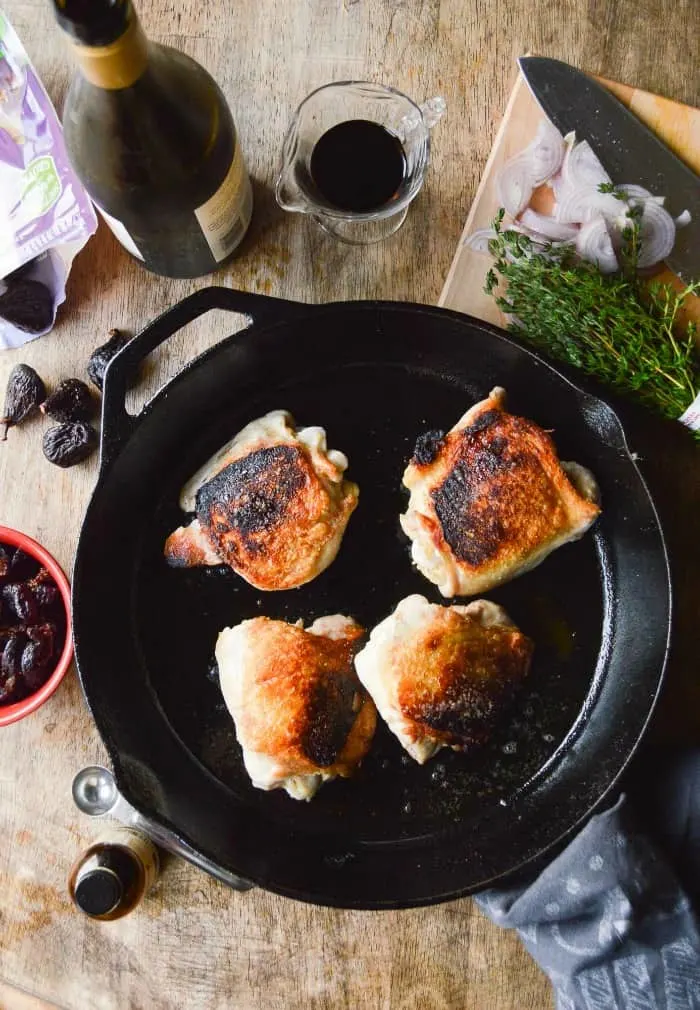 I do not live in the 'y'all just come on by' world.
I need time to move the stacks of folded clothes off the arm of the couch, get all the things that have accumulated on the kitchen island OFF of it, and then I need to relocate all the dogs. If you don't give me a heads up and I have no time to check the bathroom and hide all my cosmetics before you roll up at my house?
I might not forgive you.
So anyway, whether you are in a rush because of life, or just a rush because people show up with no warning looking to be fed, this Balsamic Fig Chicken recipe is the answer.
Ingredients in Balsamic Fig Chicken
This recipe starts out like my One Pot Garlic Chicken Thighs. Chicken thighs are like the unsung dinner hero. They are always affordable and they are LOADED with flavor. You start by crisping up the skin with a little bit of olive oil, and then you remove the chicken and start layering in more flavor.
olive oil
bone-in, skin-on chicken thighs
shallots
dry white wine (you can substitute chicken broth or vegetable broth!)
balsamic vinegar
dried figs
chicken broth
pure vanilla extract
You can typically find dried figs in the produce department. Grab some fresh thyme while you're there.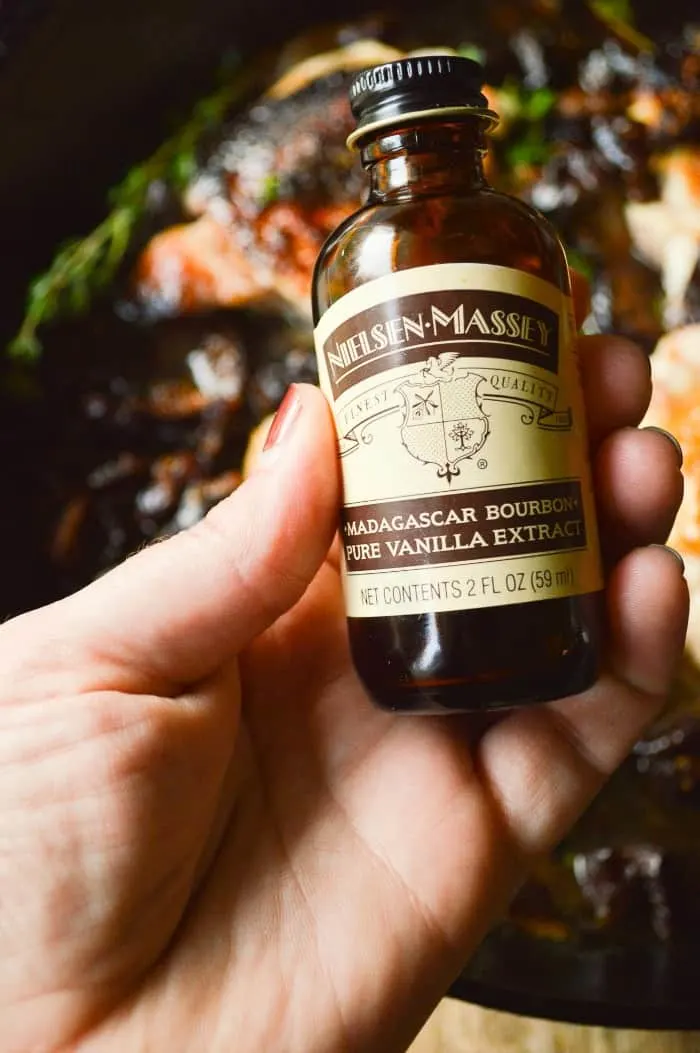 Can I Substitute Dried Thyme for Fresh Thyme?
You sure can! Typically the rule for swapping fresh herbs for dried is to use 1/3 the amount of fresh herbs called for. 1 sprig of thyme equals about 1/2 teaspoon dried thyme.
If you need to swap fresh for dried thyme in this recipe, my suggestion is to start with 2 teaspoons.
Can I Substitute Imitation Vanilla?
Listen. Originally I developed this recipe for Nielsen-Massey and I used their Madagascar Bourbon Pure Vanilla Extract. Trust me when I say this needs to live in your pantry forever and always. I love it in cookies and cakes, but it gives this Balsamic Fig Chicken a depth of flavor that you can't get anywhere else.
Pure vanilla is shelf-stable for longer, and in simmered sauces (like this one!) it yields the best results.
Imitation vanilla might make this a touch too sweet, but if it's what you have, roll with it and see how it goes.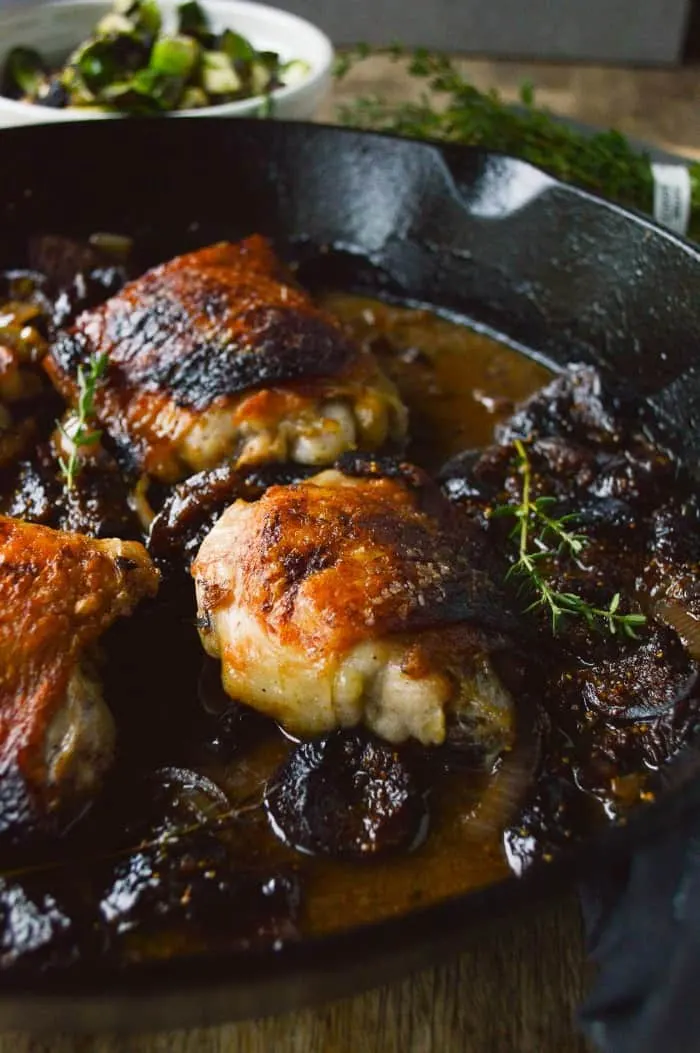 Tips for Making Balsamic Fig Chicken
SALT the skin. And pepper. I like to be a little heavy-handed with the salt and pepper on the skin because there's not any added salt in this recipe.
Don't overcrowd your pan. If you don't have space between your chicken pieces in the pan, you need a bigger pan.
Be sure you reduce the heat when you add the shallots. You want them to soften and sweeten a bit, and you definitely don't want them to burn.
The sauce is great over creamy garlic mashed potatoes, but if you aren't looking to get another pot dirty you can throw a sheet of quick veggies to roast (broccoli, Brussels sprouts, green beans) in the oven for the last 10 minutes the chicken is cooking.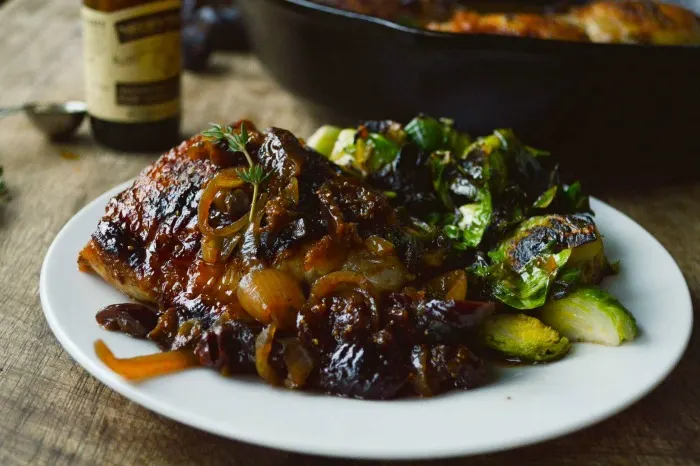 This dish looks impressive, keeps the mess to a minimum, and is really an all-around hit!
Oh oh oh! Also. If you have a thing for figs you HAVE to try my recipe for Fresh Fig Newtons.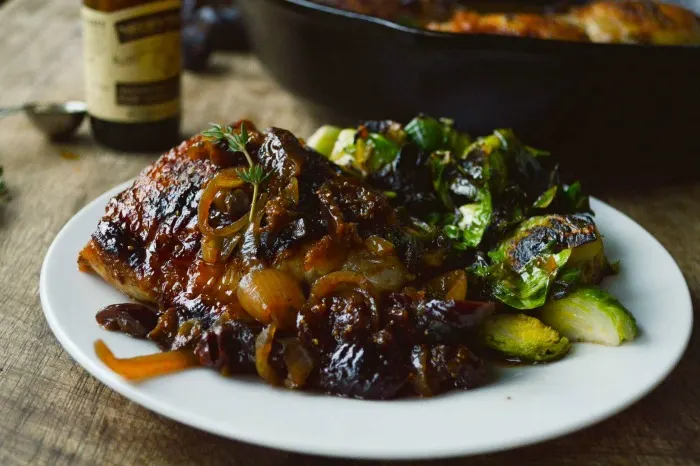 Yield:

6
Balsamic Fig Chicken
Balsamic Fig Chicken is a quick and simple way to dress up chicken thighs with caramelized shallots, sticky dried figs, and fresh thyme. Fancy enough for guests, fast enough for a weeknight.
Ingredients
2 tablespoons Olive Oil
6 Bone-In Skin-On Chicken Thighs
Salt and Pepper, to taste
2 Shallots, very thinly sliced
1 cup Dry White Wine
2 tablespoons Balsamic Vinegar
1 cup Dried Figs, coarsely chopped, see notes
5-6 sprigs Fresh Thyme
1 cup Chicken Broth
1 1/2 teaspoons Pure Vanilla Extract
Instructions
Preheat the oven to 375°F
Heat the oil in a large oven-safe skillet. Sprinkle the chicken skin with salt and pepper and place the thighs skin-side down in the skillet.
Cook for 10 minutes over medium high heat, or until the skin is crisp and turn, cooking skin-side up for another 2 mins. Remove the chicken from the pan.
Add the shallots to the pan and reduce the heat. Cook for 1-2 minutes until translucent.
Add the wine and balsamic vinegar and stir. Bring the liquid to a simmer.
Stir in the chopped dried figs, the sprigs of thyme, and the chicken broth, simmer, and then stir in the vanilla extract.
Nestle the chicken thighs down in the sauce (skin side up) and roast in the oven for 20-25 mins, or until the internal chicken temperature reaches 165°F.
Spoon the sauce over the chicken, garnish with a little fresh thyme, and serve.
Recommended Products
As an Amazon Associate and member of other affiliate programs, I earn from qualifying purchases.
Nutrition Information:
Yield:
6
Serving Size:
1
Amount Per Serving:
Calories:

202
Total Fat:

8g
Saturated Fat:

2g
Trans Fat:

0g
Unsaturated Fat:

6g
Cholesterol:

29mg
Sodium:

249mg
Carbohydrates:

21g
Fiber:

3g
Sugar:

15g
Protein:

7g