This recipe turns out the most tender, sweet and spicy, fall apart, melt in your mouth, smoky flavored baby back ribs EVER. Slow Smoked Raspberry Chipotle Ribs are actually really simple but will make you seem like a grillmaster rock star.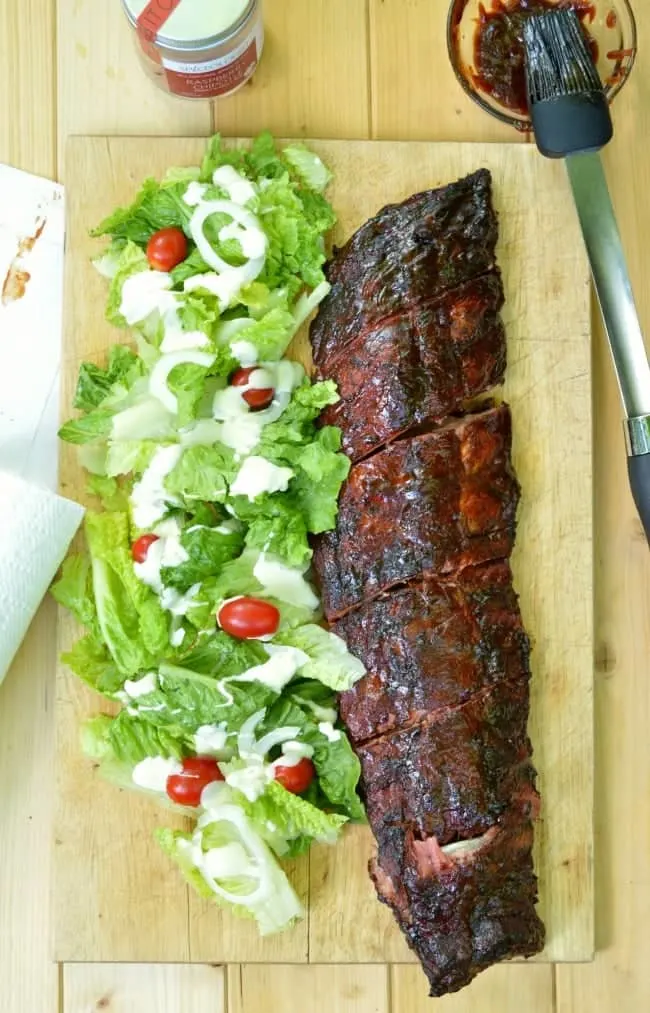 I always want to post recipes like this, but then I hesitate because I try to focus on things you can make without a lot of fancy kitchen gadgets or appliances. But! The thing is, we grill here A LOT. I mean a lot A LOT. So all the time I'll be stuffing my face full of grilled chimichurri chicken or something, and I'll think, "Oh! I totally want to share this food with my peeps!" [in my head calling you 'my peeps' does not make me Nerd of the Year, but typing it out here kind of makes me feel like I definitely probably am] And then I spend an unreasonable amount of time worrying about whether or not you all have grills or smokers or charcoal or gas or a fire pit that you roast marshmallows on.
I am all about solving problems though, and so with these freaking amazing ribs I am about to teach you all about, we are going to solve a few.
I'm going to break down all the ways you can grill and smoke without fancy expensive stuff. Or with fancy expensive stuff. It's up to you. Either way, when we get done here you'll have BBQ sauce smeared all over your face and will be looking for wet naps.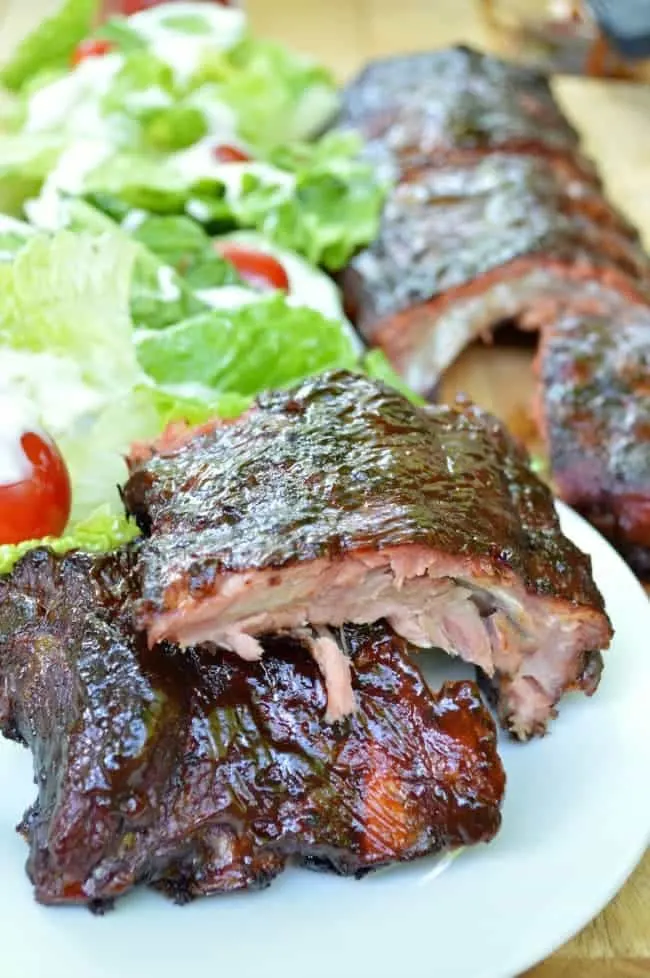 Smoke.
Let's discuss.
We used hickory wood chips to slow smoke these ribs, but most grocery and home improvement stores offer a few varieties that you can play around with. Cherry wood is another good one for ribs. I like mesquite for chicken.
Our grill has a little side attachment that we use for smoking, so we are cooking over indirect heat the whole time. Whenever the back door opens all these delicious smells come wafting in. It's like having a BBQ restaurant in the backyard. Most charcoal grills have that side attachment option, but what do you do if you have a gas grill?!
You get my trusty friend Aluminum Foil. And then you make a sturdy little pouch, sort of like when we grilled Brussels sprouts, soak your wood chips of choice (soaking them lets them smoke longer; see your package for instructions), pile them in the foil, and then put the foil directly over the heat.
So let's review: Wood chips in a pouch over direct heat, Ribs on the other side over no heat.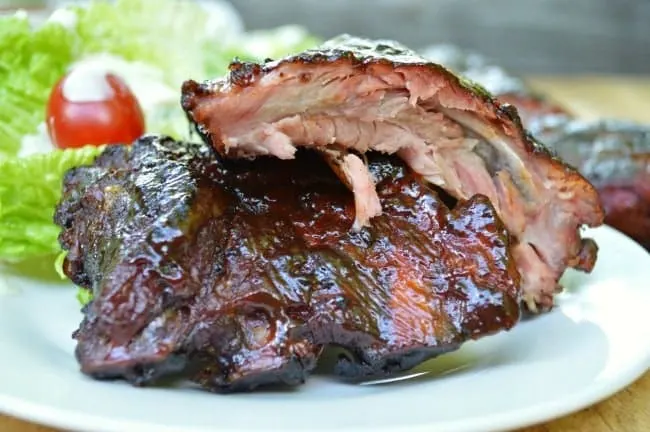 Before we put the ribs on the grill, we rubbed them all over with this Spiceologist Raspberry Chipotle Rub. I professed my love for Spiceologist with these Surf and Turf Burgers (which, if you are grilling up dude-pleasing food, should definitely make the menu), but here we are again with another variety for ribs. You can find these rubs HERE.
After we rubbed the ribs, we just put them on the grill and left 'em. For 4 hours. My grill holds heat like a champ so we were cooking about 50 degrees higher than I would have if we were slow cooking in the oven, but it didn't even matter. THE FLAVOR IS AMAZING. You really can't beat a good grill recipe.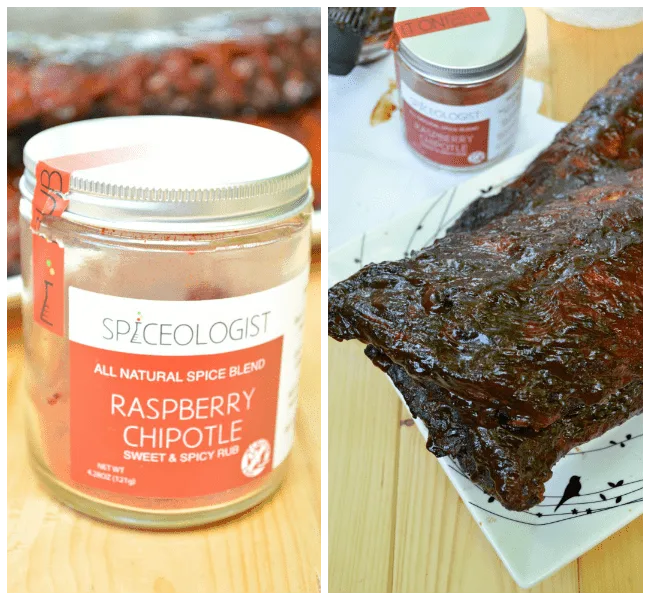 If you need more man-friendly grill recipes, you have to check these:
BBQ Beer Glazed Chicken Skewers with Sriracha Candied Bacon
Grilled Sticky Turkey Legs
Jalapeno Lime Chicken Fajitas
Grilled Bacon-Wrapped Jalapeno Poppers
Grilled BBQ Ribs
Jalapeno Lime Chicken Fajitas
Grilled Bacon-Wrapped Jalapeno Poppers
Grilled BBQ Ribs
Bacon Burgers with Bourbon Caramelized Onions and Goat Cheese
Grilled Loaded Nacho Fries
Slow Smoked Raspberry Chipotle Ribs
The best, most tender rack of ribs you will ever eat! These Raspberry Chipotle Ribs are sweetly spiced and are SO easy. You just need the ribs, the rub, and the smoke for all that flavor.
Serves:
serves 4 half racks
Ingredients
2 racks of baby back ribs
¼ cup Raspberry Chipotle Rub
1 bag of wood chips for smoking (I used Hickory - see note)
foil (heavy duty foil if you have it)
Your favorite BBQ sauce
Instructions
Rub both sides of the racks of ribs with the Raspberry Chipotle Rub. Cover and refrigerate until you are ready to cook.
Follow package instructions for how to soak your wood chips. Heat one side of your grill to between 225 and 250. If you are using a charcoal grill you can either heat the charcoal in your side smoker box OR heat it on one side of the grill.
Once the grill is hot, drain about ⅓ of the wood chips and place them on 2 layers of foil. Crumple the edges to make a sort of pouch that is open at the top (if you are using a side smoker box you can skip this step and just put the wood chips right on the charcoal). Place the pouch directly over the heat, close the lid, and let the temperature come back up to 225F or 250F.
Put your rubbed ribs on the opposite side of the cooking surface from the wood chips BONE SIDE DOWN. You don't want them over the heat.
Let them cook for at least 4 hours. You want to periodically check the temperature of the grill, and add more wood chips when those have burned down. But besides that, just keep the lid closed and let the grill work.
For pork ribs you are looking for an internal temperature of at least 160F. We let ours reach about 180F and they were actually falling off the bone. 5 minutes before we took them off the grill I brushed them all over with my favorite BBQ sauce and closed the lid one more time.
Let them rest for a few minutes on the plate before cutting.
Notes
1. You can find wood chips for smoking almost anywhere that sells BBQ supplies. Kingsford and Cowboy are 2 brands that are readily available at my local grocery store and home improvement center.