A super fast grilled flat bread pizza recipe with fresh peaches, crisp bacon, whole milk mozzarella, and basil. Grilled Peach and Bacon Pizza is a quick, delicious summer dinner!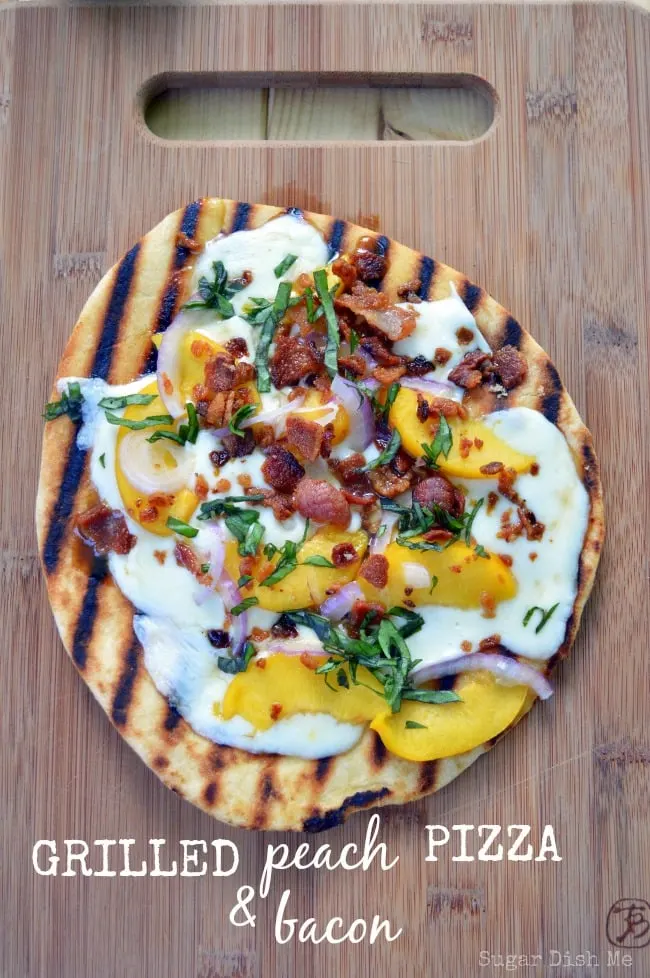 This is one of those multipurpose weeks. I mean… there's a lot going on! School has started across most of the country; if not by this week then definitely by next! That means we are all paying attention to faster weeknight meals and trying to maintain balance. Even if you don't have school-age children, something about this time of year inspires familiarity and routine.
THEN… we have Labor Day coming up next week! Labor Day means cook outs and ice cream. End-of-summer get-togethers. Pretty much some fun things. So I tried to cover all my bases with recipes this week, starting with this pizza!
Yesterday was a complete flurry of activity around here. The morning was extra early, I got some work done, and then 3:30 was here before I knew it.
My guys got home and things got a little crazy with lots of talking about their day, snacks, more talking, more snacks (I could basically write a whole other blog documenting my kids' insatiable snacking) , and then me trying to shoo them out from under my feet so I could get a meal on the table.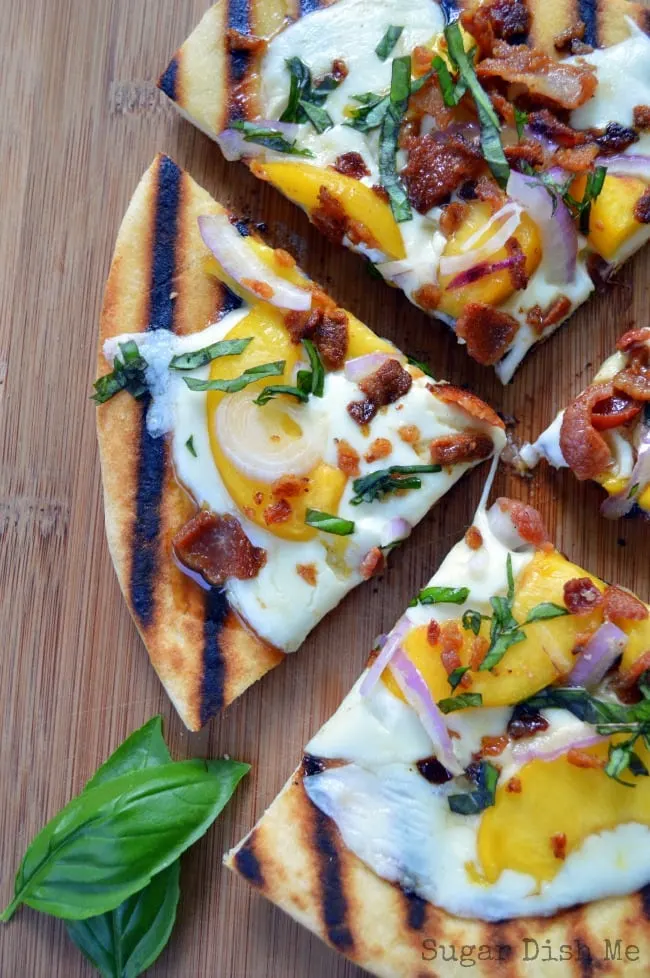 After my hand was cramped from filling out 4675769 school papers after dinner last night I really wished I'd had bacon at my disposal. Or wine. Or ice cream.
Food band-aids. Totally healing.
I DID have a slice of this pizza leftover. It did the trick!!!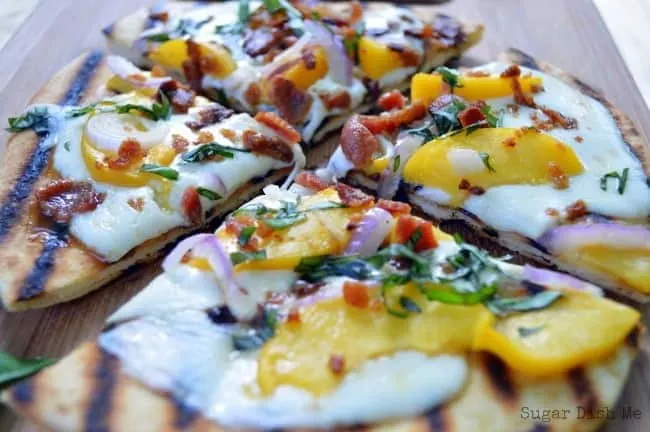 I'm pretty much a fan of grilling everything — pizza, Brussels sprouts, Eggplant Parmesan — and peaches are no different! Like roasting, tossing fruits and veggies on the grill really brings out the natural goodness and amplifies the flavor. The color deepens and everything is just extra in a great way.
Let's do this.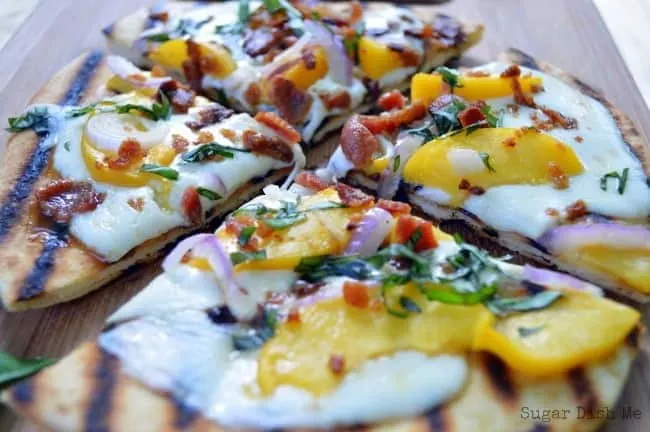 Yield:

serves 4-6
Grilled Peach and Bacon Pizza
Grilled Peach and Bacon Pizza is a simple and fast summer meal! Prepared flat bread is grilled with peaches, bacon, mozzarella, and basil. Also makes an excellent appetizer!
Ingredients
4 ounces whole milk mozzarella, shredded or sliced
1 small to medium ripe peach, halved, peeled, and thinly sliced
2 pieces thick sliced bacon, cooked and crumbled
1/4 cup red onion, very thinly sliced
1/2 teaspoon brown sugar
Instructions
Heat the grill or a grill pan to about 350°F. When it's hot, place the side of the flat bread you want to top FACE DOWN. Grill the flat bread until pretty charred grill marks appear when you peek underneath to check. This will only take a couple of minutes.
Turn the flat bread and top it with cheese, peach slices, bacon, and red onion. Sprinkle with the brown sugar. Cook until the cheese melts, being careful not to char the underneath too badly -- move it to indirect heat if you need to.
Take the pizza off the grill and top with fresh basil.
Repeat steps to cook the second pizza
Recommended Products
As an Amazon Associate and member of other affiliate programs, I earn from qualifying purchases.
Nutrition Information:
Yield:
6
Serving Size:
1
Amount Per Serving:
Calories:

290
Total Fat:

9g
Saturated Fat:

3g
Trans Fat:

0g
Unsaturated Fat:

5g
Cholesterol:

19mg
Sodium:

498mg
Carbohydrates:

41g
Fiber:

2g
Sugar:

4g
Protein:

11g